AI for Sheets by Cargo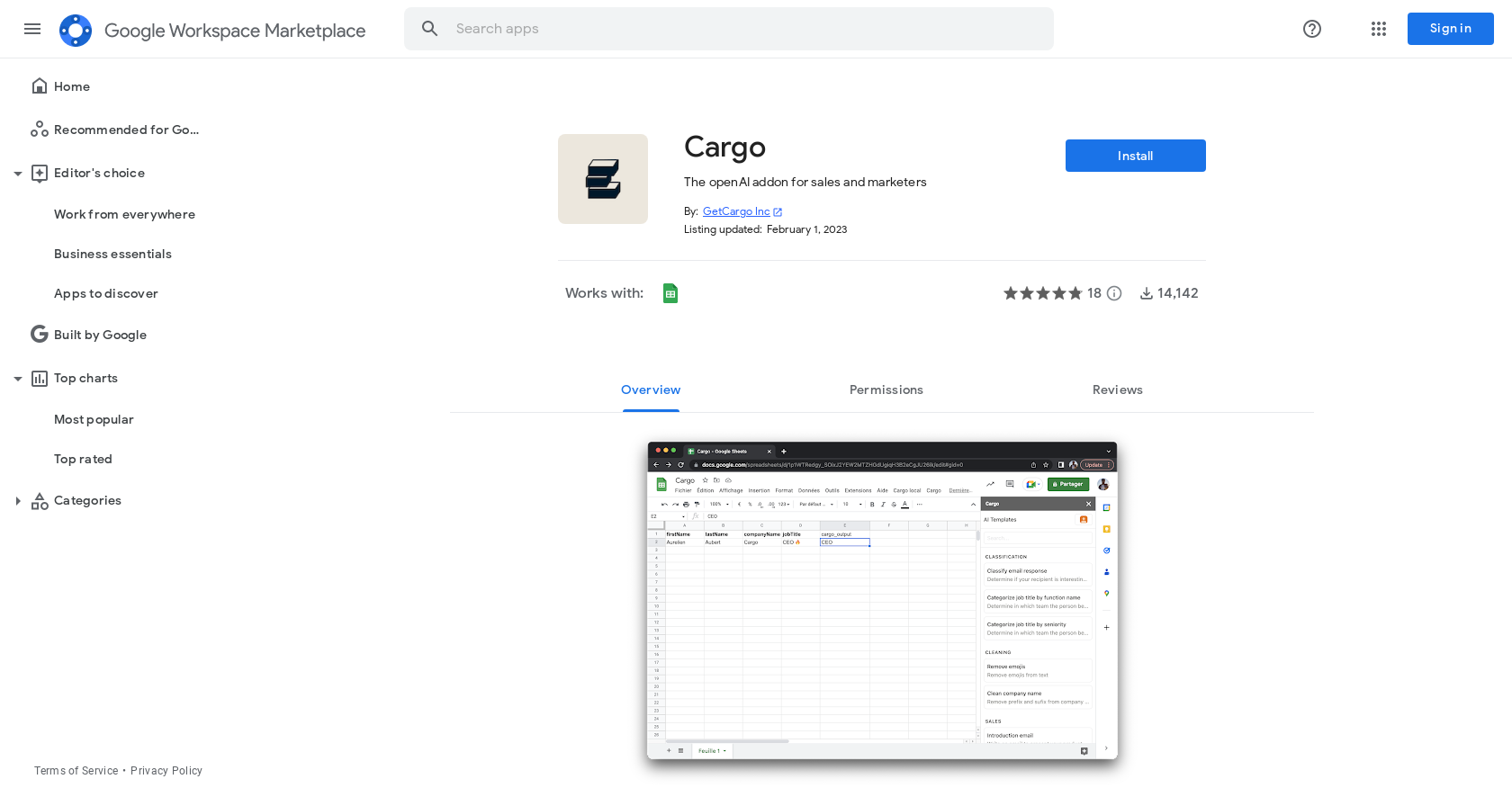 Generated by GPT-3
CARGO is a Google Workspace Marketplace openAI addon designed specifically for sales and marketers. The addon allows users to quickly and easily create sales emails, follow-ups, Google Ads copy, and blog posts at scale using AI-powered pre-built templates.
All users have to do is input their desired content into the addon, and CARGO will automatically fill in the rest of the spreadsheet. CARGO is free of charge, and is developed by GetCargo Inc.CARGO requires access to the user's Google account in order to see primary email address and any personal info that has been made publicly available.
In addition, users are able to rate and review the app, with their review, profile name, and photo appearing publicly in Google's services.User reviews of CARGO have been overwhelmingly positive, with users noting its accessibility, scalability, and the support they received from the CARGO team.
Many users have also commented on the time and effort saved by using the addon.
Featured
?
33 alternatives to AI for Sheets by Cargo for Task automation
20 Mar 2023

02 Mar 2023

02 Mar 2023

03 Mar 2023

04 Mar 2023

14 Mar 2023

16 Mar 2023

17 Mar 2023

04 Feb 2023

16 Feb 2023

22 Feb 2023

23 Feb 2023

30 Jan 2023

30 Jan 2023

22 Dec 2022

15 Nov 2022

22 Nov 2022

12 Oct 2022

12 Aug 2022

16 Jun 2022

07 Apr 2022

08 Apr 2022

07 Jan 2022

01 Feb 2022

01 Feb 2022

08 Mar 2022

08 Mar 2022

10 Feb 2021

28 Apr 2021

27 Jul 2021

02 Nov 2021

26 Jun 2020

20 Sep 2016