AnyQuestions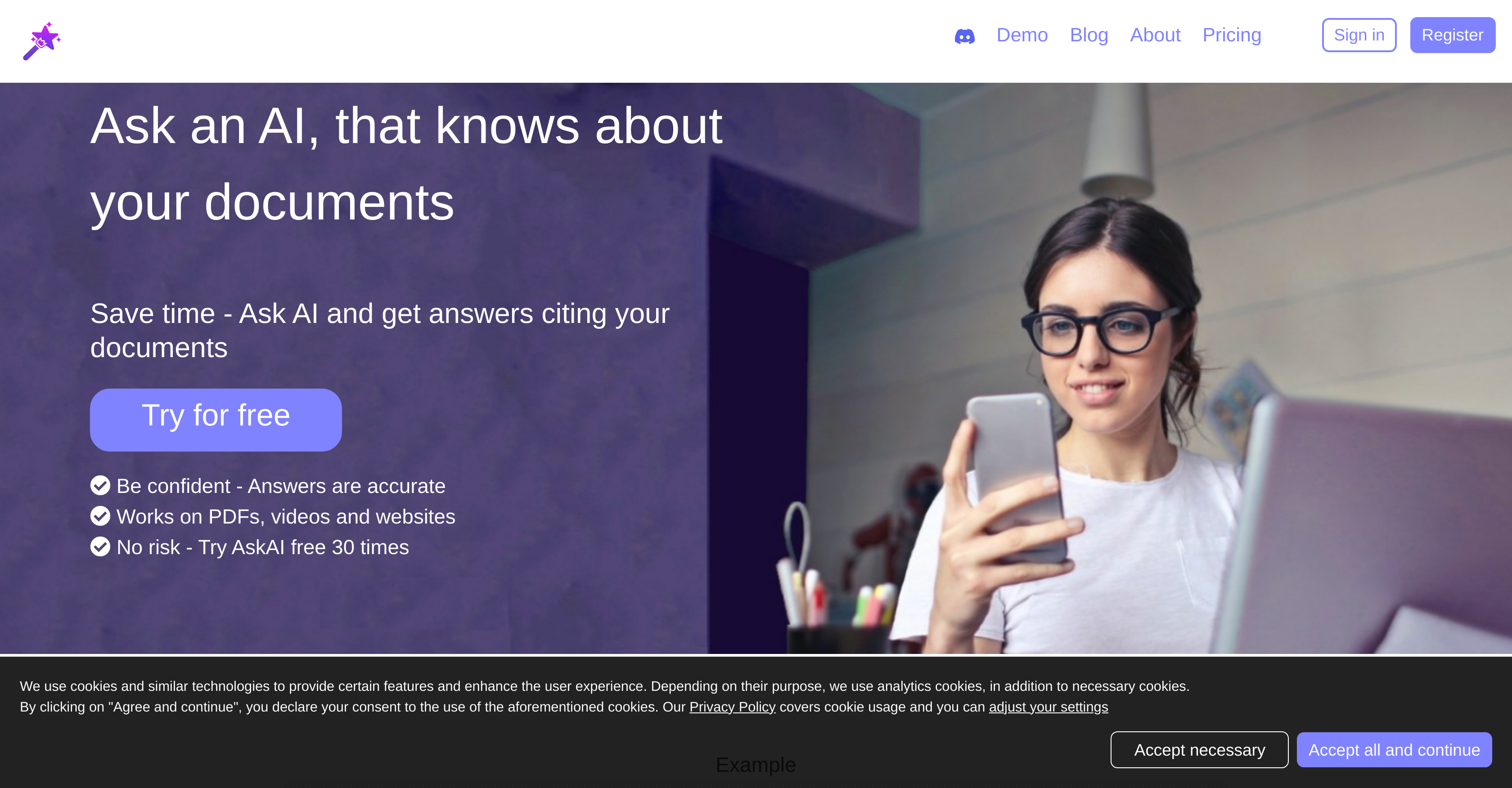 Generated by GPT-3
AnyQuestions.ai is an artificial intelligence (AI) tool that allows users to ask questions about their documents and videos and receive accurate answers that cite the source.
It works by extracting text from documents and videos and then using natural language processing (NLP) to provide answers. It is built on the Revision.ai engine, which is trusted by students for its accuracy.AnyQuestions.ai is designed to save users time by providing accurate answers quickly.
It supports multiple file types such as PDFs, videos and web pages, and can generate flashcards from documents. It also stores text, embeddings and meta data, but not the files themselves.
It is compliant with GDPR, DPA 2018 and ISO 27001.The tool also provides tailored learning maps which enable users to visualise, explore and level up their studies.
Additionally, it highlights knowledge gaps to help users understand where their knowledge is lacking. Users can sign up for a free trial to upload three documents and experience the power of AnyQuestions.ai.
The Pro and Enterprise plans are also available for more advanced features such as co-worker sharing, use on chats and up to 3000 pages per upload.
Featured
?
78 alternatives to AnyQuestions for Q&A
01 Mar 2023

02 Mar 2023

02 Mar 2023

04 Mar 2023

05 Mar 2023

06 Mar 2023

06 Mar 2023

07 Mar 2023

07 Mar 2023

09 Mar 2023

09 Mar 2023

10 Mar 2023

12 Mar 2023

12 Mar 2023

16 Mar 2023

01 Feb 2023

01 Feb 2023

01 Feb 2023

02 Feb 2023

05 Feb 2023

06 Feb 2023

14 Feb 2023

17 Feb 2023

18 Feb 2023

20 Feb 2023

20 Feb 2023

20 Feb 2023

21 Feb 2023

23 Feb 2023

25 Feb 2023

25 Feb 2023

02 Jan 2023

02 Jan 2023

04 Jan 2023

04 Jan 2023

05 Jan 2023

07 Jan 2023

07 Jan 2023

08 Jan 2023

09 Jan 2023

15 Jan 2023

17 Jan 2023

18 Jan 2023

20 Jan 2023

23 Jan 2023

23 Jan 2023

24 Jan 2023

24 Jan 2023

24 Jan 2023

24 Jan 2023

26 Jan 2023

28 Jan 2023

30 Jan 2023

31 Jan 2023

06 Dec 2022

12 Dec 2022

14 Dec 2022

18 Dec 2022

21 Dec 2022

28 Dec 2022

28 Dec 2022

28 Dec 2022

29 Dec 2022

30 Dec 2022

19 Nov 2022

21 Nov 2022

23 Nov 2022

28 Nov 2022

13 Sep 2022

23 Sep 2022

09 Jul 2022

15 Jul 2022

05 May 2022

21 May 2022

25 Jan 2022

09 Feb 2021

06 Nov 2021

31 Mar 2018