Edit AI
Digital question answering for text and video.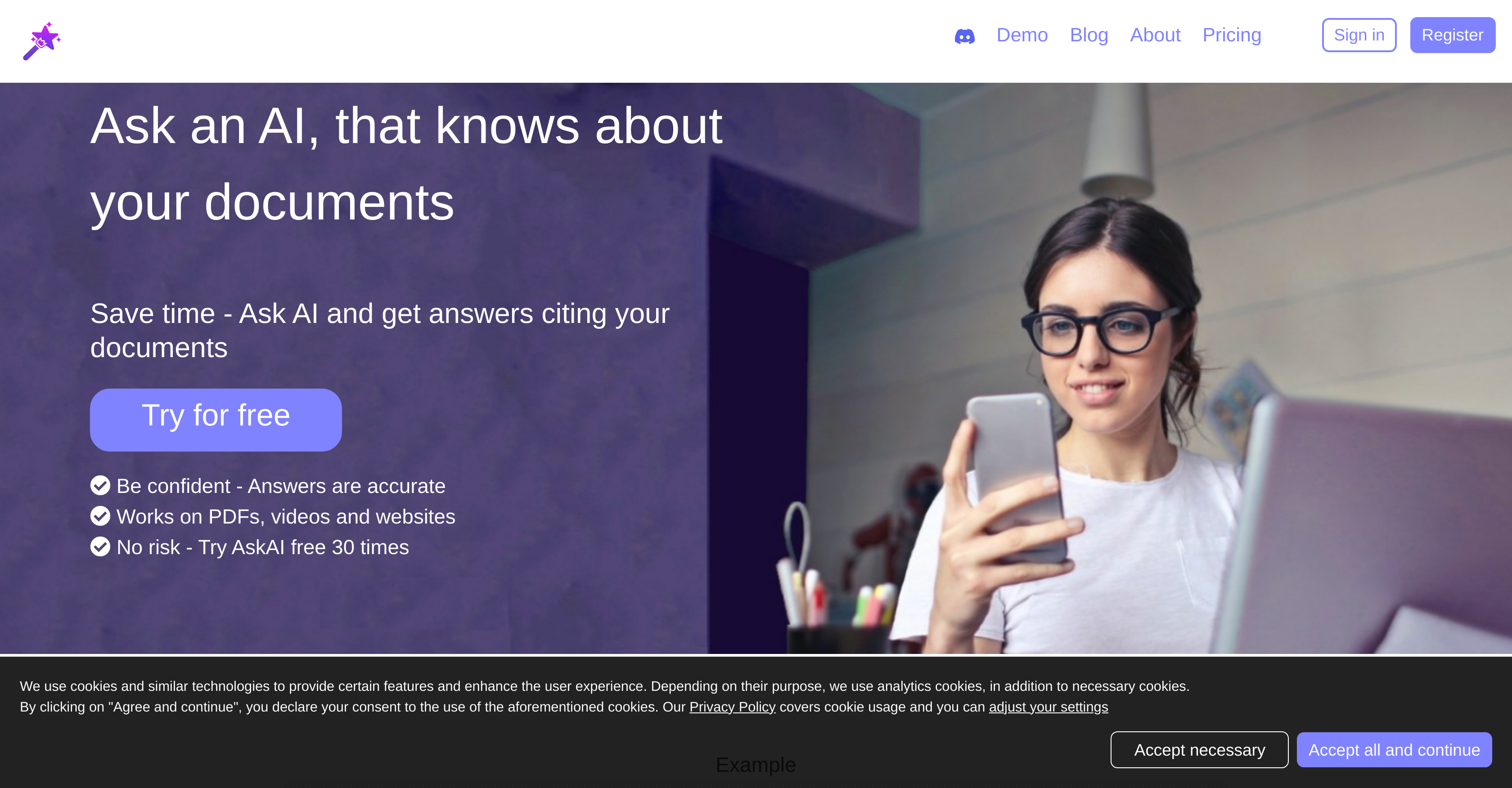 Generated by ChatGPT
AnyQuestions.ai is an artificial intelligence (AI) tool that allows users to ask questions about their documents and videos and receive accurate answers that cite the source.
It works by extracting text from documents and videos and then using natural language processing (NLP) to provide answers. It is built on the Revision.ai engine, which is trusted by students for its accuracy.AnyQuestions.ai is designed to save users time by providing accurate answers quickly.
It supports multiple file types such as PDFs, videos and web pages, and can generate flashcards from documents. It also stores text, embeddings and meta data, but not the files themselves.
It is compliant with GDPR, DPA 2018 and ISO 27001.The tool also provides tailored learning maps which enable users to visualise, explore and level up their studies.
Additionally, it highlights knowledge gaps to help users understand where their knowledge is lacking. Users can sign up for a free trial to upload three documents and experience the power of AnyQuestions.ai.
The Pro and Enterprise plans are also available for more advanced features such as co-worker sharing, use on chats and up to 3000 pages per upload.
Featured
AnyQuestions was manually vetted by our editorial team and was first featured on January 31st 2023.

Would you recommend AnyQuestions?
Help other people by letting them know if this AI was useful.
137 alternatives to AnyQuestions for Document Q&A
Converts PDFs to interactive chatbots.

620

3.4

Read PDFs conversationally with assistance.

370

3.0

Creation of chatbots for messaging apps.

349

3.0

Chat-based PDF analysis output.

177

3.7

Simplified prompt & accurate data comprehension.

170

5.0

Search and query PDF docs with semantic features.

153

1.0

Automated worker for instant business tasks.

147

3.7

AI Chat with your Knowledge Base

91

5.0

PDF document communication and interaction.

81

4.0

Summarize document insights.

78

Integrating for multi-platform content creation.

71

2.0

Analyze files and provide Q&A through chatbot.

70

3.7

Instant PDF document answers with ChatDOC.

70

4.0

Improved productivity via streamlined processes.

68

Ease PDF understanding & data analysis.

66

3.7

Document analysis and insight generation.

60

5.0

Document summarization and Q&A using conversation.

56

5.0

Efficient document cross-referencing & retrieval.

56

Rapidly finding documents and knowledge.

54

1.0

Comprehensive document review and communication solution

53

4.7

Extract answers from PDFs.

51

5.0

Analyzed PDFs via instant chat.

49

Document collab w/ chat in multiple langs & formats

49

4.7

Analyzed documents, chatted with customized chatbots.

45

5.0

Analyzed Q&A PDF document.

43

Analyzed and assisted with interactive PDF documents.

42

1.0

Simplified document summarization platform.

41

3.0

Chat for simplified file management and collaboration.

37

Text editor to improve writing creativity and output.

34

Analyzed and aligned documents using Q&A platform.

32

1.0

Extract & communicate with docs in various formats.

32

4.0

Efficient PDF document analysis and question answering.

31

Effortlessly organize and retrieve information.

29

Intelligent search for document library.

27

Analyzed data through conversational interface.

27

Extracting insights from data files through Q&A.

27

Provide contextual responses from uploaded docs

27

5.0

Chatbot for document analysis and Q&A.

26

Chat With Your Digital Content

26

5.0

Chatbot for answering questions from documents.

25

5.0

Web content analysis & conversational Q&A system.

24

Parsing technical documents and jargon.

23

Enhanced PDF with interactive Q&A features

23

Improved learning through personal content memory.

22

Online assistant for creating and analyzing documents.

22

5.0

Efficient personal knowledge organization and retrieval

22

PDF summarization and understanding solution

22

5.0

Note-taking and chat with text generation.

20

5.0

19

1.0

Interactive PDF Q&A for engagement and answers.

19

Automated customer support responding.

19

5.0

Streamlined PDF simplification through chat.

18

5.0

Automated business operations across industries.

18

Improve website documentation with Q&A integration.

18

Efficient chatbot for multi-document convos.

17

5.0

Analyze & summarize PDF papers for academia & business.

16

Converted PDFs with natural dialogue

15

3.0

Accelerated document analysis and insights.

15

Tailored chatbot for Q&A on content.

14

Quickly analyze PDFs and answer questions in chat.

14

Legal research & analysis

14

Assistant for discovering insights and analyzing data.

13

PDF reader with interactive Q&A.

13

Simplified analysis of academic content.

13

5.0

Conversational PDF viewer

13

Extract secure info for trusted content generation.

12

4.8

Enhancing document processing with chatbots and OCR.

12

Integrates document chat for app developers.

12

Document analysis & Q&A solution for various files

12

4.0

PDF document analysis and extraction improved.

12

Reads documents and answers queries.

11

Managed documents through language processing.

11

Document analysis and interaction via conversation.

11

A document summarization and Q&A productivity aid.

10

Analyze PDF document questions efficiently.

10

PDF document assistant and translator.

10

Manage and interact with private Mac documents.

10

Analyzed PDF, DOC, and TXT via question-based input.

9

9

Personalized shopping assistant with smart suggestions.

9

5.0

Custom question-answering on uploaded documents.

8

Created custom chatbots with NLP algorithms.

8

Extracted data from docs for real-time workflows.

8

Custom chatbots for support, marketing & education.

8

Customizable chatbots w/ multilingual support & docs.

8

Automated document and workflow platform.

8

Create chatbots easily without coding.

7

Analyzed documents for Q&A.

7

Enhancing interactions with a personalized assistant.

7

Automated document sorting and retrieval assistant.

6

Simplified PDF retrieval through questioning.

6

Support chatbot w/ NLP & search.

6

5.0

Quickly search and answer questions in documents.

5

5.0

Enhanced group chat collaboration with document sharing.

5

Enhances knowledge and support with Q&A docs.

5

Improved PDF collaboration and communication.

5

Enhanced PDF management and editing for efficiency.

5

Effortless document sorting using Q&A.

4

1.0

Customizable search engine with integrated features.

4

Chatbot for employee support with knowledge base.

4

5.0

Improved document navigation and information extraction.

4

PDF analysis, interaction, collaboration (35)

4

Retrieve and validate uploaded document data.

3

Cloud-based doc analysis & collab w/ generative tech.

3

5.0

Manage digital documents with Q&A chat.

3

Fast retrieval of document info.

3

Revolutionary document collaboration solution.

3

Document Q&A Knowledge Assistant

3

PDF data analysis chatbot for engagement

3

Data analysis & Q&A platform for personal information.

3

Retrieving personalized answers from uploaded documents.

3

Secure document summarization and chat.

3

Improves document interaction with Q&A and automation.

3

Varied chatbots handle & integrate w/ diverse platforms.

2

Enhances document comprehension via chatbot. (-3 points)

2

Enhanced work productivity through chat interface.

2

Docs transformed to insights via analysis & summary.

2

Seamless document collaboration and enhancement.

2

PDF chat for querying & summarizing info.

2

1

Test new solutions on a platform.

1

Cost-cutting chatbot streamlines customer support.

1

5.0

Voice assistant for real-time info retrieval.

1

Document search and retrieval with chat.

1

Document searching and retrieval made instant.

1

Efficient proposal creation for sales professionals

1

Improved document collaboration and analysis.

17

2.0

GoPDF: Edit, Convert, Edit, Engage, Chat

16

5.0
Pros and Cons
Pros
Supports multiple file types
Generates flashcards from documents
Compliant with GDPR, DPA 2018 and ISO 27001
Provides tailored learning maps
Highlights knowledge gaps
Free trial available
Pro and Enterprise plans
Supports up to 3000 pages per upload
Built on trusted Revision.ai engine
Doesn't store files, only text, embeddings, and metadata
Supports PDFs, videos, web pages
Quotes source in answers
Privacy of uploads
Ability to level up studies
Capable of cohesive answers from different paragraphs
Faster than 'Find' feature
Offers document fact-checking
Can be used on chats
Allows co-worker sharing
Supports co-study with friends
Generates quizzes
Understands lecture-specific maps
Allows creation of links between concepts
Automatic study planning feature
Analytics cookies for improved user experience
Data visualisation capability
Fast and accurate responses
Time-saving tool
Allows university registration
Interactive user sign up
Usage of necessary cookies
Document citing in answers
Caters to 'Knowledge Gap'
Supports 20,000 searches a year
High volume document indexing
Supports document embedding
Knowledge-based interactive map
Facilitates CTRL+F Speedrun
Supports popular podcasts
Interactive Demo offered
Visualisation of lecture-specific map
In-built flashcard generator engine
Cons
Not open-source
Limited free trial
Expensive plans
No file storage
No API mentioned
Limited to 3000 pages/upload
Depends on JavaScript
Requires user registration
Closed Digital Rights
Limited peak performance
Q&A
What is AnyQuestions.ai?
AnyQuestions.ai is an artificial intelligence tool that permits users to inquire about their documents and videos, and obtain precise answers that cite the source. It leverages text extraction from documents and videos, providing users with solutions using natural language processing. It's developed on the Revision.ai engine, which offers high accuracy trusted by students.
How does AnyQuestions.ai generate answers?
AnyQuestions.ai generates answers by extracting text from the user's documents and videos. It applies natural language processing to the extracted information, interpreting the queries of the user, and giving accurate responses that reference the original source.
Which file types are supported by AnyQuestions.ai?
AnyQuestions.ai supports multiple file types, specifically PDFs, videos, and web pages.
How does AnyQuestions.ai use natural language processing (NLP)?
Natural Language Processing (NLP) in AnyQuestions.ai is applied to analyze and comprehend the user's questions and, based on the extracted information from videos and documents, to produce accurate responses in a human-like manner.
What is the Revision.ai engine and why is it trusted by students?
The Revision.ai engine is a highly accurate tool for text extraction and comprehension. It's trusted by students because of its reliable performance in answering complex questions and its ability to highlight meaningful content within documents.
How does AnyQuestions.ai help me save time?
AnyQuestions.ai helps save time by providing accurate answers quickly. By fact-checking the documents, it pulls out precise answers faster than other basic document solutions or non-document solutions.
What kind of data does AnyQuestions.ai store?
AnyQuestions.ai stores the extracted text, embeddings, and meta-data from your uploads. It, however, does not store the actual files.
What privacy and security standards is AnyQuestions.ai compliant with?
AnyQuestions.ai complies with GDPR, DPA 2018, and ISO 27001 standards, reflecting its adherence to high international privacy and security norms.
What are the tailored learning maps provided by AnyQuestions.ai?
Tailored learning maps provided by AnyQuestions.ai are unique tools that let users visualize, explore, and level up their studies. These features enable users to identify and understand their knowledge gaps better.
Does AnyQuestions.ai have a feature to highlight knowledge gaps?
Yes, AnyQuestions.ai highlights knowledge gaps. It helps users understand where they need to strengthen their knowledge, ensuring a broader and more thorough learning process.
Is there a free trial for AnyQuestions.ai and what are its scope and limitations?
Yes, AnyQuestions.ai provides a free trial. Users can upload three documents to experience the tool. However, additional advanced features and capabilities may not be accessible.
What is included in the Pro and Enterprise plans of AnyQuestions.ai?
The Pro plan of AnyQuestions.ai includes virtual unlimited ASKAI, processing up to 500 pages per upload, costudy with 3 friends (upcoming), and indexing 20 documents weekly for $17.99/month. The Enterprise plan allows co-worker sharing, application on chats, processing up to 3000 pages per upload for $499.99/month.
Can I share access with co-workers using AnyQuestions.ai?
Yes, co-worker sharing is included in the Enterprise plan of AnyQuestions.ai, allowing collaborative use of the tool.
How does AnyQuestions.ai generate flashcards from documents?
AnyQuestions.ai generates flashcards from documents by extracting significant information and organizing it in a flashcard format. This feature aids in the user's understanding and retention of the information.
How many pages can I upload per session on AnyQuestions.ai?
On AnyQuestions.ai, the number of pages you can upload per session varies depending on the plan: Free Trial allows up to 100 pages, Pro allows up to 500 pages, and Enterprise permits up to 3000 pages.
Does AnyQuestions.ai provide document-specific search results?
Yes, AnyQuestions.ai provides document-specific search results. The AI quotes the source of each answer with document search results, improving accuracy.
Why is AnyQuestions.ai more accurate than chat interfaces?
AnyQuestions.ai is more accurate than chat interfaces because it reads and fact-checks the documents thus providing accurate responses. Also, it displays the AI's confidence in each answer.
Does AnyQuestions.ai include the source of its answers?
Yes, AnyQuestions.ai cites the source of every AI answer with document search results, lending credibility and context to each answer it provides.
Is AnyQuestions.ai's service uninterrupted during peak periods?
During peak periods, the Free Trial's activity of AnyQuestions.ai may be limited. However, AnyQuestions.ai aims to provide a virtually unlimited service for Pro and Enterprise plancustomers.
Can I ask the AI questions about a YouTube video with AnyQuestions.ai?
Yes, users can ask questions about a YouTube video with AnyQuestions.ai. The AI extracts text from the videos and generates accurate responses based on the content of the video.
If you liked AnyQuestions
Help
⌘ + D bookmark this site for future reference
⌘ + ↑/↓ go to top/bottom
⌘ + ←/→ sort chronologically/alphabetically
↑↓←→ navigation
Enter open selected entry in new tab
⇧ + Enter open selected entry in new tab
⇧ + ↑/↓ expand/collapse list
/ focus search
Esc remove focus from search
A-Z go to letter (when A-Z sorting is enabled)
+ submit an entry
? toggle help menu
x
Sign in to continue (100% free)
To prevent spam, some actions require being signed in. It's free and takes a few seconds.
Sign in with Google