Edit AI
Low-code platform for building generative apps.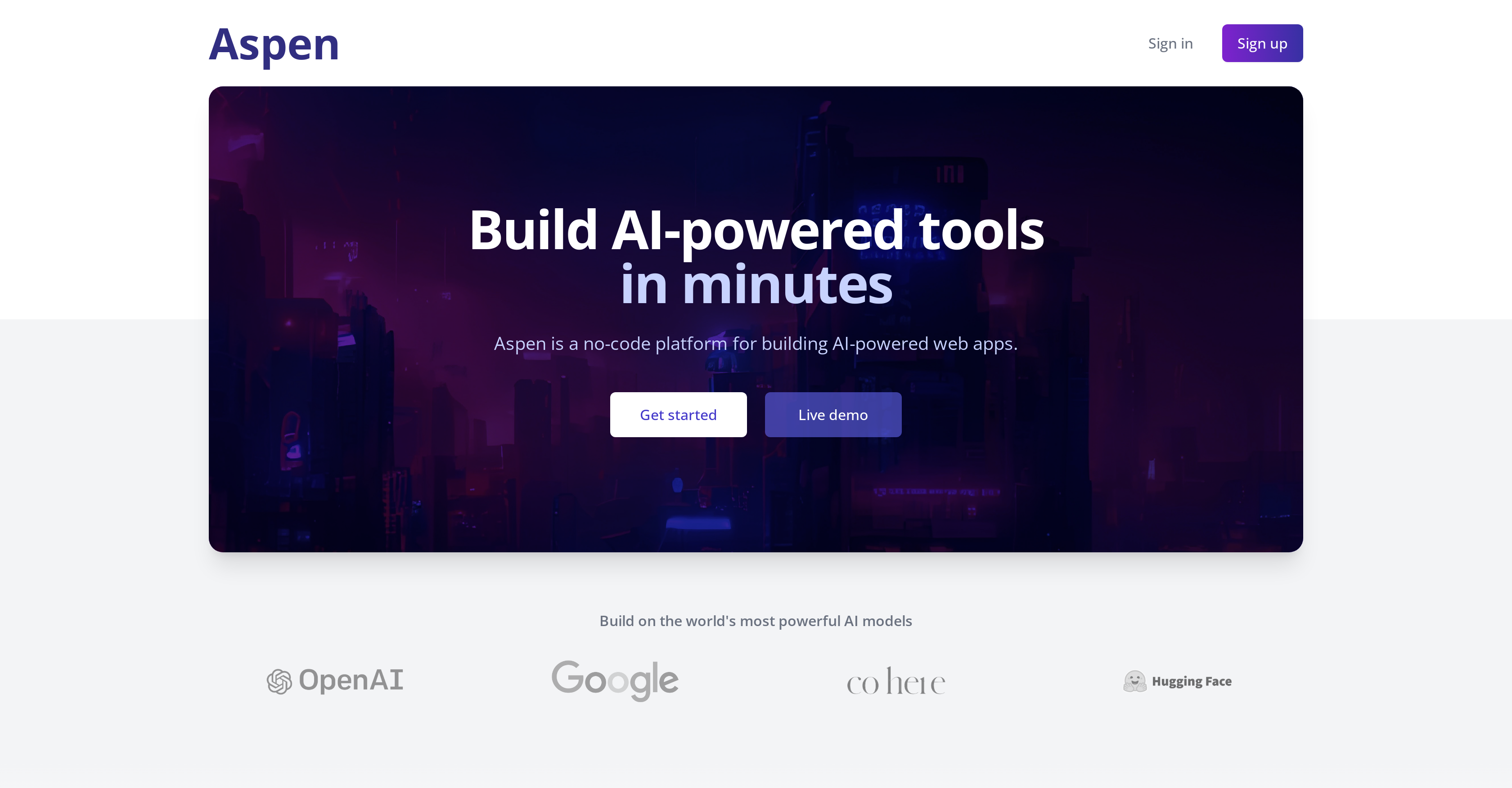 Generated by ChatGPT
Aspen is an AI-powered low-code platform for building generative web apps. It enables developers to quickly and easily build AI applications without the need for extensive coding.
It provides a range of features to facilitate the development process, including authentication, payments, templates, hosting, and deployment. It also allows users to train their own custom models with an intuitive playground.
Pricing starts at $35 per month, with free tiers available. Launching early 2023, Aspen is a powerful tool to help developers participate in the AI revolution.
Featured
Aspen was manually vetted by our editorial team and was first featured on November 20th 2022.

Would you recommend Aspen?
Help other people by letting them know if this AI was useful.
Text-to-Website builder with AI, WordPress & Elementor.

979

1.3

Generated design options for no-code website creation.

646

4.3

AI Website Building for Businesses

374

4.0

Revolutionized web design aided by machine learning.

346

Assisted website creation for business owners.

265

3.5

Generate branded copywriting landing pages rapidly.

239

1.0

AI-powered website builder

165

5.0

Visually appealing websites made effortlessly.

134

Efficient creation and management of websites.

130

5.0

Landing page creation without coding for businesses.

116

1.0

Created web apps with machine learning.

110

2.0

Website design without coding & online marketing.

103

3.0

Website generator for small businesses.

85

5.0

Simplified website design solution.

78

5.0

Website copywriting improved by language processing.

72

5.0

Automated workflows and no-code apps.

72

1.0

Website creation with automated content and design.

68

Easy website creation solution.

55

5.0

Efficient website creation and resume generation.

53

1.0

Built websites intelligently.

53

Non-tech user website builder.

52

5.0

Automates design generation for website creation.

52

Customizable templates for modern landing pages.

52

4.0

Created professional website & store automatically.

52

5.0

Built mobile-friendly websites with codeless editor.

49

5.0

Improves website creation process with assistance.

48

Build websites easily without technical knowledge.

48

1.0

Smartly boosted websites w/ copy suggestions.

45

Design and optimize personalized websites.

44

Natural language website generation.

42

1.0

Website builder without coding.

40

Created and designed websites efficiently.

39

Website and UI builder for rapid prototyping.

37

Effortlessly creates websites with advanced analytics.

36

Website building for non-tech users

34

5.0

Created eCommerce shops visually with automated pages.

33

Natural language-based web page design.

32

Automated website generation and cloud stacking.

30

Website creation made easy with generated templates.

30

Created website copy using automation for designers.

29

Efficient web development with generative tech.

26

Created digital experiences for businesses.

26

Created small business websites powerfully.

24

4.0

Easy site creation for SMBs and creatives.

23

5.0

Website development solution

23

Easy website creation for individuals and startups

21

Website creation & management, optimized effortlessly.

20

1.0

Generated and collaborated website copy.

19

Startup landing page creation made easy.

18

User-friendly web page creation for non-tech users.

14

Easily design websites without coding experience.

13

Assisted creation of chat-based website templates.

13

Create personalized websites & landing pages with ease.

13

1.0

Entrepreneurs' website generator for marketing.

11

Website builder and lead manager, no coding required.

10

Generated web content via conversational dashboard.

7

Website Design-to-Dev Conversion Solution.

5

Website structure and SEO visual sitemap generation.

4

5.0

3

Webstudio accelerates website creation for designers.

2

5.0

Landing pages for diverse industries.

1
Pros and Cons
Pros
Low-code platform
Generative app building
Quick and easy development
Authentication feature
Payment integration
Pre-designed templates
Hosting services
Deployment services
Custom model training
Intuitive playground interface
Boilerplate frontend generation
Input and output format selection
Peripheral requirements handling
Single dashboard management
Scalable authentication
Pre-built Stripe integrations
Instant project launching
Supports diverse user inputs
Model presets available
Affordable pricing
Free tiers available
Configure model settings
User onboarding facility
MVP playground
Launching in 2023
Cons
Expensive starting price
Requires JavaScript enabled
Limited frontend customization
Limited database configurations
Pre-built authentication
Launches in 2023
Only boilerplate Stripe integrations
Limited templates variety
In-beta model training
Q&A
What is Aspen?
Aspen is an AI-powered low-code platform for building generative web apps. It allows developers to ease the process of building AI applications as it requires minimal coding.
What is the purpose of Aspen?
The main purpose of Aspen is to reduce the extensive coding usually necessary in AI web app development. It empowers developers to easily and quickly build AI applications using a range of features including authentication, payments, templates, hosting and deployment.
How does Aspen work?
Aspen operates in a sequence of steps: prototype building in its playground, choosing input and output formats, selecting boilerplate frontends based on the formats or from a choice of templates, adding peripheral requirements such as authentication, payments, and databases, and finally deploying the application to onboard users.
What features does Aspen provide for building web apps?
Aspen provides a range of features such as pre-built authentication that scales with your web app, boilerplate Stripe integrations for handling payments, numerous beautiful templates, easy hosting and deployment solutions, features for training your custom models, and a unified dashboard for managing your web apps and custom models.
What is the pricing structure for Aspen?
Aspen employs a pricing structure that starts at $35 per month, with free tiers available for users to leverage.
How can Aspen facilitate quicker web app development?
Aspen expedites the process of web app development through its low-code setup, enabling developers to rapidly prototype and build applications. By providing boilerplate frontends, pre-built authentication, and integrated payments, among other features, Aspen reduces the time and coding expertise required in traditional app development.
Does Aspen provide any provisions for hosting and deployment?
Yes, Aspen provides provisions for hosting and deployment. It allows you to deploy your model and launch your projects instantly.
Is Aspen limited to any specific type of apps?
Aspen is not limited to any specific types of apps. Its primary focus is on generative AI web apps but the nature of these apps is defined by the developer's use of inputs, outputs, and chosen models.
Is any coding experience needed to use Aspen?
The requirement of coding experience to use Aspen is minimal. It's a low-code platform which means it is designed to reduce the need for extensive coding when building AI applications. However, a basic understanding of AI applications and web app development could be beneficial.
How does Aspen handle user authentication?
Aspen handles user authentication using pre-built functionality that scales in line with your web application. It eliminates the need to worry about user onboarding.
What payment systems does Aspen integrate with?
Aspen integrates with Stripe for handling payments, offering boilerplate Stripe integrations to make the setup of payments hassle-free.
Does Aspen provide any premade templates?
Yes, Aspen provides a range of beautiful templates which are specifically built for generative AI web apps, allowing users to swiftly get started.
What kind of web apps can I build with Aspen?
With Aspen, you can build generative AI web apps. The type of web apps you can build depends on your chosen input and output formats, along with the generative model used.
Do I get a freemium version or free trial with Aspen?
Indeed, Aspen offers free tiers to users, which could facilitate initial exploration and potential usage without incurring immediate costs.
What does it mean by 'train your own models' in Aspen?
'Train your own models' in Aspen refers to the option it provides to build and train custom generative models tailored for your applications, using its intuitive playground interface.
What type of user inputs can Aspen handle?
Aspen can handle a variety of user inputs. This may include text, images, audio, or more. The type of input required is dependent on the nature of the generative AI web app.
What does launching my app with Aspen involve?
Launching your app with Aspen involves finalizing your input, output formats, frontends, peripheral requirements, and then deploying your app for onboarding users.
Can I manage multiple web apps from Aspen's Dashboard?
Yes, with Aspen's dashboard, you can manage all your web apps and custom models from a single unified interface.
What support does Aspen provide for databases?
Aspen allows the incorporation of databases among other peripheral requirements into your web app, simplifying the task of database management during the development process.
When is Aspen launching?
Aspen is set to launch in early 2023.
If you liked Aspen
Help
⌘ + D bookmark this site for future reference
⌘ + ↑/↓ go to top/bottom
⌘ + ←/→ sort chronologically/alphabetically
↑↓←→ navigation
Enter open selected entry in new tab
⇧ + Enter open selected entry in new tab
⇧ + ↑/↓ expand/collapse list
/ focus search
Esc remove focus from search
A-Z go to letter (when A-Z sorting is enabled)
+ submit an entry
? toggle help menu
x
Sign in to continue (100% free)
To prevent spam, some actions require being signed in. It's free and takes a few seconds.
Sign in with Google