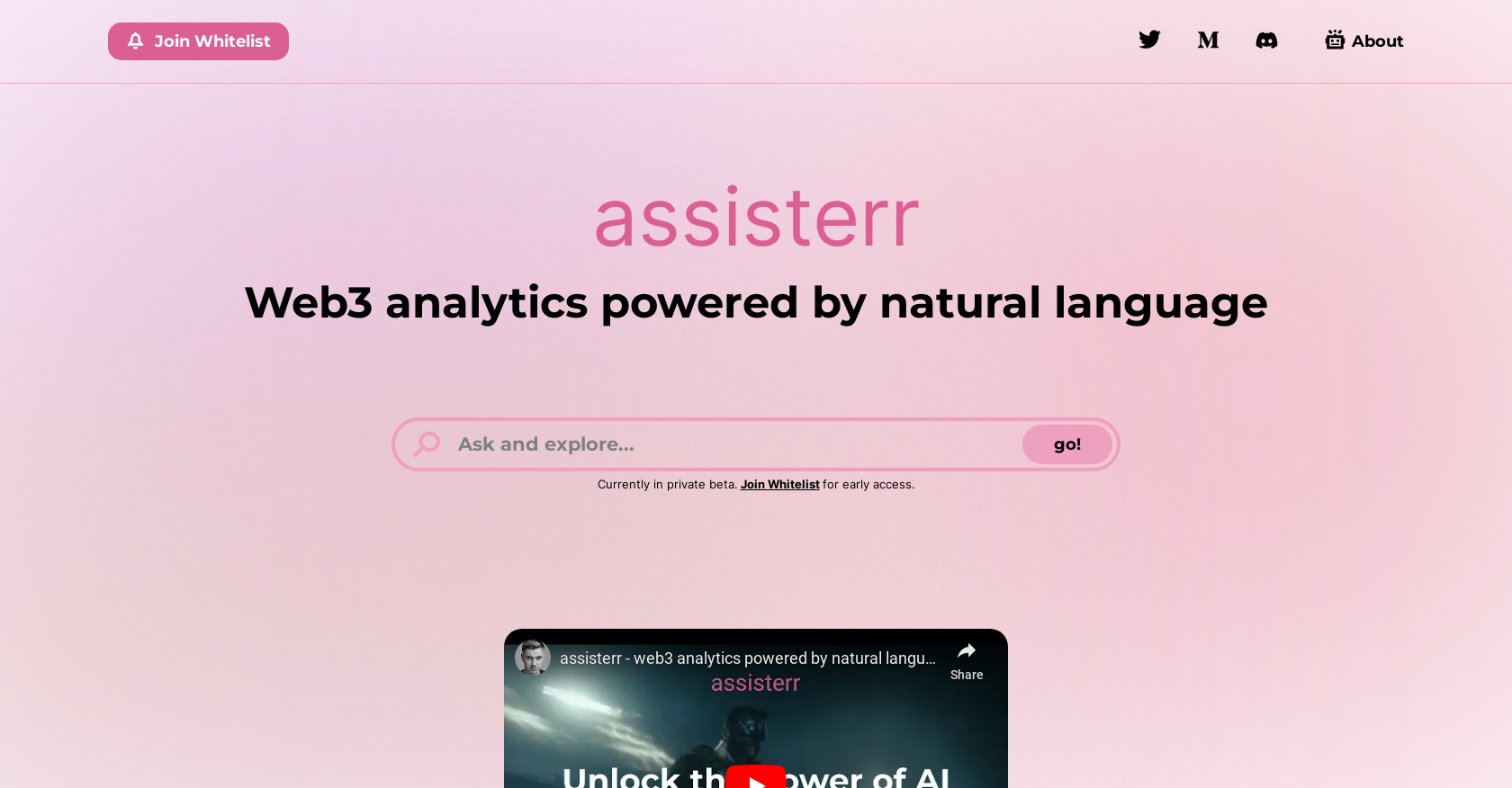 Generated by GPT-3
WhitelistAssisterr is an AI-powered tool that has been designed to provide web3 analytics for decentralized networks. Its advanced algorithms incorporate machine learning techniques to analyze data and offer insights into the various activities and interactions of the community.
This tool helps users to make informed decisions, facilitate better collaboration, and unlock the full potential of their network. It provides natural language querying capabilities that allow users to explore the data in a conversational way, removing the need for complex analytics knowledge.
Currently, the tool is in private beta testing, and users can join the whitelist to get early access to this innovative web3 analytics tool.
Featured
?
51 alternatives to Assisterr for Data analytics
06 Mar 2023

16 Mar 2023

16 Mar 2023

16 Mar 2023

06 Feb 2023

09 Feb 2023

09 Feb 2023

09 Feb 2023

20 Feb 2023

26 Feb 2023

02 Jan 2023

13 Jan 2023

13 Jan 2023

17 Jan 2023

19 Jan 2023

20 Jan 2023

21 Jan 2023

02 Dec 2022

08 Dec 2022

20 Dec 2022

30 Dec 2022

03 Nov 2022

09 Nov 2022

09 Nov 2022

18 Nov 2022

18 Nov 2022

28 Nov 2022

02 Oct 2022

13 Oct 2022

25 Oct 2022

07 Sep 2022

30 Aug 2022

03 Jul 2022

15 May 2022

19 Jan 2022

22 Jan 2022

14 Feb 2022

14 Feb 2022

25 Feb 2022

22 Mar 2022

23 Mar 2022

16 Jan 2021

04 Feb 2021

15 Jun 2021

18 Jun 2021

21 Jun 2021

11 Aug 2021

24 Jan 2020

03 Feb 2020

19 Feb 2020

11 Apr 2019