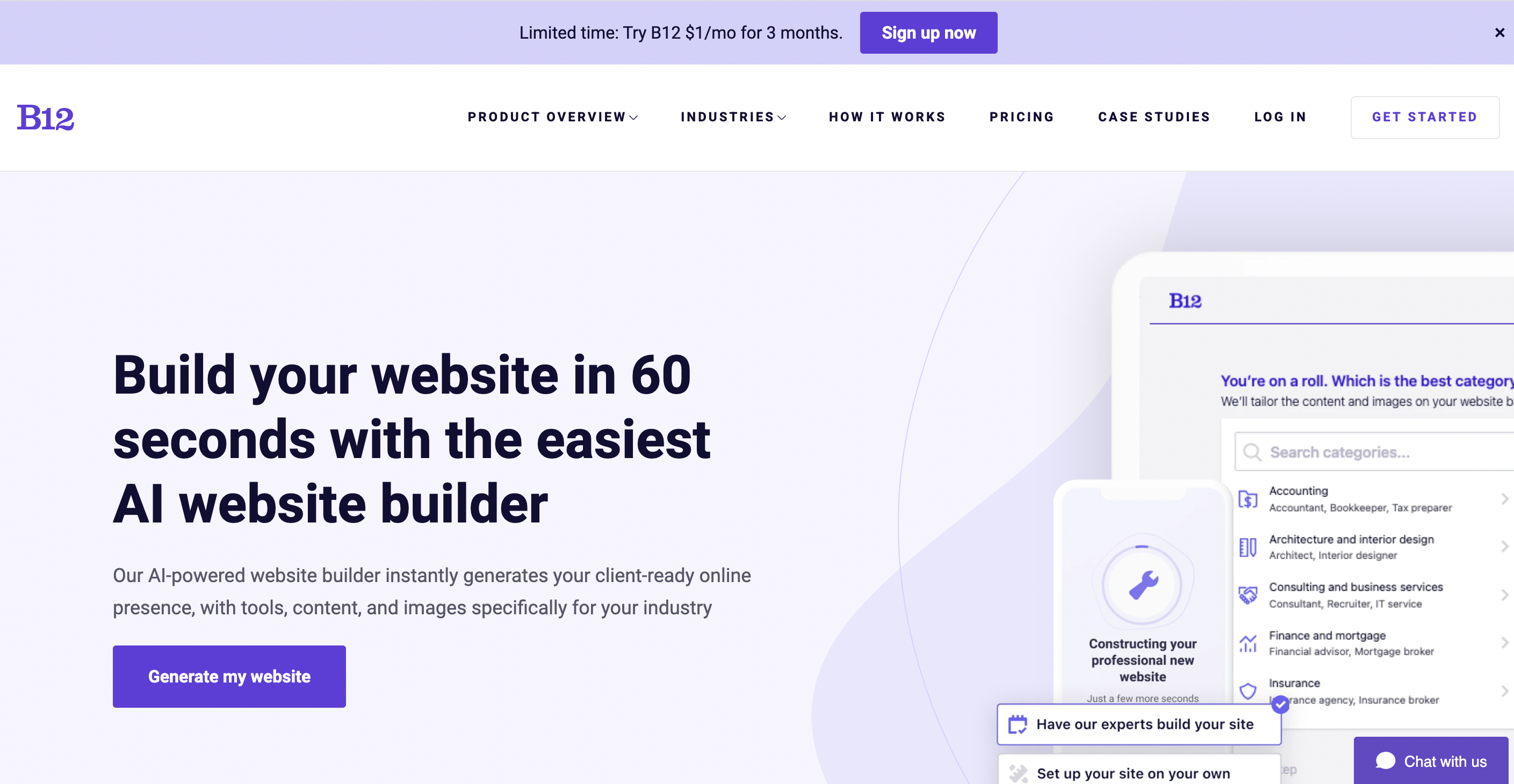 Generated by ChatGPT
B12's AI website builder includes everything you need to look professional, engage clients, and grow your business. See your site in 60 seconds and publish it yourself or get help from our experts.
Your AI copilot drafts full web pages, blog posts, and emails for you in less than a minute. Launch your site fast with all the right tools, including payments & invoicing, online scheduling, eSignatures, and email marketing.
Featured
B12.io was manually vetted by our editorial team and was first featured on January 23rd 2023.

Would you recommend B12.io?
Help other people by letting them know if this AI was useful.
Text-to-Website builder with AI, WordPress & Elementor.

979

1.3

Generated design options for no-code website creation.

646

4.3

AI Website Building for Businesses

374

4.0

Revolutionized web design aided by machine learning.

346

Assisted website creation for business owners.

265

3.5

Generate branded copywriting landing pages rapidly.

239

1.0

Visually appealing websites made effortlessly.

134

Efficient creation and management of websites.

130

5.0

Landing page creation without coding for businesses.

116

1.0

Created web apps with machine learning.

110

2.0

Website design without coding & online marketing.

103

3.0

Website generator for small businesses.

85

5.0

Simplified website design solution.

78

5.0

Website copywriting improved by language processing.

72

5.0

Automated workflows and no-code apps.

72

1.0

Website creation with automated content and design.

68

Easy website creation solution.

55

5.0

Efficient website creation and resume generation.

53

1.0

Built websites intelligently.

53

Non-tech user website builder.

52

5.0

Automates design generation for website creation.

52

Customizable templates for modern landing pages.

52

4.0

Created professional website & store automatically.

52

5.0

Built mobile-friendly websites with codeless editor.

49

5.0

Improves website creation process with assistance.

48

Build websites easily without technical knowledge.

48

1.0

Smartly boosted websites w/ copy suggestions.

45

Design and optimize personalized websites.

44

Natural language website generation.

42

1.0

Website builder without coding.

40

Created and designed websites efficiently.

39

Low-code platform for building generative apps.

37

Website and UI builder for rapid prototyping.

37

Effortlessly creates websites with advanced analytics.

36

Website building for non-tech users

34

5.0

Created eCommerce shops visually with automated pages.

33

Natural language-based web page design.

32

Automated website generation and cloud stacking.

30

Website creation made easy with generated templates.

30

Created website copy using automation for designers.

29

Efficient web development with generative tech.

26

Created digital experiences for businesses.

26

Created small business websites powerfully.

24

4.0

Easy site creation for SMBs and creatives.

23

5.0

Website development solution

23

Easy website creation for individuals and startups

21

Website creation & management, optimized effortlessly.

20

1.0

Generated and collaborated website copy.

19

Startup landing page creation made easy.

18

User-friendly web page creation for non-tech users.

14

Easily design websites without coding experience.

13

Assisted creation of chat-based website templates.

13

Create personalized websites & landing pages with ease.

13

1.0

Entrepreneurs' website generator for marketing.

11

Website builder and lead manager, no coding required.

10

Generated web content via conversational dashboard.

7

Website Design-to-Dev Conversion Solution.

5

Website structure and SEO visual sitemap generation.

4

5.0

3

Webstudio accelerates website creation for designers.

2

5.0

Landing pages for diverse industries.

1
Pros and Cons
Pros
Website draft creation
Industry-specific features
Dedicated team of experts
Automatic scheduling system
Client engagement tools
Integrated contact manager
Email marketing capabilities
Online payment system
Automatic invoice reminders
Bank/ACH payments support
One-stop business setup
Secure web hosting
Third-party integrations
Traffic analytics & reporting
Customizable domains
eSignatures facility
SEO specialists' support
Updates for SEO
Flexible website updates
Wide range of industries
Built-in contract system
Branded invoices
Automatic industry-relevant imagery
Marketing automation tools
Integrated online business setup
Invoicing from site
Card payment acceptance
Recurring invoice system
Featured in renowned outlets
Customizable website templates
Built-in conversion tools
Client intake forms
24/7 monitoring
99%+ uptime
TLS certificates
Support via phone/chat
Automatic website draft creation
Featured client stories
Targeted for professional services
Supports sending branded invoices
Integrated contact management system
Resource center availability
Featured in reputed media
Integrated online appointment scheduling
Built-in robust analytics
Email forwarding capabilities
Dedicated professional services
Cons
Limited design customization
No eCommerce capabilities
No multi-language support
Lack of extensive integrations
No advanced SEO tools
Inability to migrate existing sites
Limited target industry focus
No blogging features
No analytics or behavioral insights
No website export option
Q&A
What does B12 offer?
B12 offers an all-in-one website builder platform specifically tailored for professional service providers. The platform includes features for attracting leads, winning business, serving clients, and streamlining business operations. B12 creates an industry-specific website draft using AI, and also assigns a team of experts in copywriting, design, and launch to assist in the tailoring and publishing of the site.
How does B12's AI-powered platform work?
B12's AI-powered platform works by automatically creating an industry-specific website draft. It considers the specifics of your professional service in the design and layout, thus making a draft that's suited to your industry. The platform is optimized to create websites that effectively attract and engage clients.
Is there a team that can assist in designing and launching my B12 website?
Yes, B12 assigns a team of experts who specialize in the areas of copywriting, design, and website launch to help you create, tailor, and publish your website. This assistance ensures the website not only meets your business needs, but also that the website goes live successfully.
What features does the B12 platform include?
The B12 platform offers a range of features including contact forms, online appointment scheduling, marketing automation tools, and custom domains. Clients can make payments through branded invoices, card payments, bank or ACH payments, and payment pages. B12 also includes integrated traffic analytics and reporting, secure web hosting, and third-party integrations.
Can I schedule appointments through my B12 website?
Yes, one of the standout features of the B12 platform is online appointment scheduling. This allows customers to schedule appointments through your B12 website, streamlining this process and offering a significant advantage for service providers.
Does B12 offer marketing automation tools?
Yes, B12 does offer marketing automation tools. This includes features like email marketing and automation to automate repetitive tasks, freeing businesses to focus on their main operations.
Can I accept payments through B12?
Yes, B12 does feature payment processing. Clients can make payments through branded invoices, card payments, bank or ACH payments, and payment pages. The platform also supports recurring invoices, making it a convenient solution for businesses offering subscription services.
How do clients make payment on a B12 website?
Clients on a B12 website can easily make payments using various methods. These methods include paying via card payments, bank or ACH payments. They can also use the payment pages provided. Moreover, your clients can make payments through branded invoices sent directly from your website.
What types of companies could benefit from using B12?
A wide range of companies, particularly professional service providers, can benefit from using B12. The platform has been tailored for professional services within industries that include but are not limited to accountants, lawyers, consultants, investment firms, architects, financial advisors, mortgage brokers, commercial real estate firms, insurance brokers, and coaches.
Is B12 only suited for certain industries?
No, B12 isn't strictly suited to certain industries. While it's heavily geared towards professional service providers, their AI-driven, human-optimized website design can be leveraged by a wide range of businesses, of varying sizes and across various industries.
What is the B12 Editor?
The B12 Editor is a feature that allows users to control and customize their website's design and content. It is developed with an easy-to-use interface permitting businesses to make changes and updates to their website effectively.
Do I have control over the design of my B12 website?
Yes, you do have control over the design of your B12 website. With the B12 Editor, you can easily make adjustments and alterations to your website's design, thus allowing you to make your website a true reflection of your business.
What kind of support can I expect from the B12 team?
With B12, you can expect to receive unlimited expert support through various modes including phone, email, and chat. This support is meant to help you with any issues or inquiries you may have about using the platform to get the most out of your website.
How does B12 streamline my business operations?
B12 streamlines your business operations by providing a complete platform for your online presence. It saves you from the hassle of integrating separate tools for different functions as it already comes equipped with contact forms, online appointment scheduling, automated marketing tools, online payments and invoicing, and third-party integrations. Thus, making your operations more efficient and centralized.
Can I use my own custom domain with B12?
Yes, B12 provides the feature of using your own custom domain for your website, thus providing a uniform and professional online presence. This allows you to maintain consistent branding and makes it easier for your clients to find and recognize your business online.
How does B12 contribute to attracting leads and winning business?
B12 contributes to attracting leads and winning business through its AI-powered platform which creates professional, industry-specific websites. In addition, it offers tools for lead capture forms, online appointment scheduling, email marketing and automation, thereby enabling a business to effectively generate and manage leads.
Does B12 create mobile-responsive websites?
Conventional and anticipated by industry standards, websites created through B12 are expected to be mobile responsive. While there isn't explicit mention of this feature, modern website builders usually accommodate the large proportion of internet users who use mobile devices.
Can I integrate 3rd party tools with my B12 website?
Yes, B12 allows for third-party integrations. This feature allows the website to integrate seamlessly with tools that your business already uses, or plans to use, thereby enhancing productivity and efficiency.
How can I track my website's traffic with B12?
B12 integrates with analytics, providing you with detailed traffic analytics and reporting on your website. This information enables you to better understand your website's performance, patterns, and trends, and to strategize optimally based on data.
What kind of website updates are included with B12?
B12 provides services for website updates. This is particularly handy for businesses that need to keep their websites updated regularly, but lack the time or technical knowledge. The extent and frequency of these updates would need to be clarified directly with B12.
If you liked B12.io
Help
⌘ + D bookmark this site for future reference
⌘ + ↑/↓ go to top/bottom
⌘ + ←/→ sort chronologically/alphabetically
↑↓←→ navigation
Enter open selected entry in new tab
⇧ + Enter open selected entry in new tab
⇧ + ↑/↓ expand/collapse list
/ focus search
Esc remove focus from search
A-Z go to letter (when A-Z sorting is enabled)
+ submit an entry
? toggle help menu
x
Sign in to continue (100% free)
To prevent spam, some actions require being signed in. It's free and takes a few seconds.
Sign in with Google