Edit AI
Writing assistance for faster content creation.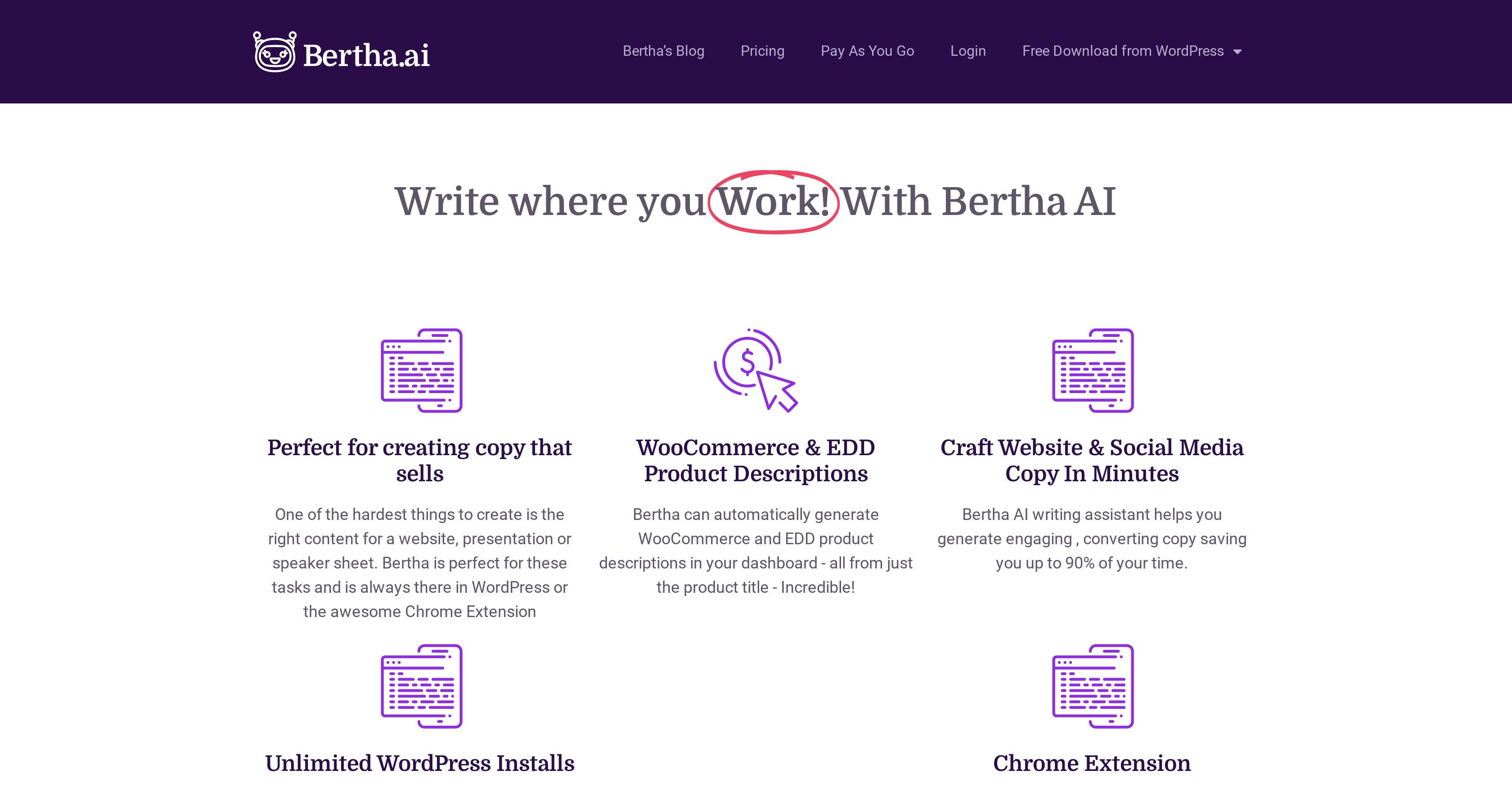 Generated by ChatGPT
Bertha AI is an AI co-pilot tool designed specifically for WordPress and Chrome users. It supports collaboration with popular platforms like WordPress Page Builders, Chrome, Shopify, Wix, and Squarespace, allowing users to bring their creative visions to life.
One of the key features of Bertha AI is its writing assistant functionality. It assists in generating engaging and converting copy, saving users up to 90% of their time.
With Bertha AI, users can create and search for AI images and illustrations in various styles using the power of AI. It also helps in generating product descriptions, making it useful for e-commerce platforms like WooCommerce and EDD.
Bertha AI enables users to write long-form blog posts quickly, making content creation a breeze. It can transcribe, translate, and create SRT files directly in WordPress or Chrome, offering convenience for bloggers and podcasters.
Additionally, Bertha AI provides a chat feature for asking questions or using it for social media posts and ideation, enhancing the user experience.Bertha AI is available for a monthly subscription fee and offers unlimited users, unlimited website access, and priority support.
Users can also try Bertha AI for free before deciding to invest. The tool is highly praised by users for its ability to generate quality content and save time, making it a valuable asset for businesses and individuals in need of content creation assistance.
Featured
Bertha.ai was manually vetted by our editorial team and was first featured on October 27th 2022.

Would you recommend Bertha.ai?
Help other people by letting them know if this AI was useful.
209 alternatives to Bertha.ai for Writing
Writing assistance for articles and product descriptions

252

Content creation and optimization with power.

184

Efficient and accurate composition with assistance

166

3.0

Assisted writing for optimized productivity.

71

Improved writing productivity: free idea generation.

59

1.0

Social media content creation and management.

58

Automated creative agency for on-demand creativity.

56

Content generation and optimization assistant.

46

Research document creation.

44

Effective tone selection for communication

39

Writing inspiration and easy assistance for all.

37

36

Writes intelligently for customized composition.

35

5.0

Generated natural and versatile text.

34

Signup-free text generation.

32

5.0

An efficient way to write high-quality text.

30

Enhanced marketing language via NLP.

29

5.0

Created and promoted product launches assisted.

29

Make alluring documents fast with examples and prompts.

28

5.0

Automated writing and editing assistant.

27

Writing assistant for better content creation.

26

Created and translated multilingual content.

25

A text generation platform for various use cases.

24

Academic writing assistance platform.

24

A text generation solution for keyword-driven content.

23

Aided academic writing for students.

23

Content generator for Google Docs.

21

Assisted daily tasks via chatbot.

21

Improved online writing productivity and quality.

21

Accelerates writing with prompts and creativity support.

20

Copywriting solution for content creation.

19

Optimized text summarization for any website.

19

Improves messaging conversations.

19

Create content w/ templates & built-in editor.

18

Imitating favorite authors' writing style.

18

On-brand copywriting for content creation.

17

Virtual assistant for text generation.

17

Google Docs automated writing.

17

3.0

Assisted writing for creativity and research.

16

Accelerates content creation, eliminates writer's block.

16

Spanish text generation aid.

15

Creating and editing content in Google Docs.

15

Automated creation of blog & social media content.

14

5.0

Personal publishing platform with NLP features.

14

Content generation for various types of content.

14

2.0

Powerful AI editor for all writing needs.

14

Customizable templates for content creation.

13

Enhanced editing for professional communication.

13

Writing improvement for various content types.

12

Improve writing, e-commerce.

11

Marketing optimization for increased sales and revenue.

11

Content creation aid for bloggers and writers.

11

Platform creates ads, articles & posts rapidly.

11

Auto-completes, summarizes and generates unique stories.

10

Creates Web Content for Marketing.

10

Helps create engaging content.

10

Generate blog, article, and copy content

10

An app that generates text-based content quickly.

8

Assists in generating quality content quickly.

6

5.0

6

Generated content for business and marketing.

6

Summarize and write content easier.

6

5.0

Generate personal writing styles

6

Customizable content generation for essay writing.

6

A writing assistant for better content creation.

5

Content creation platform for professionals.

5

Assisted writing & translation for personalized content.

5

Improved writing experience.

5

Copywritten for small businesses.

4

Generated content for articles and blogs

4

Generated content & images for blogs, ads, and more

4

Simplified document creation and collaboration.

4

Student, blogger, and educator writing assistant.

4

3

Speeds up copywriting process.

3

3

Faster and accurate text input enhancement.

3

SEO content research assistant

3

Automated writing refinement assistance.

2

Refined written content with writing assistance.

2

Writing Needs Paragraph Generation

2

Cross-platform content creation.

2

1

Enhanced typing assistant for faster messaging replies.

1

Enhanced content creation enhancement.

1

Grammar checking and writing assistance.

1

Enhanced SEO content creation and optimization.

1