Edit AI
Enhanced image descriptions for social media captions.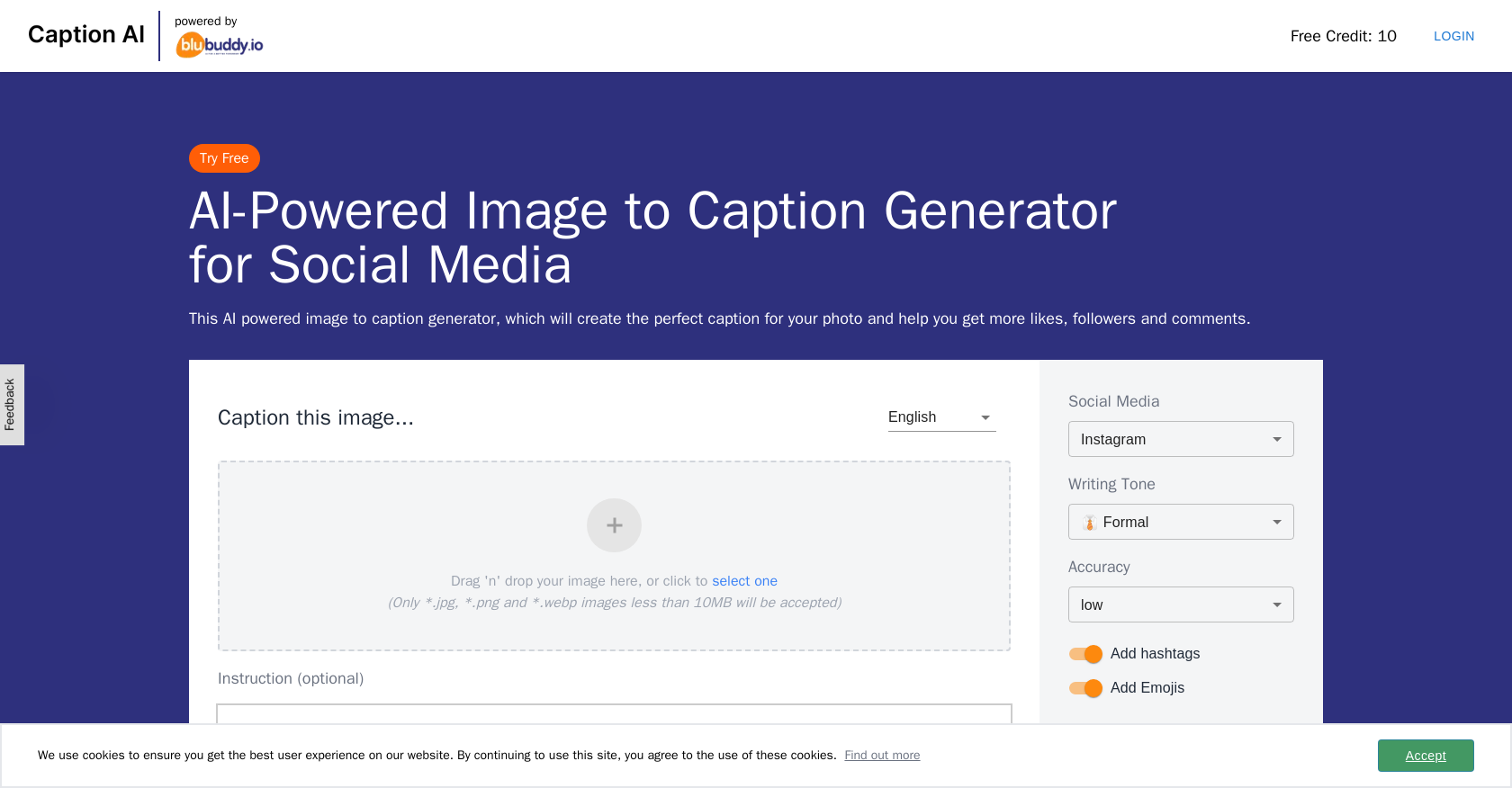 Generated by ChatGPT
Caption AI is an AI-powered image to caption generator tool designed to help users create engaging captions for social media posts. Users can upload an image and let the AI algorithm analyze it to generate the perfect caption that complements their content.
The tool offers customization options such as selecting the preferred language, choosing the social media platform for posting, and setting the writing tone and accuracy level.
One of the key features of Caption AI is its emphasis on saving time. With quick and effortless generation of captions, users can streamline their content creation process.
The AI-powered caption generation ensures high accuracy and relevance, leading to captivating and contextually appropriate captions that resonate with the audience and boost social media engagement.
The tool supports various languages and provides tailored captions for different social media platforms, taking into account their unique styles. Using Caption AI is a straightforward process that involves uploading an image, selecting preferences, and clicking on the generate caption button.
Users can generate multiple variants of captions until they are satisfied. Caption AI offers a credit-based system for usage, allowing users to purchase credits according to their needs.
Crafting great social media captions is important as they are the first words that followers see and have the potential to capture attention, inspire engagement, and increase discoverability.
Caption AI aims to make this easier by providing AI-generated captions that are spot-on and cater to various tones and styles. By using this AI-powered image to caption generator tool, users can enhance their social media presence and make their content stand out.
Featured
Bluebuddy Caption AI was manually vetted by our editorial team and was first featured on November 16th 2023.

Would you recommend Bluebuddy Caption AI?
Help other people by letting them know if this AI was useful.
10 alternatives to Bluebuddy Caption AI for Image captions
If you liked Bluebuddy Caption AI
Help
⌘ + D bookmark this site for future reference
⌘ + ↑/↓ go to top/bottom
⌘ + ←/→ sort chronologically/alphabetically
↑↓←→ navigation
Enter open selected entry in new tab
⇧ + Enter open selected entry in new tab
⇧ + ↑/↓ expand/collapse list
/ focus search
Esc remove focus from search
A-Z go to letter (when A-Z sorting is enabled)
+ submit an entry
? toggle help menu
x
Sign in to continue (100% free)
To prevent spam, some actions require being signed in. It's free and takes a few seconds.
Sign in with Google