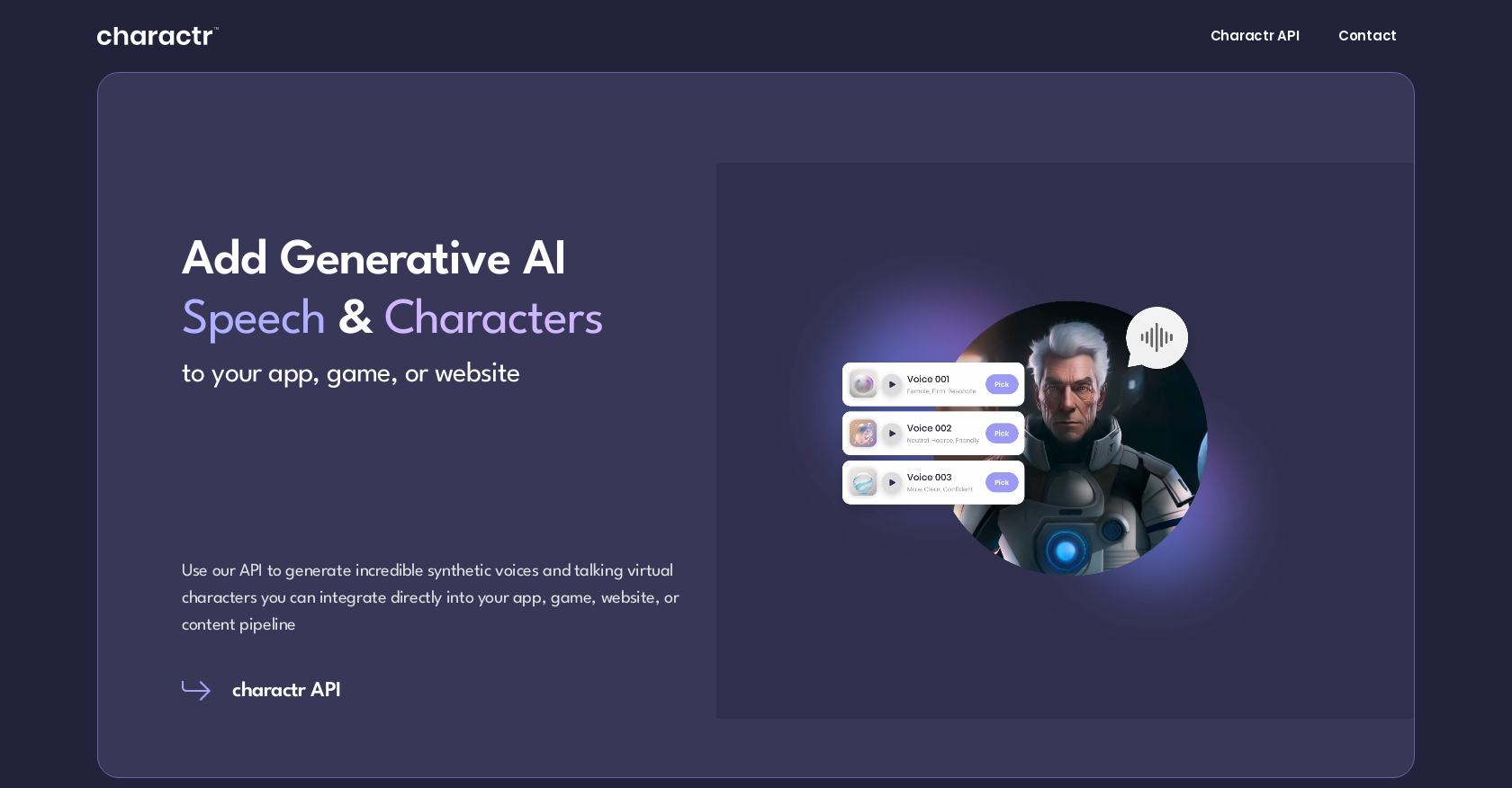 Generated by GPT-3
Charactr is a generative AI platform and API designed to create synthetic voices, video, and interactive virtual characters. The platform allows users to integrate the generated voices and characters directly into their apps, games, websites, podcasts, audiobooks, and chatbots.
The charactr API Speech module is currently available in early access and provides users with the ability to produce expressive AI-generated speech with TTS or convert existing/new voice recordings into an AI-generated voice with voice to voice conversion.
The Speech module is powered by the WaveThruVec model, which transforms input text into speech. The charactr API Visual & Motion module, which is coming soon, will enable users to generate talking virtual characters in various visual styles such as photorealistic or pixel art.
The characters can be easily integrated into different projects with the upcoming Visual and Motion API. The charactr platform has already proven to be a valuable tool for digital content creators who want to bring their stories to life with expressive AI voices.
To get access to the charactr API, users need to submit their email for application.
Featured
?
49 alternatives to Charactr for Text to speech
02 Mar 2023

14 Mar 2023

08 Feb 2023

08 Feb 2023

22 Feb 2023

05 Jan 2023

15 Jan 2023

17 Jan 2023

22 Jan 2023

05 Dec 2022

13 Dec 2022

28 Dec 2022

06 Oct 2022

11 Aug 2022

01 Jul 2022

03 Jul 2022

19 Jul 2022

06 Jun 2022

06 Jun 2022

21 Jun 2022

01 May 2022

01 Apr 2022

03 Apr 2022

18 Apr 2022

18 Jan 2022

25 Jan 2022

08 Feb 2022

02 Apr 2021

03 Apr 2021

14 Jun 2021

23 Jun 2021

24 Jun 2021

26 Jul 2021

28 Aug 2021

19 Oct 2021

09 Nov 2021

21 Dec 2021

30 Jan 2020

06 Feb 2020

27 Feb 2020

30 Apr 2020

08 May 2020

20 Oct 2020

21 Dec 2020

27 Mar 2019

21 May 2019

10 Sep 2019

30 Oct 2018

03 Mar 2017