ChatGPT Mail Responder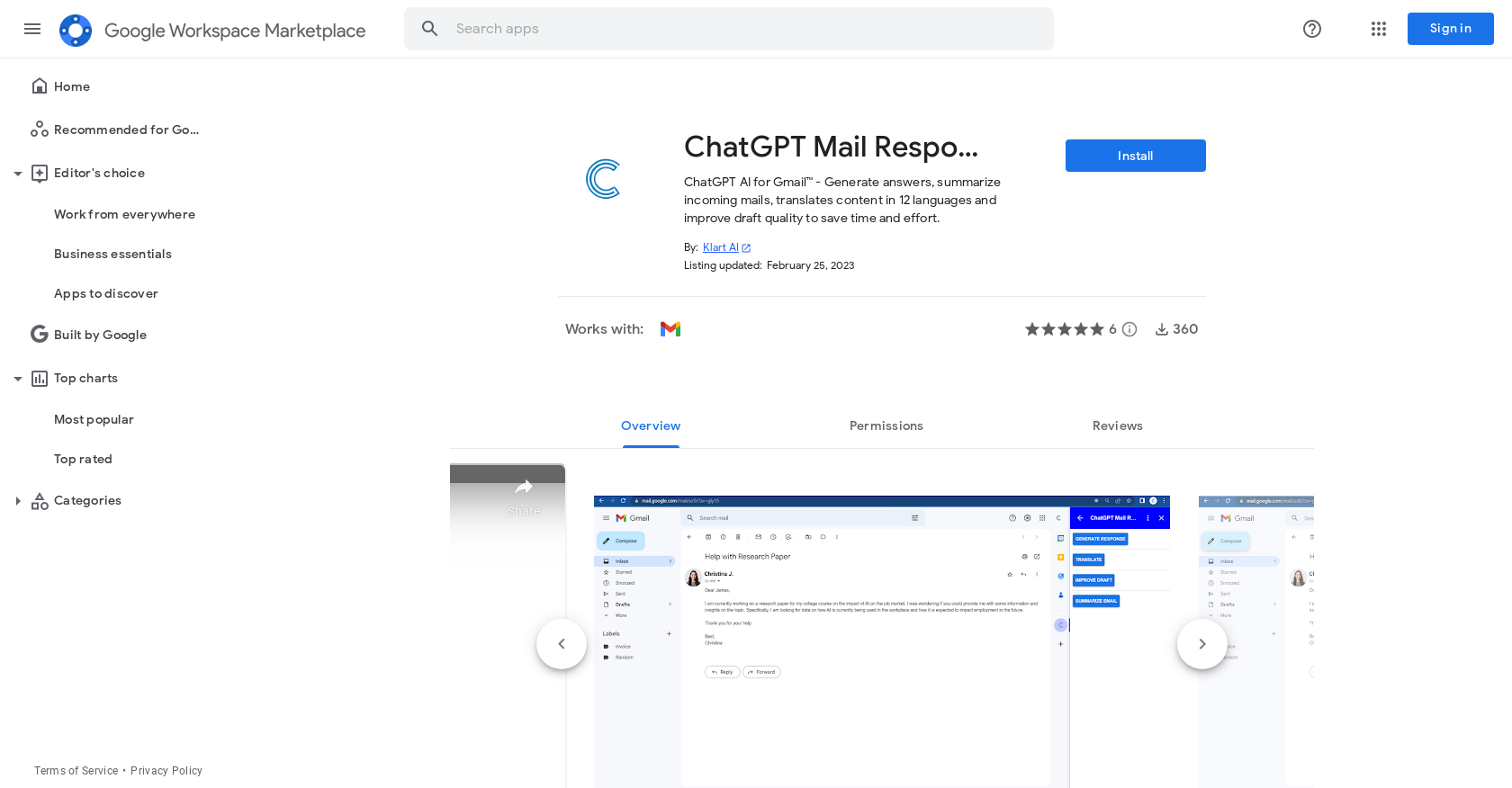 Generated by GPT-3
ChatGPT Mail Responder by Klart AI is a revolutionary Gmail™ add-on that uses advanced AI technology to improve email management. It includes features such as an auto-responder, email summarizer, email translator in 12 languages and an "Improve Draft" feature that suggests changes and improvements.
ChatGPT Mail Responder is powered by GPT-3 Davinci, the most powerful AI technology from OpenAI, making it faster and more efficient than any other email management tool on the market.
This add-on is free to trial and is designed to save users time and effort while producing professional results. With ChatGPT Mail Responder, users can upgrade their Gmail™ experience today.
Featured
?
72 alternatives to ChatGPT Mail Responder for Email writing
01 Mar 2023

02 Mar 2023

04 Mar 2023

04 Mar 2023

04 Mar 2023

06 Mar 2023

07 Mar 2023

07 Mar 2023

10 Mar 2023

16 Mar 2023

09 Feb 2023

15 Feb 2023

17 Feb 2023

23 Feb 2023

24 Feb 2023

28 Feb 2023

01 Jan 2023

03 Jan 2023

03 Jan 2023

04 Jan 2023

04 Jan 2023

09 Jan 2023

16 Jan 2023

16 Jan 2023

19 Jan 2023

19 Jan 2023

20 Jan 2023

20 Jan 2023

20 Jan 2023

22 Jan 2023

22 Jan 2023

23 Jan 2023

23 Jan 2023

23 Jan 2023

25 Jan 2023

29 Jan 2023

05 Dec 2022

07 Dec 2022

10 Dec 2022

11 Dec 2022

12 Dec 2022

20 Dec 2022

21 Dec 2022

21 Dec 2022

22 Dec 2022

22 Dec 2022

26 Dec 2022

26 Dec 2022

28 Dec 2022

29 Dec 2022

30 Dec 2022

22 Nov 2022

26 Nov 2022

28 Nov 2022

03 Oct 2022

15 Sep 2022

19 Sep 2022

30 Sep 2022

26 Aug 2022

02 Jun 2022

14 Jun 2022

12 Apr 2022

13 Apr 2022

14 Apr 2022

29 Jan 2022

16 Mar 2022

24 Mar 2022

28 Jan 2021

25 Nov 2021

06 Dec 2021

17 Dec 2021

01 Nov 2020