Edit AI
Helped students cheat on exams. (-2 for using "cheat")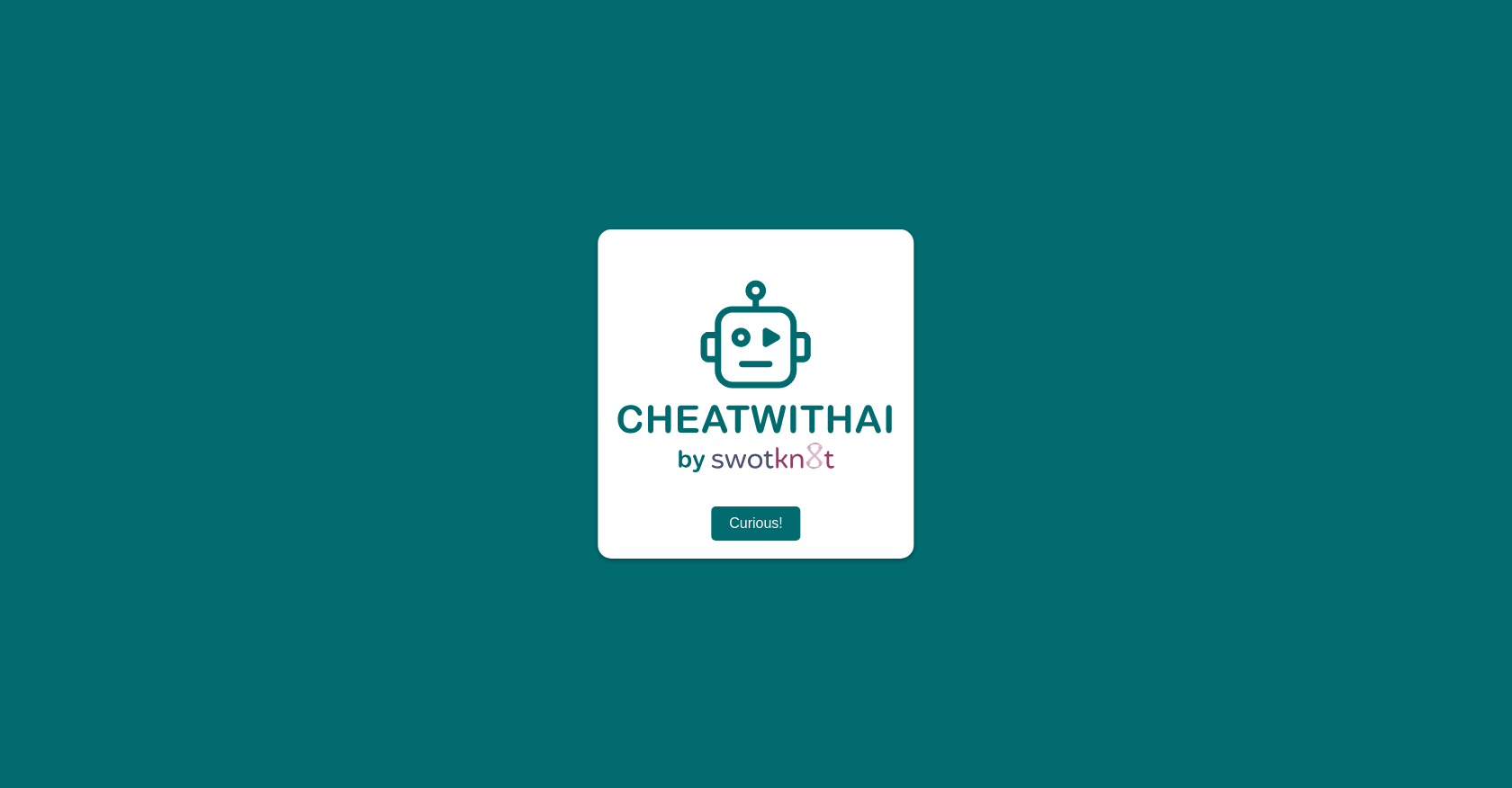 Generated by ChatGPT
CheatWithAI is a WhatsApp AI bot that claims to provide accurate answers to users' questions in seconds using cutting-edge AI technology. The tool is promoted as an aid for students looking to cheat on tests or exams.
CheatWithAI's exact mechanism of delivering accurate answers is unclear from the limited information provided. However, it appears to rely on AI algorithms to provide prompt responses to user queries.
While CheatWithAI may seem like an attractive option for students struggling with exams, it can raise ethical issues and potentially lead to academic dishonesty.
It is important to note that using such a tool goes against the principles of learning and development, and teaching users to rely on shortcuts to bypass the learning process entirely.
Overall, CheatWithAI seems to be a tool that offers quick and easy solutions to complex academic problems, but its use may have negative consequences in the long run.
As always, it is crucial to prioritize the development of knowledge and skills through diligent learning and study habits rather than seeking quick fixes using AI tools.
Featured
Cheatwithai was manually vetted by our editorial team and was first featured on May 24th 2023.

Would you recommend Cheatwithai?
Help other people by letting them know if this AI was useful.
92 alternatives to Cheatwithai for Learning
Enhance reading comprehension of scientific articles.

138

5.0

Customized learning: personalized building and tutoring.

80

4.3

A customized content creation software for educators.

75

5.0

Education guide and writing coach.

74

5.0

Quick and accurate answers to any query.

71

Improved learning comprehension.

70

Discover custom content by chosen topics.

51

5.0

Automated note-taking and info management.

49

Language learning and assistance.

43

Study & Writing Answers & Retrieval

43

5.0

Child ed-app with custom lessons.

41

Guided learning and skill development.

34

5.0

Hints for coding learners and coders.

26

4.0

Integrates advanced predictions into developer apps.

24

Custom research summaries

22

1.0

Enhanced blocks for personalized learning.

22

5.0

Enhances learning with interactive features.

21

Automated flashcards for efficient studying.

19

Improve student writing and detect plagiarism.

14

Tech skills learning & career growth platform.

13

Student-led virtual education and engagement platform.

11

Advanced English language learning journeys

11

Enhanced app boosts subject knowledge retention.

10

5.0

Chatbots that assist in history exam preparation.

8

Interactive learning for education & training.

6

Accelerates learning of technical text.

6

Academic task assistant for student learning.

5

Assisted personal info research & discovery.

5

5.0

Chatbot for computer vision tech support.

4

Visualize concepts for learning and project management.

4

Customized curriculum learning assistant.

4

Homework help & exam prep

3

Personalized online education platform.

3
Pros and Cons
Pros
WhatsApp integration
Accurate responses
Quick answers
Easy to use
Solves complex problems
Cutting-edge technology
No installation required
Accessible anywhere
24/7 availability
Perfect for exam prep
Cons
Promotes academic dishonesty
No clear answer mechanism
Relies on shortcuts
Ethical issues
Potentially negative long-term consequences
Limited information provided
WhatsApp-dependent
Q&A
How does CheatWithAI work?
CheatWithAI operates through an undisclosed mechanism, likely relying on AI algorithms to process and respond to user queries quickly.
What technology does CheatWithAI use to provide answers?
CheatWithAI employs cutting-edge AI technology to provide answers. The particular technology or set of technologies used isn't specified.
How quickly does CheatWithAI respond to queries?
CheatWithAI boasts a rapid response time, providing accurate answers to users' questions in seconds.
Is CheatWithAI an ethical tool to use for exams?
From an ethical standpoint, CheatWithAI's usage can be questionable. It encourages academic dishonesty, conflicting with the principles of learning and development.
What are the potential negative consequences of using CheatWithAI?
Prominent negative consequences of using CheatWithAI include the potential fostering of academic dishonesty and a detrimental impact on a user's learning process.
Can CheatWithAI be used on any test or exam?
As claimed by their website, CheatWithAI can be used on any test or exam, though specific limitations, if any, aren't clearly defined.
How does CheatWithAI provide accurate answers?
While specifics are not fully disclosed, CheatWithAI likely provides accurate answers by processing user queries using AI algorithms and matching them against a knowledge base.
Does CheatWithAI only work on WhatsApp?
As per the available information, CheatWithAI operates on the WhatsApp platform. Its compatibility with other platforms is not explicitly stated.
Is it legal to use CheatWithAI for exam help?
The legality of CheatWithAI isn't clearly mentioned. Ethics and academic integrity issues aside, its legal status may vary depending on local laws and conditions.
Does CheatWithAI understand complex academic questions?
CheatWithAI is touted for its ability to provide answers to any question, suggesting that it can handle complex academic queries. Details on the complexity level it can handle aren't specified.
Do I need to download an app to use CheatWithAI?
From the information available, it seems that CheatWithAI operates through WhatsApp. It doesn't hint at the need for a separate application download.
Can CheatWithAI handle multiple queries at the same time?
Given the AI capabilities attributed to it, CheatWithAI likely has the capacity to handle multiple queries simultaneously. Specific details on this are, however, not provided.
What academic subjects can CheatWithAI assist with?
CheatWithAI is advertised as a tool capable of assisting with any test or exam, suggesting a wide range of subjects. The actual extent or limitations of this subject range aren't spelled out.
Are the answers provided by CheatWithAI guaranteed to be correct?
Their website promotes CheatWithAI as a system that provides 'accurate' answers, but doesn't provide a guarantee of correctness for all responses.
What is the potential impact on learning development if CheatWithAI is used regularly?
Regular use of CheatWithAI could detrimentally impact learning development by promoting dependency on shortcuts and reducing diligence and commitment to learning.
Who developed CheatWithAI and what was their intent?
The developer of CheatWithAI and their specific intent are not clearly identified, though it appears to be positioned as a tool for assistance in tests or exams.
Does CheatWithAI work in different languages or just English?
The language compatibility of CheatWithAI is not mentioned, so it's unsure whether it supports multiple languages or just English.
Is there any limit to the number of queries I can send to CheatWithAI?
The website does not specify any limit to the number of queries a user can send to CheatWithAI.
Do professors and academic bodies approve of CheatWithAI?
Academic bodies and professors would likely disapprove of CheatWithAI due to its potential to encourage academic dishonesty and undermine the integrity of learning.
Is there any cost associated with using CheatWithAI?
The cost associated with using CheatWithAI is not explicitly stated on their website.
Help
⌘ + D bookmark this site for future reference
⌘ + ↑/↓ go to top/bottom
⌘ + ←/→ sort chronologically/alphabetically
↑↓←→ navigation
Enter open selected entry in new tab
⇧ + Enter open selected entry in new tab
⇧ + ↑/↓ expand/collapse list
/ focus search
Esc remove focus from search
A-Z go to letter (when A-Z sorting is enabled)
+ submit an entry
? toggle help menu
x
Sign in to continue (100% free)
To prevent spam, some actions require being signed in. It's free and takes a few seconds.
Sign in with Google