Edit AI
Generated code with language support and code review.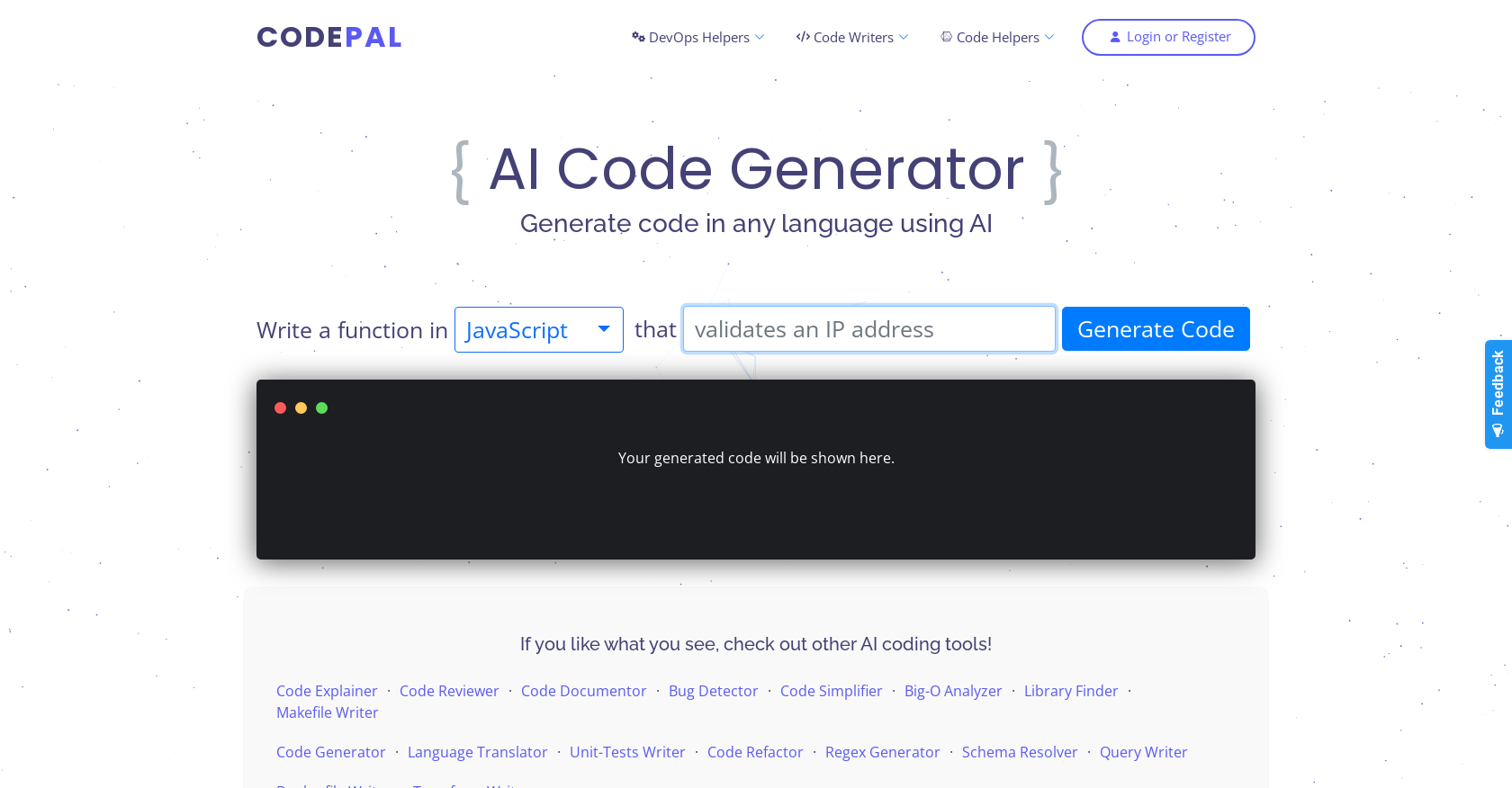 Generated by ChatGPT
The AI Code Generator from CodePal is a tool that helps generate working code from plain words. With this tool, users can select their desired programming language and add the action they want to perform, and the code generator will instantly generate the code for them.
The tool supports a wide range of programming languages, including Python, Java, Bash, C++, C#, and more.The Code Generator is intended for use by both seasoned developers and non-developers.
It is a perfect solution for perfecting one's coding process and skills. However, the generated code may be incomplete or incompatible with the requested query due to AI randomness.
Users should review the output before using it in their projects.CodePal also offers other AI coding tools, including Code Explainer, Code Reviewer, Code Documentor, Bug Detector, and more.
The AI Code Generator is just one of the many tools that CodePal offers to make coding easier and more accessible to users of all skill levels.
Featured
CodePal was manually vetted by our editorial team and was first featured on January 30th 2023.

Would you recommend CodePal?
Help other people by letting them know if this AI was useful.
106 alternatives to CodePal for Coding
Programming support for code generation and analysis.

440

4.8

Assisted code generation and refactoring for devs.

231

4.6

An efficient way to produce high-quality code.

116

Automating testing & code generation to simplify coding.

106

Simplified React component design with code suggestions.

83

3.0

Programming partner optimizing speed and productivity.

80

4.0

Code suggestion and automation for developers.

63

5.0

Coding assistant & learning for programmers

62

Generates code and designs UI for software development.

51

Generated code for multiple programming languages.

50

5.0

Automates UI component generation, no manual coding.

48

Natural language programming assistant for IDEs.

47

Platform for code generation and experimentation.

42

Helps Python programming with live code explanation.

39

5.0

Automated software development assistance.

37

5.0

Assisted code generation for desired functions.

36

Collaborative code helper for Visual Studio users.

35

Chatbot generates web pages.

34

Assisted data scientist and engineer code writing.

32

Personalized coding learning platform

32

Generated code for app development

31

Analyze code with error detection and IDE extension.

30

Assisted natural language programming.

30

Code generation using TypeScript and GPT runtime.

29

Design2Code transforms design to functional code.

29

Code generation assistant

26

Helped enterprise programmers with code.

22

Python and programming language code suggestion.

22

Rapid programming help using chatbot.

21

5.0

Real-time React components for interactive coding.

18

5.0

Cross-language code execution platform.

18

Contextual DevOps infrastructure assistance.

14

Improved coding efficiency.

13

5.0

Improved productivity with code completion

13

Enhanced coding with code generation and understanding.

13

Generated code for enhanced engineer productivity.

11

9

Multi-lingual cloud deployment supported.

8

Code assistant aiding coding queries & suggestions.

8

Automates code generation & optimization for coding.

6

Efficient code generation through rapid analysis.

3

Code editing and version control for pair programming.

3

Automates tasks, generates code, reviews for efficiency.

2

Optimized code generation assistant.

2

Programmer productivity helper

2
Pros and Cons
Pros
Supports multiple languages
Language-based code generators
Variety of helper tools
Explanatory code documents
Code review feature
Code simplification tool
Bug detecting functionality
Language translator option
Big-O analyzer for complexity
Library finder tool
Generates format files (Dockerfile, Terraform)
Writes single and multi-language unit-tests
Unit-Test writers for different languages
Offers code refactoring
Code base regex generator
Supports language translations
Writes database queries
Resolves multiple schema formats
Interactive for different user levels
Instant code generation
Generates code from actions
Supports both developers and non-developers
Cons
Code may be incomplete
Requires output review
Possibly unsuited for complex tasks
Q&A
What is CodePal?
CodePal is an AI-powered software that provides a wide range of coding tools. It helps generate working code from plain words, review and document code, simplify complex code, identify bugs, and much more. Built to cater to both seasoned developers and newbie programmers, CodePal strives to make coding more accessible and efficient.
How does the Code Generator from CodePal work?
The Code Generator from CodePal functions by generating working code from plain words. Users can select their desired programming language, input the action or function they want the code to perform, and the generator will provide the code. It exhibits a certain level of AI randomness, therefore, it is advised users review the generated output before incorporating it into their projects.
Which programming languages are supported by the Code Generator?
The Code Generator from CodePal supports a wide range of programming languages. These include Python, Java, Bash, C++, C#, C, JavaScript, PHP, Swift, Ruby, Go, Kotlin, R, Rust, Clojure, Scala, Haskell, Lua, Erlang, and Julia.
Is the Code Generator tool from CodePal suitable for non-developers?
Yes, the Code Generator tool from CodePal is suitable for non-developers as well. The user-friendly interface and easy-to-use tool can help non-developers turn user-friendly commands into workable code, thus making it useful even for those without extensive programming skills.
Why might the generated code from CodePal be incomplete or incompatible?
The generated code from CodePal might be incomplete or incompatible due to AI randomness. This refers to the uncertainty inherent in any Machine Learning model, which can on rare occasions result in erroneous outcomes. Thus, users are advised to review the generated code before using it in their own projects.
What other AI coding tools does CodePal offer?
Along with the Code Generator, CodePal offers a range of other AI coding tools including Code Explainer, Code Reviewer, Code Documentor, Bug Detector, Code Simplifier, Big-O Analyzer, Library Finder, Makefile Writer, Code Refactor, Unit-Tests Writer, Regex Generator, Query Writer, Schema Resolver, and numerous other utilities.
What is the Code Explainer tool?
The Code Explainer tool is a feature provided by CodePal that aids in understanding complex code. Users can input the code that they need to comprehend, and the tool will break it down, explaining what each part does in simple terms.
What is the Code Reviewer tool?
The Code Reviewer tool by CodePal is designed to review coding work and point out areas of potential improvement. By using cutting-edge AI techniques, it can examine a piece of code, highlight any errors, and suggest corrections or improvements.
What is the Code Documentor tool?
The Code Documentor tool from CodePal is an AI-based tool designed to automatically generate documentation for code. It allows developers to easily document their code for better understanding and future reference.
How does the Bug Detector tool work?
The Bug Detector is a tool provided by CodePal that uses AI to analyse code and identify potential bugs. Developers can use this tool prior to deploying their code to mitigate any runtime errors.
What programming languages does the AI Code Generator for Python support?
The Code Generator for Python tool from CodePal, as the name implies, specifically aids users in generating Python code. It doesn't support the generation of code in other languages.
How can I use Code Generator for Bash?
To use the Code Generator for Bash tool from CodePal, you need to explicitly choose Bash as your desired programming language. After that, you simply input the action you want the code to perform and the tool will generate the Bash code for you.
What is the function of the Code Simplifier tool?
The Code Simplifier tool from CodePal helps to streamline and simplify complex code chunks. It takes in complex coding inputs and then outputs a simplified version of the code, prioritizing efficiency and readability.
Can I use CodePal to generate code for Java?
Yes, CodePal can generate code for Java. This can be achieved by using the Code Generator tool, and selecting Java as the desired programming language.
How can I refine my coding skills using CodePal?
CodePal offers tools that can help with the refinement of coding skills. By using the code generator to understand how certain commands translate to actual code in several languages and by exploiting the code reviewer, code simplifier and bug detector, users can identify coding standards, simplify complex code and track down bugs, eventually refining their coding abilities.
How reliable is the AI randomness in Code Generator?
AI randomness in Code Generator is the inherent variability in the output of a Machine Learning model. While CodePal uses cutting-edge techniques to optimise the accuracy of its Code Generator, there is always a risk of generating incomplete or incompatible code due to the randomness of AI models.
What is the process to generate code in my preferred programming language with CodePal?
To generate code in your preferred programming language with CodePal, you first need to select your desired programming language using the Code Generator tool. Then, input the action or function you would like the code to perform. The tool will generate the corresponding code for you.
Can I use the tools from CodePal for free?
CodePal does not provide explicit information regarding the cost of using its tools. Users are encouraged to explore further on their website for detailed information on pricing.
What steps should I follow to review the output from Code Generator?
After the Code Generator outputs a code, users should review its contents carefully. They should confirm that the generated code serves the purpose that it was designed for and test it to ensure that it functions correctly. Any incompatibility or issues should be addressed and modified directly in the code.
What is the role of DevOps Helpers in CodePal?
DevOps Helpers in CodePal are a set of tools designed to assist in the process of software development, deployment and operation. Examples of such tools are Dockerfile Writer and Terraform Writer, which help to create scripts for infrastructure deployment in Docker and Terraform respectively.
Help
⌘ + D bookmark this site for future reference
⌘ + ↑/↓ go to top/bottom
⌘ + ←/→ sort chronologically/alphabetically
↑↓←→ navigation
Enter open selected entry in new tab
⇧ + Enter open selected entry in new tab
⇧ + ↑/↓ expand/collapse list
/ focus search
Esc remove focus from search
A-Z go to letter (when A-Z sorting is enabled)
+ submit an entry
? toggle help menu
x
Sign in to continue (100% free)
To prevent spam, some actions require being signed in. It's free and takes a few seconds.
Sign in with Google