Edit AI
Customer service widget for interactive FAQs.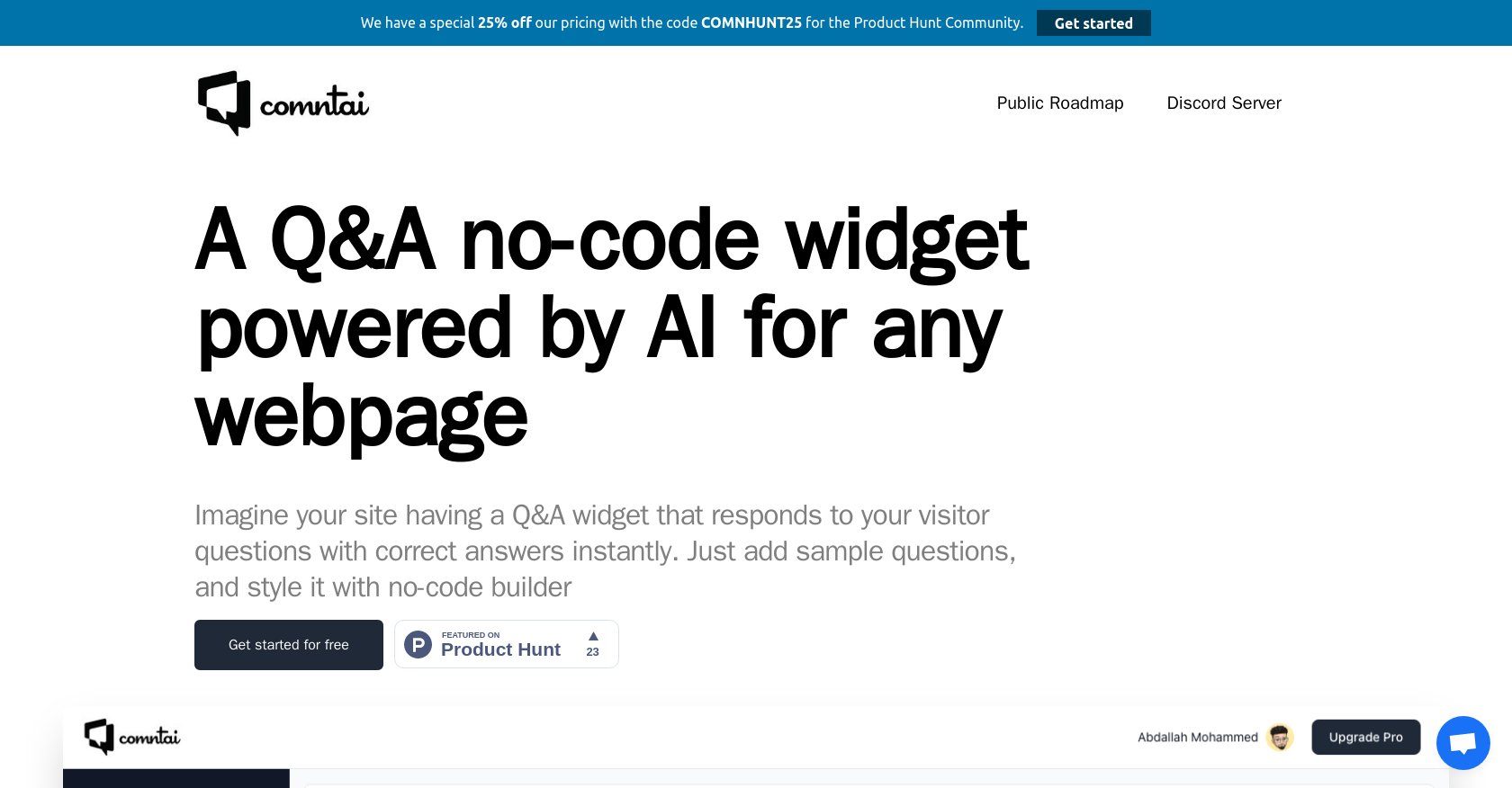 Generated by ChatGPT
Comntai is an AI-powered FAQ widget designed to make customer service easier and faster. With Comntai, you can create an interactive FAQ page without needing to write any code.
The widget can be integrated into any platform, including WordPress, Shopify, Opencart, and more. You can also customize the widget to match your website's brand and theme.
Additionally, Comntai includes a powerful spam and toxic classification model to keep your website safe from spam and spammers. The dashboard also provides you with a reliable alerting system and an automatic Google FAQ Schema for SEO optimization.
Finally, Comntai offers a single plan and pay-as-you-go pricing with no limits.
Featured
Comntai was manually vetted by our editorial team and was first featured on January 24th 2023.

Would you recommend Comntai?
Help other people by letting them know if this AI was useful.
49 alternatives to Comntai for Q&A
Answering and calculating across diverse topics.

49

5.0

Personal knowledge assistant for productivity.

46

Assisted academic research and studying.

42

Streamlined content browsing and summarization.

39

Diversify data sets for research/testing in any field.

29

Verifying information accuracy.

26

1.0

18

Product management decision-making practice.

15

15

Efficient knowledge sharing for improved productivity.

12

Real-time business insights and web searches for teams.

7

Assisting content creation and automation.

7

Quick answers for productivity via personal assistant.

7

Chatbot for customer support.

5

Browser assistant for search and email correction.

4
Pros and Cons
Pros
Interactive FAQ creation
No-code integration
Platform versatile (WordPress, Shopify, Opencart)
Customizable to match brand
Spam and toxic classification
Reliable alerting system
Automatic Google FAQ Schema
Single plan, pay-as-you-go
No limits on usage
Special discount for communities
Public roadmap access
Multilingual support
Infinite customization with no-code builder
Manual spam marking
Multi-site management with one account
Notifications via Email, WebPush, Slack
Comntai can be used anywhere
Offers automatic SEO
Multi-language understanding
Dashboard gives full control
Data protection technology
One simple plan
Removable Comntai branding
Automatic SPAM detector
Includes upcoming features for free
Premium support offered
Fast start-up time
No coding skill required
14-day free trial
No credit card required for sign up
Cons
Limited pricing options
Alerting only via Email/WebPush/Slack
Editor required for accuracy improvement
Database of questions needed
No free plan available
Limited customization
No integrated user feedback system
Inability to handle complex queries
Reliance on manual spam marking
Q&A
What is Comntai?
Comntai is an AI-powered FAQ widget designed to enhance customer service and interactions. By integrating Comntai into your site, you can create an interactive FAQ page effortlessly. It is equipped with a powerful spam and toxicity filter, operates on automatic Google FAQ Schema for search engine optimization, and allows full customization to align the widget with your brand theme.
How does Comntai work?
Comntai works by generating an FAQ widget for your website. You simply need to provide the AI with a set of sample questions related to your product or service. Through machine learning, Comntai is able to provide accurate answers to these and related queries made by visitors on your site. The widget can also be modified using Comntai's no-code builder for seamless integration with your brand's online presence.
What platforms can I integrate with Comntai?
Comntai can be integrated with all major platforms including WordPress, Shopify, Opencart, and can even work with just plain JS on the page, or within your Laravel site.
Can I customize the look of the Comntai widget?
Yes, Comntai provides infinite customization options. With its no-code builder, you can tailor the appearance of the widget to match your website's brand and theme, without having to write a line of code.
How does Comntai handle spam and toxic content?
Comntai handles spam and toxic content through its robust classification model. This model allows Comntai to detect and neutralize any spam or toxic inputs proactively. Additionally, users can manually mark spam questions from the dashboard, further fine-tuning the model.
What is the Google FAQ Schema feature in Comntai?
The Google FAQ Schema feature by Comntai is an SEO-boosting tool. Comntai automatically feeds your FAQ content to Google FAQ Schema, improving the visibility and SEO ranking of your pages on Google.
What are the pricing plans for Comntai?
Comntai operates on a pay-as-you-go pricing model. It costs $2.80 per month per site. The benefits include the usage across multiple sites, removal of Comntai branding, a trustworthy alerting system, and more.
How do I get started with Comntai?
Getting started with Comntai is quite straightforward. Visit their website and register to get started. No coding skills are required and the setup can be accomplished in under 2 minutes.
What languages does Comntai support?
Comntai is multilingual and can interpret major languages of the world. So if a customer interacts in a language other than English, it would not be an issue.
Can I have multiple widgets for multiple sites with one Comntai account?
Yes, Comntai permits users to manage multiple widgets for multiple websites under a single account.
What notification channels does Comntai support for new questions?
When a new question is posted, Comntai offers reliable notifications via several channels including Email, WebPush, and Slack.
Does Comntai offer a no-code builder?
Yes, Comntai offers a no-code builder allowing users to customize the widget to match their brand without possessing any coding skills.
How can I seed questions in Comntai to learn more about my product?
Seeding questions in Comntai is straightforward. You just need to supply Comntai with a batch of sample questions related to your product allowing the AI to learn more about what you offer and therefore respond accurately to customer's inquiries.
Can I use Comntai on non-English websites?
Yes, Comntai can be used on non-English websites. It supports all major languages worldwide, accommodating visitors who ask questions in languages other than English.
How safe is Comntai from spam and spammers?
Comntai safety measures against spam and spammers are quite robust. It is built with a strong spam and toxic content classification model. Furthermore, users can manually flag spam questions through the dashboard, enhancing its functionality.
Is there any discount available for Product Hunt community?
Yes, there is a special discount of 25% off the regular pricing for the Product Hunt community. The discount code is COMNHUNT25.
How to configure Comntai in WordPress?
Guidelines for configuring Comntai in WordPress are provided in the installation guide available on their website.
What is the spam and toxic classification model in Comntai?
The spam and toxic classification model in Comntai is a feature that is heavily invested in maintaining the integrity of your site. It is designed to recognize and filter out any spam or toxic content from the queries, and users can also manually mark spam questions for further refining.
Is there any branding in Comntai widget?
By default, there may be Comntai branding on the widget, but with its single plan, you gain the ability to remove Comntai branding from the widget.
What is the function of Comntai's public roadmap?
Comntai's public roadmap offers transparency for users by providing insights into the product's developmental journey and future plans. It helps users to understand the planned features and improvements.