Edit AI
Automated complex browser workflows.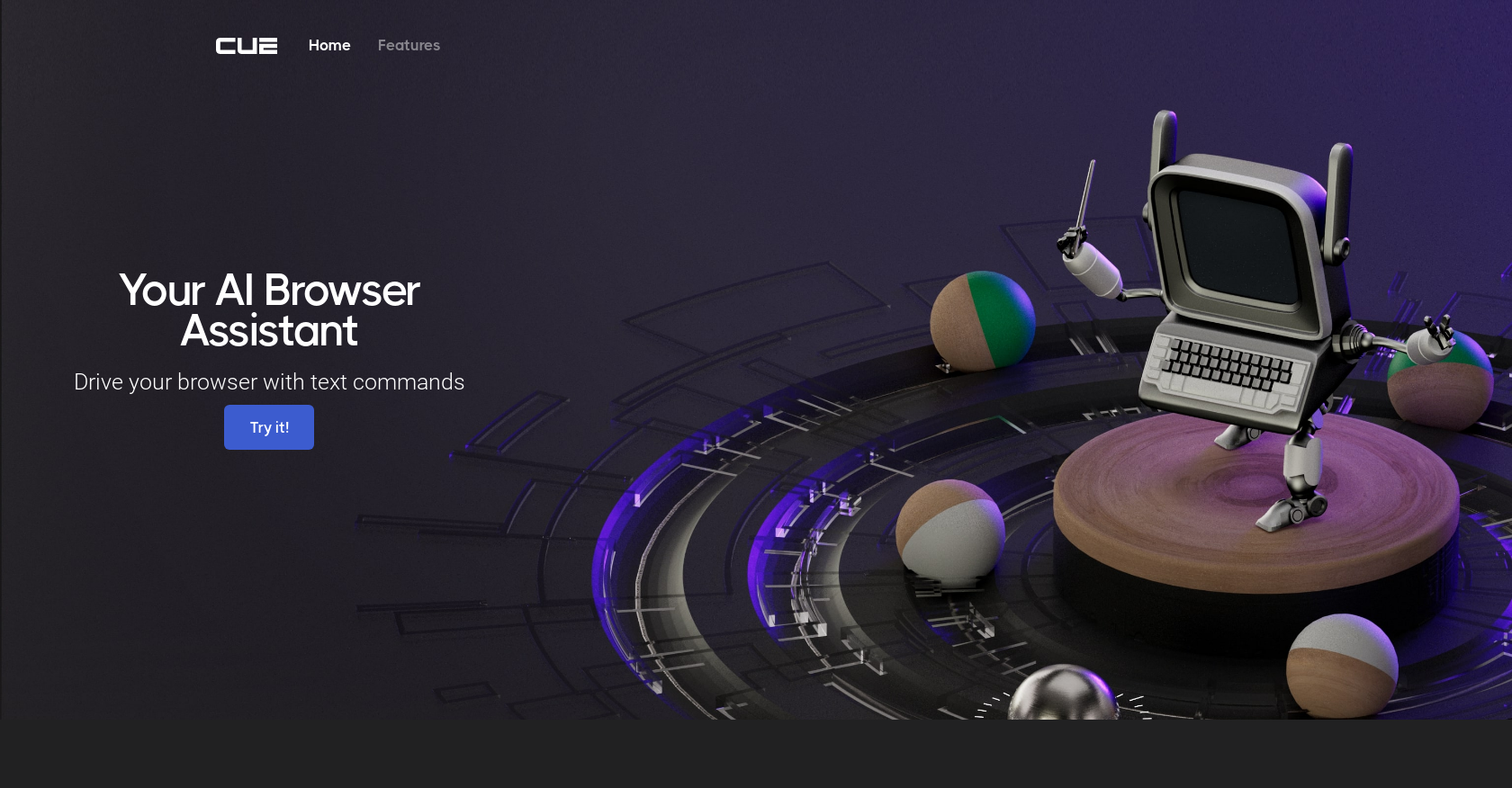 Generated by ChatGPT
Cue: Your AI Browser Assistant is an AI tool that enables users to create complex automations using a simple text interface. The tool allows users to drive their browser with text commands, which can be used to specify workflows.
With Your AI Browser Assistant, users can automate repeated tasks on their browser by specifying workflows through an iterative text interface. The tool also enables the creation of highly complicated browser automations from recordings.
The automation process is highly reliable with task-level evaluation, ensuring that the system executes tasks with the utmost efficacy.In addition to its automation capabilities, Your AI Browser Assistant is described as effortless to configure and deploy workflows.
Users can easily set up workflows to automate their browser tasks. With Your AI Browser Assistant, users can put their browser tasks on autopilot and stay productive.
The tool promises to eliminate the need to perform repetitive tasks manually, allowing users to save time and resources. Overall, Your AI Browser Assistant is a valuable tool for individuals and businesses looking to streamline their browser workflows.
Its simple text interface empowers users to create complex automations with ease, making it a top choice for any AI catalog.
Featured
Cue was manually vetted by our editorial team and was first featured on May 19th 2023.

Would you recommend Cue?
Help other people by letting them know if this AI was useful.
Efficient and automated business task assistant.

213

5.0

Boost productivity with virtual assistants.

124

Automated productivity and collaboration platform.

102

5.0

AI assistant for efficient work

81

Task management and productivity tracking.

75

NLP and analytics enhance task management.

67

5.0

Automation app automates workflows and web app control.

61

5.0

Task automation and productivity enhancement.

55

5.0

Automated platform improves HR/IT productivity.

52

ChatGPT linked with 5k+ apps via no-code platform.

52

Automated task management for calendar & email.

47

Workplace writing assistant for productivity.

43

Optimized workflow and automated code development.

42

Enhances website UX with intelligent integration.

41

Assists in writing emails and messages.

35

Personalized assistance for enhanced productivity.

35

Workflow optimization and process mining for industries.

35

Automated assistant handles tasks and talks naturally.

35

Insights and personalized interactions for businesses.

33

Spreadsheet optimization with assistants for efficiency.

32

Improved productivity in Shortcuts app

31

Automated assistant for daily task automation.

31

Improved engineering productivity and decision-making.

29

Automated productivity assistant.

29

Automate workflow by outsourcing simple tasks.

28

5.0

Automated news delivery & aggregation service

26

5.0

Automated Android task assistant.

26

1.0

Virtual assistant for improving text and productivity.

26

Managed family chaos through SMS copilot.

25

Automated task integration with custom flexibility.

25

Automated fintech compliance process optimization.

24

API platform for diverse tasks.

24

Versatile chatbot for writing, proofreading, and more.

24

Improved 3D workflow w/ easy env. creation & history.

24

5.0

Automates mundane tasks and enhances productivity.

23

Automated team time management platform.

22

Increased efficiency through online task automation.

20

Scheduling & email assist. with reminders.

21

19

Automated business processes via language.

18

1.0

Automation of cron jobs using natural language.

18

Automated task management for organizations.

16

Automated web browsing task automation

17

Automated mobile chat assistant for tasks and help.

17

Automated business processes for increased productivity.

15

Automated daily writing and translation prompts.

13

Streamlined developer task management and collaboration.

13

Automated business task co-pilot.

12

Improved productivity through efficient task execution.

12

Text processing and workflow optimization.

12

Automated sales team productivity boost.

12

Simulating autonomous agents to solve tasks.

12

1.0

Simplified tasks, streamlined workflow.

11

Automated content and tasks for startups.

11

Automated employee performance review writing.

11

Streamlined task management via text messaging.

11

Insurance automation resulting in improved productivity.

11

1.0

Streamlined development and deployment.

10

5.0

Automated content generation workflow.

10

Automated chatbot for writing and task productivity.

9

Automated conversational employee support platform.

8

Automated CRM with contact sync and personalization.

8

Improved teamwork and productivity in projects.

7

Improved writing productivity assistant.

6

Improved legal efficiency for increased productivity.

5

Improved Interactions and Operations

4

Enrich browsing with automated extension.

5

Applications for various industries

4

Media asset and content management platform.

4

Enhanced team collaboration for productivity.

4

Enhanced productivity through seamless task management

3

Automated browser actions for data collection.

3

Personal task assistant and workflow automation.

3

Task management, scheduling, email streamlined.

2

Automated task customization.

2

Optimized document workflows across functions.

2

Improved task efficiency and increased productivity.

1

Productivity and knowledge assistants

1

Automated workflow and task delegation for productivity.

1

Automated customer support with cognitive capabilities.

1
Pros and Cons
Pros
Automated complex browser workflows
Task automation capabilities
Text interface for commands
Workflow specification via text
Creation of complicated automations
Automations from recordings
Highly reliable task evaluation
Effortless workflow configuration
Effortless workflow deployment
Time and resource saving
Eliminates repetitive manual tasks
Empowers users' productivity
Cons
No voice command support
Lacks multi-browser support
No mobile browser support
Limited to text interfaces
No multi-language support
Can't automate dynamic websites
Difficult to automate complex steps
No offline capabilities
Relies heavily on user input
Limited detail in task-level evaluation
If you liked Cue
Help
⌘ + D bookmark this site for future reference
⌘ + ↑/↓ go to top/bottom
⌘ + ←/→ sort chronologically/alphabetically
↑↓←→ navigation
Enter open selected entry in new tab
⇧ + Enter open selected entry in new tab
⇧ + ↑/↓ expand/collapse list
/ focus search
Esc remove focus from search
A-Z go to letter (when A-Z sorting is enabled)
+ submit an entry
? toggle help menu
x
Sign in to continue (100% free)
To prevent spam, some actions require being signed in. It's free and takes a few seconds.
Sign in with Google