Edit AI
Gmail email writing assistant.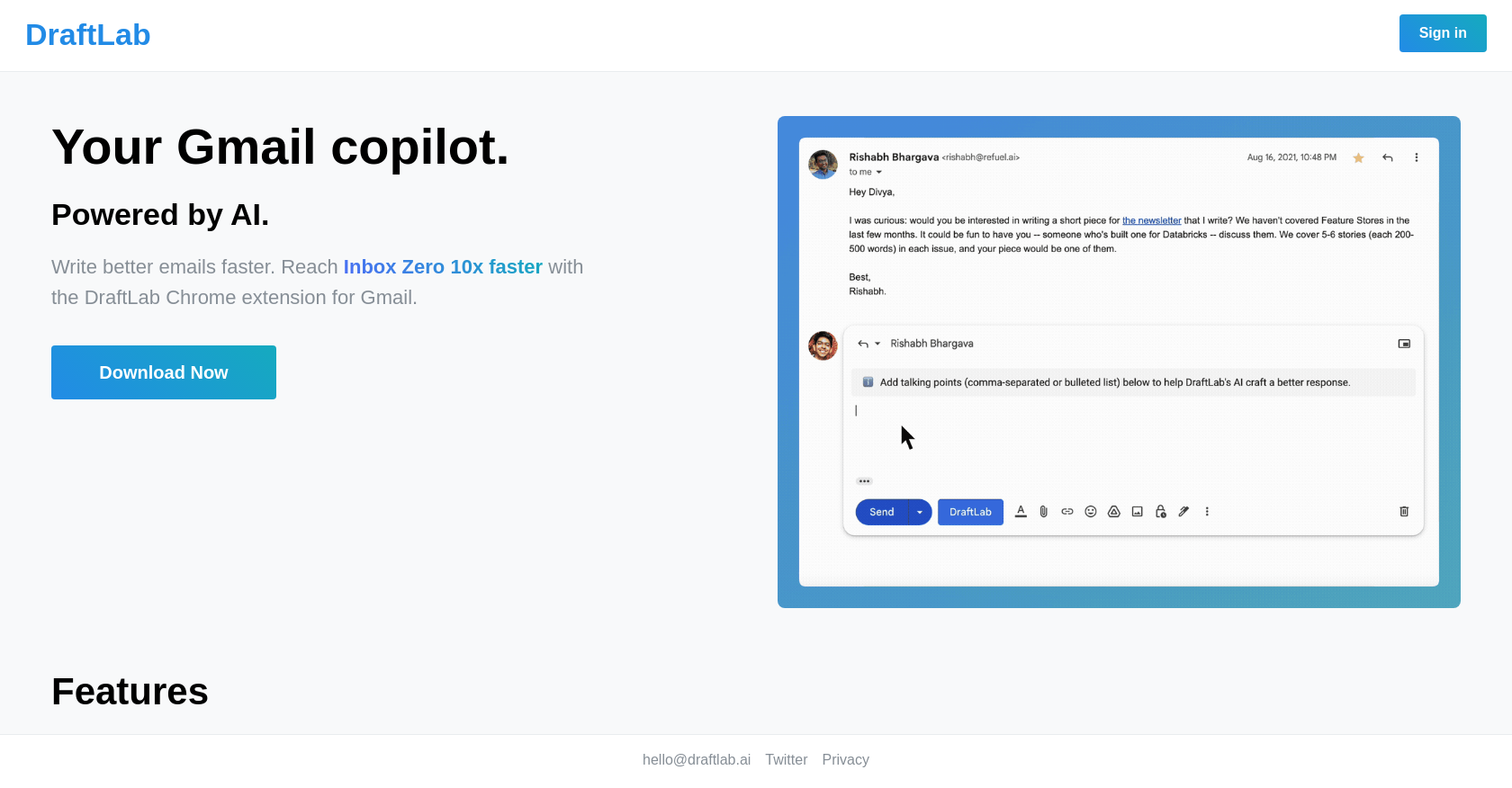 Generated by ChatGPT
DraftLab is an AI-powered Gmail copilot that helps users write better emails faster. It embeds directly into Gmail, so users don't have to switch email clients.
It charges users only when they use its AI to generate an email, with no upfront payment. It respects user privacy and doesn't store any emails unless they opt for a personalized model.
DraftLab's AI can also be personalized to match the user's writing style so they can save time without sacrificing authenticity. In the future, users can also teach DraftLab's AI to automatically respond to emails they get over and over again, as well as triage and label important emails so they don't slip through the inbox.
DraftLab is the perfect tool for anyone looking to increase their productivity and efficiency when it comes to emailing.
Featured
DraftLab was manually vetted by our editorial team and was first featured on December 30th 2022.

Would you recommend DraftLab?
Help other people by letting them know if this AI was useful.
64 alternatives to DraftLab for Email writing
Generation of personalized email and message content.

68

5.0

Fast, professional email composition assistance.

46

Productivity suite that boosts email productivity.

40

Generated personalized email campaigns using data.

37

5.0

Improved email communication & response generation.

36

Automated email management boosting productivity.

31

Automated task optimization for workflows.

24

Writing polished, workplace-appropriate emails.

23

Hyper-personalized email outreach icebreakers.

22

Automatically personalizes and improves business emails.

20

5.0

Boost sales with insights, leads and outreach.

20

Optimizing email content for greater effectiveness.

20

5.0

Streamlined email writing with an assistant.

19

5.0

Email writing assistant extension for Chrome.

18

Email generation assistance software.

18

Automated email management and smart inbox organization.

17

Assisted email writing with tone & autocomplete.

17

Autogenerated email and message replies.

16

Automated email copy generator for marketing.

16

Automated email writing and summarization.

15

Real-time email writing efficiency advisor.

15

Productivity aid for composing emails.

15

Managed emails with quick replies.

14

Assistance for writing emails.

14

Improved multilingual email professionalism.

14

Tailored response messaging assistant.

13

Automated personalized email generation.

13

Personalized opening lines for cold email outreach.

13

Customized cold emails for businesses.

12

Efficient email writing with personalized content.

12

5.0

Assisting with email communication to improve outcomes.

11

Automated email writing assistance.

11

Tailored email responses generated.

11

Personalized cold email first lines.

10

Email response generation with one click.

10

Effortless email design and creation

10

5.0

Email drafting on iPhone.

10

VoiceType: verbal email composition w/ context analysis.

10

Automated email communication improvement assistant.

9

Communication aid with smart templates & tone selector.

9

Email writing acceleration.

9

5.0

Solution for creating witty responses to spam emails.

9

Customized email marketing with CRM intelligence.

8

8

Automation of email composition and management.

8

Email writing assistance.

8

Automated email composition for busy professionals.

8

Simplified business text generation.

7

Enhanced email management and composition platform.

7

Simplified email management, time-saving solution.

7

Quickly compose emails in any language.

7

1.0

Automated multi-channel team engagement platform.

7

Email writing assistance.

6

Efficiently crafted communications

6

5.0

Generate personalized emails easily.

5

Generated copy and templates for email campaigns.

4

Email response generation with personalized messages.

4

Personalized outbound sales emails optimized.

3

Personalized email response generation made efficient.

3

3

Email composing assistant

2

Email composition and proofreading assistant.

1

Improved email productivity, streamlined communication.

16

5.0
Pros and Cons
Pros
Embeds into Gmail
Pay-as-you-go system
Respects user privacy
Can automatically respond
Auto triage and label
Increases productivity
Compatible with Chrome
Doesn't store emails
Billing based on use
Personalized writing style
Automatic email responses
Triage and labelling emails
Privacy-first approach
No upfront payment
Helps reach Inbox zero
Future Outlook compatibility
No need to switch
Writes emails faster
High-quality email replies
Automated replies to frequent emails
Labeling important emails
Cons
Only works with Gmail
Chrome extension required
Inconsistent costs (pay-per-use)
Limited compatibility (no Outlook)
Personalization feature not available yet
Autopilot feature not available yet
Triage feature not available yet
Q&A
What is DraftLab?
DraftLab is an AI-powered Gmail copilot that assists users in writing better emails more quickly.
How does DraftLab help in writing emails?
DraftLab provides high-quality email generation to help combat writer's block and streamline the email writing process. It accomplishes this by embedding directly into the Gmail interface, assisting with both the creation and response to emails.
Where does DraftLab operate?
DraftLab operates directly within Gmail, thanks to its Chrome extension that embeds the tool into the users' email interface.
What is the payment model of DraftLab?
DraftLab operates on a pay-as-you-go model, charging users only when they utilize the AI for email generation. There are no upfront payment requirements, and users are billed monthly.
Does DraftLab respect user privacy?
Yes, DraftLab is fundamentally privacy-first. It does not store any user emails unless a user opts for a personalized model.
Can DraftLab's AI be personalized?
Yes, DraftLab's AI does offer personalization. It can be customized to match the user's specific writing style, allowing for a seamless mix of productivity and authenticity.
Can DraftLab's AI autorespond to emails?
While currently a feature in development, DraftLab's AI will in future be able to automatically respond to frequently received emails, further increasing productivity by eliminating the need for canned responses.
How does DraftLab assist in email triage?
Another upcoming feature of DraftLab is its ability to conduct automatic email triage. This feature will allow it to label and sort important emails based on their content, ensuring they remain visible and do not get lost in your inbox.
How does DraftLab improve my productivity?
DraftLab improves your productivity by allowing you to tackle email writing and responses more quickly, aiding in the journey to achieving 'inbox zero'. With upcoming features like autopilot and triage, it will help manage repeated emails and prioritize important ones.
What browsers support DraftLab?
The Chrome browser currently supports DraftLab, as it offers a dedicated DraftLab Chrome extension that embeds directly into Gmail.
How does DraftLab fit into my existing workflow?
DraftLab fits seamlessly into your existing workflow as it operates within Gmail, allowing you to write and respond to emails without changing your email client or platform.
Can DraftLab match my unique writing style?
Yes, DraftLab can be adjusted to match your unique writing style, providing a highly tailored email writing experience without sacrificing your individual authenticity.
How does DraftLab help me reach 'inbox zero'?
DraftLab aids in reaching 'inbox zero' by speeding up the email writing and response process. The upcoming auto-response and triage features will further assist in managing email traffic efficiently.
Does DraftLab require an upfront payment?
No, DraftLab does not require an upfront payment. It operates on a pay-as-you-go model, meaning users only pay for the service when they use the AI to generate an email.
Is DraftLab compatible with email clients other than Gmail?
Although DraftLab is designed specifically for Gmail, there is indication that more clients, such as Outlook, will be supported in the future.
How does DraftLab prioritize my privacy?
DraftLab prioritizes user privacy by not storing any emails unless the user opts for a personalized model. This ensures that users can use the service freely without concern for their private correspondence.
Can DraftLab help manage high email traffic?
With its quick email creation and response capabilities, along with the upcoming auto-response and triage features, DraftLab can indeed help manage high email traffic.
Does DraftLab provide any extension for browsers?
Yes, DraftLab does provide a dedicated extension for the Chrome browser.
What future features can users expect from DraftLab?
Users can expect the addition of a personalization feature to match their unique writing style and an autopilot feature for automatic response to recurring emails. DraftLab is also planning to introduce a triage feature to automatically sort and label important emails based on their content.
Is DraftLab a suitable tool for professional writers?
Yes, DraftLab is suitable for professional writers as it allows them to write better emails faster, matches their unique writing styles, and helps manage and prioritize their email traffic for increased productivity.
If you liked DraftLab
Help
⌘ + D bookmark this site for future reference
⌘ + ↑/↓ go to top/bottom
⌘ + ←/→ sort chronologically/alphabetically
↑↓←→ navigation
Enter open selected entry in new tab
⇧ + Enter open selected entry in new tab
⇧ + ↑/↓ expand/collapse list
/ focus search
Esc remove focus from search
A-Z go to letter (when A-Z sorting is enabled)
+ submit an entry
? toggle help menu
x
Sign in to continue (100% free)
To prevent spam, some actions require being signed in. It's free and takes a few seconds.
Sign in with Google