Edit AI
Digital dream tracking and analysis.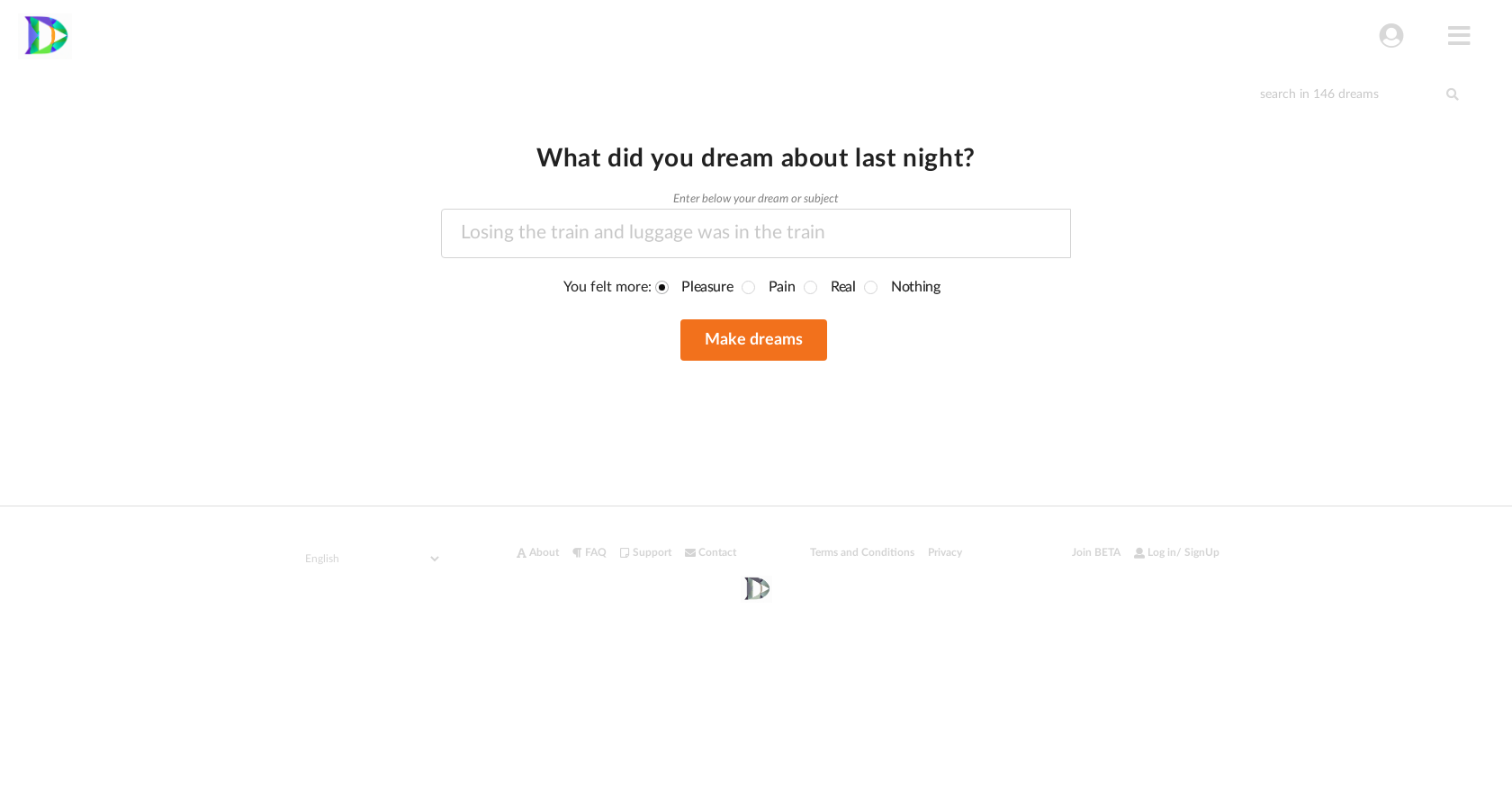 Generated by ChatGPT
The Driary project is an AI-based digital diary and dream journal that helps people to better understand their thoughts and feelings. It allows users to track and analyze their dreams and provides resources such as articles, videos, and images to help them interpret their dreams.
Furthermore, it uses an online journal and diary system where users can share their dreams and receive feedback and insights from other users. This project offers a valuable support to those who want to explore the meanings of their dreams, making the process easier and faster.
This can be a great way to gain a deeper understanding of oneself and one's subconscious mind.
Featured
Driary was manually vetted by our editorial team and was first featured on November 17th 2022.

Would you recommend Driary?
Help other people by letting them know if this AI was useful.
Effortlessly creates personalized children's stories.

359

4.3

Generate personalized children's stories.

319

5.0

Created illustrated children's stories automatically.

88

Aid for unique children's book authoring.

46

Creates educational stories for children.

38

4.5

Customize stories for kids.

36

Creation of unique, personalized children's storybooks.

27

Create custom children's books.

27

Platform for creating customized children's stories.

26

Personalized children's storybook creation for learning.

26

5.0

Creation of personalized bedtime stories for children.

15

Personalized bedtime stories with loved ones.

15

5.0

Customizable parent-child story creation and generation.

15

Storytelling and creativity platform for children.

15

Illustrated children's stories creation platform.

14

5.0

Generated infinite stories from text input.

13

Personalized storybooks for children created.

13

Customized bedtime storytelling experience.

13

Creation of customized bedtime stories for children.

11

Personalized bedtime stories for children.

10

Unlimited creative kids' stories and illustrations.

10

Personalized audio storytelling for children.

9

Child as artist's inspiration for books.

9

Personalized books for diverse events.

8

Personalized storytelling for Apple devices.

8

Kids' stories tailored to preferences using parameters.

8

Engaging audio narration improves reading skills.

8

Generated fairytales for children.

7

Personalize children's stories with continuing chapters.

7

Interactive storytelling for parents and children.

7

Tailored fairytales for kids with a unique twist.

7

Personalized storytelling boosts children's literacy.

6

Narrates bedtime stories.

6

Empathy-focused bedtime stories

5

Personalized stories for children platform.

5

Personalized bedtime stories creation for children.

5

Child-friendly personalized educational storytelling.

4

Enhanced children's storytelling.

4

Child storytelling with personalized emotional growth.

3

Children's fairy tale creator

3

Customized bedtime stories for kids.

2

5.0

Generated children's storybooks.

1

Improved bedtime stories for kids.

1

Assisting in creating children's books.

1
Pros and Cons
Pros
Digital dream tracking
In-depth dream analysis
Provides dream interpretation resources
Enables sharing and feedback
User-based insights
Fast and easy dream exploration
Helps gain self-understanding
Interactive and engaging interface
Dream journal functionality
Secure data storage
Free to use
Supports dream visualization
Daily usage recommendations
Generates dream-based results
Supports user progress tracking
User collaboration for interpretations
Privacy-conscious design
Centralized user account
Regular updates and improvements
Natural language processing use
Incorporates machine learning methods
Easy account creation
Community support
Developer engagement
Offers tutorials and resources
Complex dream interpretations
Responsive customer support
Fosters personal growth
Web and mobile access
Personalized experience
Minimalistic design
Intuitive user navigation
Fast performance
Works with rich dream data
Helps visualize emotions and feelings
Embeds privacy policy and terms
Analyzes dream patterns
Positive community contribution
Dedicated user support team
Adaptable for user needs
Tracks dream progression
Encourages sharing without breaches
Cons
No mobile app
No real-time support
No multi-language support
No professional consultation available
Sharing dreams publicly might be uncomfortable
Data privacy concerns
Limited educational resources about dream interpretation
Q&A
What is Driary?
Driary is an AI-based digital diary and dream journal aimed at helping individuals better understand their thoughts and feelings. The platform promotes in-depth self-exploration by analyzing and interpreting users' dreams. Driary also provides resources such as articles, videos, and images to aid in dream interpretation, alongside an online sharing system for users to gain feedback and insights from others.
How does Driary work?
Driary operates through an online diary system, allowing users to document their dreams. The platform then uses AI to analyze and interpret these dreams, meaningfully mapping them to user emotions. Driary's dream-sharing feature facilitates interaction with other users for more insights and feedback on the shared dreams.
What does Driary offer to help interpret dreams?
Driary offers an AI-based tool that assists in interpreting dreams, which allows users to better understand their subconscious thoughts and feelings. Alongside this AI tool, Driary provides resources - articles, videos, images - to aid in further understanding dreams. The platform also facilitates sharing of dreams so as to receive feedback and insights from the Driary community.
Why should I share my dreams with Driary?
Sharing dreams in Driary allows for a collective and diverse interpretation. By receiving feedback and insights from the Driary community, users can gain different perspectives, uncovering deeper meanings to their dreams. The interactions on Driary provide users with an enriching understanding of their subconscious.
What algorithms does Driary use to analyze and interpret dreams?
While the specific algorithms used by Driary's AI for dream analysis aren't explicity stated, it's plausible that the system might use natural language processing (NLP) techniques, such as word embedding or recurrent neural networks (RNNs), or broader machine learning methods like support vector machines (SVMs) or decision trees. These are common approaches in AI for detailed analyses and interpretations.
Can I keep my dreams private on Driary?
Yes, Driary allows for user privacy regarding dream entries. When providing data to Driary, while essential for the platform's dream interpretation function, users have control over what to share with the community. By default, Driary ensures data is stored securely, asserting user privacy.
Does Driary provide any resources for dream interpretation?
Yes, Driary provides numerous resources to assist in dream interpretation. This includes articles, images, and videos, all aimed towards helping users understand their dreams better. These resources, in combination with Driary's AI-based interpretation tool, enhance the platform's comprehensive approach to self-exploration.
Does Driary store and track my dream entries?
Yes, Driary stores and tracks the dreams you enter into its digital diary system. This enables the platform to consistently analyze your dreams over time, drawing meaningful connections and providing better and more insightful interpretations over the period of use.
Is Driary a free or a paid service?
Driary is currently a free service. Users can freely utilize its comprehensive set of features including dream tracking, interpretation, sharing, and resources for better understanding dreams.
What measures does Driary take to secure my data?
Driary ensures that the data provided by its users is stored in a secure manner. The detailed measures aren't specifically stated on Driary's website, the platform assures users of compliance to standard security measures to prevent unauthorized access or disclosure of user data.
Can I use Driary anonymously, without sharing my personal information?
While Driary doesn't directly mention anonymous usage, the platform guarantees secure data handling. The principal information collected is your email address and the details of your dreams. Any other personal identification information is not explicit in the material given.
Does Driary offer any community or social features?
Yes, Driary does offer community features. Users are able to share their dreams on the platform, resulting in the creation of a communal space where dreams can be discussed, analyzed and interpreted collectively. User interaction provides a variety of perspectives and insights.
Can I provide my own interpretations to others' dreams on Driary?
The information available doesn't directly mention if users can provide their own interpretations to others' dreams. However, the social function within the Driary community implies that users are likely able to contribute and provide feedback on shared dreams, enhancing the platform's communal space.
How can Driary help me understand myself better?
Driary aids in understanding the self by interpreting your dreams using AI, offering insights into your subconscious thoughts and feelings. The platform promotes self-exploration and understanding by tracking, interpreting and sharing dreams. By receiving feedback and insights from the Driary community, users can also learn from different perspectives, fostering a deeper self-understanding.
Can I access Driary on mobile devices?
There isn't specific information on whether Driary can be accessed on mobile devices. However, as a digital platform, it's likely that Driary is accessible across a variety of devices including smartphones and tablets, providing convenience and flexibility.
Does Driary integrate with any other tools or platforms?
There is no mention of Driary integrating with other tools or platforms. Currently, the platform seems to work independently, providing a comprehensive suite of inbuilt features including AI-based interpretation, a secure storage system for dreams, and a community sharing feature.
How should I best use Driary for dream interpretation?
To best utilize Driary, it's recommended to regularly log and track dreams on the platform, allowing for consistent analyses and interpretations. Users can also use the available resources and interact within the platform's community for wide-ranging insights. Exploring the self through Driary's dream interpretations can lead to profound self-understanding.
What type of audience is Driary intended for?
Driary is intended for anyone seeking to explore their subconscious mind through their dreams. It can be useful for those who wish to understand the correlation between their thoughts, feelings, and their dreams. It can also be beneficial for individuals interested in personal development, self-awareness, and emotional introspection.
Does Driary offer customer support if I encounter issues?
On facing issues while using Driary, users can explore the project's tutorials and resources for better understanding. Additionally, Driary maintains a support team dedicated to resolving user issues, contributing to a smooth and efficient user experience.
How frequently does Driary update or add new features?
The frequency of updating or adding new features to Driary is not mentioned on their website. However, as a technology-focused venture, it's expected that Driary maintains a consistent focus on enhancing and updating its technology and features to ensure a dynamic user experience.
If you liked Driary
Help
⌘ + D bookmark this site for future reference
⌘ + ↑/↓ go to top/bottom
⌘ + ←/→ sort chronologically/alphabetically
↑↓←→ navigation
Enter open selected entry in new tab
⇧ + Enter open selected entry in new tab
⇧ + ↑/↓ expand/collapse list
/ focus search
Esc remove focus from search
A-Z go to letter (when A-Z sorting is enabled)
+ submit an entry
? toggle help menu
x
Sign in to continue (100% free)
To prevent spam, some actions require being signed in. It's free and takes a few seconds.
Sign in with Google