Edit AI
Automated email replies to save time.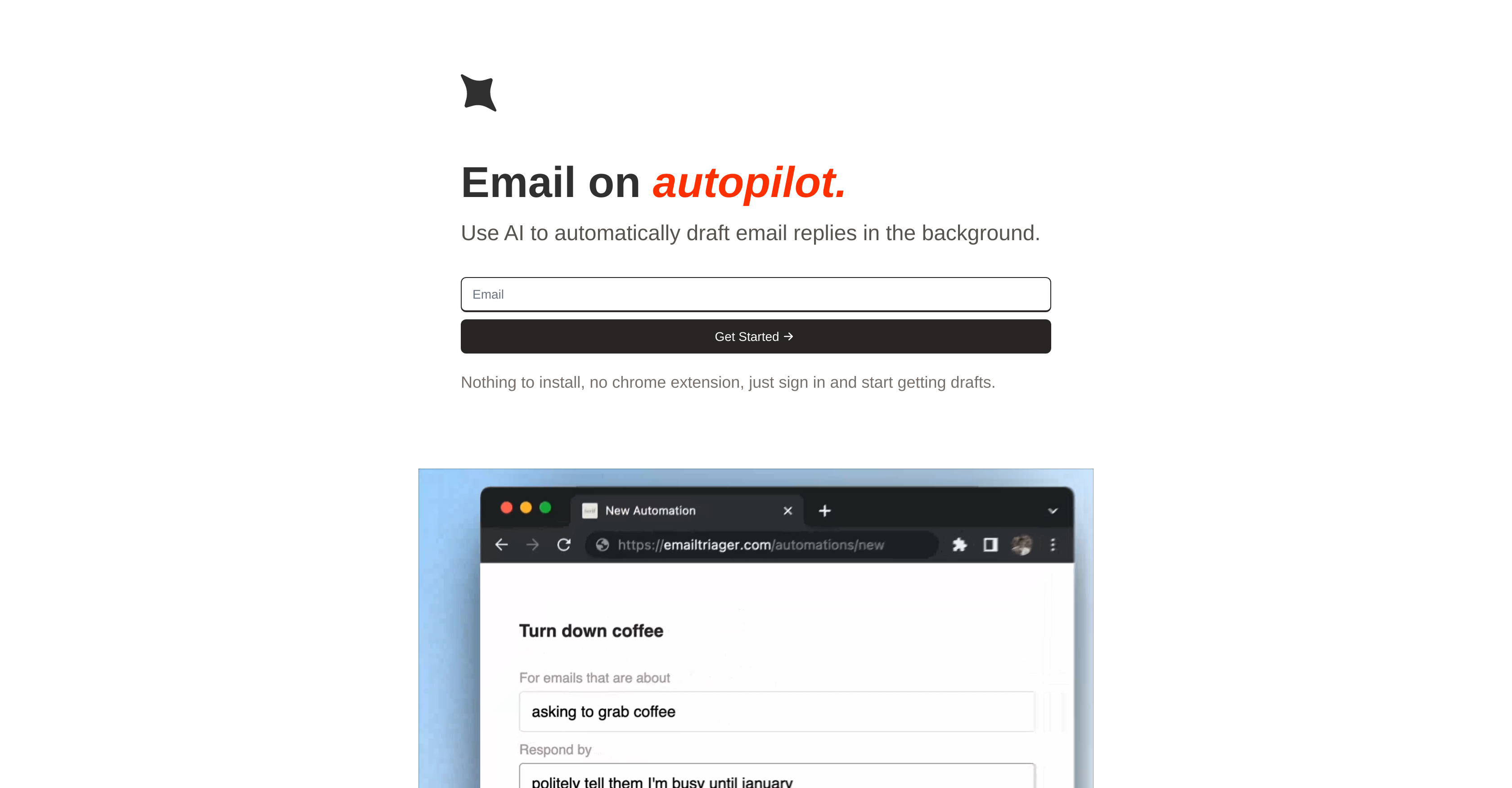 Generated by ChatGPT
EmailTriager is an AI-powered email automation tool that helps users save time on mundane tasks. It allows users to compose automated replies to emails that are sent to their inbox, without having to manually respond to each one.
The tool uses natural language processing (NLP) technology to understand the user's instructions and generate automated drafts for them to review and send.
With EmailTriager, users can keep up with their ever-growing inbox without having to manually write each response. EmailTriager also offers privacy and security features to ensure that users' emails and data remain safe and secure.
This tool is perfect for busy people who want to save time on tedious tasks and get on with their day.
Featured
EmailTriager was manually vetted by our editorial team and was first featured on December 26th 2022.

Would you recommend EmailTriager?
Help other people by letting them know if this AI was useful.
14 alternatives to EmailTriager for Email replies
Compose emails with voice input.

58

Simplified connecting Gmail accounts.

16

1.0

Email assistant for faster communication.

13

Personalized email assistant for B2B sales.

14

Generating automatic email replies.

10

Generate personalized email replies.

8

Generated and summarized email responses.

6

Forward emails and get replies.

6

Multilingual email replies w/ contextual aid.

5

Automated email response writing.

5

Automated personalized email responses.

5

Enhanced customer experience email responses

3
Pros and Cons
Pros
Automated email replies
Uses NLP technology
Generates ready-to-send drafts
Manages ever-growing inbox
Privacy and security features
No installation required
No browser extensions needed
Simple sign-in and start
Instructions in plain English
Drafts show up in inbox
Time saver for busy people
Personalized reply context
Handles mundane tasks
Detailed email triage
Highly intuitive tool
Perfect for non-techies
Secures user data
Easily integrate with inbox
Cons
Limited NLP understanding
No customization options
Potential privacy issues
No mobile app
Dependent on user instruction clarity
No offline capabilities
Limited to English language
Cannot handle complex requests
No enterprise version available
Doesn't support all email providers
Q&A
What is EmailTriager?
EmailTriager is an AI-powered email automation tool designed to help users save time by generating automated responses to emails received in their inbox. This service aids in managing an overflowing email inbox and reducing the time one spends responding to each individual mail manually.
How does EmailTriager use AI to automate email replies?
EmailTriager utilizes natural language processing (NLP) technology in automating email replies. This technology enables it to interpret user instructions, understand the content of received emails, and draft suitable responses, thereby eliminating the need for manual intervention.
Is EmailTriager safe to use?
Yes, EmailTriager is safe to use as it deploys privacy and security measures to ensure that users' emails and data are well protected and remain confidential.
How does EmailTriager understand user's instructions?
EmailTriager understands users' instructions through the application of natural language processing technology. This allows it to read and interpret commands delivered in plain English.
What technology does EmailTriager use for processing language?
EmailTriager employs natural language processing (NLP) for processing language in emails.
Do I need to install anything to use EmailTriager?
No, you don't need to install anything to use EmailTriager. This means no extensions or plugins are necessary. You merely have to sign in to get started.
How can EmailTriager help with managing my inbox?
EmailTriager helps with managing your inbox by drafting automated replies to your received emails. This drastically reduces the time spent on manual responses, easing the workload and ensuring an efficient and organized inbox management.
Can I review email drafts before they are sent with EmailTriager?
Yes, with EmailTriager, drafts are generated for users to review before being sent out. Hence, you still retain control over your correspondence.
How does EmailTriager generate automated drafts?
EmailTriager generates automated drafts by interpreting your instructions through natural language processing technology. It understands the context of the received email and your guidelines to automate a relevant draft reply.
Is there a limitation to the number of emails EmailTriager can manage?
IDK
Do I need to sign up to use EmailTriager?
Yes, you need to sign up to use EmailTriager. Simply log in and start using the service.
Can I use EmailTriager on all platforms?
IDK
What language should I use to tell EmailTriager what to do?
You should use plain English to instruct EmailTriager for drafting replies. This ensures that EmailTriager can effectively understand and execute your instructions.
Does EmailTriager need constant supervision or does it work independently?
EmailTriager operates largely independently once set up with your instructions. It requires little supervision as it automatically drafts emails in the background.
Can I customize the replies that EmailTriager generates?
IDK
Is EmailTriager available globally?
IDK
How can EmailTriager save me time?
EmailTriager can save you significant time by automating email responses. Instead of manually composing replies to each email, EmailTriager will draft replies in the background according to your instructions, leaving you free to focus on other tasks.
How does EmailTriager deal with privacy and security?
EmailTriager adheres to strict privacy and security measures to ensure the protection of user data. It guarantees that your emails and personal information remains secure.
What kind of emails can EmailTriager handle?
IDK
Can EmailTriager manage multiple email accounts?
IDK
If you liked EmailTriager
Help
⌘ + D bookmark this site for future reference
⌘ + ↑/↓ go to top/bottom
⌘ + ←/→ sort chronologically/alphabetically
↑↓←→ navigation
Enter open selected entry in new tab
⇧ + Enter open selected entry in new tab
⇧ + ↑/↓ expand/collapse list
/ focus search
Esc remove focus from search
A-Z go to letter (when A-Z sorting is enabled)
+ submit an entry
? toggle help menu
x
Sign in to continue (100% free)
To prevent spam, some actions require being signed in. It's free and takes a few seconds.
Sign in with Google