Edit AI
By

Unleash AI Power For Your Business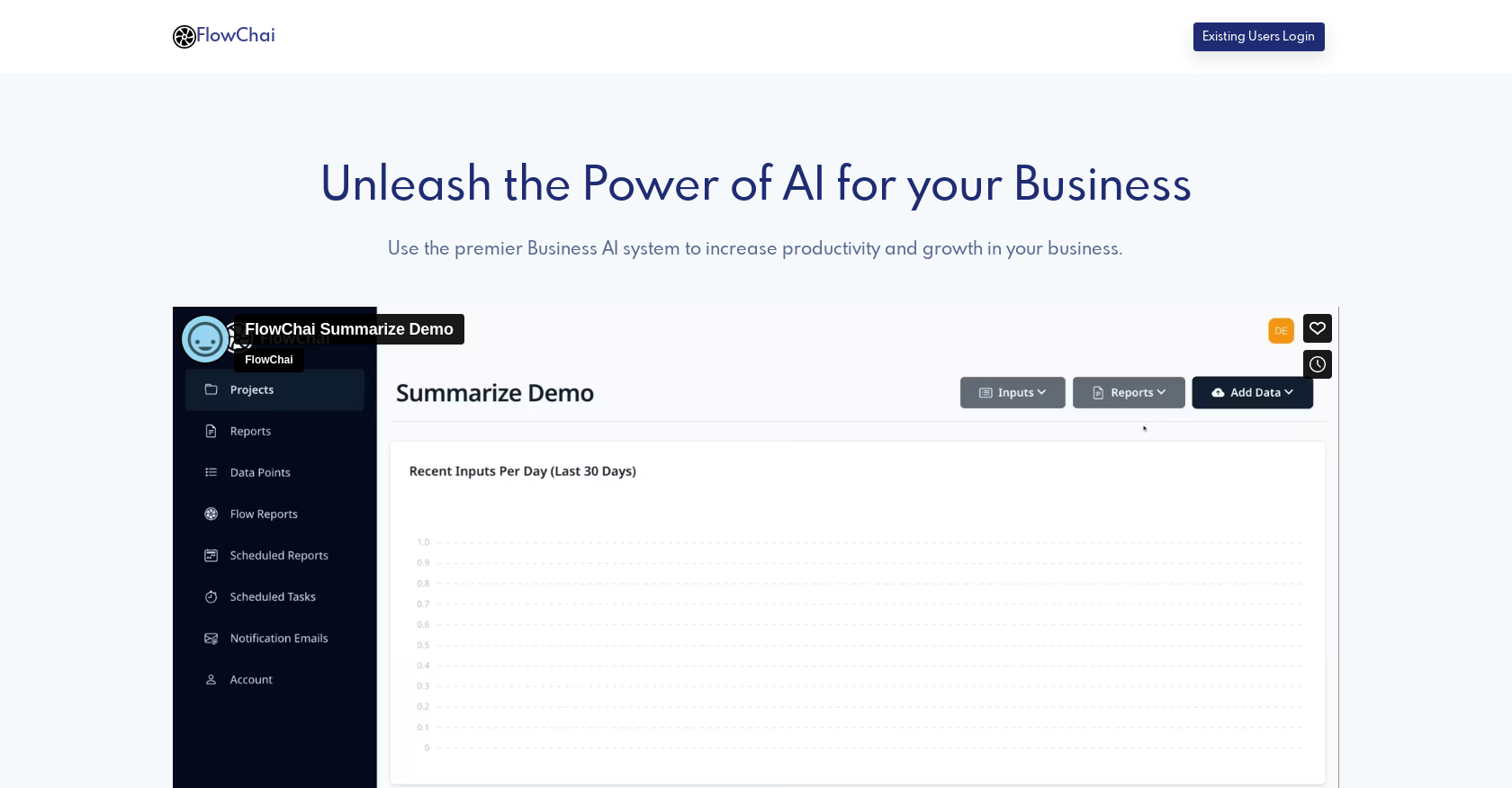 Generated by ChatGPT
FlowChai is a premier Business AI system that empowers businesses to increase productivity and growth. The tool offers advanced features for automation and productivity, including scheduled tasks, flow reports, scheduled reports, data upload, email reports, and data extraction.
With FlowChai, users can effortlessly capture data on a regular basis, monitor their company's digital footprint, and generate multiple reports from varied data inputs with just a few clicks.
The tool supports the uploading of virtually any file type and enables the extraction of valuable data points using advanced AI capabilities.One of the key benefits of FlowChai is its ability to automate content generation at scale.
By utilizing advanced OpenAI GPT models, FlowChai converts business needs into engaging content, such as social media posts and product descriptions, with high-quality and rapid output.FlowChai also offers seamless AI integration, providing easy and quick access to advanced AI capabilities that cater to both beginner and expert users.
The tool optimizes workflows effectively, supporting system integration and complex AI strategies.FlowChai offers different pricing plans to suit various business needs, ranging from a free plan to enterprise-level subscriptions.
Report credits are used for generating reports, and the tool provides ample storage for data, including PDFs, Word Docs, and web pages.Overall, FlowChai is a powerful AI tool that helps businesses unlock their data's potential, streamline workflows, generate compelling content, and achieve efficient automation.
Featured
FlowChai was manually vetted by our editorial team and was first featured on September 9th 2023.

Would you recommend FlowChai?
Help other people by letting them know if this AI was useful.
Email assistant for fast-growing businesses.

24

4.5

Customer support assistant.

19

1.0

Business ops & planning assistance

19

Automated document handling and virtual assistant.

18

Managed business operations with natural language.

12

Business management and marketing platform

11

Comprehensive risk assessment for businesses.

10

Business growth platform.

7

Automate and optimize processes.

4

Data-driven growth & workflow optimization.

4

Analyzes tasks, generates reports for business analysis.

4

Boosted business workflow efficiency and productivity.

3

Improves data analysis, enhances customer experience.

3

Enhanced business productivity through automation.

2

Marketing, sales, and operations optimization.

2

Small business management and support assistant.

1
If you liked FlowChai
Help
⌘ + D bookmark this site for future reference
⌘ + ↑/↓ go to top/bottom
⌘ + ←/→ sort chronologically/alphabetically
↑↓←→ navigation
Enter open selected entry in new tab
⇧ + Enter open selected entry in new tab
⇧ + ↑/↓ expand/collapse list
/ focus search
Esc remove focus from search
A-Z go to letter (when A-Z sorting is enabled)
+ submit an entry
? toggle help menu
x
Sign in to continue (100% free)
To prevent spam, some actions require being signed in. It's free and takes a few seconds.
Sign in with Google