Edit AI
Communication aid with smart templates & tone selector.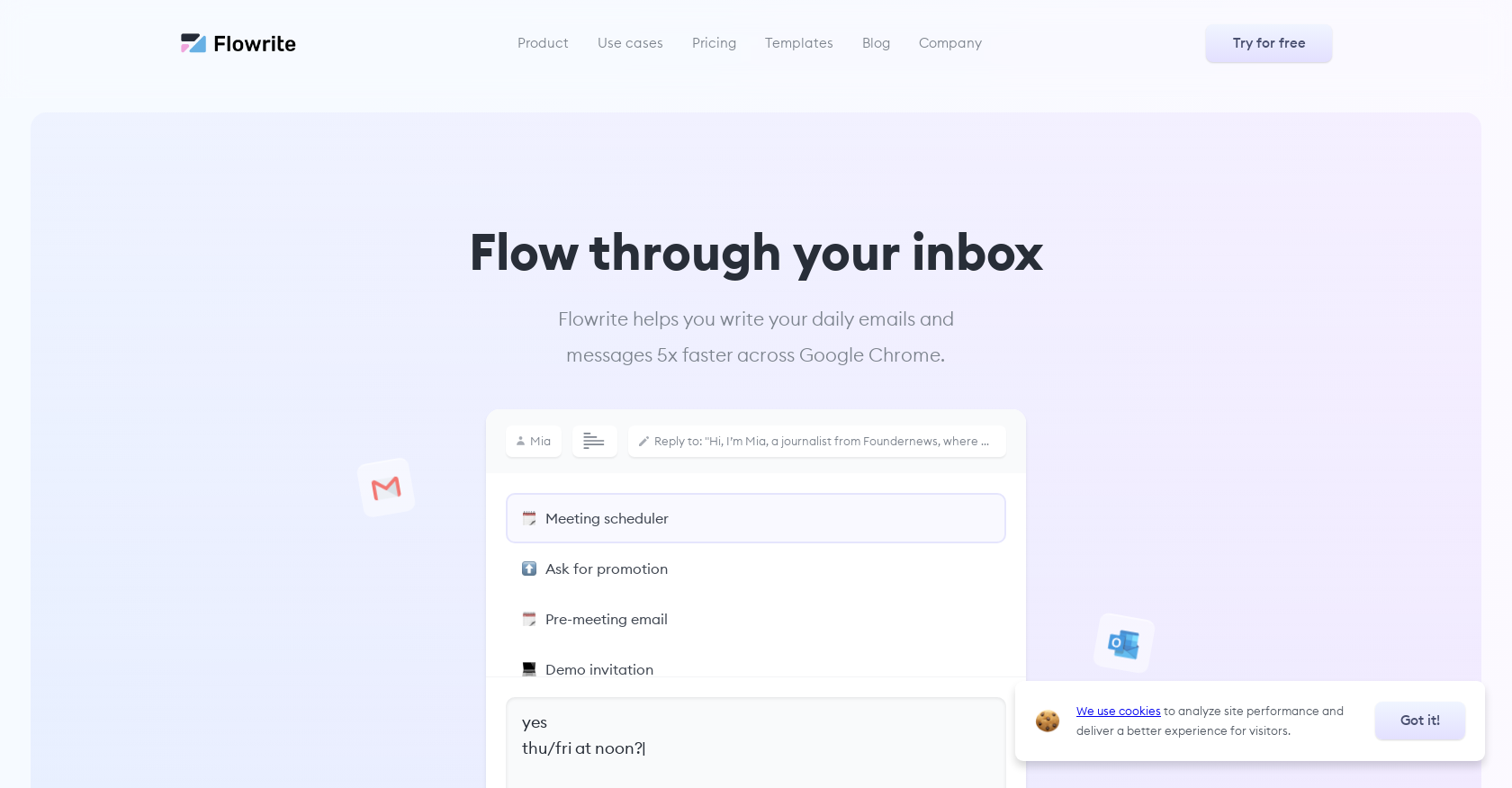 Generated by ChatGPT
Flowrite is an AI-powered communication tool that helps users save time and hit the right tone when sending emails and messages. The Flowrite Chrome Extension works across popular web browsers, allowing users to quickly generate ready-to-send emails and messages.
It provides a library of smart templates for common emails and messages, and users can also create their own custom templates for frequently used messages.
The Flowrite Tone Selector allows users to choose the right tone for their message, from casual to formal, friendly to polite, and respectful. Flowrite also provides users with an AI-powered assistant that can help them generate unique drafts with one click, making it easier to write emails and messages.
Finally, Flowrite's intuitive user interface makes it easy to use and enables users to quickly generate emails and messages.
Featured
Flowrite was manually vetted by our editorial team and was first featured on February 21st 2023.

Would you recommend Flowrite?
Help other people by letting them know if this AI was useful.
64 alternatives to Flowrite for Email writing
Generation of personalized email and message content.

68

5.0

Fast, professional email composition assistance.

46

Productivity suite that boosts email productivity.

40

Generated personalized email campaigns using data.

37

5.0

Improved email communication & response generation.

36

Automated email management boosting productivity.

31

Automated task optimization for workflows.

24

Writing polished, workplace-appropriate emails.

23

Hyper-personalized email outreach icebreakers.

22

Automatically personalizes and improves business emails.

20

5.0

Boost sales with insights, leads and outreach.

20

Optimizing email content for greater effectiveness.

20

5.0

Streamlined email writing with an assistant.

19

5.0

Email writing assistant extension for Chrome.

18

Email generation assistance software.

18

Autogenerated email and message replies.

16

Assisted email writing with tone & autocomplete.

17

Automated email management and smart inbox organization.

17

Automated email copy generator for marketing.

16

Real-time email writing efficiency advisor.

15

Automated email writing and summarization.

15

Productivity aid for composing emails.

15

Improved multilingual email professionalism.

14

Assistance for writing emails.

14

Managed emails with quick replies.

14

Tailored response messaging assistant.

13

Personalized opening lines for cold email outreach.

13

Automated personalized email generation.

13

Efficient email writing with personalized content.

12

5.0

Customized cold emails for businesses.

12

Assisting with email communication to improve outcomes.

11

Automated email writing assistance.

11

Tailored email responses generated.

11

Solution for creating witty responses to spam emails.

10

VoiceType: verbal email composition w/ context analysis.

10

Email drafting on iPhone.

10

Effortless email design and creation

10

5.0

Email response generation with one click.

10

Personalized cold email first lines.

10

Automated email communication improvement assistant.

9

Email writing acceleration.

9

5.0

Gmail email writing assistant.

9

8

Customized email marketing with CRM intelligence.

8

Automation of email composition and management.

8

Email writing assistance.

8

Automated email composition for busy professionals.

8

Simplified business text generation.

7

Enhanced email management and composition platform.

7

Simplified email management, time-saving solution.

7

Quickly compose emails in any language.

7

1.0

Automated multi-channel team engagement platform.

7

Email writing assistance.

6

Efficiently crafted communications

6

5.0

Generate personalized emails easily.

5

Generated copy and templates for email campaigns.

4

Email response generation with personalized messages.

4

Personalized outbound sales emails optimized.

3

Personalized email response generation made efficient.

3

3

Email composing assistant

2

Email composition and proofreading assistant.

1

Improved email productivity, streamlined communication.

17

5.0
Pros and Cons
Pros
Chrome Extension
Works across browsers
Smart templates library
Customizable templates
Tone Selector feature
One-click draft generation
Intuitive user interface
Supports multiple communication use-cases
Cross-browser communication support
Wide template range
Smart template personalization
Ensures consistent message tone
Effort reduction in email drafting
Supports fluent English communication
Suitable for different roles and teams
Generates unique drafts
Smart template gallery
Creates personalized drafts
Offers tone flexibility (casual to respectful)
Used by professionals
Available on favorite websites
Helps overcome writer's block
Improves communication confidence
Speeds up writing process
Reduce time spent in inbox
User-tested and approved.
Cons
Limited to English language
Browser-specific (Chrome)
Doesn't mention mobile compatibility
Interface restricted to certain sites
No multi-user collaborations
Customization seems limited
No offline mode
Efficiency dependent on user guidance
Implicit privacy concerns
No enterprise tools mentioned
Q&A
What is Flowrite?
Flowrite is an AI-powered communication tool that aids users in drafting emails and messages quickly and with the appropriate tone. It is equipped with smart templates and a tone selector.
How does the Flowrite Chrome Extension work?
The Flowrite Chrome Extension operates within popular web browsers, enabling users to swiftly produce emails and messages ready for dispatch. It offers a selection of ready-made templates for typical emails and messages, and also allows the creation of custom templates for recurrently used messages.
What functionalities does the Flowrite web app offer?
The Flowrite web app expands upon the features of the Chrome Extension, assisting with the construction of emails and messages, offering a variety of templates and enabling custom template creation. Utilising the app, users can swiftly write emails or messages for various purposes.
What smart templates are available in Flowrite?
Flowrite provides a range of smart templates for various use-cases, including leadership, sales, investors, customer support, HR and recruiting, and marketing and communications. These templates help users construct commonly sent emails across different roles and teams.
How can I create my own custom templates on Flowrite?
In Flowrite, the creation of custom templates is designed to be straightforward. They can be designed for individual needs, based on frequently used messages. This functionality allows users to tackle repeat tasks more efficiently by having ready-to-use templates.
What does the Flowrite Tone Selector offer?
The Flowrite Tone Selector offers users the flexibility to set the tone of their messages as per their preference. They can choose between casual, formal, friendly, polite, and respectful tones, ensuring that the recipient understands the message in the intended manner.
How does the AI-powered assistant on Flowrite work?
Flowrite's AI-powered assistant aids in generating unique drafts. By simply clicking one button, the intelligent system can help users formulate unique drafts, thereby streamlining the process of writing emails and messages.
Can Flowrite help to improve my writing skills?
Yes, Flowrite can certainly help improve writing skills. It aids in nailing the right tone, helps overcome blank page syndrome, and ensures the usage of fluent English. This can be particularly beneficial for non-native English speakers.
In what ways can Flowrite save users time?
Flowrite significantly reduces the time spent generating emails and messages. It turns short instructions into ready-to-send emails and messages, uses AI to generate unique drafts, and provides smart templates that handle the most common emails and messages users need to write.
How does Flowrite ensure the right tone is hit in my e-mails and messages?
With its integrated Tone Selector, Flowrite ensures the right tone is hit in emails and messages. Depending on the user's choice, it can adjust the tone of the message to be casual, formal, friendly, polite, or respectful. Choosing the right tone increases the likelihood that the recipient will react as expected.
What platforms/browsers is Flowrite compatible with?
Flowrite is compatible with popular web browsers, as it is implemented as a Chrome Extension. This makes it a versatile tool that can be used across platforms like Gmail, LinkedIn, and other preferred sites on the web.
Can Flowrite be used for non-English languages?
IDK
How can Flowrite overcome the blank page syndrome?
Flowrite combats the blank page syndrome by providing smart templates and an AI assistant to generate unique drafts. Users can use these tools to quickly draft emails or messages that are ready to send, eliminating any uncertainty or stress about how to begin writing.
What are the ways in which Flowrite ensures fluent English in its generated texts?
Flowrite guarantees fluent English in its generated texts because of its AI-powered communication tool. This system accounts for correct formatting, spelling, and grammar, thereby ensuring the quality of the English language, regardless of the user's proficiency.
Is Flowrite useful for professional settings?
Yes, Flowrite caters to various professional needs and roles. The smart templates cover a wide range of professional applications, such as leadership, sales, investors, customer support, HR, and marketing communication. Various professionals have testified to its utility.
Can I generate unique drafts with one click on Flowrite?
Yes, with Flowrite, you can generate unique drafts with just one click. This feature allows users to swiftly construct fully formed emails and messages without writing a word themselves.
Does Flowrite offer assistance across Gmail, LinkedIn and other sites?
Yes, Flowrite's Chrome Extension offers functionality across Gmail, LinkedIn, and other favorite websites. It allows users to write faster by turning instructions into ready-to-send emails and messages in these platforms.
What are the most common emails that Flowrite can handle?
Flowrite can handle most common emails that are used daily. Its smart template gallery covers a wide range of situations, including promotion announcements, pre-meeting emails, self-introductions, payment reminders, salary increase requests, business inquiries, and more.
Does Flowrite offer a free trial?
Yes, Flowrite offers a free trial. Users are able to experience the features and advantages of the service without initial cost.
Can I request access to Flowrite's features?
Yes, even if someone isn't among the early users, they can request access to Flowrite's features. The process involves joining the platform and accessing the features as they are made available.
If you liked Flowrite
Help
⌘ + D bookmark this site for future reference
⌘ + ↑/↓ go to top/bottom
⌘ + ←/→ sort chronologically/alphabetically
↑↓←→ navigation
Enter open selected entry in new tab
⇧ + Enter open selected entry in new tab
⇧ + ↑/↓ expand/collapse list
/ focus search
Esc remove focus from search
A-Z go to letter (when A-Z sorting is enabled)
+ submit an entry
? toggle help menu
x
Sign in to continue (100% free)
To prevent spam, some actions require being signed in. It's free and takes a few seconds.
Sign in with Google