GetBetterPics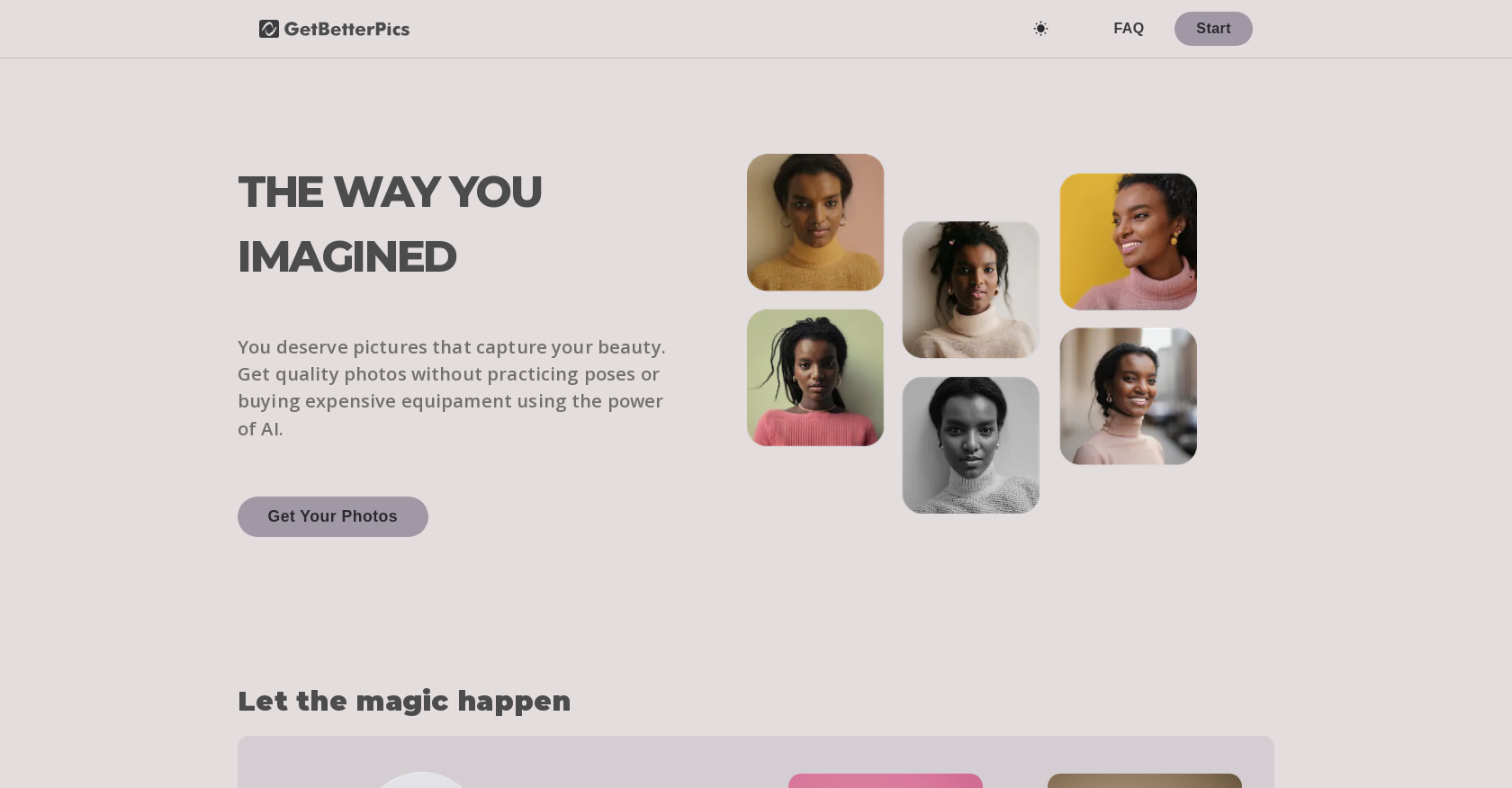 Generated by GPT-3
GetBetterPics is an AI-powered tool designed to generate high-quality photos quickly and easily for social media users. The tool boasts the latest AI technology in photo generation to create photos of the user the way they've always imagined them, without requiring any practice poses, expensive equipment or photography skills.
With this tool, users can obtain new social media pictures easily and inexpensively, saving time and money. The tool provides several examples of different photo styles, which the user can explore, and once a style is chosen, the tool generates unique photos tailored to the user's desired style.
Users can save their new photos to create a personal album, improve the aesthetics of their feed or give their social media a more professional look. Overall, GetBetterPics aims to enrich the social media experience and allow users to have control over how they are presented online by generating high-quality, unique and personalized photographs in just a few clicks.
Featured
?
73 alternatives to GetBetterPics for Avatars
01 Mar 2023

02 Mar 2023

08 Mar 2023

10 Mar 2023

10 Mar 2023

12 Mar 2023

09 Feb 2023

18 Feb 2023

19 Feb 2023

26 Feb 2023

28 Feb 2023

02 Jan 2023

04 Jan 2023

13 Jan 2023

17 Jan 2023

25 Jan 2023

29 Jan 2023

30 Jan 2023

03 Dec 2022

04 Dec 2022

05 Dec 2022

08 Dec 2022

11 Dec 2022

12 Dec 2022

15 Dec 2022

20 Dec 2022

20 Dec 2022

21 Dec 2022

21 Dec 2022

21 Dec 2022

22 Dec 2022

23 Dec 2022

23 Dec 2022

23 Dec 2022

26 Dec 2022

27 Dec 2022

28 Dec 2022

28 Dec 2022

28 Dec 2022

30 Dec 2022

02 Nov 2022

03 Nov 2022

08 Nov 2022

10 Nov 2022

12 Nov 2022

15 Nov 2022

17 Nov 2022

18 Nov 2022

21 Nov 2022

21 Nov 2022

21 Nov 2022

22 Nov 2022

23 Nov 2022

24 Nov 2022

24 Nov 2022

26 Nov 2022

27 Nov 2022

27 Nov 2022

28 Nov 2022

29 Nov 2022

29 Nov 2022

18 Oct 2022

28 Oct 2022

29 Oct 2022

31 Oct 2022

15 Sep 2022

24 Jul 2022

24 Jun 2022

15 Jan 2022

01 Feb 2022

25 Mar 2022

26 Apr 2021

23 Dec 2021