Edit AI
Social media content generation & management.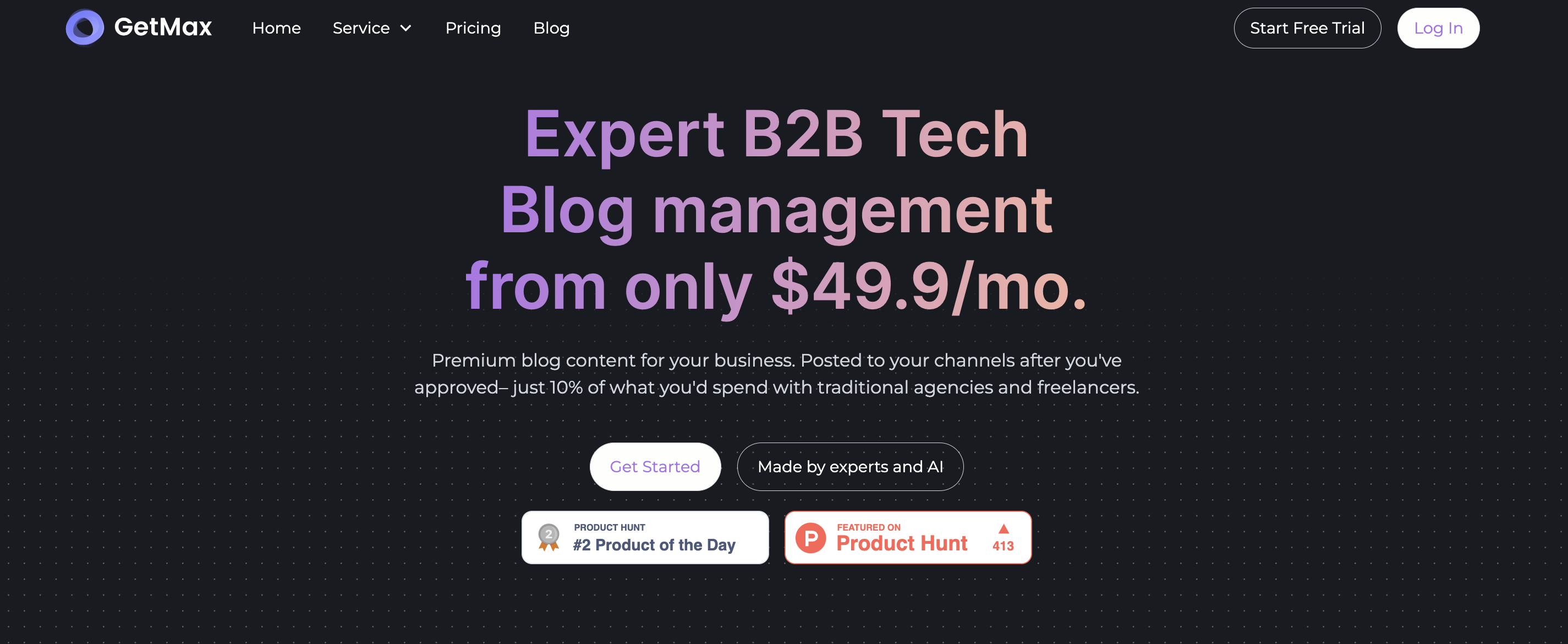 Generated by ChatGPT
With GetMax, startups who struggle to produce enough quality content can now easily manage content planning, creation, optimization, and analytics all in one place. No more scrambling - simplify your content marketing.
GetMax is an AI-powered tool designed to assist with content marketing strategies. It offers a range of features to help users save time, stay ahead of competitors, and collaborate effectively. With GetMax, users can receive AI-driven suggestions for content themes and keywords based on analysis of their product or website. This helps them stay in tune with industry trends and maintain keyword competitiveness. The tool also provides the ability to create content calendars, allowing users to plan and generate content in advance. It seamlessly integrates with existing calendar tools, ensuring efficient workflow management. GetMax enables content creation across various platforms, such as LinkedIn, blogs, and Twitter. Users have the option to choose from multiple variations for A/B testing or user selection. Auto-publishing capabilities allow users to schedule and automatically publish posts across different platforms, including integration with major social media and content management systems. Currently, GetMax collects performance data on content and provides AI-driven analysis to make continuous suggestions and optimize posts. It also facilitates collaboration among team members with draft sharing, commenting, and approval workflows, integrating with existing project management tools for seamless operation. Furthermore, GetMax monitors competitors' content strategies, suggesting unique content angles or tactics to differentiate from competitors. Users can also benefit from AI-powered design suggestions for visuals, with integration options for stock image libraries or design tools. GetMax offers paid subscription plans and a free trial for users to experience its capabilities. It helps users streamline their content processes and gain a competitive edge with its AI-powered features.
Featured
GetMax was manually vetted by our editorial team and was first featured on September 6th 2023.

Would you recommend GetMax?
Help other people by letting them know if this AI was useful.
Automated social media posts.

1,270

3.0

Quick generation of social media posts.

323

1.0

Simplifies social media post creation.

126

3.0

Social post creation made easy from media sources.

94

5.0

Supports creation of engaging posts for social media.

60

1.0

Efficient social media message creation.

60

Automated social media post creation for professionals.

59

3.0

Automates social media content creation and scheduling.

43

Created social media content using ML.

39

3.0

Social media management with advanced content creation.

37

5.0

Social media video content creation and management.

34

Engaging social media content creation

28

Generated social media posts.

28

5.0

Content creation and scheduling for social media.

23

Creation and management of social media content.

22

Hyper-personalized LinkedIn sales engagement platform.

22

Generated social media posts and brainstormed ideas.

19

Transform blog articles into social media posts.

18

Distribute marketing on social with existing assets.

17

Analyzed social media trends & improved accessibility.

17

Social media writing and translation aid.

15

Easy social media content creation.

12

Platform for creating social media posts.

11

Social media content with current trends incorporated.

9

Customize images and write engaging social media posts.

9

Generate, schedule, optimize social media content & SEO.

8

5.0

Enhanced social media presence and curated posts.

8

Optimized social media engagement prediction.

6

Schedule and manage social media with suggestions.

6

Streamlined social media scheduling.

5

Streamlines content and campaign marketing workflows.

5

Social media scheduling for small businesses.

4

Personalized social media post creator.

3
If you liked GetMax
Help
⌘ + D bookmark this site for future reference
⌘ + ↑/↓ go to top/bottom
⌘ + ←/→ sort chronologically/alphabetically
↑↓←→ navigation
Enter open selected entry in new tab
⇧ + Enter open selected entry in new tab
⇧ + ↑/↓ expand/collapse list
/ focus search
Esc remove focus from search
A-Z go to letter (when A-Z sorting is enabled)
+ submit an entry
? toggle help menu
x
Sign in to continue (100% free)
To prevent spam, some actions require being signed in. It's free and takes a few seconds.
Sign in with Google