Edit AI
Chatbot for mobile Q&A and ideation on-the-go.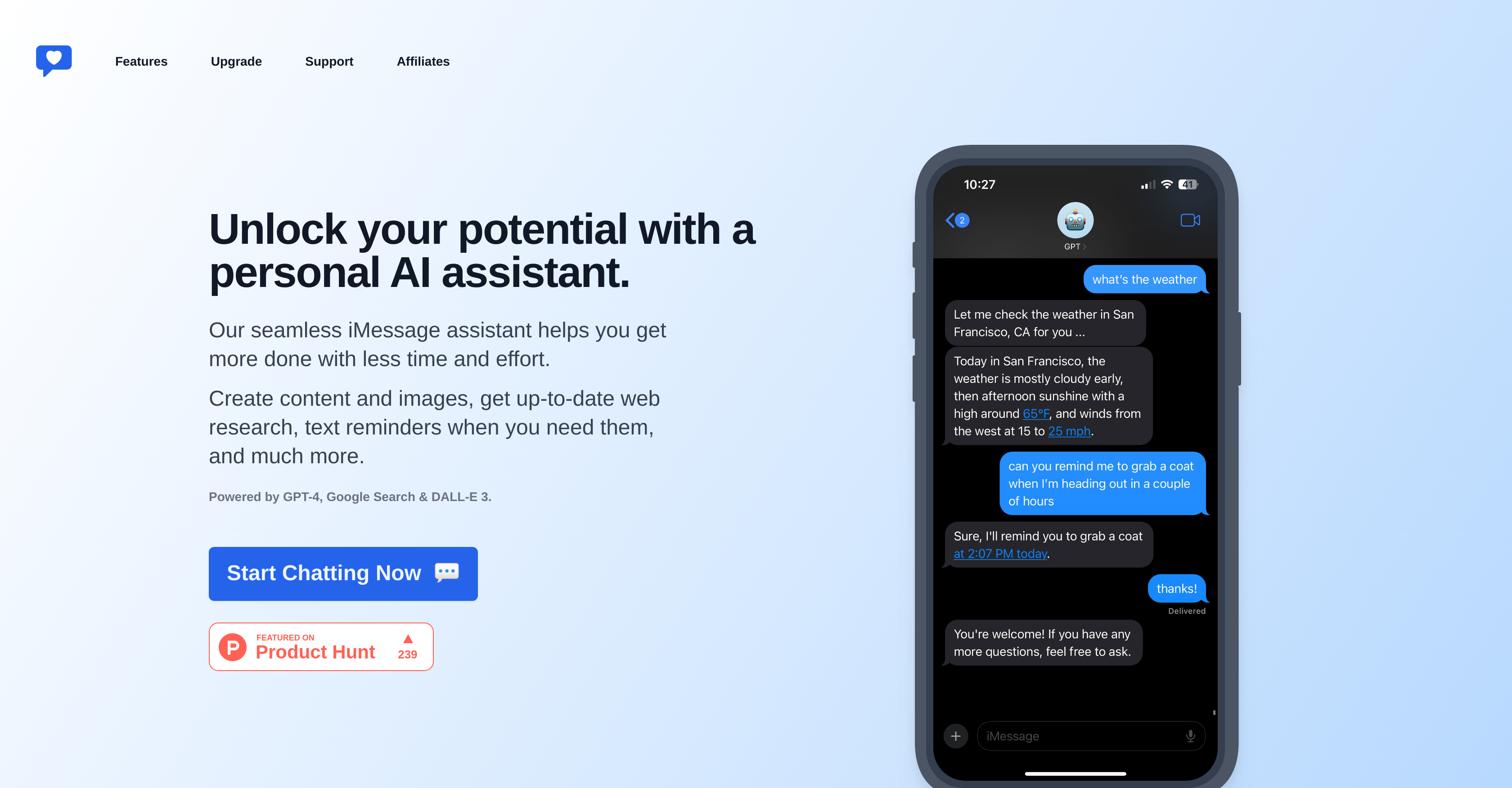 Generated by ChatGPT
iChatWithGPT is an AI-powered messaging tool that allows users to access OpenAI's ChatGPT directly from their phone or Apple Watch, using iMessages. It offers a range of services, including answering questions, generating new ideas, planning travel, finding recipes, and more, all without requiring the user to sign up or provide identifying information.
iChatWithGPT is designed for use on-the-go, without needing a computer or any special setup. Users can save it as a contact and use voice commands to send messages, and can even introduce their friends and family to the power of AI using a familiar platform.
The tool is free to try, with 100 messages offered for free before users are charged a low monthly fee of $5. Aside from its primary messaging function, iChatWithGPT also offers users the ability to save and organize their past conversations through a web application (coming soon).
The tool has already amassed a user base of over 2000 people, with more than 12,500 messages sent through the platform. Overall, iChatWithGPT is a practical and convenient tool for anyone looking to access cutting-edge AI assistance without having to jump through hoops.
Its seamless integration with iMessages and Apple devices makes it particularly well-suited for those on-the-go, whether planning a trip, looking for new ideas or advice, or just seeking an interesting conversation partner.
Featured
iChatWithGPT was manually vetted by our editorial team and was first featured on April 23rd 2023.

Would you recommend iChatWithGPT?
Help other people by letting them know if this AI was useful.
Pros and Cons
Pros
Directly accessible in iMessage
Chatbot for mobile Q&A
Ideation tool
Supports voice commands
Integrated with Apple Watch
No sign-up required
No identifying information needed
Services include travel planning
Also finds recipes
Free trial with 100 messages
Low monthly fee
Can save as contact
Shareable with friends/family
Web app for conversation organization
Same-day support
Generates creative ideas
Helps with date ideas
Also suggests trip ideas
Cons
Limited to Apple devices
No app, only iMessages
No immediate web application
Unspecified data privacy measures
Cost after 100 messages
Limited to English language
No offline functionality
No multi-user conversation support
Limited initial character input
Requires continuous internet connectivity
If you liked iChatWithGPT
Help
⌘ + D bookmark this site for future reference
⌘ + ↑/↓ go to top/bottom
⌘ + ←/→ sort chronologically/alphabetically
↑↓←→ navigation
Enter open selected entry in new tab
⇧ + Enter open selected entry in new tab
⇧ + ↑/↓ expand/collapse list
/ focus search
Esc remove focus from search
A-Z go to letter (when A-Z sorting is enabled)
+ submit an entry
? toggle help menu
x
Sign in to continue (100% free)
To prevent spam, some actions require being signed in. It's free and takes a few seconds.
Sign in with Google