Edit AI
Productivity suite that boosts email productivity.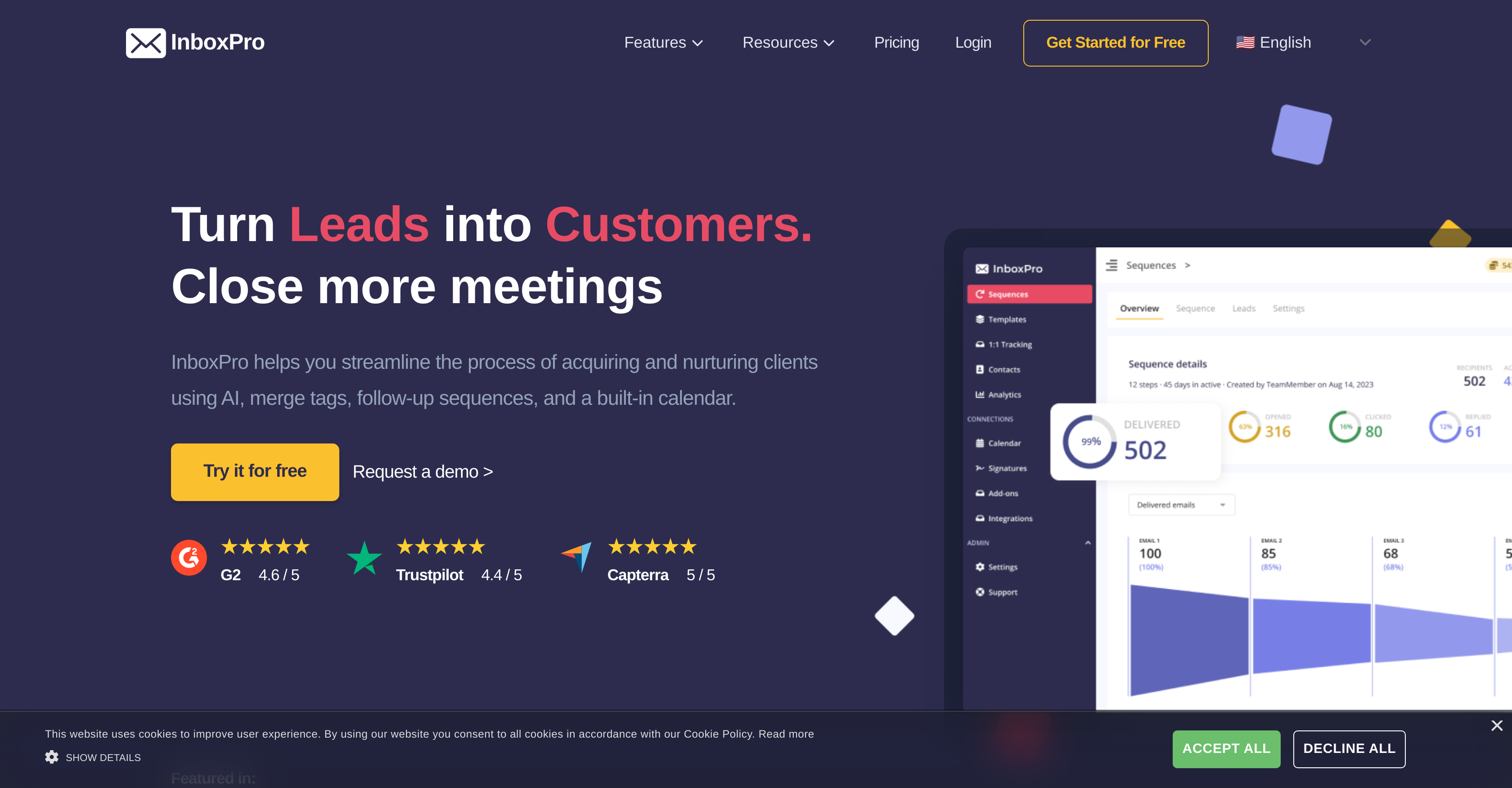 Generated by ChatGPT
InboxPro is a suite of tools designed to help boost productivity in Gmail. It features an AI-powered email assistant, calendar scheduling, email tracking, templates, auto-followups, and email analytics.
The AI-powered email assistant allows users to generate professional emails and summarize emails with one click. Calendar scheduling allows people to share their availability with a link, while automated follow-ups can be used to create onboarding sequences.
Email tracking allows users to see who opens their emails, while templates and signatures help keep emails professional and branded. InboxPro also provides a report and insights to visualize email activity and obtain a report to improve email usage.
Finally, the suite is free to use after a 7-day trial period.
Featured
InboxPro was manually vetted by our editorial team and was first featured on January 20th 2023.

Would you recommend InboxPro?
Help other people by letting them know if this AI was useful.
64 alternatives to InboxPro for Email writing
Generation of personalized email and message content.

68

5.0

Fast, professional email composition assistance.

46

Generated personalized email campaigns using data.

37

5.0

Improved email communication & response generation.

36

Automated email management boosting productivity.

31

Automated task optimization for workflows.

24

Writing polished, workplace-appropriate emails.

23

Hyper-personalized email outreach icebreakers.

22

Automatically personalizes and improves business emails.

20

5.0

Boost sales with insights, leads and outreach.

20

Optimizing email content for greater effectiveness.

20

5.0

Streamlined email writing with an assistant.

19

5.0

Email writing assistant extension for Chrome.

18

Email generation assistance software.

18

Automated email management and smart inbox organization.

17

Assisted email writing with tone & autocomplete.

17

Autogenerated email and message replies.

16

Automated email copy generator for marketing.

16

Automated email writing and summarization.

15

Real-time email writing efficiency advisor.

15

Productivity aid for composing emails.

15

Managed emails with quick replies.

14

Assistance for writing emails.

14

Improved multilingual email professionalism.

14

Tailored response messaging assistant.

13

Automated personalized email generation.

13

Personalized opening lines for cold email outreach.

13

Customized cold emails for businesses.

12

Efficient email writing with personalized content.

12

5.0

Assisting with email communication to improve outcomes.

11

Automated email writing assistance.

11

Tailored email responses generated.

11

Personalized cold email first lines.

10

Email response generation with one click.

10

Effortless email design and creation

10

5.0

Email drafting on iPhone.

10

VoiceType: verbal email composition w/ context analysis.

10

Automated email communication improvement assistant.

9

Communication aid with smart templates & tone selector.

9

Email writing acceleration.

9

5.0

Solution for creating witty responses to spam emails.

9

Gmail email writing assistant.

9

Customized email marketing with CRM intelligence.

8

8

Automation of email composition and management.

8

Email writing assistance.

8

Automated email composition for busy professionals.

8

Simplified business text generation.

7

Enhanced email management and composition platform.

7

Simplified email management, time-saving solution.

7

Quickly compose emails in any language.

7

1.0

Automated multi-channel team engagement platform.

7

Email writing assistance.

6

Efficiently crafted communications

6

5.0

Generate personalized emails easily.

5

Generated copy and templates for email campaigns.

4

Email response generation with personalized messages.

4

Personalized outbound sales emails optimized.

3

Personalized email response generation made efficient.

3

3

Email composing assistant

2

Email composition and proofreading assistant.

1

Improved email productivity, streamlined communication.

17

5.0
Pros and Cons
Pros
Generates professional emails
Summarizes emails automatically
Calendar scheduling feature
Automated follow-ups
Email tracking system
Templates for emails
Customizable email signatures
Email analytics
Free post 7-day trial
Works with Google Chrome
Booking reminders
Connected to Google Calendar
Supports onboarding email sequences
Allows cold email campaigns
Multiple event types management
Automated calendar management
Offers report and insights
Seamless sharing of availability
Tracks multiple email opens
Saves email templates
Supports template sharing
Impact visualization
100% customizable signatures
Signature supports calendar feature
Engagement measurement
Email activity visualization
Cons
Only works with Gmail
Limited to Google Chrome
Doesn't support other email platforms
No multi-language support
Email tracking may breach privacy
Requires access to email account
Email analytics could be more detailed
No API integration
Limited free version functionalities
Q&A
What is InboxPro?
InboxPro is an Email writing Productivity suite that is designed to enhance efficiency in Gmail. It's a set of tools that provide users with an AI-powered email assistant, calendar scheduling, email tracking, email templates, auto-followups, and email analytics.
What features does InboxPro offer?
InboxPro offers an array of features such as an AI-powered email assistant that generates professional emails and summarizes emails swiftly. Users also benefit from Calendar scheduling to share their availability, Email tracking to monitor who opens their emails, Templates and signatures for a professional and consistent email look, Auto-followups for onboarding sequences, and Email analytics for better understanding about their email activity.
How does the AI-powered email assistant of InboxPro work?
The AI-powered email assistant of InboxPro helps users to create professional emails easily. It assists in generating drafts, proposals, responses, and more. It also bears a 'Summarize' feature which helps users to distill the key points of their received emails into a brief summary, aiding them in comprehending their emails five times faster.
What is the role of templates in InboxPro?
In InboxPro, templates play a crucial role in maintaining uniformity and professionalism across all emails. Users can create, save, and reuse email templates for standard responses or regular correspondences. These saved templates can be sent with just a few clicks. Templates can also be shared amongst team members for consistency in communication.
How does InboxPro help in scheduling meetings?
InboxPro facilitates meeting scheduling by allowing users to share their availability directly in an email. Other people can then schedule meetings based on this availability. The automated calendar management feature helps to avoid any collisions or overlaps in scheduling. Users can set up specific event types, get booking reminders, and manage meeting locations.
Can InboxPro track my emails?
Yes, InboxPro can track your emails. Its email tracking feature allows you to see who opens your emails and who clicks on your links. You even receive reminders when an individual opens your email multiple times or an old email has been opened.
What automated processes does InboxPro offer?
InboxPro offers several automated processes. One of them is the AI-powered email assistant that generates professional emails and abridges received emails. Other applications include automatic calendar management to avert overlaps in scheduling, an automated follow-up feature for sending cold email campaigns and crafting onboarding email sequences. It can engage automatically with users, increasing conversion rates.
How can I access and use the Auto-Followups feature in InboxPro?
The Auto-Followups feature in InboxPro can be accessed by creating and sending personalized cold email campaigns. It helps to automate follow-ups, make onboarding emails sequences and engage automatically with users to boost conversions.
What kind of insights does InboxPro provide about my email usage?
InboxPro provides a comprehensive report about your email usage. It visualizes your email activity statistics and enables you to gain insights to refine your and your team's email usage. Translation: it helps you recognise what's working, what's not, and how to improve.
Does InboxPro offer any free trials?
Yes, InboxPro offers a 7-day free trial. After this period, users can continue using the platform in its free version.
How can I install InboxPro?
InboxPro can be installed using the 'Install for free' option on the InboxPro website.
Is InboxPro compatible with Google Chrome?
Yes, InboxPro is confirmed to be compatible with Google Chrome.
What is InboxPro's 'Summarize feature' and how does it work?
InboxPro's 'Summarize feature' is part of the AI-powered email assistant that creates a gist of your emails in a single click. It uses AI to highlight the key information in your received emails, facilitating you to process your emails much quicker.
How can InboxPro help me manage my Google Calendar?
InboxPro aids in managing your Google Calendar through the Calendar scheduling feature. It allows you to share your availability as a link, configure various event types, manage meetings to avoid overlaps, and get booking reminders. All these functions are connected directly to your Google Calendar.
Can I configure meeting locations with InboxPro? If so, how?
Yes, with InboxPro, you can configure meeting locations. The scheduling feature allows you to setup meetings on different platforms like Google Meet, Zoom, Phone etc. All you have to do is select your preferred platform when setting up the meeting.
How can I use templates in InboxPro to craft professional emails?
Templates in InboxPro allow you to draft and save professional emails that can be used and sent repeatedly with just a few clicks. You can utilize these saved templates to maintain a consistent language, tone, and look throughout all your emails.
Can I use InboxPro for email analytics?
Yes, InboxPro includes an Email Analytics feature. It allows you to visualize your email activity, giving you insights and reports to help improve how you and your team use email.
Can I customize email signatures in InboxPro?
Yes, you can customize email signatures in InboxPro. You can select from a variety of professional email signature templates, all of which are fully customizable. It also permits adding rich features like a calendar into your signature for increased engagement.
What happens after the InboxPro 7-day free trial ends?
After the 7-day free trial, InboxPro continues to offer its free version. You can still enjoy the benefits of the productivity suite indefinitely, albeit with possibly limited features.
How does InboxPro improve email productivity in Gmail?
InboxPro improves email productivity in Gmail by offering an assortment of tools. An AI-powered email assistant generates professional emails and summaries. Its tracking feature helps monitor who opens emails and clicks on links. Templates aid standardized and professional presentation, and auto-followups can automate onboarding sequences. Lastly, email analytics help gauge email activity and further improve it.
If you liked InboxPro
Help
⌘ + D bookmark this site for future reference
⌘ + ↑/↓ go to top/bottom
⌘ + ←/→ sort chronologically/alphabetically
↑↓←→ navigation
Enter open selected entry in new tab
⇧ + Enter open selected entry in new tab
⇧ + ↑/↓ expand/collapse list
/ focus search
Esc remove focus from search
A-Z go to letter (when A-Z sorting is enabled)
+ submit an entry
? toggle help menu
x
Sign in to continue (100% free)
To prevent spam, some actions require being signed in. It's free and takes a few seconds.
Sign in with Google