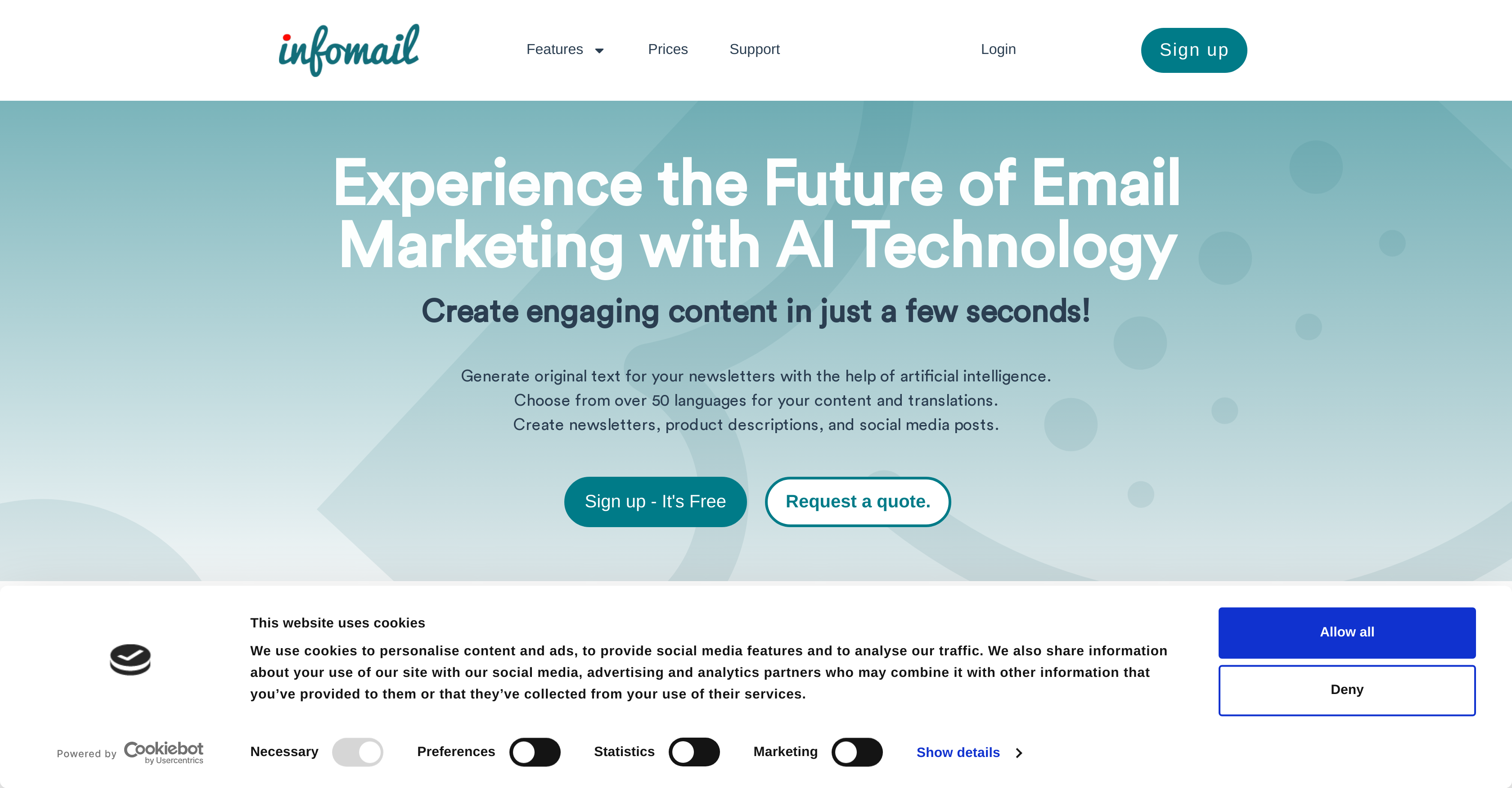 Generated by GPT-3
Infomail is an email marketing and newsletter platform designed for businesses, startups, and nonprofits. The platform allows users to communicate with their customers through personalized email marketing campaigns that comply with GDPR regulations.
The platform powered by Cookiebot is secure and reliable, ensuring data privacy and protection. Infomail offers integrations with various third-party tools to enhance the user experience and increase engagement with their audience.
The platform has an easy-to-use interface, and with the help of the Teriyaki AI smart editor, users can create targeted and engaging emails quickly. Infomail also offers transactional email services, which allows users to send emails triggered by specific actions such as a purchase or password reset request.
Through the platform, users can also access detailed analytics and reports on their email campaigns' performance, enabling them to make informed decisions about their marketing strategy.
Overall, Infomail is an effective email marketing platform suitable for businesses of all sizes, with a range of features that help users create and deliver engaging email campaigns.
Featured
?
72 alternatives to Infomail for Email writing
01 Mar 2023

02 Mar 2023

04 Mar 2023

04 Mar 2023

04 Mar 2023

06 Mar 2023

07 Mar 2023

07 Mar 2023

16 Mar 2023

09 Feb 2023

15 Feb 2023

17 Feb 2023

23 Feb 2023

24 Feb 2023

28 Feb 2023

28 Feb 2023

01 Jan 2023

03 Jan 2023

03 Jan 2023

04 Jan 2023

04 Jan 2023

09 Jan 2023

16 Jan 2023

16 Jan 2023

19 Jan 2023

19 Jan 2023

20 Jan 2023

20 Jan 2023

20 Jan 2023

22 Jan 2023

22 Jan 2023

23 Jan 2023

23 Jan 2023

23 Jan 2023

25 Jan 2023

29 Jan 2023

05 Dec 2022

07 Dec 2022

10 Dec 2022

11 Dec 2022

12 Dec 2022

20 Dec 2022

21 Dec 2022

21 Dec 2022

22 Dec 2022

22 Dec 2022

26 Dec 2022

26 Dec 2022

28 Dec 2022

29 Dec 2022

30 Dec 2022

22 Nov 2022

26 Nov 2022

28 Nov 2022

03 Oct 2022

15 Sep 2022

19 Sep 2022

30 Sep 2022

26 Aug 2022

02 Jun 2022

14 Jun 2022

12 Apr 2022

13 Apr 2022

14 Apr 2022

29 Jan 2022

16 Mar 2022

24 Mar 2022

28 Jan 2021

25 Nov 2021

06 Dec 2021

17 Dec 2021

01 Nov 2020