Edit AI
Linkedin Post Spinner
3.0
Maximize reach & engagement of LinkedIn posts.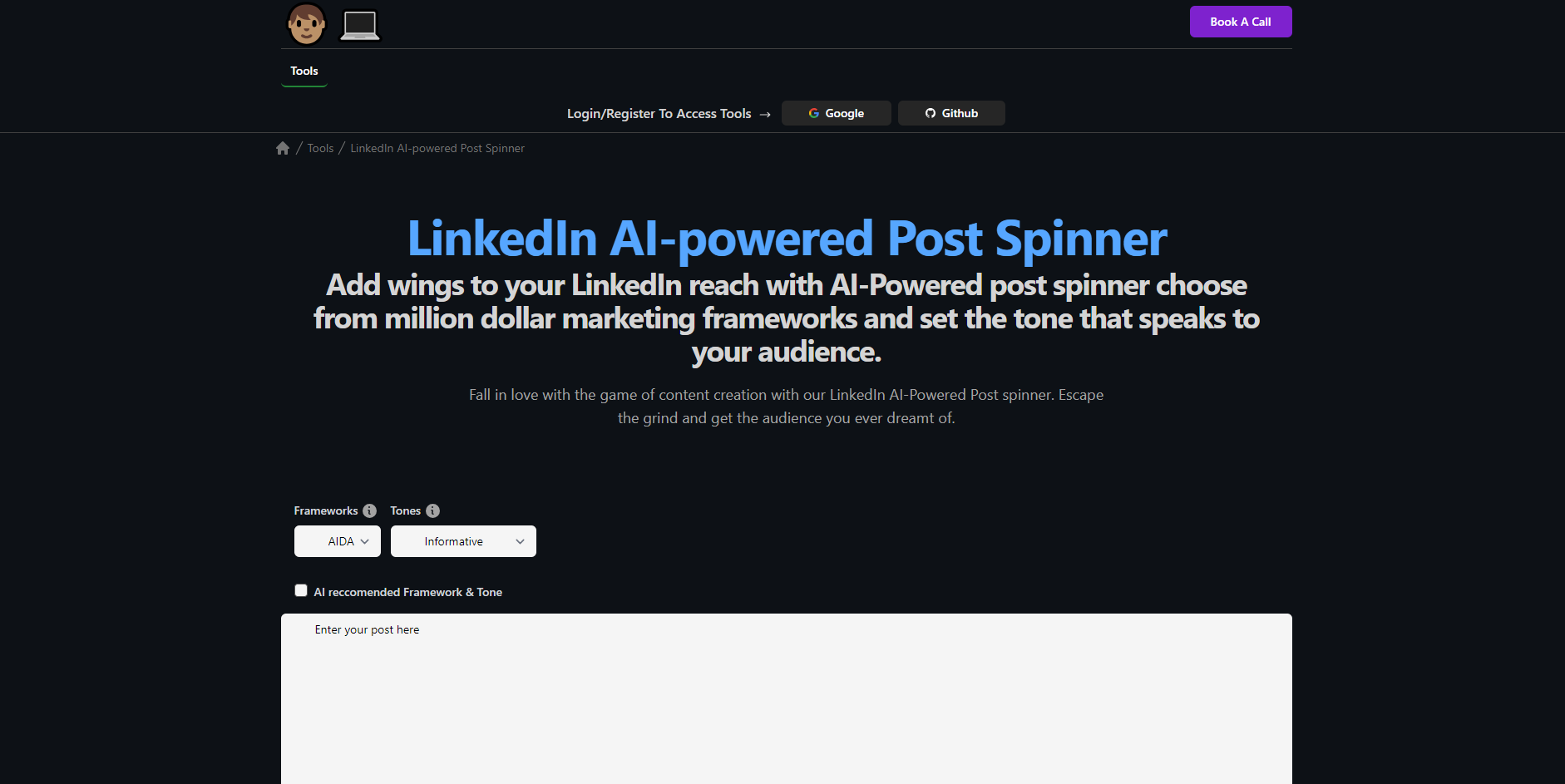 Generated by ChatGPT
The LinkedIn AI-powered Post Spinner is a tool designed to enhance the reach and engagement of LinkedIn posts by utilizing artificial intelligence. It offers users the ability to choose from various marketing frameworks to create compelling and persuasive content that resonates with their target audience.The tool provides a range of recommended frameworks and tones, including informative, inspirational, personal, professional, thought-provoking, conversational, authoritative, empathetic, humorous, action-oriented, positive, educational, persuasive, appreciative, and analytical.
This wide selection enables users to tailor their posts according to their specific objectives and desired communication style.One of the main features of the LinkedIn AI-powered Post Spinner is the AI recommendation feature, which assists users in identifying the ideal framework and tone for their posts.
This feature is particularly beneficial for users who may struggle with selecting the most effective approach despite having a clear vision.By utilizing this tool, users can give their LinkedIn posts an extra spark and captivate their audience.
It helps users structure their ideas by providing access to marketing frameworks and incorporating tones that resonate with their target audience.Overall, the LinkedIn AI-powered Post Spinner aims to enhance LinkedIn growth and generate new leads by assisting users in creating captivating and engaging content.
Featured
Linkedin Post Spinner was manually vetted by our editorial team and was first featured on September 26th 2023.

Would you recommend Linkedin Post Spinner?
Help other people by letting them know if this AI was useful.
14 alternatives to Linkedin Post Spinner for LinkedIn posts
Automated LinkedIn content creation.

372

3.0

165

Efficient LinkedIn post generation.

155

4.7

Enhanced LinkedIn engagement with generated content.

93

Automated LinkedIn post generation for engaging content.

71

Content creation for the social network Linkedin.

60

Boost LinkedIn post engagement.

57

5.0

Content creation platform for LinkedIn users.

36

Helps write concise LinkedIn posts.

26

Create engaging LinkedIn content with Luna efficiently.

19

Semantically analyzing to generate LinkedIn posts.

12

5.0

Generated and scheduled LinkedIn content.

6

Created and managed LinkedIn content.

6

LinkedIn networking and personal brand growth.

3
If you liked Linkedin Post Spinner
Help
⌘ + D bookmark this site for future reference
⌘ + ↑/↓ go to top/bottom
⌘ + ←/→ sort chronologically/alphabetically
↑↓←→ navigation
Enter open selected entry in new tab
⇧ + Enter open selected entry in new tab
⇧ + ↑/↓ expand/collapse list
/ focus search
Esc remove focus from search
A-Z go to letter (when A-Z sorting is enabled)
+ submit an entry
? toggle help menu
x
Sign in to continue (100% free)
To prevent spam, some actions require being signed in. It's free and takes a few seconds.
Sign in with Google