Edit AI
900+ voices. 142+ languages. Audio shareable.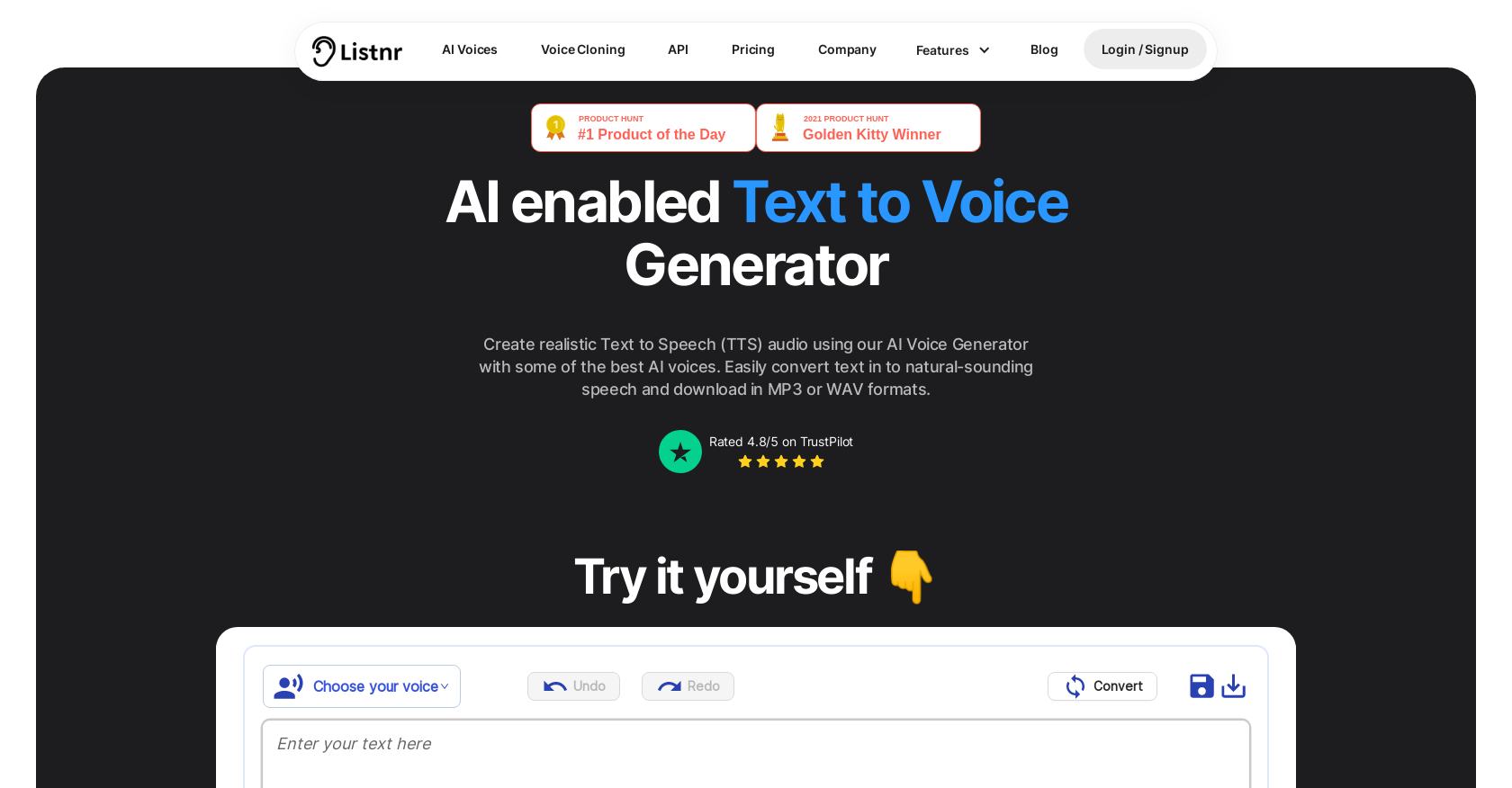 Generated by ChatGPT
Listnr is an AI Voice Generator that enables users to create realistic AI Voiceovers with over 900+ voices in 142+ languages. It is an easy to use Text to Speech (TTS) converter that enables users to quickly and easily convert any written content into natural-sounding speech and download in MP3 or WAV formats.
It is trusted by 25,000+ users and is rated 4.8/5 on Trustpilot. The AI Voice Generator is powered by Speech Synthesis Engines which converts text into lifelike audio.
It also allows users to share audio to multiple platforms such as YouTube, Facebook, and Instagram. Listnr supports 75+ different languages and has over 600+ voices available.
It also provides an embeddable audio player that enables users to embed audio into their website and expose their content to new audiences.Listnr also provides an easy export feature that enables users to export their audio files in either WAV or MP3 formats with a single click.
It offers various plans for individuals, solo, and agencies which start from free and go up to $99/month. It also has a student plan which is $4/month and comes with 4,000 words per month.
Overall, Listnr is one of the best rated AI Voice Generators in 2023 and its state of the art Text to Speech Editor and all-in-one podcasting capabilities make it one of the most versatile Text to Speech/AI voice generator tools available in the market.
Featured
Listnr 2.0 was manually vetted by our editorial team and was first featured on November 25th 2022.

Would you recommend Listnr 2.0?
Help other people by letting them know if this AI was useful.
65 alternatives to Listnr 2.0 for Text to speech
Listen to articles, PDFs, emails, etc. in your podcast player or browser.

691

3.7

Voiceovers for videos, gaming, audiobooks & more.

211

2.3

Text transformed into customizable spoken output.

180

5.0

Customizable voiceover production service. (OK

177

5.0

Affordable solution for speech synthesis.

136

4.1

Created realistic audio content using synthetic voices.

129

3.7

Generate multilingual natural-sounding audio files.

96

3.0

Generates natural-sounding speech audio online.

92

5.0

Generated audio from written text in multiple languages.

75

4.5

Generating spoken content in multiple languages/accents.

61

Extracts video highlights from long-form content.

53

Lifelike audio with human-like synthetic voices

50

5.0

Customizable online voice generator.

47

5.0

Edited human-like audio for content creation.

46

Build voice & chat bots with rap skills.

45

4.0

Creation of voiceovers for digital media.

36

Turn rambles into perfect speech

34

5.0

Convert texts to natural sounding speech and vice versa.

34

5.0

Creates voiceovers from text.

32

1.0

Audio clip generation of celebrity/cartoon voices.

31

4.0

Text-to-speech for reading and comprehension support.

29

4.0

Synthetic voice generator with API and audio editing.

26

5.0

Converts text to audio files with customization options.

26

Generated lifelike speech for multilingual content.

25

Automated social media and content creation.

24

1.0

Multi-lingual voiceovers w/ customization.

23

Transcribed spoken language analyzed for meaning.

21

Text-to-speech with lifelike voices across applications.

20

Text-to-speech software with highly realistic voices.

20

3.0

Voice & media wallet chat platform for payments.

19

5.0

Text-to-voice for ads, games, learning & publishing.

18

Conversion of text to high-quality audio files.

18

1.0

Content creators and educators can generate voices.

17

Improving Twitch streamers' speech output platform.

16

1.0

Platform for custom audio creation with text-to-speech.

16

Converts speech to text and analyzes emotions.

15

Multilingual voiceover solution.

14

Text-to-speech audio generation for customized projects.

13

2.0

Apps can recognize and generate voice.

13

Unique lifelike digital voice creation for businesses.

12

5.0

Turned text into cross-platform synthetic voices.

10

Content to speech for accessibility.

9

Created multilingual content & natural voice-overs.

9

Customized voice donations for online streamers.

9

Emotive voices for video/podcast text-to-speech.

8

Text to speech solution for spoken applications.

7

Content creation and accessibility solution.

7

3.0

Automated audio production for digital content.

7

Converts written messages to speech via chatbot.

6

Record audio with realistic voices online.

6

Text transformed to realistic voiceovers.

6

Written text to natural speech conversion.

6

Voice-overs generated from text

5

5.0

Text-to-audio generation.

5

Spoken language to text conversion virtual assistant.

5

Generates voiceovers and narrations.

5

Personalized Christmas audio messages by Elves.

4

Audio content created via Text-to-Speech.

4

Audio content from text and videos.

4

Text transformed into captivating audio.

3

Multilingual text-to-speech synthesis.

3

Diverse audio production.

1

5.0

Text-to-speech conversion for documents and web pages

2

Generate video voiceovers.

1

Generate multilingual audio voices.

1
Pros and Cons
Pros
900+ voices
142+ languages
Shareable audio files
Rated 4.8/5 on Trustpilot
Multiple export formats (MP3/WAV)
Embeddable audio player
Easy export feature
Multiple usage plans
Student plan available
Trusted by 25,000+ users
All-in-one podcasting capabilities
Offers a free plan
Text to Speech editor
Podcast Hosting feature
Single click conversion
Supports 75+ languages
Integration with social media platforms
Commercial use enabled
Can be used in multiple industries (Marketing, Ads, Training)
Can share converted audio (YouTube, Facebook, Instagram, TikTok)
Easy audio file distribution
Export in both WAV or MP3
Robust Text to Speech converter
Transparency in pricing
4000 words/month for student plan
Supports vast range of languages
Commercial distribution rights
Supports Hindi TTS
Supports Spanish TTS
Allows text to audio conversion
Enables distribution of converted audio
Provides three voice options (Male, Female, Child)
API for developers
Podcasts creation from just text
Supports audiobooks creation
Automated Audio Articles and Blogs
Compatible with major platforms (Spotify, Apple Podcast)
Customizable voice generator.
Cons
No offline accessibility
Inconsistent voice quality
Doesn't support all accents
Limited words for free plan
Expensive student plan
Limited voice customizability
No multi-user sharing
No voice cloning
Limited commercial rights
Q&A
What is Listnr 2.0?
Listnr 2.0 is an advanced version of Listnr, an AI Voice Generator allowing users to generate human-like AI Voiceovers. It provides an array of over 900 diverse voices broadcasted in more than 142 languages. Utilizing a Text to Speech (TTS) converter, any written content is seamlessly transformed into natural-sounding speech, downloadable in either MP3 or WAV formats. In addition, it has an extensive customer base of more than 25,000 trusted users.
How many voices does Listnr support?
Listnr supports over 900 voices.
In how many languages can Listnr convert my text?
Listnr can convert text into speech in 142 languages.
Is there a limit to the amount of text I can convert with Listnr?
IDK
Can I share my audio files on social media using Listnr?
Yes, with Listnr, users can effortlessly share their audio files on multiple platforms like YouTube, Facebook, Instagram and more.
Can I embed Listnr audios into my website?
Yes, Listnr provides an embeddable audio player widget which allows users to effortlessly embed their audio files into their websites.
Which file formats does Listnr support for audio files?
Listnr supports WAV and MP3 audio formats.
What are the different price plans available for Listnr?
Listnr offers various price plans starting with a free plan. Subsequent plans such as the individual, solo, and agency plans are priced at $9/month, $19/month, and $99/month respectively.
Do they offer a student plan in Listnr?
Yes, there is an exclusive student plan offered at an affordable price of $4/month. It allows the conversion of up to 4,000 words per month.
What is the Text to Speech Editor in Listnr?
The Text to Speech Editor provided by Listnr is a cutting-edge tool that assists in generating natural human-like voiceovers through AI technology.
How does the AI in Listnr work?
The AI in Listnr is driven by advanced Speech Synthesis Engines which convert any given text into life-like audio.
Is Listnr a trustworthy tool?
Yes, Listnr is quite trustworthy. The platform boasts over 25,000 user endorsements and is favorably rated on Trustpilot with a score of 4.8 out of 5.
Who are the users of Listnr?
Listnr has a broad user base comprised of podcasters, agencies, freelancers, and other individuals who seek to create enhanced audio experiences.
What is the difference between individual, solo, and agency plans in Listnr?
Each plan in Listnr caters to varying user needs. The 'Individual' plan priced at $9/month targets individual users, the 'Solo' plan priced at $19/month is designed for solo entrepreneurs and freelancers, and the 'Agency' plan, costing $99/month, caters to business agencies with more extensive requirements.
Can I use Listnr for commercial use?
Yes, Listnr is suitable for commercial use. All audio created using Listnr can be owned and commercially distributed by the creator or account owner.
What is the audio export feature in Listnr?
The audio export feature in Listnr allows users to easily export their audio files in both WAV and MP3 formats with a single mouse click.
Can I test Listnr's services for free before paying?
Yes, Listnr allows new users to experiment with its services for free. Through the free plan, users are entitled to convert up to 1000 words per month.
How easy is it to use Listnr?
Listnr is extremely user-friendly. It follows a three-step process in which users need to simply paste their text, hit the 'Convert' button, and subsequently download their audio files.
Why is Listnr rated as one of the best AI Voice Generators?
Listnr is rated as one of the best AI Voice Generators due to its wide selection of over 900 voices, extensive language support of 142 languages, and advanced features catering to seamless audio content generation. Its high rating is further testified by a rating of 4.8 out of 5 on Trustpilot.
Does Listnr provide podcasting capabilities?
Yes, Listnr provides comprehensive podcasting capabilities. Users can use Listnr to not only transform their text into speech but also create, host, and distribute their podcasts and expose their content to new audiences.
If you liked Listnr 2.0
People also searched
Help
⌘ + D bookmark this site for future reference
⌘ + ↑/↓ go to top/bottom
⌘ + ←/→ sort chronologically/alphabetically
↑↓←→ navigation
Enter open selected entry in new tab
⇧ + Enter open selected entry in new tab
⇧ + ↑/↓ expand/collapse list
/ focus search
Esc remove focus from search
A-Z go to letter (when A-Z sorting is enabled)
+ submit an entry
? toggle help menu
x
Sign in to continue (100% free)
To prevent spam, some actions require being signed in. It's free and takes a few seconds.
Sign in with Google