Magiksystem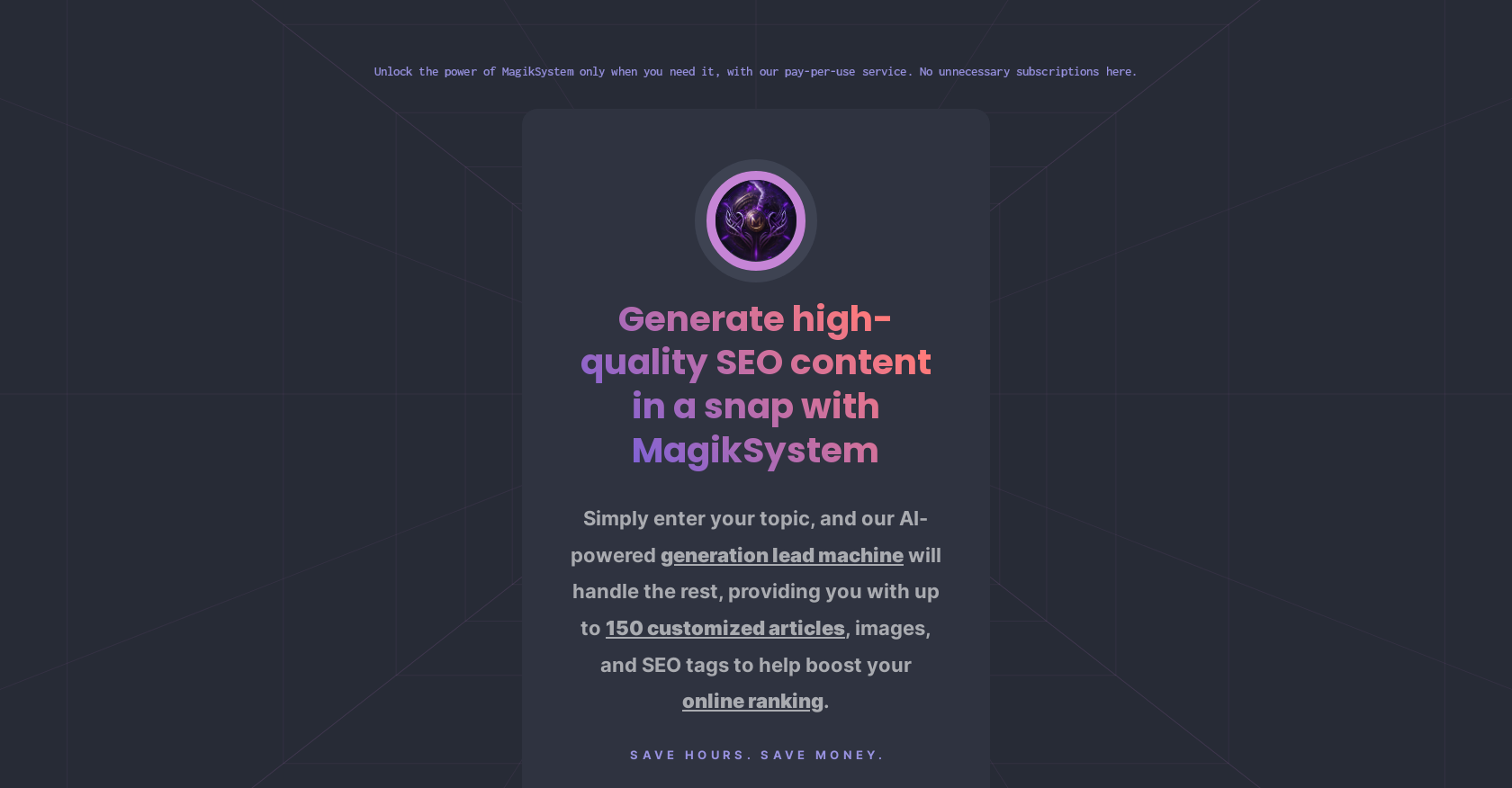 Generated by GPT-3
MagikSystem is an AI-powered content generation tool designed to help businesses generate high-quality SEO content quickly and efficiently. With MagikSystem, users can enter their topic keywords and the language they wish to use, and the AI-powered GENERATION LEAD MACHINE will generate up to 150 customized articles, images, and SEO tags to help boost their ranking on Google.
The articles are delivered directly to the user's mailbox within 2 minutes.Users can choose from three packages - Instant Boost, Content Amplifier, and Supercharge Your SEO.
Each package offers a different number of articles and a different price point. MagikSystem also offers a free sample article, where users can download a sample of 150 articles created with the MagikSystem tool from the keywords "electric bicycle".MagikSystem is the brainchild of digital marketer Théodore Poinsot.
He developed the tool to revolutionize the way businesses create and use content. With MagikSystem, businesses can save time, money, and improve their online visibility.
Featured
?
44 alternatives to Magiksystem for SEO content
17 Mar 2023

02 Feb 2023

03 Feb 2023

13 Feb 2023

27 Feb 2023

28 Feb 2023

02 Jan 2023

10 Jan 2023

12 Jan 2023

12 Jan 2023

13 Jan 2023

18 Jan 2023

23 Jan 2023

24 Jan 2023

04 Dec 2022

07 Dec 2022

14 Dec 2022

15 Dec 2022

20 Dec 2022

27 Dec 2022

02 Oct 2022

26 Oct 2022

17 Sep 2022

16 Jun 2022

23 Jun 2022

26 Jun 2022

04 Jan 2022

13 Jan 2022

29 Jan 2022

31 Mar 2022

24 Feb 2021

12 Apr 2021

13 Apr 2021

21 Apr 2021

15 Jun 2021

23 Jun 2021

27 Jun 2021

12 Aug 2021

03 Sep 2021

11 Oct 2021

24 Mar 2020

11 Aug 2020

27 Sep 2020

13 Oct 2018