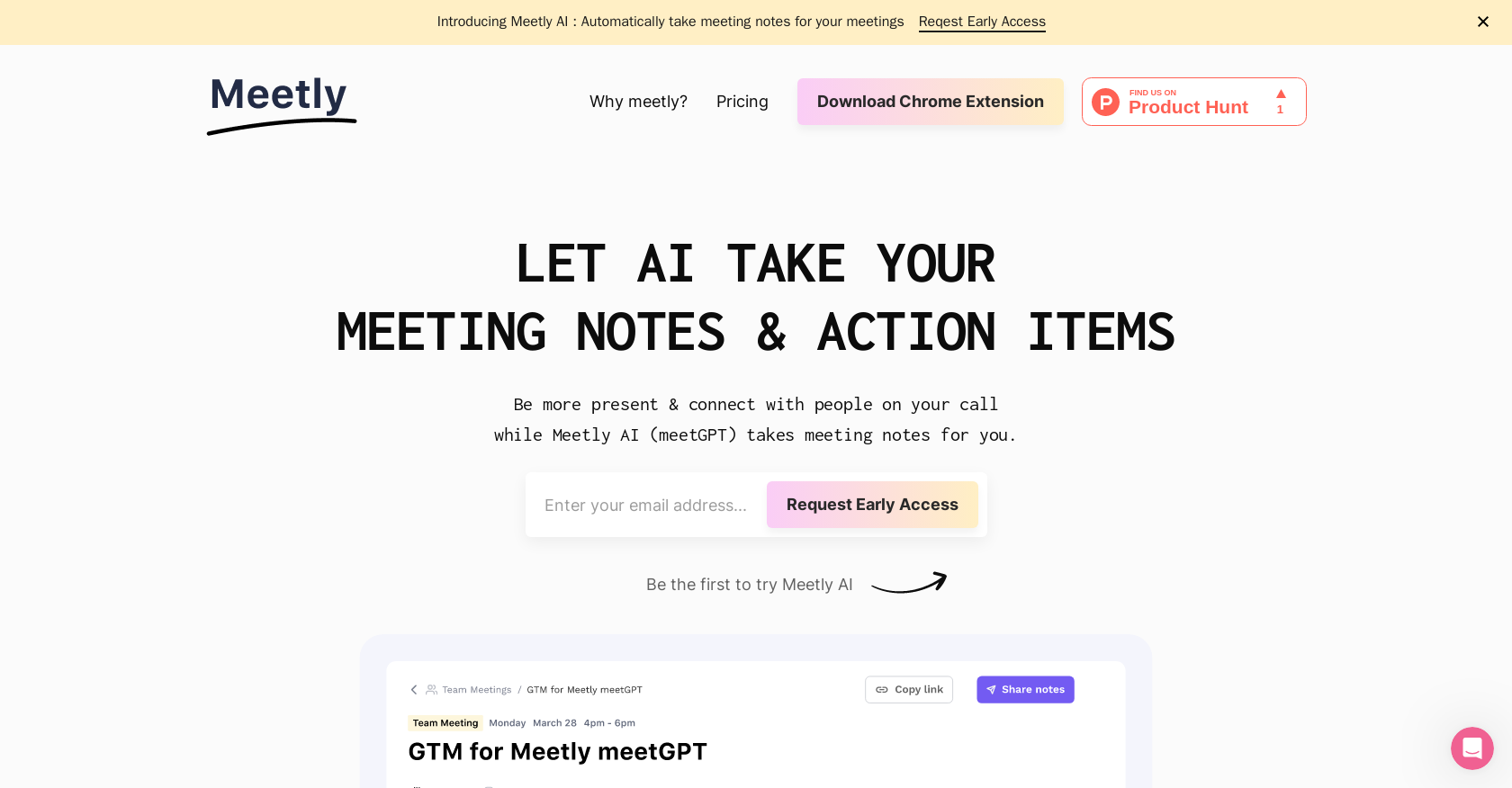 Generated by GPT-3
Meetly AI is an artificial intelligence tool that helps users take meeting notes and action items. It is designed to help users stay present and connected with the people on their call, without having to worry about taking notes themselves.
Meetly AI (meetGPT) automatically takes meeting notes and allows users to review, edit and send them to participants. It is used by teams in various industries such as Coindcx, Goodera, Antwalk, Wynk and Recurr.Meetly AI also provides resources such as blogs and self-help guides to help users get the most out of the tool.
It also offers Feedforward, an alternative to feedback that provides solutions while highlighting the problem. The tool also includes features such as priority management and the ability to make efficient to-do lists.The pricing plans for Meetly AI start at $0 USD per month for light users who do not intend to take more than 25 notes.
The Pro plan is $8 USD per month and includes unlimited notes and a history of up to 90 days. For larger teams, the plan is $12 USD per month and includes additional features such as SSO and custom integrations.
There is also a 50% discount available for educational and non-profit organisations.A 14 day free trial is also available for Meetly Pro users. With Meetly AI, users can save hours every week, allowing them to be more productive and efficient in their meetings.
Featured
?
26 Feb 2023

28 Feb 2023

01 Jan 2023

12 Jan 2023

16 Jan 2023

18 Jan 2023

22 Jan 2023

13 Oct 2022

19 Sep 2022

15 Jul 2022

23 Jul 2022

16 Apr 2022

13 Feb 2022

21 Feb 2022

29 May 2021

29 Aug 2021

04 Oct 2021

22 Dec 2021

07 Nov 2020

05 Oct 2019