Edit AI
Lead generation and community networking.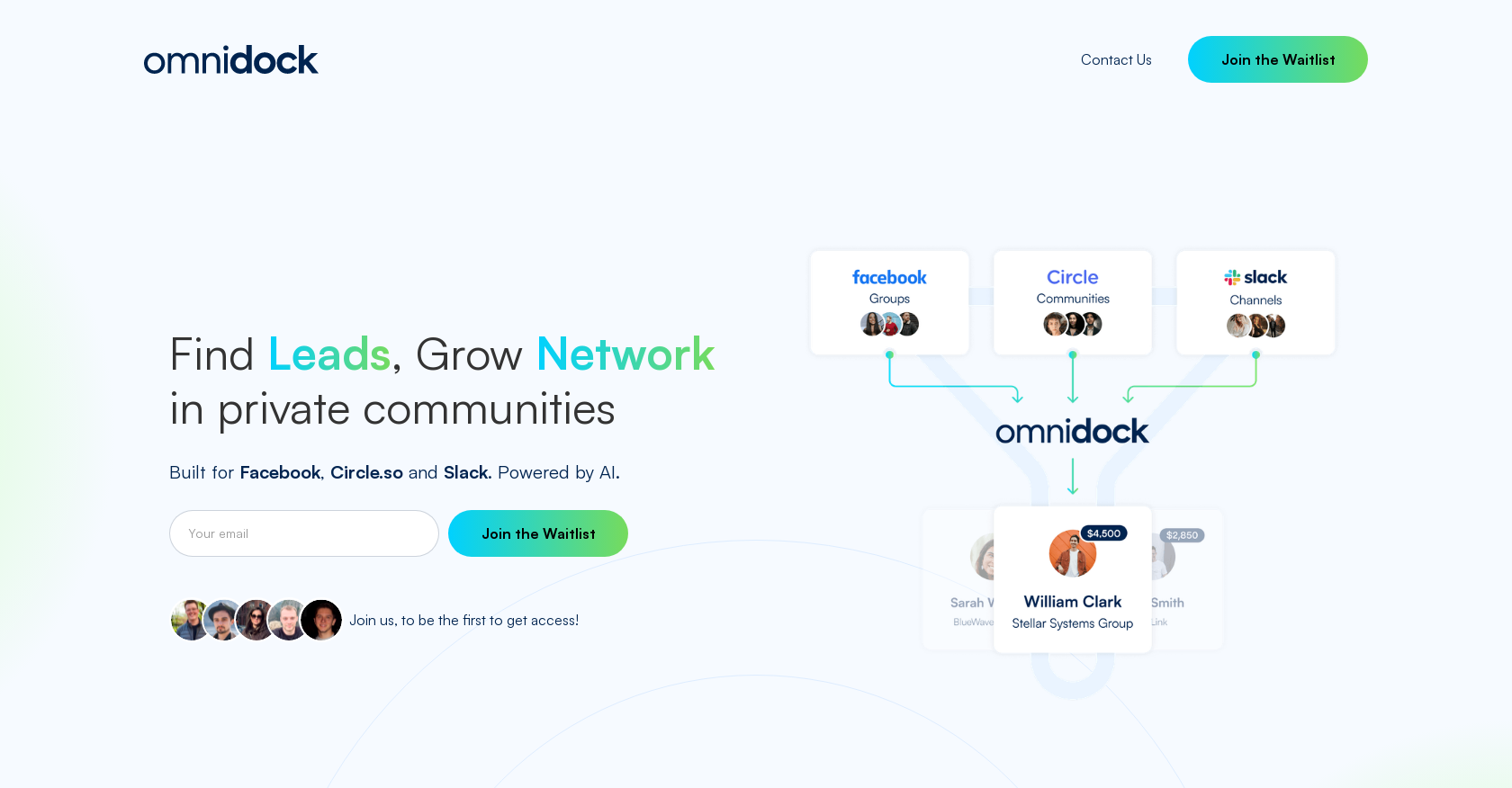 Generated by ChatGPT
OmniDock is an AI-powered tool designed to assist users in finding leads and expanding their network within private communities such as Facebook, Circle.so, and Slack.
By consolidating all group posts and conversations into a single platform, OmniDock aims to streamline the process and minimize the overwhelm associated with lead generation in these communities.Key features of OmniDock include the ability to monitor multiple communities simultaneously, allowing users to be the first to engage with potential leads.
The tool also facilitates easy commenting on posts made by others and offers the option to automate and send direct messages to engaged leads.Additionally, OmniDock provides the functionality to set up alerts based on keywords and contact lists, ensuring that users receive timely notifications about new posts relevant to their interests.
The tool also offers a post scheduling feature, enabling users to easily add posts to their schedule and publish content across multiple groups with variations tailored to different platforms.
Furthermore, OmniDock allows users to delegate access to their team, granting them the ability to monitor, post, and engage with leads while maintaining control through activity auditing, commenting, and feedback.OmniDock offers a waitlist for early access, which includes the opportunity to join the beta version, a significant discount on the tool's pricing after its official launch, access to a lead generation course focused on closed groups, and membership in their Discord community.OmniDock's headquarters are in Bellevue, Washington.
Featured
Omnidock was manually vetted by our editorial team and was first featured on November 9th 2023.

Would you recommend Omnidock?
Help other people by letting them know if this AI was useful.
26 alternatives to Omnidock for Customer leads
Schedules and customizes email outreach.

302

Automated lead qualification & appointment scheduling.

119

4.7

Find premium leads for digital agencies.

114

5.0

Never miss a new customer.

76

5.0

Generated custom lead lists with machine learning.

74

Lead qualification, automated data enrichment, cleaning.

37

Speeds up sales prospecting, aiding deal closure.

32

Personalizes outbound outreach to buying prospects.

26

Lead generation and industry insight software.

25

4.0

Business lead gen and targeted marketing assistance.

22

Automated social media lead monitoring and outreach.

21

Automated personalized sales messaging at scale.

18

Boost sales leads with tailored voice messages.

17

Aids in managing and optimizing email campaigns.

16

Analyzed lead behavior for businesses.

16

Bots + chat for unified inbox, boosted ROI.

11

5.0

Automated lead generation through chatbot conversations.

10

Lead qualification & sales strategy optimization.

9

Efficient client acquisition solution for agencies.

8

Automated lead generation and sales solution.

5

Lead generation and customer acquisition.

2

Business leads generation platform.

2

IT agency lead generation and outreach automated.

1
If you liked Omnidock
People also searched
Help
⌘ + D bookmark this site for future reference
⌘ + ↑/↓ go to top/bottom
⌘ + ←/→ sort chronologically/alphabetically
↑↓←→ navigation
Enter open selected entry in new tab
⇧ + Enter open selected entry in new tab
⇧ + ↑/↓ expand/collapse list
/ focus search
Esc remove focus from search
A-Z go to letter (when A-Z sorting is enabled)
+ submit an entry
? toggle help menu
x
Sign in to continue (100% free)
To prevent spam, some actions require being signed in. It's free and takes a few seconds.
Sign in with Google