Edit AI
By
Efficient personalized studying with flashcards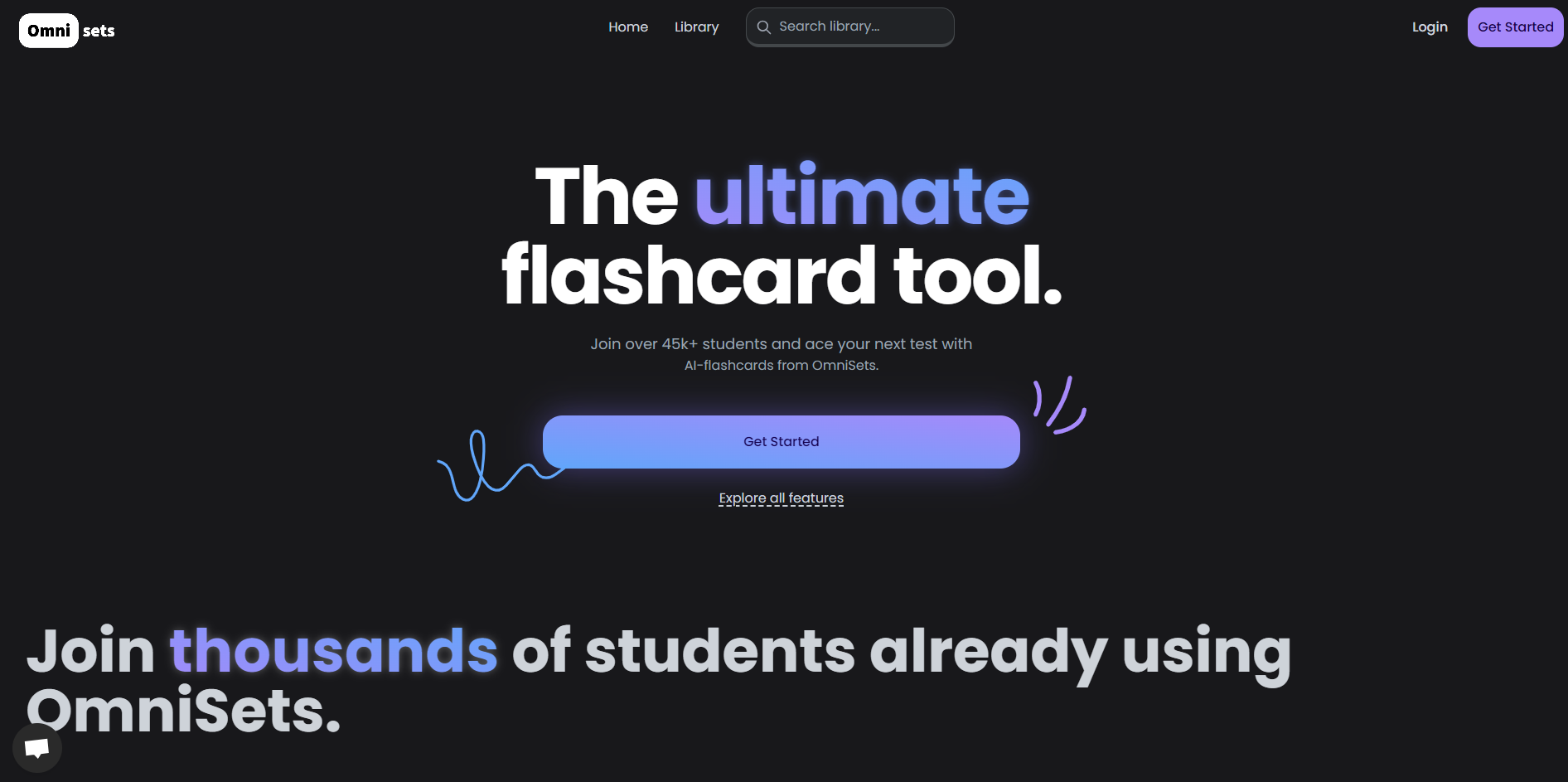 Generated by ChatGPT
Omnisets.com is an AI-powered flashcard tool designed to enhance studying efficiency and retention. This tool offers a variety of features, including AI-based learning, spaced repetition, quizzes, and matching games.
It allows users to create flashcards from their study notes in various formats, such as Q&A and fill-in-the-blank, with the help of generative AI tools.
Additionally, users can create flashcards on any subject/topic in the world with the assistance of the AI feature called "Create with AI."The adaptive learning feature of Omnisets.com enables users to learn at their own pace.
The AI algorithm learns with the user, providing a personalized study experience tailored to individual preferences. Users can start studying at any time and pick up where they left off, allowing for flexible learning sessions.Omnisets.com also offers active recall techniques and customizable study modes, allowing users to choose between simple or comprehensive studying approaches.
The tool includes a test prep feature that assists users in preparing for exams by setting study schedules based on exam dates. Furthermore, users can generate flashcards quickly by pasting in their notes or any text, as the AI scans the content to identify key information while retaining 95% of the original content.Overall, OmniSets is a highly regarded and adored tool among students, offering a user-friendly interface, essential study features, and regular updates—all available for free.
Featured
OmniSets was manually vetted by our editorial team and was first featured on September 25th 2023.

Would you recommend OmniSets?
Help other people by letting them know if this AI was useful.
12 alternatives to OmniSets for Flashcards
Generates flashcards from course or web notes.

125

5.0

Retention helper for web-based learning.

46

5.0

Created flashcards and discussed with community.

42

2.0

Simplified flashcards aid student learning.

41

5.0

Flashcard app for 10th graders.

37

Flashcard-based learning and note organization

36

Automates flashcard creation from slides.

30

Simplified online content for teachers.

24

Generate custom flashcards & quizzes for college study.

24

Automated flashcard creation and optimized study plans.

4

2.0

Personalized flashcards for studying.

3

5.0
Pros and Cons
Pros
Spaced repetition system
Offers quizzes and games
Generates flashcards from notes
Supports Q&A, fill-in-the-blank formats
Create flashcards on any topic
Adaptive learning for personalized experience
Flexible learning session management
Active recall techniques integration
Customizable study modes
Exam preparation tool
High content retention rate
User-friendly interface
Regular updates and enhancements
Completely free of cost
Several theme options
Duplicate card highlight feature
Learning speed customization
Supports student and teacher roles
Over 45k students usage
Over 1.8M flashcards
Supports cramming and active recall
A learning pace that adapts
Smart study scheduling
Supports simple or complex studying
Four memory recall buttons
Integrated flashcard generator
In-app quiz mode
Built-in spell tool
Matching game feature
Huge public studyset library
Feature suggestion platform
Transparent community platform
Unlimited studyset creation
Ability to organize studysets
Machine learning algorithms throughout
Community-driven platform
Responsive support via email
Enthusiastically received by students
Operational site status display
Cons
No offline mode
Limited learning speed settings
No multi-language support
Limited session analytics
No teacher features without declaration
Flashcard size not adjustable in-session
Limited deck request increase
No integration with other tools
Q&A
How does OmniSets enhance studying efficiency?
OmniSets enhances studying efficiency by utilizing advanced AI technology to analyze and improve the learner's study patterns. This tool leverages machine learning algorithms to understand user preferences and personalize study experiences, including customizing study modes and implementing active recall techniques.
What features does OmniSets offer for studying?
OmniSets provides several key features to enhance studying. These include AI-based learning, spaced repetition, quizzes, matching games, and innovative flashcard creation utilizing AI technology. Other features include adaptive learning, customizable study modes, an intuitive test prep feature, and an AI-powered flashcard generation from users' notes.
What is the AI-based learning in OmniSets?
AI-based learning in OmniSets refers to the adaptive learning feature. This feature uses an advanced AI algorithm that studies alongside the user, adjusting the study process based on the learner's progress and preferences. It aids in efficient personalization of the study experience, permitting the learner to proceed at their preferred pace.
How does the 'Create with AI' feature of OmniSets work?
'Create with AI' in OmniSets enables users to accelerate flashcard production. When provided with a topic, the AI possesses the capability to generate flashcards autonomously, thus simplifying the process, especially when the user lacks ample knowledge of the topic.
Can I adapt the learning pace in OmniSets?
Yes, OmniSets allows users to adapt the learning pace. The adaptive learning feature, enabled by AI, studies the user's learning patterns and preferences, thereby customizing the study experience so the learner can proceed at their comfort pace.
How does the personalized study experience in OmniSets work?
The personalized study experience in OmniSets works by using an AI algorithm to learn the user's study patterns and preferences. This information is then applied to customize the user's study modes and learning experiences, leading to notably tailored learning.
Can I start and stop studying at any time with OmniSets?
Yes, OmniSets allows users to start and stop studying at any time. This flexibility enables learning to be adjusted around the user's schedule, making it immensely convenient.
What is the 'test prep' feature of OmniSets?
The 'test prep' feature in OmniSets aids in exam preparation by allowing users to input the exam date and subsequently building a study schedule surrounding that date. This function ensures effective time management and efficient studying.
How does OmniSets assist in preparing for exams?
OmniSets assists in preparing for exams using its 'test prep' feature. This feature generates a comprehensive study schedule based on the user's exam date, hence organizing study sessions and ensuring thorough coverage of material before the exam.
How does the AI of OmniSets scan my notes to create flashcards?
OmniSets uses advanced AI to scan user's notes or any pasted text when creating flashcards. The AI identifies key information within the provided content while maintaining 95% original context, efficiently transforming these details into flashcards.
Is OmniSets a free service?
Yes, OmniSets offers its services free of charge. The flashcard tool with advanced AI technology along with core features are available to all users at no cost.
What are the active recall techniques provided by OmniSets?
Active recall techniques are provided by OmniSets in its study modes. Users are able to test themselves on each flashcard and evaluate their recall ability, altering the frequency of the flashcard appearance based on their response.
Does OmniSets offer different study modes?
Yes, OmniSets offers different study modes ranging from simple to comprehensive. These are customized based on the learner's preferences, allowing them to choose the level of study complexity they desire.
How can OmniSets help me retain information?
OmniSets aids in information retention through its use of spaced repetition, active recall, AI-based learning and personalized study experiences. These techniques, backed by scientific research, improve the learner's ability to recall and retain information, resulting in enhanced learning outcomes.
How does OmniSets generate flashcards from my text?
OmniSets utilizes AI to generate flashcards from user's notes or any provided text. The AI scans the text, identifies key information, and retains 95% of the original content while converting these details into flashcards swiftly and efficiently.
What is the 'Cramming + Active Recall' feature in OmniSets?
'Cramming + Active Recall' in OmniSets combines preparation for last-minute studying with active recall techniques. Recognizing cramming as an inevitable part of student life, OmniSets integrates these two techniques to optimize learning during such times.
Can OmniSets adapt to my personal learning methods?
Yes, OmniSets is designed with machine-learning capabilities that can adapt to the user's individual learning methods. It learns from the user's study patterns and provides personalized experiences based on their preferences and learning techniques.
How does the 'spell tool' in OmniSets work?
The 'spell tool' in OmniSets aids users in building their long-term memory. It allows users to write terms and definitions, providing an additional recall mechanism to complement flashcard studies.
Are there any limitations on the number of decks I can create in OmniSets?
There is no explicit information available on the limits to the number of decks that can be created in OmniSets.
Why is OmniSets considered different from other flashcard apps?
OmniSets distinguishes itself from other flashcard apps by the incorporation of advanced machine learning algorithms and a range of study modes. The use of innovative AI tools decreases the burden of studying while enhancing efficiency. It offers versatility in study modes, and flexible, customized learning experiences, raising the bar for flashcard apps.
If you liked OmniSets
Help
⌘ + D bookmark this site for future reference
⌘ + ↑/↓ go to top/bottom
⌘ + ←/→ sort chronologically/alphabetically
↑↓←→ navigation
Enter open selected entry in new tab
⇧ + Enter open selected entry in new tab
⇧ + ↑/↓ expand/collapse list
/ focus search
Esc remove focus from search
A-Z go to letter (when A-Z sorting is enabled)
+ submit an entry
? toggle help menu
x
Sign in to continue (100% free)
To prevent spam, some actions require being signed in. It's free and takes a few seconds.
Sign in with Google