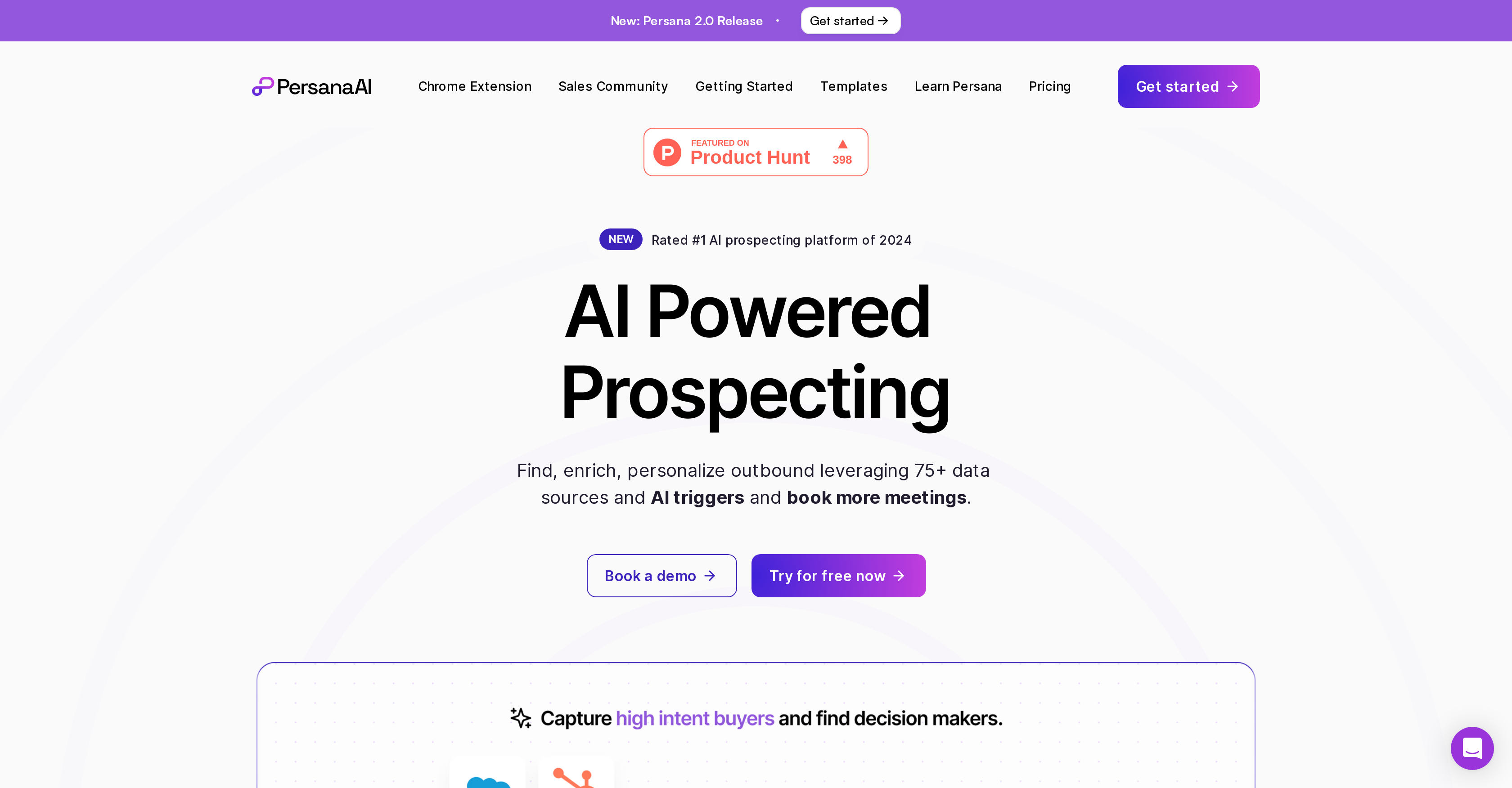 Generated by GPT-3
Persana AI is an AI tool that enables businesses to enhance their sales productivity by identifying qualified leads, extracting customer insights, and sending personalized outreach at scale.
The tool builds holistic customer profiles by leveraging historical email campaign data, CRM and internal data, and publicly available data points. This fine-tuned model of Persana AI is meant for the sales team to help them focus on selling and not doing cumbersome tasks.Persana AI's hyperpersonalized AI technology allows businesses to identify the most promising prospects and ripe opportunities, thus helping the sales team to maximize their productivity.
The tool notifies the team faster whenever there is an intent signal-like when a lead visits the company website or gets funding, thus allowing businesses to convert them at the right time.
Besides, Persana AI consolidates data from different sales tools in an easy-to-use manner, making it faster to get answers to questions without making complicated reports.
Accordingly, the tool helps businesses close more deals easily and quickly. Persana AI has an API and Integrations that allow business to get a holistic view of the customer, and data-driven personalization helps in converting better.
Overall, Persana AI is an excellent tool for businesses looking to enhance their sales productivity by using AI technology.
Featured
?
72 alternatives to Persana AI for Email writing
01 Mar 2023

02 Mar 2023

04 Mar 2023

04 Mar 2023

06 Mar 2023

07 Mar 2023

07 Mar 2023

10 Mar 2023

16 Mar 2023

09 Feb 2023

15 Feb 2023

17 Feb 2023

23 Feb 2023

24 Feb 2023

28 Feb 2023

28 Feb 2023

01 Jan 2023

03 Jan 2023

03 Jan 2023

04 Jan 2023

04 Jan 2023

09 Jan 2023

16 Jan 2023

16 Jan 2023

19 Jan 2023

19 Jan 2023

20 Jan 2023

20 Jan 2023

20 Jan 2023

22 Jan 2023

22 Jan 2023

23 Jan 2023

23 Jan 2023

23 Jan 2023

25 Jan 2023

29 Jan 2023

05 Dec 2022

07 Dec 2022

10 Dec 2022

11 Dec 2022

12 Dec 2022

20 Dec 2022

21 Dec 2022

21 Dec 2022

22 Dec 2022

22 Dec 2022

26 Dec 2022

26 Dec 2022

28 Dec 2022

29 Dec 2022

30 Dec 2022

22 Nov 2022

26 Nov 2022

28 Nov 2022

03 Oct 2022

15 Sep 2022

19 Sep 2022

30 Sep 2022

26 Aug 2022

02 Jun 2022

14 Jun 2022

12 Apr 2022

13 Apr 2022

14 Apr 2022

29 Jan 2022

16 Mar 2022

24 Mar 2022

28 Jan 2021

25 Nov 2021

06 Dec 2021

17 Dec 2021

01 Nov 2020