Edit AI
Efficient homework aid for students.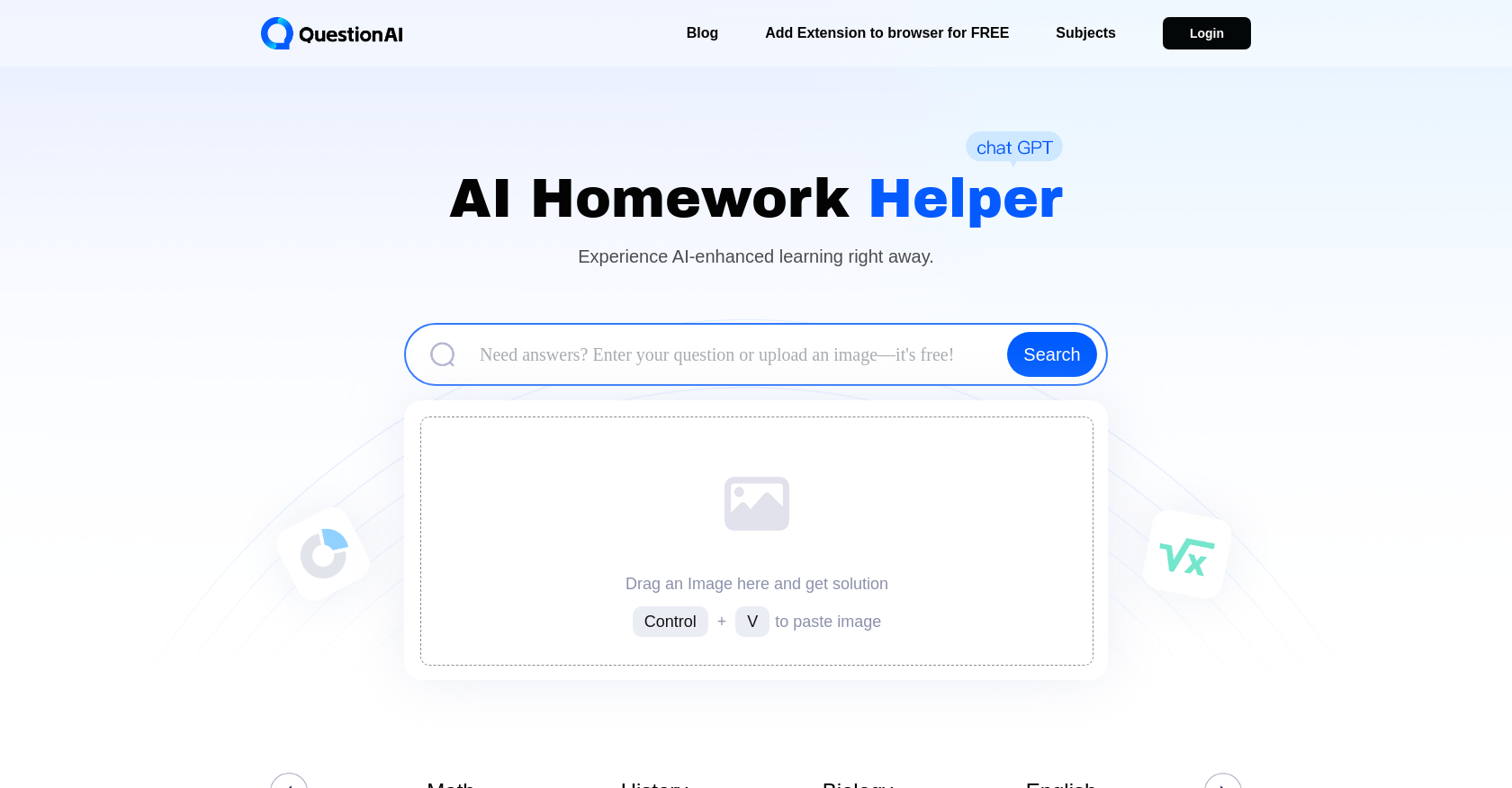 Generated by ChatGPT
QuestionAI is an AI-powered homework helper tool that offers an efficient and cost-effective solution for students seeking assistance with their homework.
With the aim of simplifying the homework process, QuestionAI leverages artificial intelligence technology to provide accurate and instant answers to various academic subjects.One of the key features of QuestionAI is its "Snap Math Questions," which allows users to take a screenshot of math problems, including symbols and formulas, and automatically converts them into digital format for quick solutions.
This feature enables students to save time and effort by eliminating the need to manually transcribe problems.In addition to math, QuestionAI covers a wide range of subjects, including history, biology, English, physics, chemistry, geography, law, social studies, technology, French, art, business, health, foreign languages, Spanish, German, AP courses, SAT, medical, and engineering.
Moreover, the tool offers an AI chatbot that can provide guidance and explanations for any topic or concept that users need assistance with.QuestionAI boasts popularity among users, as evidenced by the most frequently asked questions featured on the platform.
The tool is available in multiple languages, enhancing accessibility for students around the world.By utilizing QuestionAI's AI homework scanner, students can easily and effortlessly solve their homework problems, making it an invaluable tool for academic success.
Featured
QuestionAI was manually vetted by our editorial team and was first featured on October 19th 2023.

Would you recommend QuestionAI?
Help other people by letting them know if this AI was useful.
4 alternatives to QuestionAI for Homework help
If you liked QuestionAI
Help
⌘ + D bookmark this site for future reference
⌘ + ↑/↓ go to top/bottom
⌘ + ←/→ sort chronologically/alphabetically
↑↓←→ navigation
Enter open selected entry in new tab
⇧ + Enter open selected entry in new tab
⇧ + ↑/↓ expand/collapse list
/ focus search
Esc remove focus from search
A-Z go to letter (when A-Z sorting is enabled)
+ submit an entry
? toggle help menu
x
Sign in to continue (100% free)
To prevent spam, some actions require being signed in. It's free and takes a few seconds.
Sign in with Google