Edit AI
Enhanced email productivity with faster composition.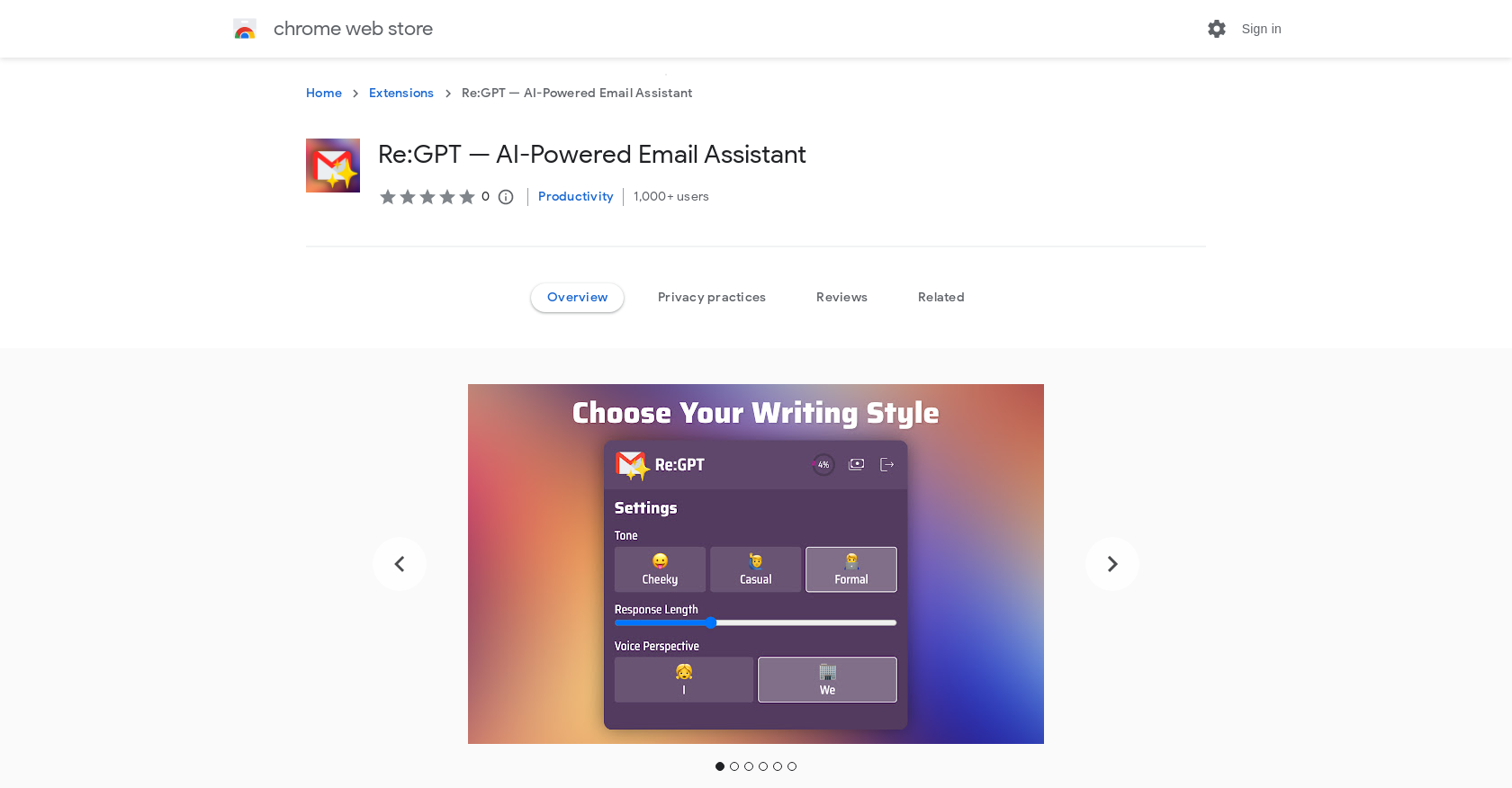 Generated by ChatGPT
Re:GPT is an AI-powered email assistant that integrates OpenAI's ChatGPT with Gmail and Outlook. With Re:GPT, users can compose high-quality email messages swiftly, eliminating email writer's block and enhancing productivity.
Whether you need to maintain a professional tone, add a touch of humor, or streamline your communication, Re:GPT has you covered. It offers AI-generated content to speed up email composition and allows customization of email style, from casual to formal, to match individual needs.
Re:GPT seamlessly integrates with Gmail and Outlook, providing a user-friendly experience. It offers flexible pricing plans to suit different email productivity requirements.By installing Re:GPT, users can experience the future of email writing, benefiting from its smarter, faster, and more efficient approach.
It aims to elevate users' email game by enabling them to compose emails effortlessly.Please note that Re:GPT is compatible with Chrome Web Store and has been used by over 1,000 users.
The tool also mentions offering in-app purchases. For additional information, users can visit the developer's website and review the privacy policy to understand how their data is handled.Overall, Re:GPT is a valuable tool for individuals seeking to improve their email communication, speed up their email composition, and leverage AI to write high-quality emails more efficiently.
Featured
Re:GPT was manually vetted by our editorial team and was first featured on November 10th 2023.

Would you recommend Re:GPT?
Help other people by letting them know if this AI was useful.
5 alternatives to Re:GPT for Emails
If you liked Re:GPT
People also searched
Help
⌘ + D bookmark this site for future reference
⌘ + ↑/↓ go to top/bottom
⌘ + ←/→ sort chronologically/alphabetically
↑↓←→ navigation
Enter open selected entry in new tab
⇧ + Enter open selected entry in new tab
⇧ + ↑/↓ expand/collapse list
/ focus search
Esc remove focus from search
A-Z go to letter (when A-Z sorting is enabled)
+ submit an entry
? toggle help menu
x
Sign in to continue (100% free)
To prevent spam, some actions require being signed in. It's free and takes a few seconds.
Sign in with Google