Edit AI
Listen to conversational article summaries.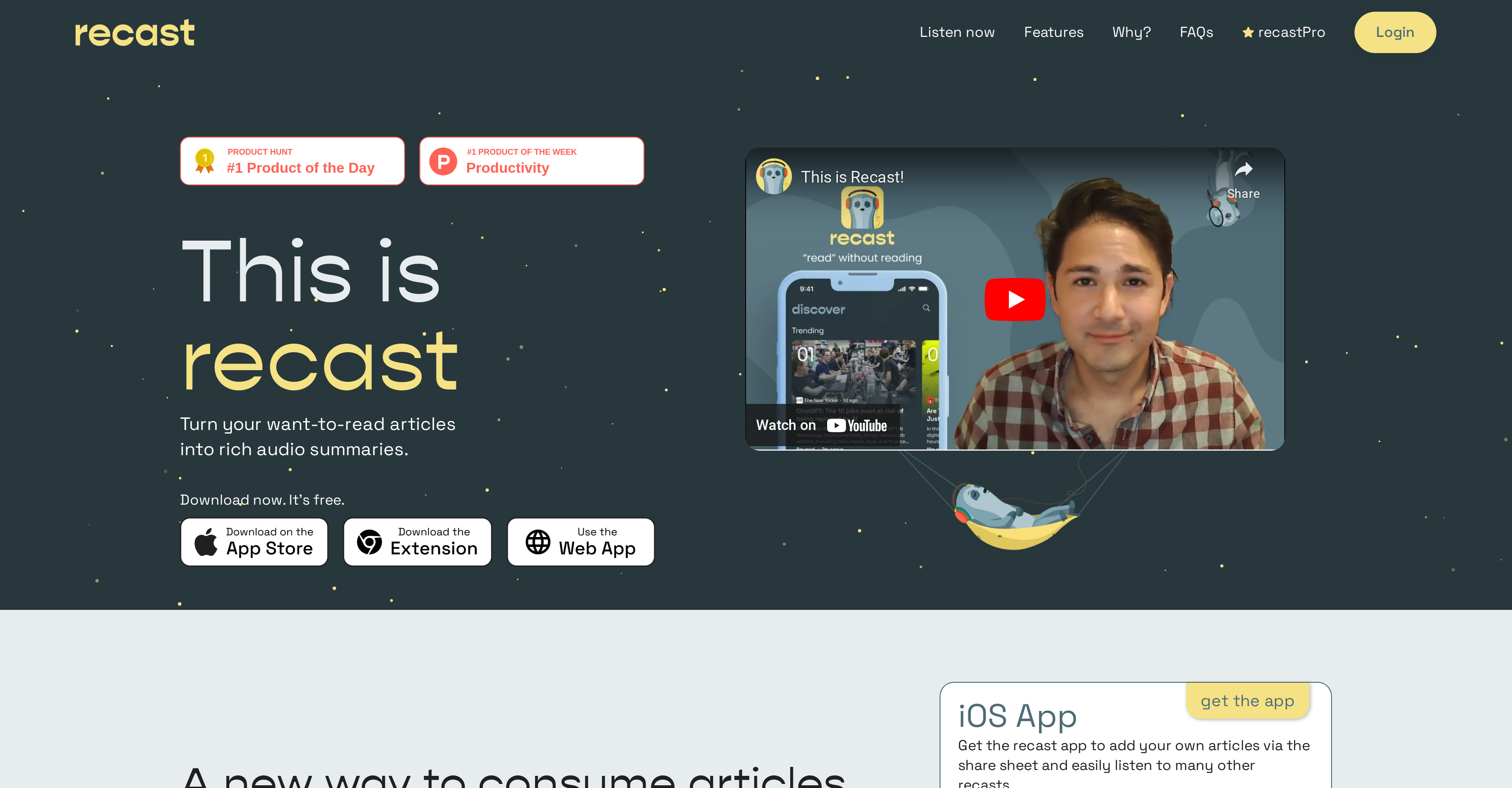 Generated by ChatGPT
Recast is an AI-based tool that allows users to turn articles they want to read into audio summaries. As a result, users can consume content without having to read through long articles manually, allowing them to multitask while staying informed.
Recast summarizes articles in a conversational tone, helping users understand articles more deeply. The application is available for download on the App Store and Google Chrome extension, and it offers a simple signup process.
Recast comes with several features designed to improve the user's experience. The application enables users to filter their interests and discover new stories, while its hosts do not just summarize but explain articles conversationally.
Furthermore, Recast helps users save time by telling them everything that is in an article in a fraction of the time it would take to read it. Also, the tool reduces screen time, enabling users to stay updated while performing everyday tasks such as doing the dishes and commuting.
Finally, Recast helps users clear open tabs and their inbox newsletters by converting them into podcast format. Recast's users have rated the tool positively, with many praising its ability to help them save time and make the most of their downtime.
Featured
Recast was manually vetted by our editorial team and was first featured on June 19th 2023.

Would you recommend Recast?
Help other people by letting them know if this AI was useful.
Automates podcast show notes to simplify production.

32
Pros and Cons
Pros
Available as App and Chrome extension
Conversational tone summaries
Summarizes articles into audio
Helps reduce screen time
Allows multitasking
Clears open tabs and newsletters
Enables personal content filtering
Facilitates discovery of new stories
Article explanation besides summary
Encourages deeper understanding
Platform for sharing and discovering summaries
Reduces read time of articles
Turns reading list into podcasts
Positive user reviews
Simple signup process
App customisation available with sharesheet
Conversion of own articles possible
Multi-platform compatibility
Can be used with favorite podcast app
Personal RSS feed with recastPro
Cons
Only available as app and extension
No Android support
Lack of customization features
Limited to English articles
No offline mode
Audio style might not suit all
Depends on source article quality
User has limited content control
No speed adjustment settings
No integration with other apps
Q&A
How does Recast work to convert articles into audio summaries?
Recast works by leveraging AI technology to convert written articles into audio summaries. The application reads the textual content from the articles and then uses artificial intelligence to create conversational audio summaries that help the users understand the articles more deeply.
Is Recast available for both iOS and Android devices?
As per the information available on the website, Recast is currently only available as an iOS app on the App Store, and as a Google Chrome extension for desktop users. There isn't any specific mention of an Android version.
Can I use Recast on my desktop by using the Google Chrome extension?
Yes, Recast can indeed be used on a desktop via the Google Chrome extension. Users simply have to add the Recast extension to their Google Chrome browser and they'll be able to convert articles on their desktop into audio summaries.
What makes Recast's summaries conversational?
Recast's summaries are conversational because the AI tool doesn't just provide a bare-bones summary of an article. Instead, it processes the text and represents the information in a conversational tone, making the content easier to understand and more engaging to listen to.
Can I filter my interests on Recast to receive personalized content?
Yes, Recast allows users to filter their interests. This feature is designed to help users discover new stories based on their preferences. While there isn't explicit information on how the filtering process works, it likely involves AI algorithms sifting through relevant topics and articles in line with the interests selected by the user.
How does Recast help me discover new stories?
Recast offers a feature that helps users discover new stories. Although the specific functionality isn't disclosed, it is plausible that Recast uses AI to analyze trending topics and user preferences to surface articles that users might not have discovered on their own.
How much time can I expect to save by using Recast to listen to articles?
While there is no specific information on the exact amount of time users can save with Recast, it's clear that the application greatly reduces the amount of time spent reading articles by summarizing the content into concise audio summaries. This allows users to consume and comprehend the main points of an article in significantly less time.
Is using Recast a good way to reduce screen time?
Yes, using Recast is an effective way to reduce screen time. Instead of scrolling through articles on a screen, users can listen to the content. It's especially handy for multitasking or times when users can't be in front of a screen, such as during a commute or while exercising.
How does Recast convert my open tabs and inbox newsletters into a podcast format?
Recast provides a feature that enables users to convert their open tabs and inbox newsletters into a podcast format. This is achieved by using the Recast button available either on their in-app browser, the share sheet in Safari or the Chrome Extension on desktop.
What is the overall user experience and reviews for Recast?
The overall user experience and reviews for Recast are very positive. Users have praised Recast's ability to allow them to consume article content in a convenient manner, saving them time and enabling them to remain well-informed without disrupting their routine. There's high praise for its ability to condense information and make 'reading' more efficient.
How does Recast improve my way of consuming content?
Recast improves the way you consume content by transforming the traditional reading experience into an audio one. The AI tool converts articles into easy-to-understand, conversational summaries, allowing for seamless content consumption during daily tasks.
Can I add my own articles to Recast for summarization?
Yes, Recast allows users to add their own articles. Users can use the iOS share sheet, the in-app web browser, or the Chrome Extension to add articles they want to 'read' via Recast.
Does Recast's hosts just summarize or do they explain an article conversationally?
Recast's hosts do not just summarize articles, they explain the articles conversationally. The aim is to deliver a deeper understanding of the content, going beyond a simple summarization.
Do I need to read the articles before I recast them?
Based on the information from its website, there's no need to read articles before recasting them with Recast. Users can simply select an article they're interested in, and Recast will generate a concise, conversational summary.
How can Recast help me get through my reading list?
Recast helps you get through your reading list by converting your to-read articles into audio summaries. By providing you with comprehensive and engaging summaries, Recast enables you to get to all your saved articles without needing to read them in their entirety.
Can I adjust the speed and quality of the audio in Recast?
Yes, Recast offers various setting controls, allowing users to adjust the speed and the quality of the audio to suit their preferences. The tool includes speed settings from 0.5x to 2x, ensuring the listening experience can be comfortably tailored.
Can I use Recast while doing other tasks, such as working out or commuting?
Yes, you can use Recast while doing other tasks such as working out or commuting. By turning text-based articles into audio, Recast lets you stay informed and up to date with your chosen topics while your hands are busy with other activities.
What types of articles are most suitable for recasting?
Recast can be used to create audio summaries of a broad range of articles. As the tool specializes in summarizing text, it should be equally effective for news stories, think pieces, and the vast majority of articles found online.
How can Recast convert my long articles into easy-to-understand audio conversations?
Recast turns long articles into easy-to-understand audio conversations by using AI to read and analyse the text. It brings forth the main ideas in a conversational tone, thereby making the summary engaging and easier to understand compared to the original text.
Can I listen to the recasts directly on the Recast app or do I need a separate podcast app?
Recast allows you to listen to a summary directly in the Recast app. Furthermore, with RecastPro, you can get a personal RSS feed that will put all your recasts into your favorite podcasting app.
If you liked Recast
Help
⌘ + D bookmark this site for future reference
⌘ + ↑/↓ go to top/bottom
⌘ + ←/→ sort chronologically/alphabetically
↑↓←→ navigation
Enter open selected entry in new tab
⇧ + Enter open selected entry in new tab
⇧ + ↑/↓ expand/collapse list
/ focus search
Esc remove focus from search
A-Z go to letter (when A-Z sorting is enabled)
+ submit an entry
? toggle help menu
x
Sign in to continue (100% free)
To prevent spam, some actions require being signed in. It's free and takes a few seconds.
Sign in with Google