Remove object from photo by HitPaw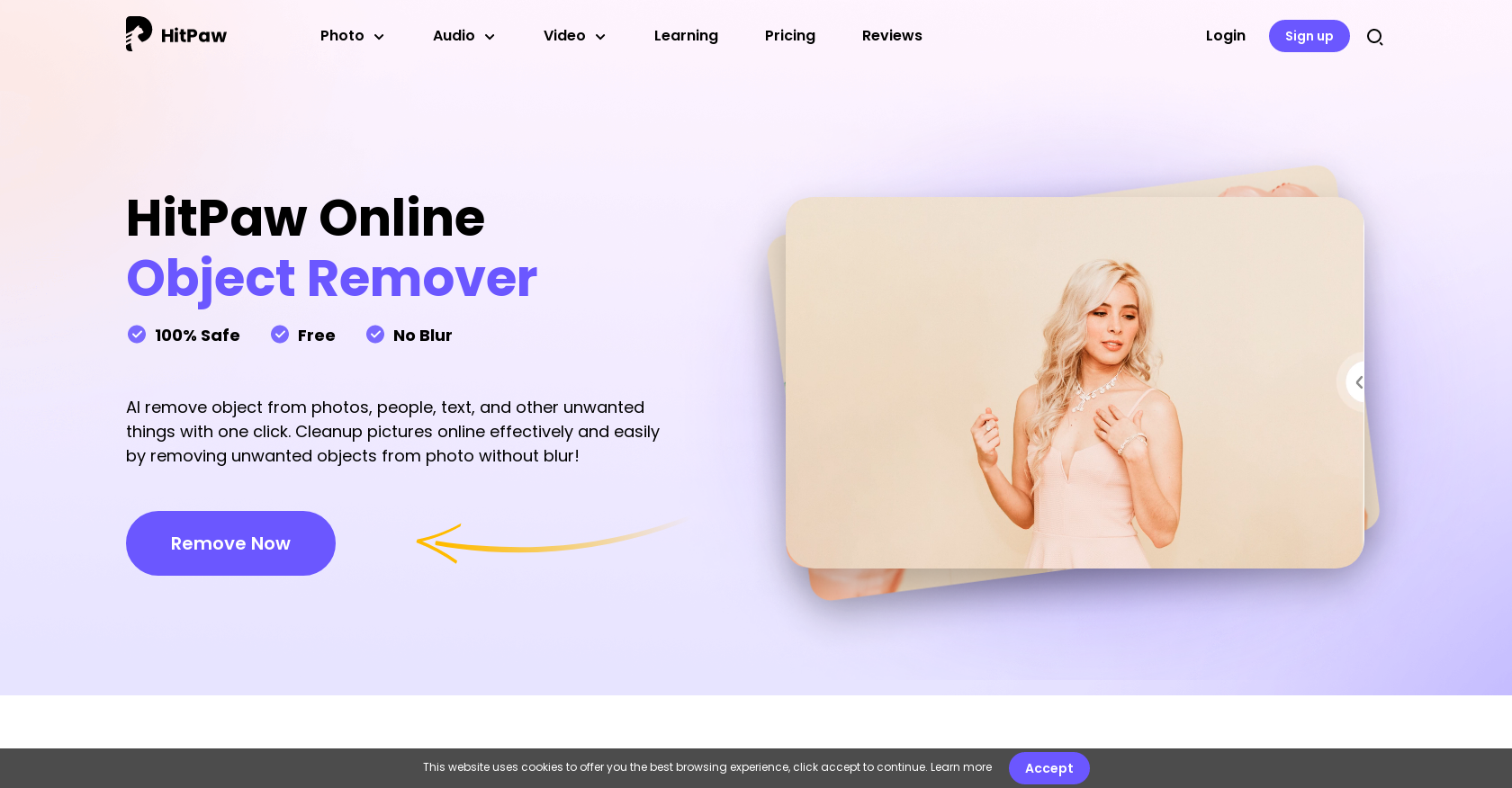 Generated by GPT-3
HitPaw Online Object Remover is a free AI-based tool that allows users to remove unwanted objects from photos quickly and precisely with just one click.
The tool can remove not only objects and people but also brand logos, text, stickers, and dates. Users can upload their photos to the website and use the brush to select the object area they want to remove accurately.
The website claims that the tool can remove objects from photos without causing any blurs. HitPaw Online Object Remover is one of many tools available on the HitPaw Online Toolbox, which includes audio and video editing tools, image watermark removers, and background removers.
The website also offers desktop software for audio and photo editing. Users can create an account on the website to access their edit history and save their edited photos.
Overall, HitPaw Online Object Remover is a useful tool for users who want to edit their photos and remove unwanted objects without using complex software.
Featured
?
56 alternatives to Remove object from photo by HitPaw for Image editing
02 Mar 2023

01 Feb 2023

24 Feb 2023

26 Feb 2023

09 Jan 2023

16 Jan 2023

19 Jan 2023

21 Jan 2023

22 Jan 2023

08 Dec 2022

08 Dec 2022

14 Dec 2022

19 Dec 2022

22 Dec 2022

23 Dec 2022

01 Nov 2022

02 Nov 2022

03 Nov 2022

28 Nov 2022

15 Oct 2022

27 Oct 2022

28 Oct 2022

01 Sep 2022

23 Sep 2022

09 Aug 2022

02 Jul 2022

22 Jul 2022

10 Jun 2022

23 Jun 2022

23 Jun 2022

24 Jun 2022

28 Jun 2022

21 Apr 2022

25 Jan 2022

11 Feb 2022

14 Feb 2022

13 Mar 2022

16 Mar 2022

11 Jan 2021

13 Jan 2021

21 Jun 2021

22 Jun 2021

01 Jul 2021

15 Jul 2021

04 Sep 2021

27 Oct 2021

27 Oct 2021

01 Nov 2021

03 Nov 2021

08 Dec 2021

17 Jun 2020

22 Jul 2020

05 Sep 2020

30 Oct 2020

27 Feb 2019

03 Jun 2017