Sidekick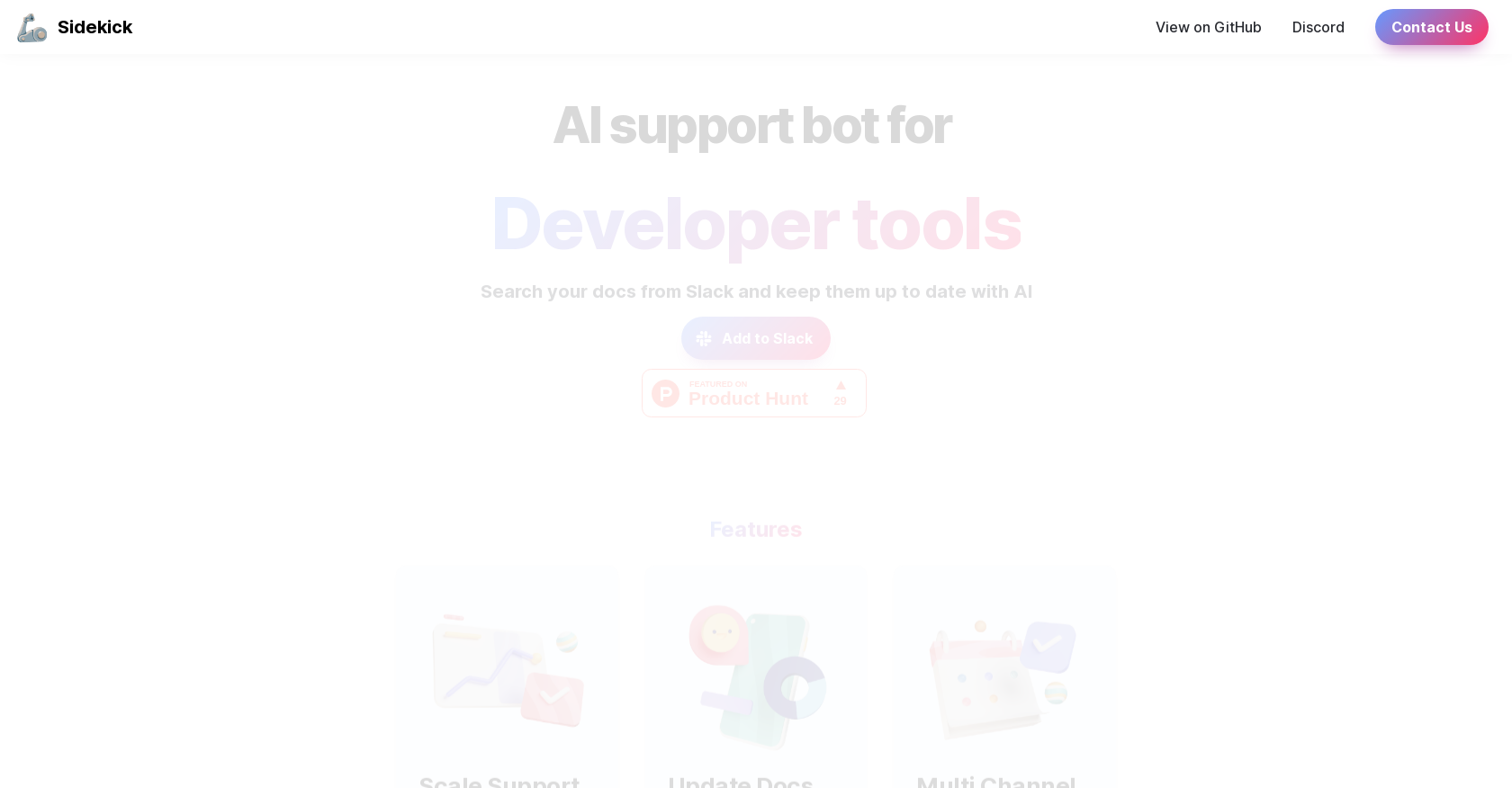 Generated by GPT-3
Sidekick is an AI support chatbot designed to assist developers in searching through their documentation, answering their questions, and troubleshooting any problems they may encounter.
This tool can be deployed in Slack, Discord, or Discourse and is accessible 24/7. Sidekick can provide instant answers to technical questions and summarizes conversations to submit pull requests (PRs) such that your documentation is always up to date.
You can review, edit, and approve these PRs at any time. Sidekick is built by a development team that has worked on Susi, and it comes in three pricing tiers: the open-source layer, which is free with access to the open-source repository and customization, the Pro layer, which costs $49 per month with a 30-day free trial and offers unlimited channels, users, and markdown source, and the Enterprise layer, which can be customized according to the specific requirements of large teams.
The Enterprise layer costs are not publicly available and require contacting the Sidekick team. With Sidekick, developers can automate many tasks and focus on more critical tasks with less effort.
Featured
?
78 alternatives to Sidekick for Q&A
02 Mar 2023

02 Mar 2023

04 Mar 2023

05 Mar 2023

06 Mar 2023

06 Mar 2023

07 Mar 2023

07 Mar 2023

09 Mar 2023

09 Mar 2023

10 Mar 2023

12 Mar 2023

12 Mar 2023

16 Mar 2023

01 Feb 2023

01 Feb 2023

01 Feb 2023

02 Feb 2023

05 Feb 2023

06 Feb 2023

14 Feb 2023

17 Feb 2023

18 Feb 2023

20 Feb 2023

20 Feb 2023

20 Feb 2023

21 Feb 2023

23 Feb 2023

25 Feb 2023

25 Feb 2023

02 Jan 2023

02 Jan 2023

04 Jan 2023

04 Jan 2023

05 Jan 2023

07 Jan 2023

07 Jan 2023

08 Jan 2023

09 Jan 2023

15 Jan 2023

17 Jan 2023

18 Jan 2023

20 Jan 2023

23 Jan 2023

23 Jan 2023

24 Jan 2023

24 Jan 2023

24 Jan 2023

24 Jan 2023

26 Jan 2023

28 Jan 2023

30 Jan 2023

31 Jan 2023

31 Jan 2023

06 Dec 2022

12 Dec 2022

14 Dec 2022

18 Dec 2022

21 Dec 2022

28 Dec 2022

28 Dec 2022

28 Dec 2022

29 Dec 2022

30 Dec 2022

19 Nov 2022

21 Nov 2022

23 Nov 2022

28 Nov 2022

13 Sep 2022

23 Sep 2022

09 Jul 2022

15 Jul 2022

05 May 2022

21 May 2022

25 Jan 2022

09 Feb 2021

06 Nov 2021

31 Mar 2018