Edit AI
Step-by-step tutoring for targeted practice.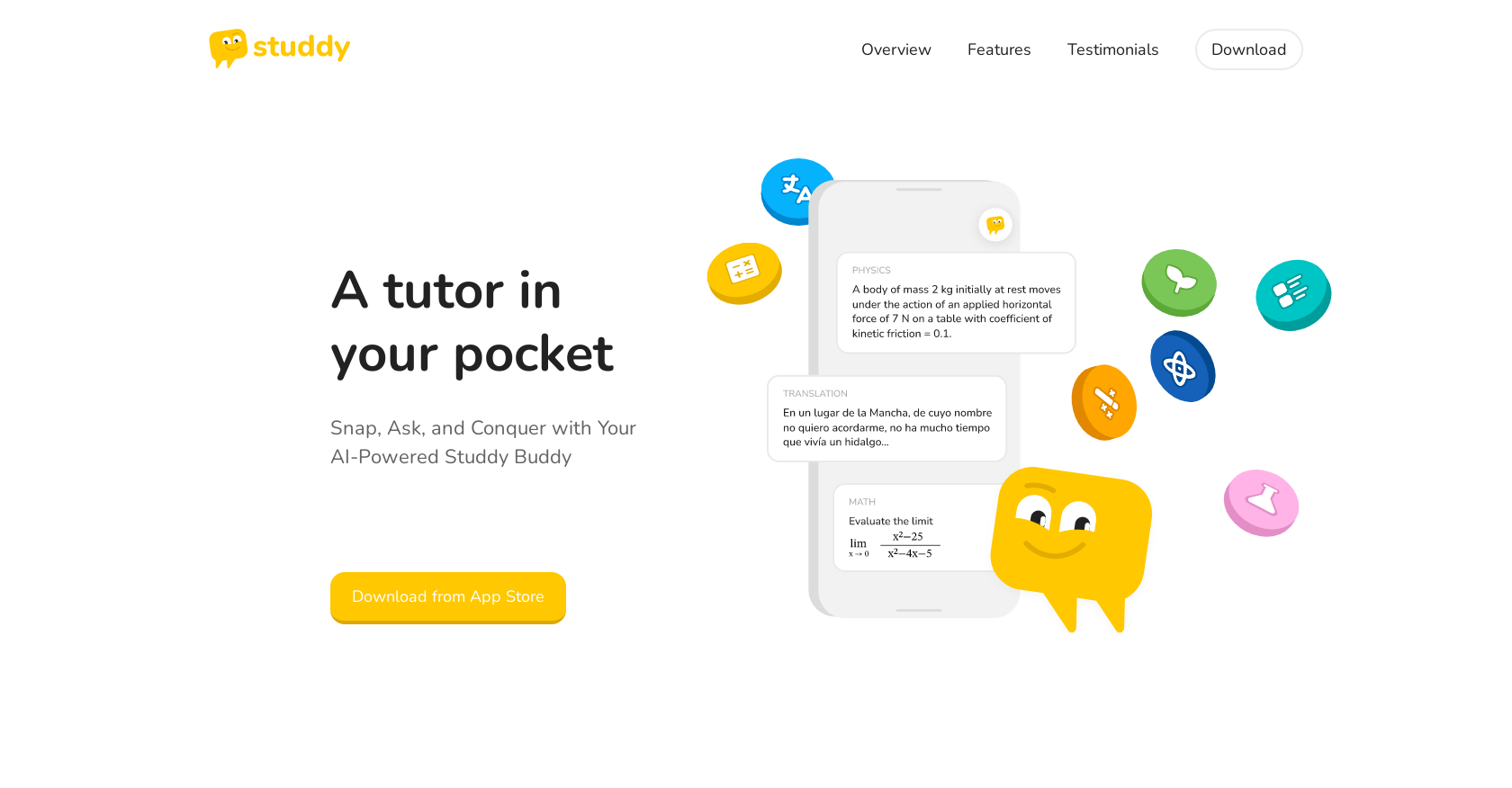 Generated by ChatGPT
Studdy AI is an AI-powered tutoring tool that offers instant help with various subjects. With its step-by-step breakdown of problems, users can easily understand complex concepts.
If a step is confusing, users can ask Studdy Buddy for further explanations. The tool also provides targeted practice by breaking down big problems into smaller ones, helping users identify fundamental concepts.Studdy AI claims to be the most accurate AI for math, boasting better performance than ChatGPT on word problems with a 60% reduction in errors.
It covers a wide range of subjects including Algebra, Geometry, Calculus, Statistics, and Physics.Testimonials from educators and students praise Studdy AI for its effectiveness and time-saving capabilities.
Users have reported significant learning progress with minimal assistance, expressing enthusiasm and amazement with the tool.To access Studdy AI, users can download the app from the App Store.
The tool aims to facilitate learning and provide comprehensive assistance, ensuring users have the necessary support to succeed academically.Please note that the actual performance of Studdy AI, such as its accuracy and user experience, may vary and it is recommended to try the tool firsthand to determine its suitability for individual needs.
Featured
Studdy was manually vetted by our editorial team and was first featured on September 7th 2023.

Would you recommend Studdy?
Help other people by letting them know if this AI was useful.
92 alternatives to Studdy for Learning
Enhance reading comprehension of scientific articles.

138

5.0

Customized learning: personalized building and tutoring.

80

4.3

A customized content creation software for educators.

75

5.0

Education guide and writing coach.

74

5.0

Quick and accurate answers to any query.

71

Improved learning comprehension.

70

Discover custom content by chosen topics.

51

5.0

Automated note-taking and info management.

49

Language learning and assistance.

43

Study & Writing Answers & Retrieval

43

5.0

Child ed-app with custom lessons.

41

Guided learning and skill development.

34

5.0

Hints for coding learners and coders.

26

4.0

Integrates advanced predictions into developer apps.

24

Custom research summaries

22

1.0

Enhanced blocks for personalized learning.

22

5.0

Enhances learning with interactive features.

21

Helped students cheat on exams. (-2 for using "cheat")

19

Automated flashcards for efficient studying.

19

Improve student writing and detect plagiarism.

14

Tech skills learning & career growth platform.

13

Student-led virtual education and engagement platform.

11

Advanced English language learning journeys

11

Enhanced app boosts subject knowledge retention.

10

5.0

Chatbots that assist in history exam preparation.

8

Interactive learning for education & training.

6

Accelerates learning of technical text.

6

Academic task assistant for student learning.

5

Assisted personal info research & discovery.

5

5.0

Chatbot for computer vision tech support.

4

Visualize concepts for learning and project management.

4

Customized curriculum learning assistant.

4

Homework help & exam prep

3

Personalized online education platform.

3
Help
⌘ + D bookmark this site for future reference
⌘ + ↑/↓ go to top/bottom
⌘ + ←/→ sort chronologically/alphabetically
↑↓←→ navigation
Enter open selected entry in new tab
⇧ + Enter open selected entry in new tab
⇧ + ↑/↓ expand/collapse list
/ focus search
Esc remove focus from search
A-Z go to letter (when A-Z sorting is enabled)
+ submit an entry
? toggle help menu
x
Sign in to continue (100% free)
To prevent spam, some actions require being signed in. It's free and takes a few seconds.
Sign in with Google