Edit AI
Revolutionized web design aided by machine learning.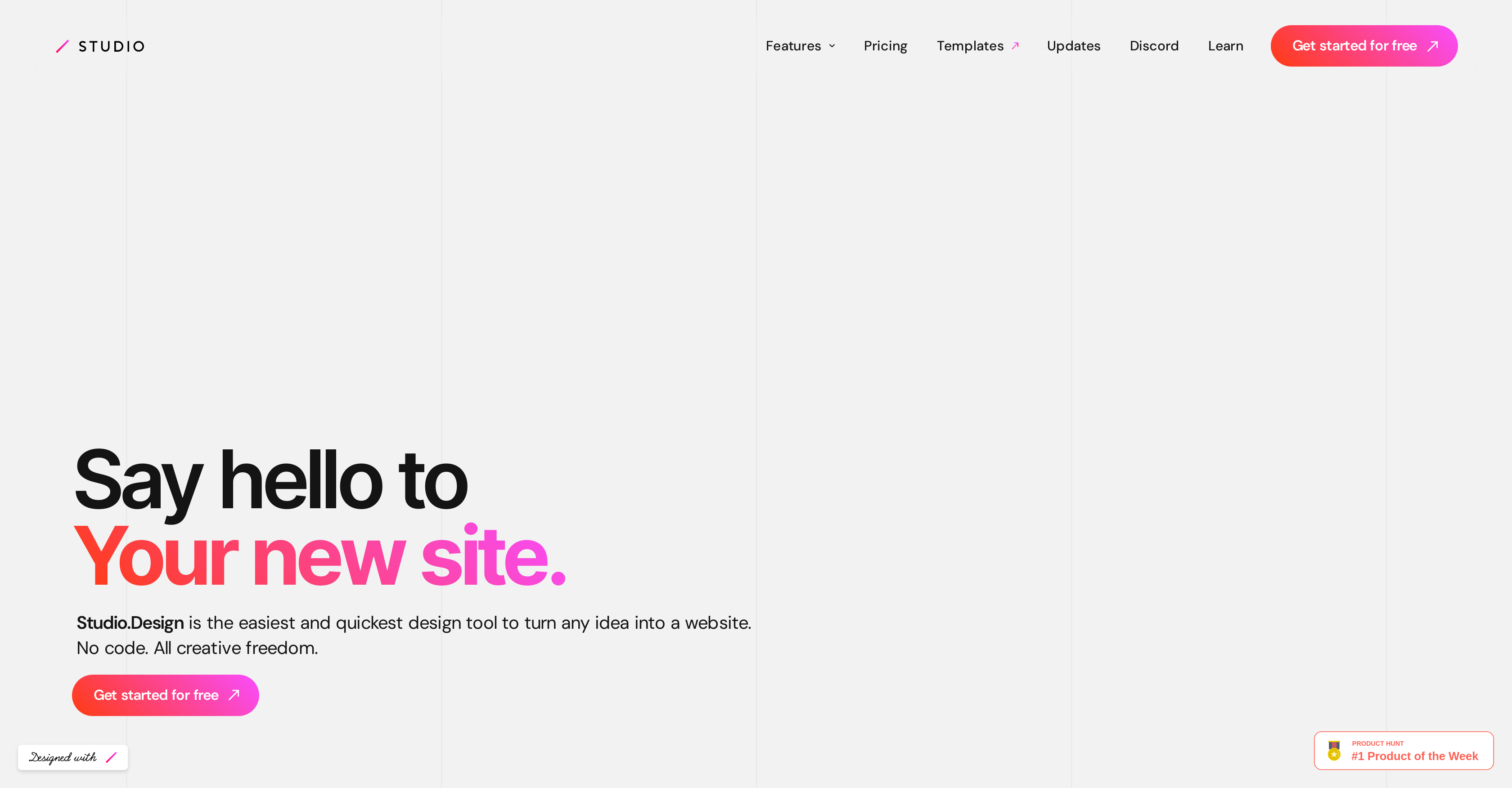 Generated by ChatGPT
Studio is an AI-augmented design tool for creating modern websites. It is designed to help designers create with the power of AI, and stands out from other design tools with its unique features.
With Studio, designers can highlight an area they are stuck on and be presented with design suggestions. They can also speak to a voice assistant and have it perform complex styling tasks.
Additionally, Studio has an auto-responsive feature that can resize layouts automatically using algorithms that reflow objects without disrupting the overall layout.
All of this is available through early access and the Studio team is constantly adding new AI technologies from the Foundry to expand the capabilities of the design tool.
Studio is a revolutionary tool that is transforming how designers create websites, offering a glimpse into the future of design.
Featured
Studio Design was manually vetted by our editorial team and was first featured on December 17th 2022.

Would you recommend Studio Design?
Help other people by letting them know if this AI was useful.
62 alternatives to Studio Design for Website building
Text-to-Website builder with AI, WordPress & Elementor.

979

1.3

Generated design options for no-code website creation.

646

4.3

AI Website Building for Businesses

374

4.0

Assisted website creation for business owners.

265

3.5

Generate branded copywriting landing pages rapidly.

239

1.0

AI-powered website builder

165

5.0

Visually appealing websites made effortlessly.

134

Efficient creation and management of websites.

130

5.0

Landing page creation without coding for businesses.

116

1.0

Created web apps with machine learning.

110

2.0

Website design without coding & online marketing.

103

3.0

Website generator for small businesses.

85

5.0

Simplified website design solution.

78

5.0

Website copywriting improved by language processing.

72

5.0

Automated workflows and no-code apps.

72

1.0

Website creation with automated content and design.

68

Easy website creation solution.

55

5.0

Efficient website creation and resume generation.

53

1.0

Built websites intelligently.

53

Non-tech user website builder.

52

5.0

Automates design generation for website creation.

52

Customizable templates for modern landing pages.

52

4.0

Created professional website & store automatically.

52

5.0

Built mobile-friendly websites with codeless editor.

49

5.0

Improves website creation process with assistance.

48

Build websites easily without technical knowledge.

48

1.0

Smartly boosted websites w/ copy suggestions.

45

Design and optimize personalized websites.

44

Natural language website generation.

42

1.0

Website builder without coding.

40

Created and designed websites efficiently.

39

Low-code platform for building generative apps.

37

Website and UI builder for rapid prototyping.

37

Effortlessly creates websites with advanced analytics.

36

Website building for non-tech users

34

5.0

Created eCommerce shops visually with automated pages.

33

Natural language-based web page design.

32

Automated website generation and cloud stacking.

30

Website creation made easy with generated templates.

30

Created website copy using automation for designers.

29

Efficient web development with generative tech.

26

Created digital experiences for businesses.

26

Created small business websites powerfully.

24

4.0

Easy site creation for SMBs and creatives.

23

5.0

Website development solution

23

Easy website creation for individuals and startups

21

Website creation & management, optimized effortlessly.

20

1.0

Generated and collaborated website copy.

19

Startup landing page creation made easy.

18

User-friendly web page creation for non-tech users.

14

Easily design websites without coding experience.

13

Assisted creation of chat-based website templates.

13

Create personalized websites & landing pages with ease.

13

1.0

Entrepreneurs' website generator for marketing.

11

Website builder and lead manager, no coding required.

10

Generated web content via conversational dashboard.

7

Website Design-to-Dev Conversion Solution.

5

Website structure and SEO visual sitemap generation.

4

5.0

3

Webstudio accelerates website creation for designers.

2

5.0

Landing pages for diverse industries.

1
Pros and Cons
Pros
Design suggestions feature
Voice assistant for styling
Auto-responsive layout resizing
Constant addition of features
Foundry technologies integration
Speak to perform tasks
Resize layout automatically
Easy UI navigation
Quick web design process
Modern website creation
One-button adaptation for screens
Contextual design suggestions
Interactive interface
Access to new updates
Geared towards future design
Supports multi-step task automation
Website generator function
Useful for stuck designers
Effective algorithm utilization
Accessible early access
Continuous tool improvement
Powerful design experience
Efficient task auto-completion
Cons
Early access only
Limited to web design
Reliance on voice assistant
Auto-responsive may disrupt design
Dependent on continuous updates
Potential privacy concerns voice-assistant
No mentioned integration capabilities
No offline mode indicated
Q&A
What is Studio?
Studio is an AI-augmented design tool specifically developed for creating modern websites. It brings a revolutionary change to web designing by harnessing the power of AI.
How does Studio utilize AI in web design?
Studio leverages AI in multiple ways for web design. Designers can highlight a problem area on a webpage, and AI provides design suggestions. There's also a voice assistant that can carry out complex styling tasks. Studio's AI can also auto-resize the layouts, maintaining the general design and arrangement with the help of algorithms.
What is Studio's auto-responsive feature and how does it work?
Studio's auto-responsive feature is an AI-powered functionality that resizes website layouts automatically to fit various screen sizes. Advanced algorithms underpin this feature, which reflow objects while ensuring the overall layout is not disrupted as the layout scales.
What is the role of the voice assistant in Studio?
Studio's voice assistant is a powerful AI-based functionality that allows users to verbally instruct the execution of complex styling tasks. This hands-free approach makes it possible to perform multi-step tasks faster and more conveniently.
How can Studio help when I'm stuck on a design issue?
Studio has fostered a solution-oriented approach to design issues. If you're stuck, you just need to focus on the area of concern, and the AI system in Studio will generate and present various design suggestions based on the surrounding styles, potentially solving your problem.
What unique features does Studio offer for web design?
Studio offers a host of unique AI-powered features, including the ability to generate design suggestions on highlighted areas, a voice assistant to perform complex tasks, and an automatic resizing feature which reflows objects without disrupting the design as a whole.
How does the algorithm in Studio preserve the overall layout when resizing?
In Studio, resizing does not compromise the overall layout due to the underlying sophisticated algorithm. When the layout is auto-resized, the algorithm reflows objects, ensuring that the integrity and the aesthetic balance of the whole design is maintained.
What is the Foundry in the context of Studio?
In the context of Studio, the Foundry refers to the place where new AI technologies are developed and added to expand the capabilities of the design tool. This continual expansion is part of Studio's commitment to pushing the boundaries of web design.
What is the future vision for Studio?
Studio's vision for the future is to enable designers to create with the power of AI. The aspiration is for computers to understand human intentions and bring ideas to life, transforming the design process to be more efficient and innovative.
What AI technologies is Studio looking to add in the future?
IDK
How can I get early access to Studio?
You can get early access to Studio through their website. There's an option to 'Get Early Access'. After clicking it, you have to agree to the terms, after which you would be placed on a waiting list.
What does it mean that Studio is an 'AI-augmented design tool'?
Being an 'AI-augmented design tool' means that Studio harnesses the capabilities of Artificial Intelligence to enhance the design process. AI in Studio facilitates design suggestions, completes complex tasks via voice assistant, and enables automatic resizing of layouts amongst other functions.
Can I use Studio for complex web design tasks?
Yes, Studio is explicitly tailored for complex web design tasks. Its features like AI-based design suggestions for problem areas and the voice assistant that performs multi-step tasks simplify the complex design work.
How does Studio transform the way designers create websites?
Studio transforms the way designers create websites by harnessing the power of AI. Tasks like layout adjustments, complex styling tasks and idea suggestions that used to be time-consuming and complicated can now be carried out automatically, seamlessly and promptly using Studio's AI capabilities.
What is 'revolutionized web design' according to Studio?
Studio refers to 'revolutionized web design' as the process of employing artificial intelligence to aid in designing modern websites. It's a new way of designing where AI assists in suggesting design solutions, carrying out complex tasks via voice commands, and maintaining the integrity of the design during resizing of layouts.
How is the design experience in Studio different from other tools?
The design experience in Studio offers several unique features, all underpinned by AI. Unlike other tools, Studio provides design suggestions for problem areas, has a voice assistant that performs complex tasks, and an auto-responsive feature that maintains layout integrity when resizing. This makes the design process smoother, faster, and more efficient.
Can Studio adapt its designs for different screen sizes automatically?
Yes, one of the unique features offered by Studio is its auto-responsive design, which uses AI to automatically adapt and adjust designs to fit different screen sizes while maintaining the overall layout and design integrity.
What are the benefits of using Studio for my web design project?
Studio provides several benefits for your web design project, including rapid design suggestions, the ability to perform complex tasks quickly via a voice assistant, and auto-resizing of layouts without disturbing the overall design. It's a tool where artificial intelligence aids design, providing an efficient, innovative, and futuristic web designing experience.
What are the terms of service and privacy policy for using Studio?
Studio's terms of service and privacy policy can be accessed through its website. Users need to agree to these terms before they can get access to the tool.
Can I use the voice assistant for multi-step tasks in Studio?
Yes, the voice assistant in Studio can handle multi-step tasks. By simply issuing a voice command, you can have the assistant carry out complex styling tasks, which speeds up the design workflow and reduces manual workload.
If you liked Studio Design
Help
⌘ + D bookmark this site for future reference
⌘ + ↑/↓ go to top/bottom
⌘ + ←/→ sort chronologically/alphabetically
↑↓←→ navigation
Enter open selected entry in new tab
⇧ + Enter open selected entry in new tab
⇧ + ↑/↓ expand/collapse list
/ focus search
Esc remove focus from search
A-Z go to letter (when A-Z sorting is enabled)
+ submit an entry
? toggle help menu
x
Sign in to continue (100% free)
To prevent spam, some actions require being signed in. It's free and takes a few seconds.
Sign in with Google