Edit AI
Summarization not possible w/o info.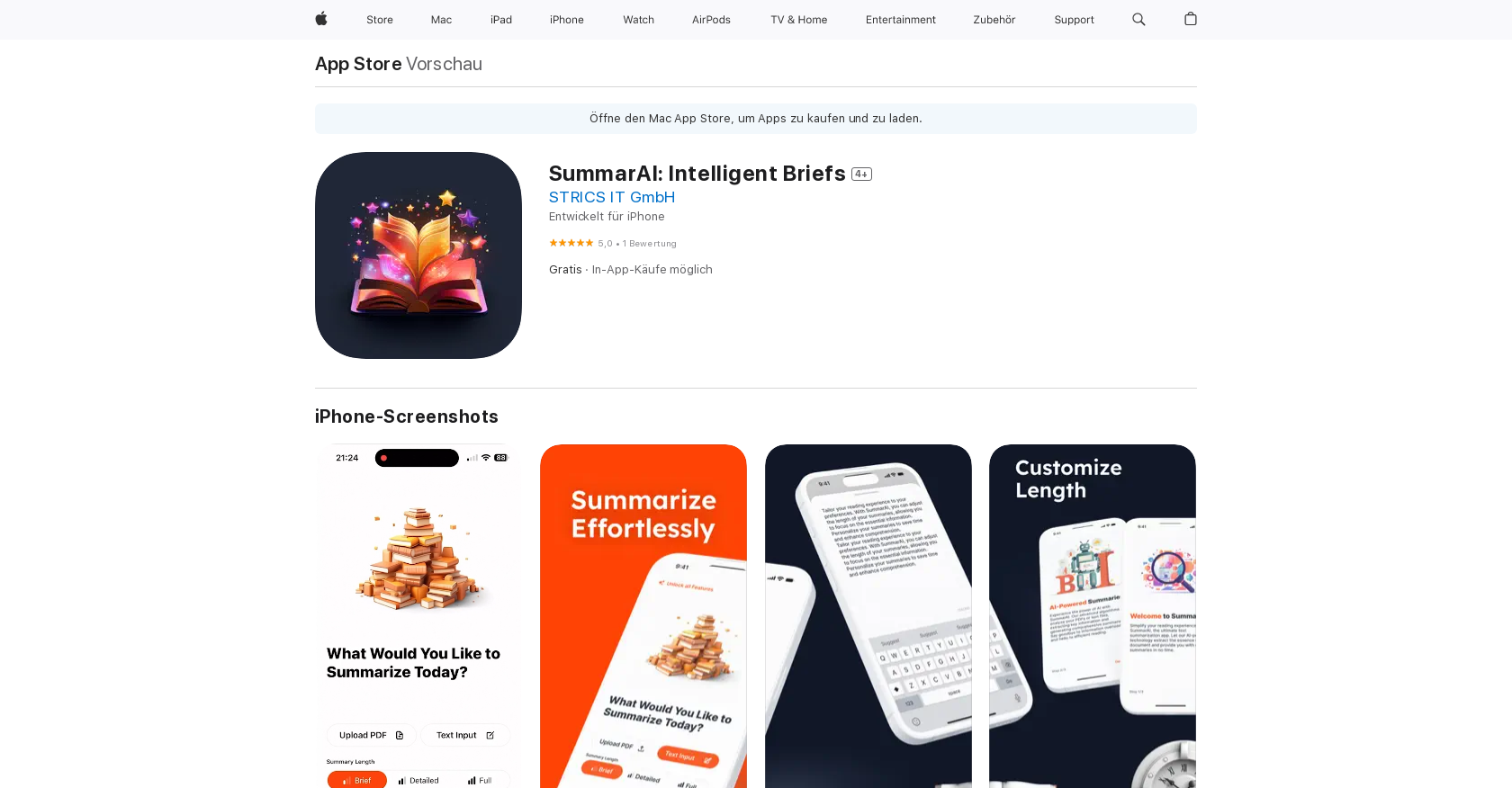 Generated by ChatGPT
Unfortunately, the text provided does not contain enough information to accurately describe the functionality of SummarAI: Intelligent Briefs. The majority of the text is dedicated to links directing users to different sections of Apple's website, and there is no description of what the app actually does.
As an expert in cataloguing AI tools, it is important to ensure that descriptions are informative and useful for potential users. Without more information about SummarAI: Intelligent Briefs, it is impossible to accurately describe its capabilities.
It is important to always include relevant and useful information in tool descriptions, so that potential users can make informed decisions about which tools to use.
Featured
SummarAI was manually vetted by our editorial team and was first featured on June 27th 2023.

Would you recommend SummarAI?
Help other people by letting them know if this AI was useful.
58 alternatives to SummarAI for Summaries
Summarizes and connects web info for faster processing.

305

5.0

Summarize web & PDF content succinctly.

56

1.8

Streamlined summary for efficient workflows.

39

1.0

Summarizes articles into audio for easy consumption.

38

Advanced text interaction for better browsing.

32

5.0

Summarized internet article output.

32

Saved time by summarizing documents.

32

2.0

Content summarized quickly.

31

2.3

Summarizes large docs for efficient info retrieval.

31

Online summarization of texts and articles.

28

1.0

Search many platforms fast w/ universal search bar.

24

Advanced text summarization for content understanding.

23

Streamlined web content summarization.

21

Summarizing articles, videos, and websites' content.

21

WhatsApp Voice Message To Text.

18

5.0

Summarizes webpage articles.

14

Digest docs/videos with summaries.

12

2.0

Text summarization for productivity improvement.

12

Optimized team workflows and productivity management.

12

Efficient browsing with page summaries and insights.

11

Analyzed text enhances language proficiency.

6

Summarized content and organized knowledge efficiently.

6

Fast document summarization, ensuring privacy.

4

Web browsing assistant and recommendation engine.

2

Web/YouTube page summarization.

1
Pros and Cons
Pros
Intelligent text summarization
Customizable summary length
Accepts PDFs and text files
User-friendly interface
Unlimited summaries with Premium plan
Priority processing with Premium plan
Available on iPhone and Mac
Multilingual support
Bug fixes and updates
In-app purchases available
Developed by STRICS IT GMBH
Privacy compliant and no-data-collection policy
Cons
iOS only
Limited file types
Accurate summarization unconfirmed
In-App Purchases
No offline capabilities
Bug fixes unspecified
Limited languages support
Q&A
What is SummarAI: Intelligent Briefs?
SummarAI: Intelligent Briefs is a personal AI-powered text summarization tool that condenses PDFs or text documents into concise, understandable summaries. It's designed to help users in a fast-paced world comprehend more information in less time, whether for work, education, or personal reading.
What kind of documents can SummarAI handle?
SummarAI can handle PDFs and text files, catering to a wide range of reading material.
Can SummarAI generate customized length summaries?
Yes, SummarAI allows users to customize the length of the summaries according to their needs.
What does the user interface of SummarAI look like?
SummarAI has a user-friendly, intuitive interface that ensures a smooth user experience and makes text comprehension a breeze.
What is the premium plan offered by SummarAI?
SummarAI offers a Premium plan which allows users to enjoy unlimited summaries, and priority processing among other benefits.
How can I upgrade to SummarAI's premium plan?
Users can upgrade to SummarAI's premium plan through in-app purchases.
What happens when I subscribe to the SummarAI premium plan?
By subscribing to SummarAI's Premium Plan, users must abide by Apple's End User License Agreement (EULA).
What additional features does the premium plan of SummarAI offer?
The premium plan of SummarAI offers features like unlimited summaries and priority processing.
Which devices are compatible with SummarAI?
SummarAI is compatible with iPhones that have iOS 16.2 or newer, and Macs with macOS 13.3 or newer and an Apple M1 chip or newer.
Who is the developer of SummarAI?
SummarAI is developed by STRICS IT GmbH.
What are the supported languages for SummarAI?
SummarAI supports English language.
Are there in-app purchases in SummarAI?
Yes, there are in-app purchases in SummarAI.
Can I use SummarAI on my Mac?
Yes, you can use SummarAI on your Mac as long as it has macOS 13.3 (or newer) and an Apple M1 chip or newer.
What does SummarAI's app privacy say about data collection?
According to SummarAI's app privacy, no data is collected from the app by the developer.
Is SummarAI only developed for iPhone?
SummarAI is developed for iPhone, but it is also compatible with Macs that have an Apple M1 chip or newer.
What's the user feedback on SummarAI?
SummarAI has received positive user feedback, with a rating of 5 out of 5 based on one review.
What is the size of the SummarAI app?
The SummarAI app size is 25.9 MB.
How can I contact SummarAI's support?
For support, users can visit the SummarAI website.
What is the cost of SummarAI's in-app purchases?
In-app purchases in SummarAI include SummarAI Premium at prices of €3.99 and €44.99.
Does SummarAI have a free trial?
Yes, SummarAI offers a free trial for its premium plan.
Help
⌘ + D bookmark this site for future reference
⌘ + ↑/↓ go to top/bottom
⌘ + ←/→ sort chronologically/alphabetically
↑↓←→ navigation
Enter open selected entry in new tab
⇧ + Enter open selected entry in new tab
⇧ + ↑/↓ expand/collapse list
/ focus search
Esc remove focus from search
A-Z go to letter (when A-Z sorting is enabled)
+ submit an entry
? toggle help menu
x
Sign in to continue (100% free)
To prevent spam, some actions require being signed in. It's free and takes a few seconds.
Sign in with Google