Edit AI
Digest docs/videos with summaries.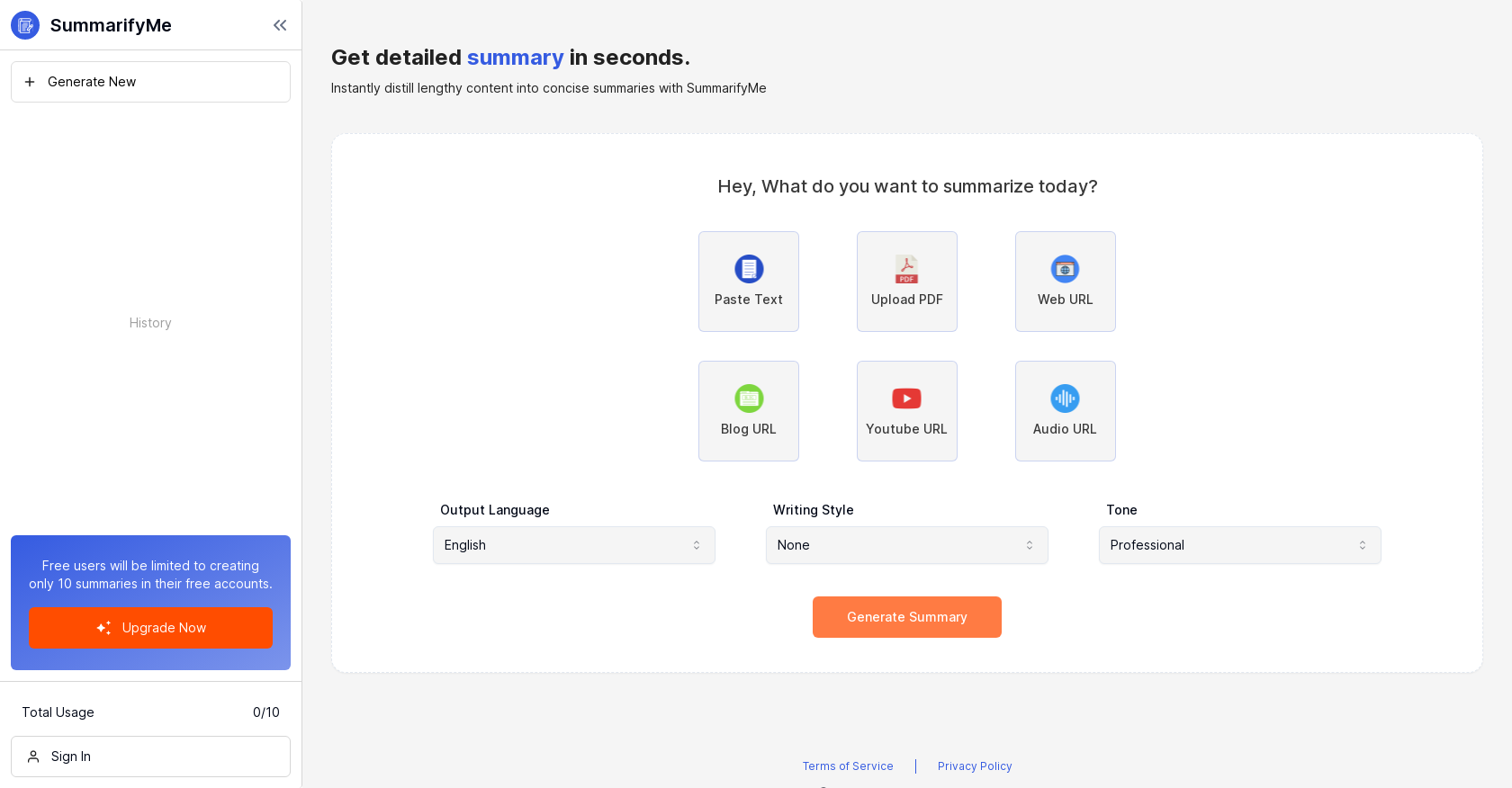 Generated by ChatGPT
Summarify is an AI-powered tool that provides all-in-one summarization capabilities. It allows users to generate concise summaries from various sources, including blogs, PDFs, text, websites, and YouTube videos.
The tool aims to quickly distill lengthy content into easily digestible summaries.Users can access Summarify through sign-in with an avatar. Free users have limitations and can create only up to 10 summaries.
The tool offers instant and detailed summaries with a range of output language options such as Pidgin, Marathi, Telugu, Turkish, Tamil, Yue Chinese, and Vietnamese.
Users can also choose specific writing styles, including none, Naval Ravikant, Elon Musk, Balaji Srinivasan, Joe Rogan, Jordan Peterson, and more.Summarify emphasizes efficiency, enabling users to paste text or upload PDF files for summarization.
It also offers the option to input web URLs or blog URLs to generate summaries. Additionally, users can provide YouTube video or audio URLs to extract condensed summaries.The website includes links to the tool's terms of service and privacy policy to ensure transparency and compliance.
Summarify is a product of 1811 Labs and is presented in a straightforward and functional manner, without excessive marketing speak or buzzwords.
Featured
Summarify.me was manually vetted by our editorial team and was first featured on November 9th 2023.

Would you recommend Summarify.me?
Help other people by letting them know if this AI was useful.
58 alternatives to Summarify.me for Summaries
Summarizes and connects web info for faster processing.

305

5.0

Summarize web & PDF content succinctly.

56

1.8

Streamlined summary for efficient workflows.

38

1.0

Summarizes articles into audio for easy consumption.

38

Advanced text interaction for better browsing.

32

5.0

Summarized internet article output.

32

Saved time by summarizing documents.

32

2.0

Content summarized quickly.

31

2.3

Summarizes large docs for efficient info retrieval.

31

Online summarization of texts and articles.

28

1.0

Search many platforms fast w/ universal search bar.

24

Advanced text summarization for content understanding.

23

Streamlined web content summarization.

21

Summarizing articles, videos, and websites' content.

21

WhatsApp Voice Message To Text.

18

5.0

Summarizes webpage articles.

14

Text summarization for productivity improvement.

12

Optimized team workflows and productivity management.

12

Efficient browsing with page summaries and insights.

11

Analyzed text enhances language proficiency.

6

Summarized content and organized knowledge efficiently.

6

Fast document summarization, ensuring privacy.

4

Web browsing assistant and recommendation engine.

2

Web/YouTube page summarization.

1
If you liked Summarify.me
Help
⌘ + D bookmark this site for future reference
⌘ + ↑/↓ go to top/bottom
⌘ + ←/→ sort chronologically/alphabetically
↑↓←→ navigation
Enter open selected entry in new tab
⇧ + Enter open selected entry in new tab
⇧ + ↑/↓ expand/collapse list
/ focus search
Esc remove focus from search
A-Z go to letter (when A-Z sorting is enabled)
+ submit an entry
? toggle help menu
x
Sign in to continue (100% free)
To prevent spam, some actions require being signed in. It's free and takes a few seconds.
Sign in with Google