Edit AI
By
YouTube video insight extraction & summarization.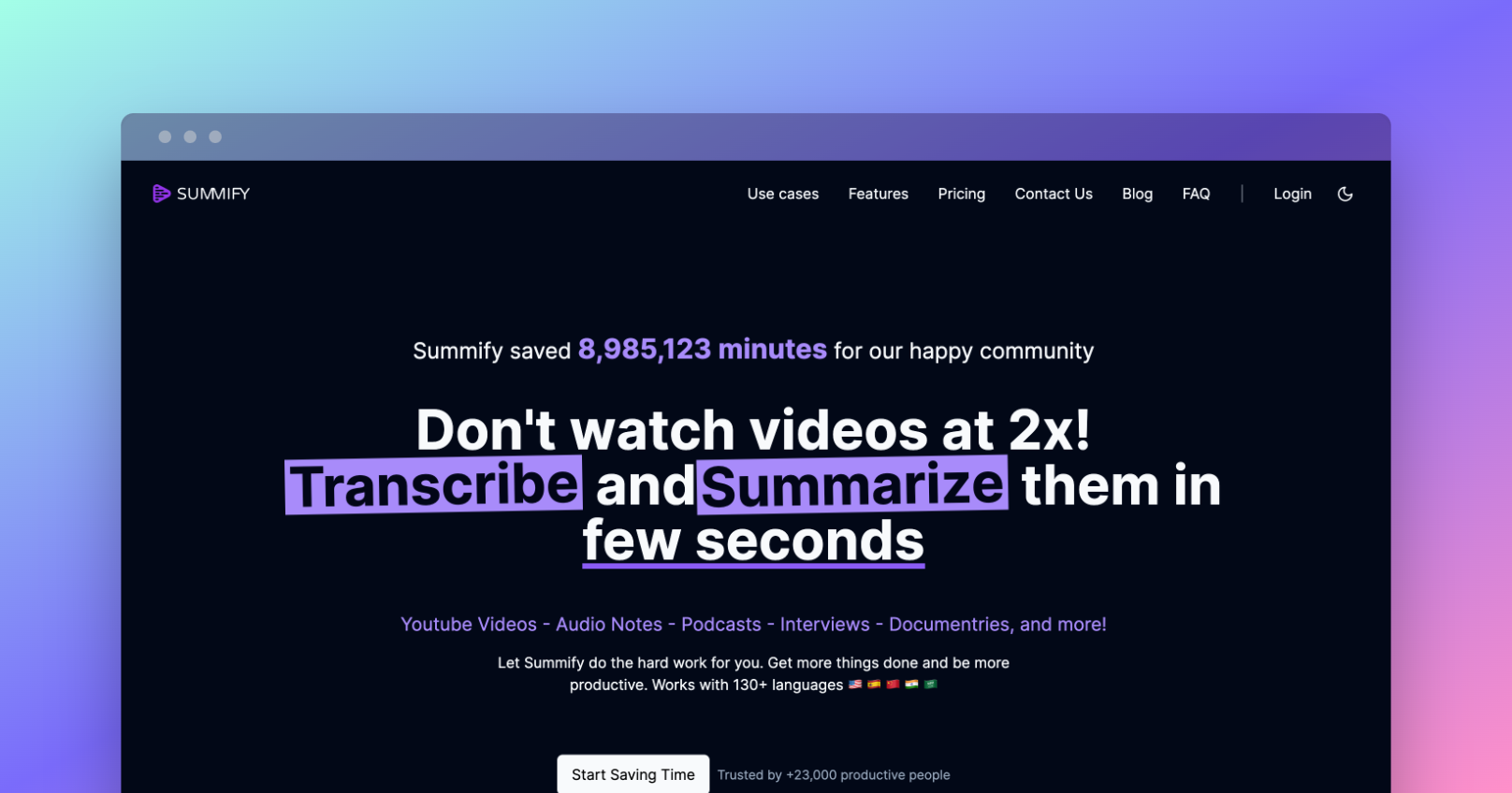 Generated by ChatGPT
It's a AI-powered tool that takes those long videos and turns them into quick, easy-to-read summaries. No more endless watching—Summify helps me get the gist in no time.
Try it and watch your video-watching game change
Featured
Summify was manually vetted by our editorial team and was first featured on October 2nd 2023.

Would you recommend Summify?
Help other people by letting them know if this AI was useful.
11 alternatives to Summify for Video summaries
Video learning with summary and quiz features.

620

3.0

Summarize large amounts of content quickly.

203

4.8

Creates short video clips from engaging segments.

154

3.0

Extracting key points for efficient video note-taking.

68

3.7

Video summarization for efficient info consumption.

52

5.0

Automatic video summarization.

43

3.0

Video summarization for enhanced engagement.

37

Quickly summarizes video content for easy learning.

24

Media summaries via NLP & human input.

21

Improved video viewing with interactive conversations.

17

Content summarization & Q&A for multiple formats.

13
If you liked Summify
Help
⌘ + D bookmark this site for future reference
⌘ + ↑/↓ go to top/bottom
⌘ + ←/→ sort chronologically/alphabetically
↑↓←→ navigation
Enter open selected entry in new tab
⇧ + Enter open selected entry in new tab
⇧ + ↑/↓ expand/collapse list
/ focus search
Esc remove focus from search
A-Z go to letter (when A-Z sorting is enabled)
+ submit an entry
? toggle help menu
x
Sign in to continue (100% free)
To prevent spam, some actions require being signed in. It's free and takes a few seconds.
Sign in with Google