Edit AI
By

Automated productivity and collaboration platform.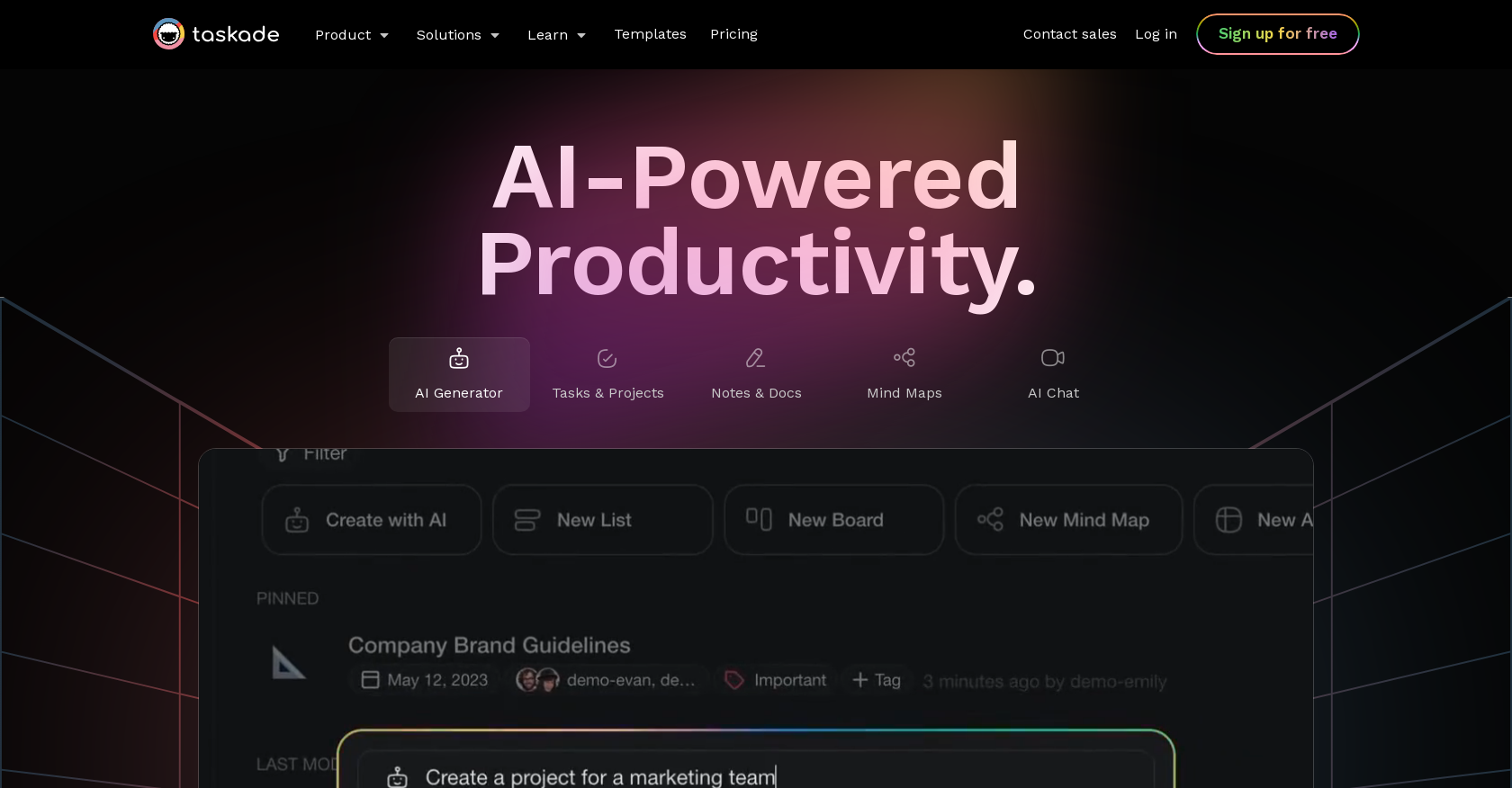 Generated by ChatGPT
Most existing AI solutions are like grains of sand on a beach, dispersed and disconnected.
Taskade offers a different approach by blending artificial intelligence with project & task management features including video calls and real-time collaboration. It's not just another project management platform. It's a holistic solution for teams and solo professionals who want to work smarter, not harder.
Taskade's AI features break down into four key components — a writing assistant ✏️ that "lives" inside the project editor, an AI chatbot 🤖, a project & task generator ⚡️, and hundreds of AI-powered templates 🎨. All these tools work in harmony to make your workflows more intuitive and interconnected.
And here's the best part. You can use Taskade's dynamic workflows to visualize your ideas in many different ways. Start with the classic mind map or to-do list to warm up. And when you're done, seamlessly transition to a Kanban board or a calendar view without losing context. It's that simple.
Taskade is available on all major platforms, including Mac, Windows, iOS, Android, and Linux. It also works in a web browser so you and your team can stay productive wherever you are.
- 🤖 Use the power of AI to automate and supercharge your workflows.
- ✅ See all your tasks and deadlines in a unified workspace.
- 🧠 Brainstorm ideas that spark conversations.
- 🗓️ Plan, create, and edit your content the easy way.
- ⚙️ Manage all your project efforts in one place.
- ⚡ Collaborate and chat with your team and partners in real time.
- 👁️ Switch between six unique project views without losing context.
- 🔗 Integrate seamlessly with other tools.
Featured
Taskade was manually vetted by our editorial team and was first featured on August 16th 2023.

Would you recommend Taskade?
Help other people by letting them know if this AI was useful.
89 alternatives to Taskade for Task automation
Efficient and automated business task assistant.

213

5.0

Boost productivity with virtual assistants.

124

AI assistant for efficient work

81

Automated complex browser workflows.

77

Task management and productivity tracking.

75

NLP and analytics enhance task management.

67

5.0

Automation app automates workflows and web app control.

61

5.0

Task automation and productivity enhancement.

55

5.0

Automated platform improves HR/IT productivity.

52

ChatGPT linked with 5k+ apps via no-code platform.

52

Automated task management for calendar & email.

47

Workplace writing assistant for productivity.

43

Optimized workflow and automated code development.

42

Enhances website UX with intelligent integration.

41

Assists in writing emails and messages.

35

Personalized assistance for enhanced productivity.

35

Workflow optimization and process mining for industries.

35

Automated assistant handles tasks and talks naturally.

35

Insights and personalized interactions for businesses.

33

Spreadsheet optimization with assistants for efficiency.

32

Improved productivity in Shortcuts app

31

Automated assistant for daily task automation.

31

Improved engineering productivity and decision-making.

29

Automated productivity assistant.

29

Automate workflow by outsourcing simple tasks.

28

5.0

Automated news delivery & aggregation service

26

5.0

Automated Android task assistant.

26

1.0

Virtual assistant for improving text and productivity.

26

Managed family chaos through SMS copilot.

25

Automated task integration with custom flexibility.

25

Automated fintech compliance process optimization.

24

API platform for diverse tasks.

24

Versatile chatbot for writing, proofreading, and more.

24

Improved 3D workflow w/ easy env. creation & history.

24

5.0

Automates mundane tasks and enhances productivity.

23

Automated team time management platform.

22

Increased efficiency through online task automation.

20

Scheduling & email assist. with reminders.

21

19

Automated business processes via language.

18

1.0

Automation of cron jobs using natural language.

18

Automated task management for organizations.

16

Automated web browsing task automation

17

Automated mobile chat assistant for tasks and help.

17

Automated business processes for increased productivity.

15

Automated daily writing and translation prompts.

13

Streamlined developer task management and collaboration.

13

Automated business task co-pilot.

12

Improved productivity through efficient task execution.

12

Text processing and workflow optimization.

12

Automated sales team productivity boost.

12

Simulating autonomous agents to solve tasks.

12

1.0

Simplified tasks, streamlined workflow.

11

Automated content and tasks for startups.

11

Automated employee performance review writing.

11

Streamlined task management via text messaging.

11

Insurance automation resulting in improved productivity.

11

1.0

Streamlined development and deployment.

10

5.0

Automated content generation workflow.

10

Automated chatbot for writing and task productivity.

9

Automated conversational employee support platform.

8

Automated CRM with contact sync and personalization.

8

Improved teamwork and productivity in projects.

7

Improved writing productivity assistant.

6

Improved legal efficiency for increased productivity.

5

Improved Interactions and Operations

4

Enrich browsing with automated extension.

5

Applications for various industries

4

Media asset and content management platform.

4

Enhanced team collaboration for productivity.

4

Enhanced productivity through seamless task management

3

Automated browser actions for data collection.

3

Personal task assistant and workflow automation.

3

Task management, scheduling, email streamlined.

2

Automated task customization.

2

Optimized document workflows across functions.

2

Improved task efficiency and increased productivity.

1

Productivity and knowledge assistants

1

Automated workflow and task delegation for productivity.

1

Automated customer support with cognitive capabilities.

1
Pros and Cons
Pros
Automated productivity and collaboration
Offers real-time video calls
Integrates real-time collaboration
Dynamic idea visualization
Different project views switchability
Seamless tool integrations
Unified workspace for tasks/deadlines
Brainstorms ideas within the platform
Content planning, creation, and editing
Seamless realtime team collaboration
Chat with team realtime
Generates dynamic task lists
Includes in-built video chat
Live project collaboration
Automates 700+ tasks
Offers flowcharts and mind maps
Supports shared and collaborative calendars
Cross-platform task lists
Embeds Mind Map view in real-time
Offers customizability for to-do lists
Integrates with Apple Mail, Google Calendar, and Outlook
Efficient bulk project management
Map visualizations with drag and drop
Multi-project and multi-team management
Over 500+ customizable templates
Streams and organizes project flow
Supports GTD, Kanban, and Pomodoro
Three-way synchronization
Support for recurring tasks
User-friendly project views
Secure and separate workspaces
Real-time video chat, screen sharing and syncing
Realtime synchronization across devices
Cons
Overloaded functionalities could overwhelm
Steep learning curve
Limited task personalization
Possible UI clutter
Lack of specialist tools
No standalone desktop application
No inherent data analysis tools
Strictly structured task management
Q&A
What is Taskade?
Taskade is an AI-powered productivity platform designed to automate tasks and supercharge workflows. It offers a blend of project and task management features with real-time collaboration capabilities. The platform integrates four key AI components: a writing assistant, an AI chatbot, a project & task generator, and hundreds of AI-powered templates, which work together to deliver a more intuitive and interconnected workflow experience.
How does the Taskade AI feature work?
Taskade's AI feature works by automating various productivity and collaboration tasks. It includes a writing assistant that helps with editing within the project editor, an AI chatbot that interacts with users, and a project & task generator for quickly creating new workflows. It also provides hundreds of AI-powered templates that can be used to streamline workflow creation and management.
Does Taskade's AI component include any sort of writing assistant?
Yes, one of Taskade's AI components includes a writing assistant. This AI-based tool is incorporated into the project editor and offers real-time assistance to users working on tasks and projects by providing suggestions, corrections and improving overall content quality.
What is the function of Taskade's AI chatbot?
Taskade's AI chatbot is designed to facilitate team conversations pertaining to tasks and documents. It is tailored and can adapt to various roles and expertise, providing assistance right inside your projects, allowing team members to interact more efficiently in real-time.
What type of tasks does Taskade's project & task generator automate?
Taskade's project & task generator is programmed to automate the process of creating and managing tasks and projects. The generator is designed to use AI to improve workflow efficiency and generates dynamic task lists, flow charts, mind maps, and other visual representations of workflows to aid project management.
Can we utilize the AI-powered templates provided by Taskade?
Yes, Taskade provides hundreds of AI-powered templates which can be utilized to simplify the creation and management of tasks and projects. These templates are designed to automate and supercharge workflows, adapting to a variety of different professional scenarios and requirements.
Can the Taskade platform be used for team brainstorming?
Indeed, Taskade allows for team brainstorming through its AI assistant designed for the coordination of tasks and project activities. This feature encourages users to interact with tasks and documents, helping them to generate new ideas, tasks and initiatives collaboratively.
Does Taskade offer a feature to switch between project views?
Yes, Taskade provides the feature to switch between six unique project views without losing context. One can start with a classic mind map or to-do list and transition to a Kanban board, a calendar view, and other formats whenever needed.
What kind of integration does Taskade offer with other tools?
Taskade offers extensive integration capabilities with other tools. Although specific tools aren't mentioned on their website, the platform is designed to integrate seamlessly with a range of different productivity, communication, project management and other types of work tools to create a unified and efficient workspace.
Is Taskade available on iOS and Android platforms?
Yes, Taskade is available on both iOS and Android platforms. This ensures that users can access and work on their tasks using their preferred device, facilitating productivity and collaboration regardless of location.
Does Taskade have an AI-powered feature to prioritize tasks?
Yes, Taskade's AI feature has the capability to prioritize and organize tasks. This feature aids in streamlining the tasks, improving focus, and promoting peak productivity.
How can I implement Taskade for project and task management?
Taskade can be utilized to manage tasks and projects by using its AI-powered components. The platform offers features that include real-time collaboration, AI writing assistant, AI chatbot, task automation, and the ability to switch between different project views. These make the process of task management more efficient and systematic.
How does Taskade's AI feature boost productivity?
Taskade's AI features help to automate tasks, streamline workflow generation and management, and facilitate real-time team collaboration. The platform's tools, from the AI chatbot and writing assistant to the project & task generator and AI templates, work together to enhance productivity by simplifying task creation, execution, and management.
Can I use Taskade to generate and manage workflows?
Yes, with Taskade, you can generate dynamic workflows like to-do lists, flow charts, mind maps, and more for a single task or objective. It also makes visualizing your project in various views like lists, boards, calendars, mind maps, organograms, and action views quite easy.
Is the Taskade platform suitable for real-time collaboration and chats?
Yes, Taskade is designed for real-time collaboration allowing team members to coordinate tasks, chat, and engage in video calls within the platform itself. This enables teams and partners to discuss ideas, modify workflows, and take decisions together in real-time.
Can Taskade be used for generating new ideas and mapping out tasks?
Yes, one of Taskade's features enables users to generate new ideas and map out tasks using AI. This involves turning thoughts into actionable items and tracking progress across different views. Users can transform ideas into dynamic workflows, thus fostering creativity and productivity.
Can Taskade handle tasks, mind maps, video calls, and more?
Yes, Taskade is a holistic tool that covers various project and task management functions. It supports tasks, mind maps, video calls, and more, providing a unified workspace. The AI features, combined with the real-time collaboration toolset, aid in project coordination and task automation.
Is Taskade useful for managing tasks and deadlines in a unified workspace?
Yes, Taskade allows viewing all tasks and deadlines in a unified workspace. The AI-powered platform helps manage projects efficiently by keeping track of all upcoming deadlines and tasks. This ensures that no assignments are missed and all tasks are organized efficiently.
Is Taskade's AI feature used in it's project editor?
Yes, an AI writing assistant lives inside the project editor of Taskade. The assistant can offer real-time assistance to streamline the writing and editing process within the app, thereby increasing productivity and reducing repetitive tasks.
Can Taskade be used on all major platforms like Mac, Windows, iOS, Android, and Linux?
Yes, Taskade is available on all major platforms including Mac, Windows, iOS, Android, and Linux. Additionally, it also works in a web browser, thereby ensuring productivity and connectivity among team members, irrespective of their device or location.
If you liked Taskade
Help
⌘ + D bookmark this site for future reference
⌘ + ↑/↓ go to top/bottom
⌘ + ←/→ sort chronologically/alphabetically
↑↓←→ navigation
Enter open selected entry in new tab
⇧ + Enter open selected entry in new tab
⇧ + ↑/↓ expand/collapse list
/ focus search
Esc remove focus from search
A-Z go to letter (when A-Z sorting is enabled)
+ submit an entry
? toggle help menu
x
Sign in to continue (100% free)
To prevent spam, some actions require being signed in. It's free and takes a few seconds.
Sign in with Google