Edit AI
Automated creative agency for on-demand creativity.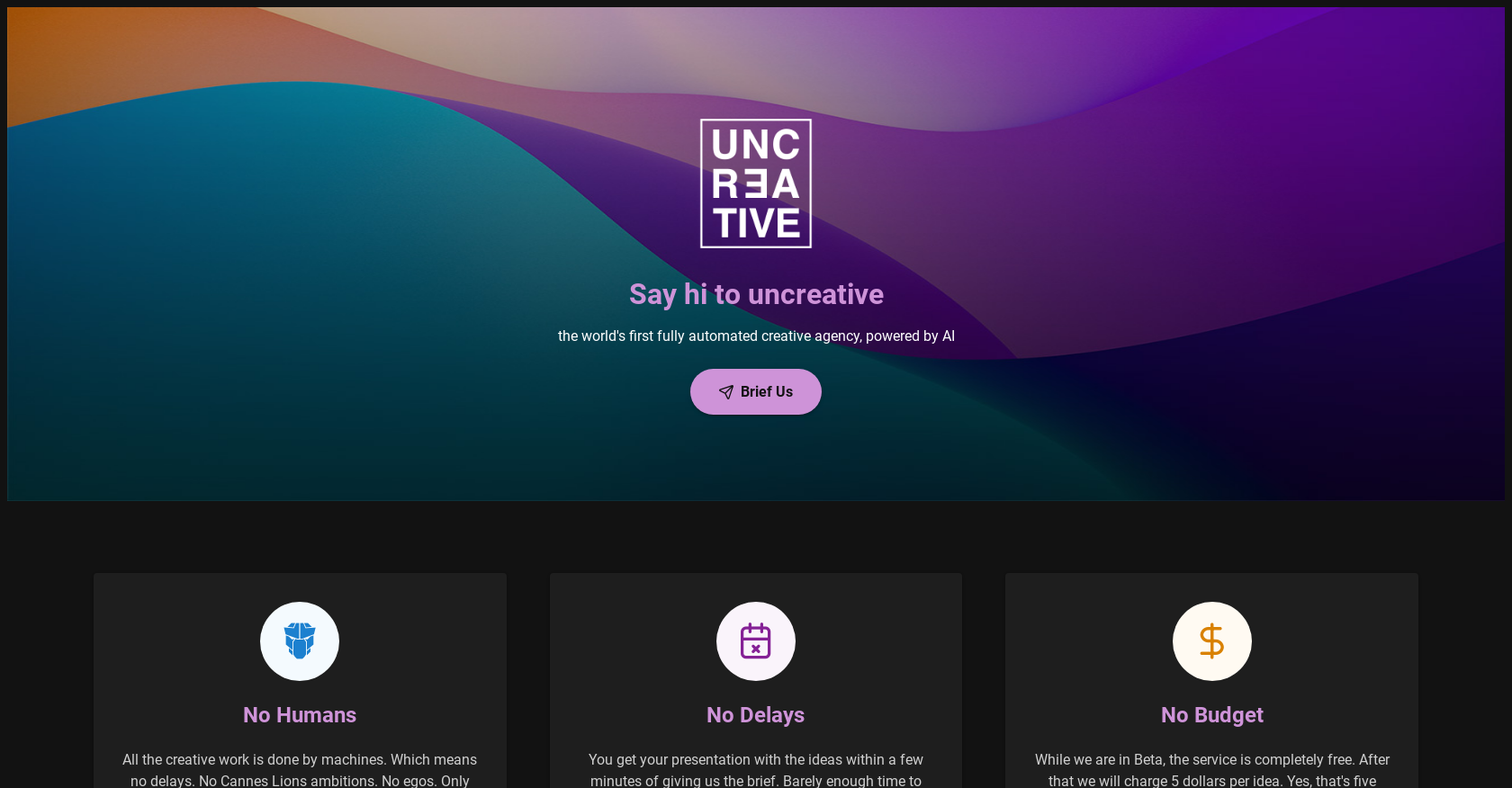 Generated by ChatGPT
Uncreative is the world's first fully automated creative agency, powered by artificial intelligence (AI). It allows users to get creative work done by machines, with no delays and no human interaction required.
This enables users to receive presentations with ideas within minutes of submitting a brief. During the beta phase of the service, the service is completely free, and afterwards, users will be charged a flat fee of five dollars per idea.
This AI-driven service provides an innovative and efficient way for users to get creative work done without the need for a human creative agency.
Featured
Uncreative Agency was manually vetted by our editorial team and was first featured on January 30th 2023.

Would you recommend Uncreative Agency?
Help other people by letting them know if this AI was useful.
209 alternatives to Uncreative Agency for Writing
Writing assistance for articles and product descriptions

252

Content creation and optimization with power.

184

Efficient and accurate composition with assistance

165

3.0

Assisted writing for optimized productivity.

70

Improved writing productivity: free idea generation.

59

1.0

Social media content creation and management.

58

Content generation and optimization assistant.

46

Research document creation.

43

Effective tone selection for communication

39

Writing inspiration and easy assistance for all.

37

36

Writes intelligently for customized composition.

35

5.0

Generated natural and versatile text.

34

Signup-free text generation.

31

5.0

An efficient way to write high-quality text.

30

Enhanced marketing language via NLP.

29

5.0

Created and promoted product launches assisted.

29

Make alluring documents fast with examples and prompts.

28

5.0

Automated writing and editing assistant.

27

Writing assistant for better content creation.

26

Created and translated multilingual content.

25

A text generation platform for various use cases.

24

Academic writing assistance platform.

24

A text generation solution for keyword-driven content.

23

Aided academic writing for students.

23

Content generator for Google Docs.

21

Assisted daily tasks via chatbot.

21

Improved online writing productivity and quality.

21

Accelerates writing with prompts and creativity support.

20

Copywriting solution for content creation.

19

Optimized text summarization for any website.

19

Improves messaging conversations.

19

Create content w/ templates & built-in editor.

18

On-brand copywriting for content creation.

17

Virtual assistant for text generation.

17

Google Docs automated writing.

17

3.0

Imitating favorite authors' writing style.

17

Assisted writing for creativity and research.

16

Accelerates content creation, eliminates writer's block.

16

Spanish text generation aid.

15

Creating and editing content in Google Docs.

15

Automated creation of blog & social media content.

14

5.0

Personal publishing platform with NLP features.

14

Content generation for various types of content.

14

2.0

Powerful AI editor for all writing needs.

14

Customizable templates for content creation.

13

Enhanced editing for professional communication.

13

Writing improvement for various content types.

12

Improve writing, e-commerce.

11

Marketing optimization for increased sales and revenue.

11

Content creation aid for bloggers and writers.

11

Platform creates ads, articles & posts rapidly.

11

Auto-completes, summarizes and generates unique stories.

10

Creates Web Content for Marketing.

10

Helps create engaging content.

10

Generate blog, article, and copy content

10

An app that generates text-based content quickly.

8

Assists in generating quality content quickly.

6

5.0

6

Generated content for business and marketing.

6

Summarize and write content easier.

6

5.0

Generate personal writing styles

6

Customizable content generation for essay writing.

6

A writing assistant for better content creation.

5

Content creation platform for professionals.

5

Assisted writing & translation for personalized content.

5

Improved writing experience.

5

Copywritten for small businesses.

4

Generated content for articles and blogs

4

Generated content & images for blogs, ads, and more

4

Simplified document creation and collaboration.

4

Student, blogger, and educator writing assistant.

4

3

Speeds up copywriting process.

3

3

Faster and accurate text input enhancement.

3

SEO content research assistant

3

Automated writing refinement assistance.

2

Refined written content with writing assistance.

2

Writing Needs Paragraph Generation

2

Cross-platform content creation.

2

1

Enhanced typing assistant for faster messaging replies.

1

Enhanced content creation enhancement.

1

Grammar checking and writing assistance.

1

Enhanced SEO content creation and optimization.

1
Pros and Cons
Pros
Immediate creativity
No human interaction
High speed output
Operates 24/7
Budget-friendly
Flat fee structure
No wait periods
On-demand service
Broad industry application
Effective time management
Highly scalable solution
Idea diversity
No ego clashes
Automated ideation process
Innovative solution
Fully automated creative agency
Free during beta phase
Uniform idea cost post-beta
Minimal operational barriers
Hassle-free implementation
Promotes workflow efficiency
One sentence brief
Streamlined creative process
Reduces human resource dependence
Instant presentation generation
Ideal for quick brainstorming
Independent of personnel availability
Uncomplicated briefing process
Simplified pricing
More time for implementation
Cons
No human interaction
Limited creative diversity
Cannot revise or adjust requests
Flat fee per idea
Lack of emotional understanding
Doesn't understand ambiguous briefs
No instant feedback mechanism
Susceptible to system errors
Potential lack of originality
Relies heavily on user briefs
Q&A
What is Uncreative?
Uncreative is the world's first fully automated creative agency, powered by artificial intelligence (AI). It provides creative content in the form of ideas and the work is done entirely by machines.
How does Uncreative work?
Uncreative works by allowing users to submit briefs. Once a brief is submitted, the AI takes over and generates presentations with ideas within a few minutes, requiring no human interaction.
What are the main features of Uncreative?
The main features of Uncreative include AI-driven creativity, no human interaction, quick turnaround with presentations delivered within minutes, and a flat fee pricing model.
Does Uncreative require human interaction?
No, Uncreative does not require human interaction. All the creative work is handled by machines.
How long does it take to get a presentation with ideas from Uncreative?
It takes a few minutes to get a presentation with ideas from Uncreative after you submit a brief.
How much does Uncreative cost during the beta phase?
Uncreative is completely free during the beta phase.
What will the pricing structure be after beta for Uncreative?
After the beta phase, Uncreative will charge a flat fee of five dollars per idea.
Who is Uncreative meant for?
Uncreative is meant for anyone in need of creative work done quickly and efficiently. This could include businesses, entrepreneurs, marketers, and others who require creative ideas.
How is Uncreative different from a traditional creative agency?
Uncreative differs from traditional creative agencies as it is powered by AI and does not require human input or interaction. It delivers presentations with ideas within minutes as opposed to standard agencies that can have timelines of days or weeks.
Are there any limitations to the type of creative work Uncreative can handle?
IDK
Why is Uncreative referred to as fully automated?
Uncreative is referred to as fully automated because it operates without human intervention. The entire process from receiving the brief, generating ideas, and delivering the presentation is conducted by machines.
Does Uncreative have any partners or collaborations?
IDK
How do I submit a brief to Uncreative?
You can submit a brief to Uncreative by visiting their website and entering your one sentence brief.
What happens after I submit a brief to Uncreative?
After you submit a brief to Uncreative, the AI system goes to work and delivers a presentation with ideas within a few minutes.
What kind of ideas can Uncreative generate?
IDK
Will the price per idea change after the beta phase?
After the beta phase, the cost per idea on Uncreative will be a flat fee of five dollars.
Is artificial creativity the same as human creativity?
Artificial creativity differs from human creativity as it is generated by a machine learning algorithm, not a human brain. While AI can produce creative content in response to a brief, the creativity is rooted in the programmed algorithms and data, not instinct or personal experience.
What are some of the benefits of using Uncreative?
Benefits of using Uncreative include speed, as presentations with ideas are delivered within a few minutes, and scalability due to its AI-driven design. Additionally, it is cost-effective with a flat fee pricing model and requires no human interaction, removing potential delays.
Why does Uncreative claim 'no egos' in their work?
Uncreative claims 'no egos' because the creative work is done by machines, not humans. This approach removes any potential bias or personal taste from the process and focuses solely on the content needed according to the brief.
Is there a subscription option for regular usage with Uncreative?
IDK
If you liked Uncreative Agency