Video Generator by Vidds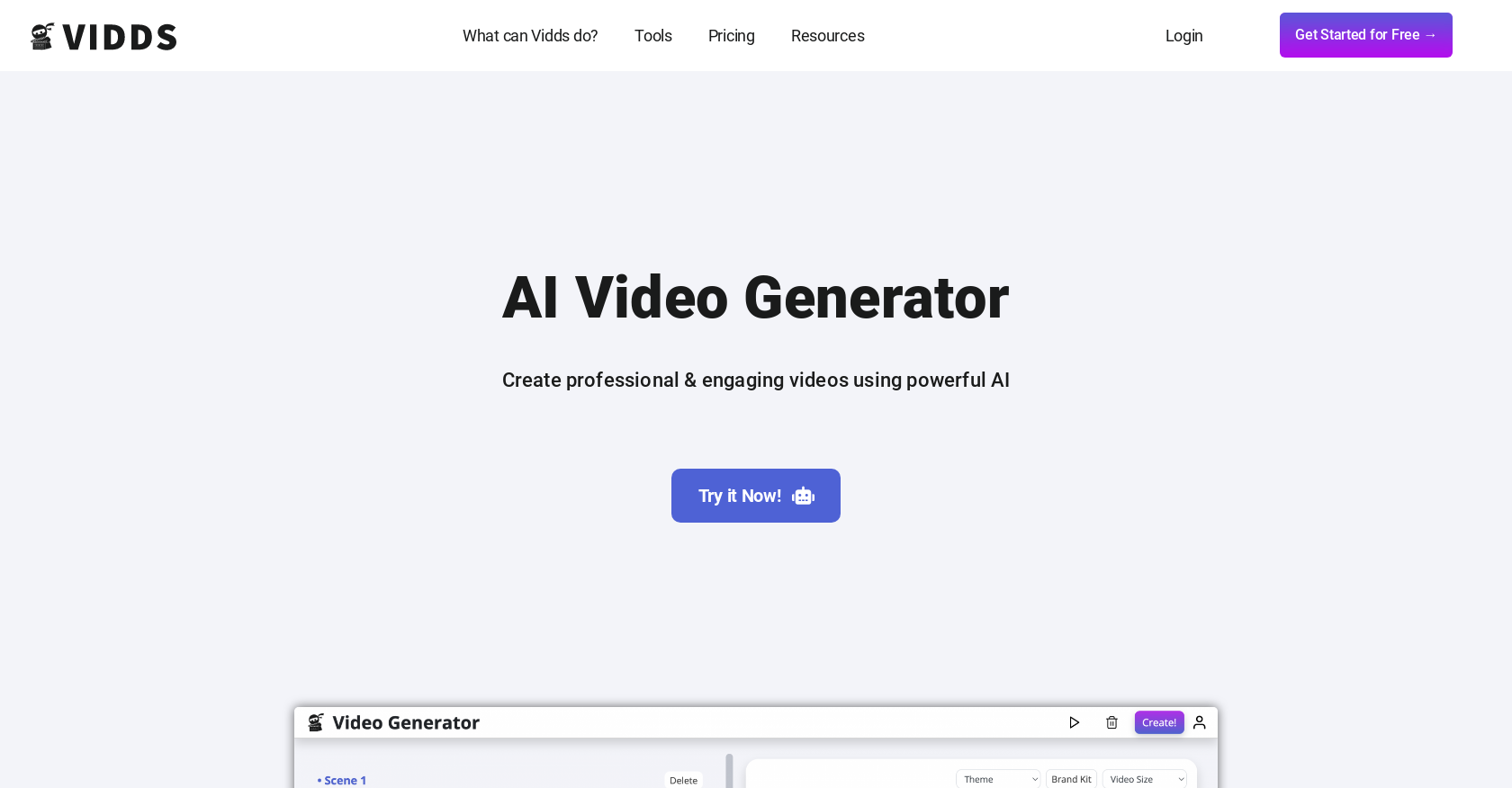 Generated by GPT-3
The AI Video Generator from Vidds.co is a tool that enables users to create professional and engaging videos using artificial intelligence technology. The tool claims to automate the video creation process, enabling users with no video editing experience to create videos in just a few clicks.
The AI Video Generator can be used for various types of videos, including Shopify product videos, social media videos, real estate videos, YouTube videos, email marketing videos, employer branding videos, banner videos, and news and informative videos.In addition to the AI Video Generator, Vidds.co also offers a range of video editing tools, such as adding audio, text, subtitles, images, and transitions to videos.
Users can also merge and filter videos, convert videos to GIFs, and cut videos online with the Vidds.co video editing suite. The tool also offers a free video converter and TikTok video editor, along with tutorials and a video marketing blog as resources.Overall, the AI Video Generator from Vidds.co is a useful tool for businesses and individuals who want to create videos quickly and easily, without needing any video editing experience.
Featured
?
41 alternatives to Video Generator by Vidds for Video generation
17 Mar 2023

07 Mar 2023

03 Feb 2023

26 Feb 2023

28 Feb 2023

03 Jan 2023

18 Jan 2023

27 Dec 2022

28 Dec 2022

29 Dec 2022

05 Oct 2022

11 Oct 2022

14 Oct 2022

17 Oct 2022

22 Oct 2022

20 Sep 2022

21 Sep 2022

29 Sep 2022

14 Jul 2022

02 Jun 2022

07 Jun 2022

08 Jun 2022

12 Jun 2022

16 May 2022

18 May 2022

05 Jan 2022

20 Jan 2022

24 Mar 2022

30 Apr 2021

05 Jun 2021

28 Jun 2021

02 Jul 2021

14 Aug 2021

01 Nov 2020

26 Nov 2020

21 Jan 2019

09 Feb 2019

10 Apr 2019

17 May 2019

09 Apr 2018

23 May 2017