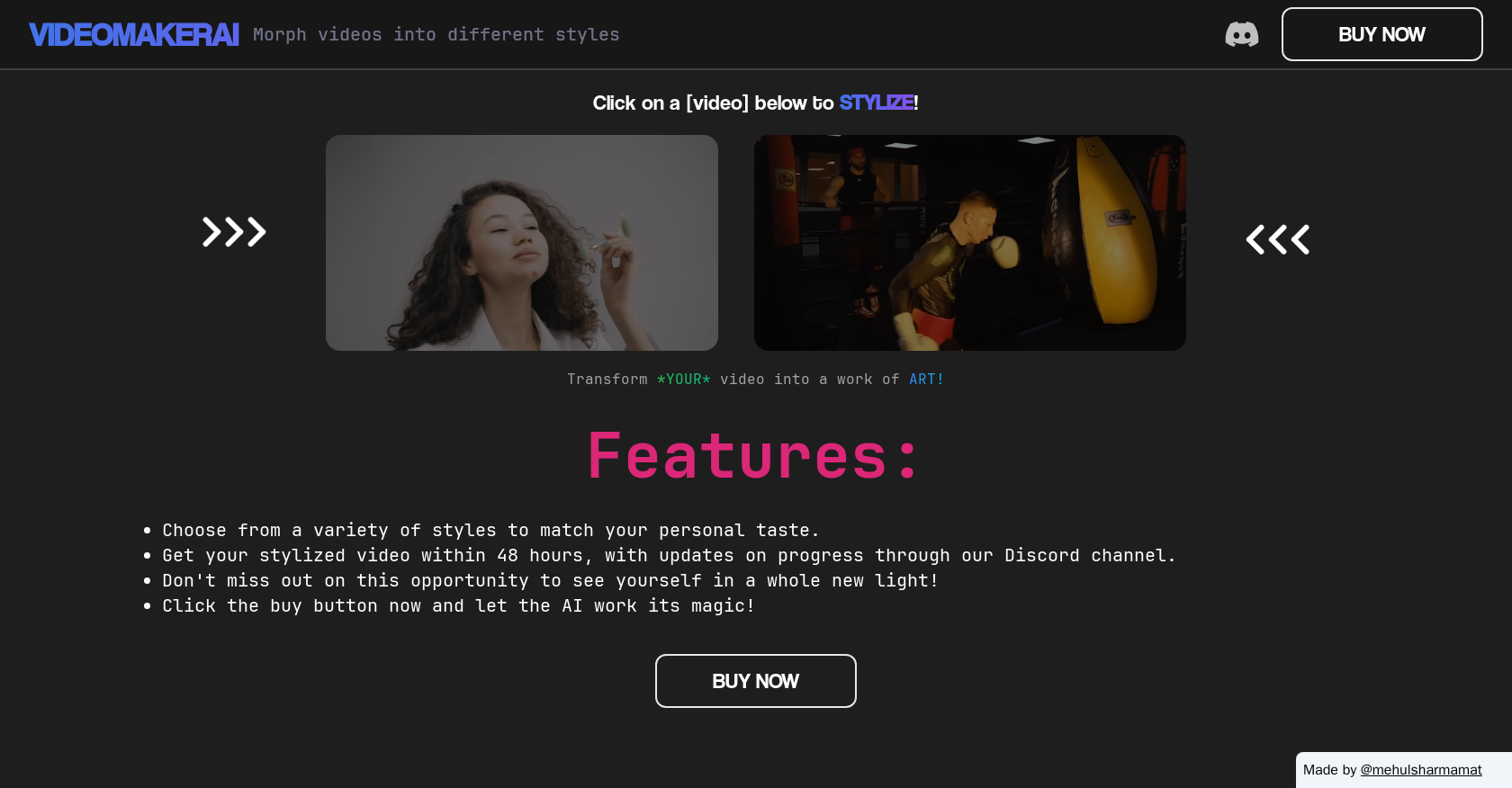 Generated by GPT-3
VideomakerAI is an AI-based video styling tool that provides users with the ability to transform their videos into visually stunning works of art. The tool offers a variety of styles to choose from, including modern, abstract, and vintage.
It promises to deliver stylized videos within 48 hours, with updates on progress via its Discord channel. This is a great opportunity for those who want to express themselves in a unique and artistic way.
The tool is designed and developed by @mehulsharmamat, a renowned AI expert. It is easy to use, with a simple click of the "Buy Now" button providing access to the powerful AI features.
With VideomakerAI, users can create truly unique and visually stunning videos.
Featured
?
42 alternatives to Videomakerai for Video generation
19 Mar 2023

07 Mar 2023

17 Mar 2023

03 Feb 2023

06 Feb 2023

26 Feb 2023

28 Feb 2023

03 Jan 2023

27 Dec 2022

28 Dec 2022

29 Dec 2022

05 Oct 2022

11 Oct 2022

14 Oct 2022

17 Oct 2022

22 Oct 2022

20 Sep 2022

21 Sep 2022

29 Sep 2022

14 Jul 2022

02 Jun 2022

07 Jun 2022

08 Jun 2022

12 Jun 2022

16 May 2022

18 May 2022

05 Jan 2022

20 Jan 2022

24 Mar 2022

30 Apr 2021

05 Jun 2021

28 Jun 2021

02 Jul 2021

14 Aug 2021

01 Nov 2020

26 Nov 2020

21 Jan 2019

09 Feb 2019

10 Apr 2019

17 May 2019

09 Apr 2018

23 May 2017