Edit AI
Music creation platform for songs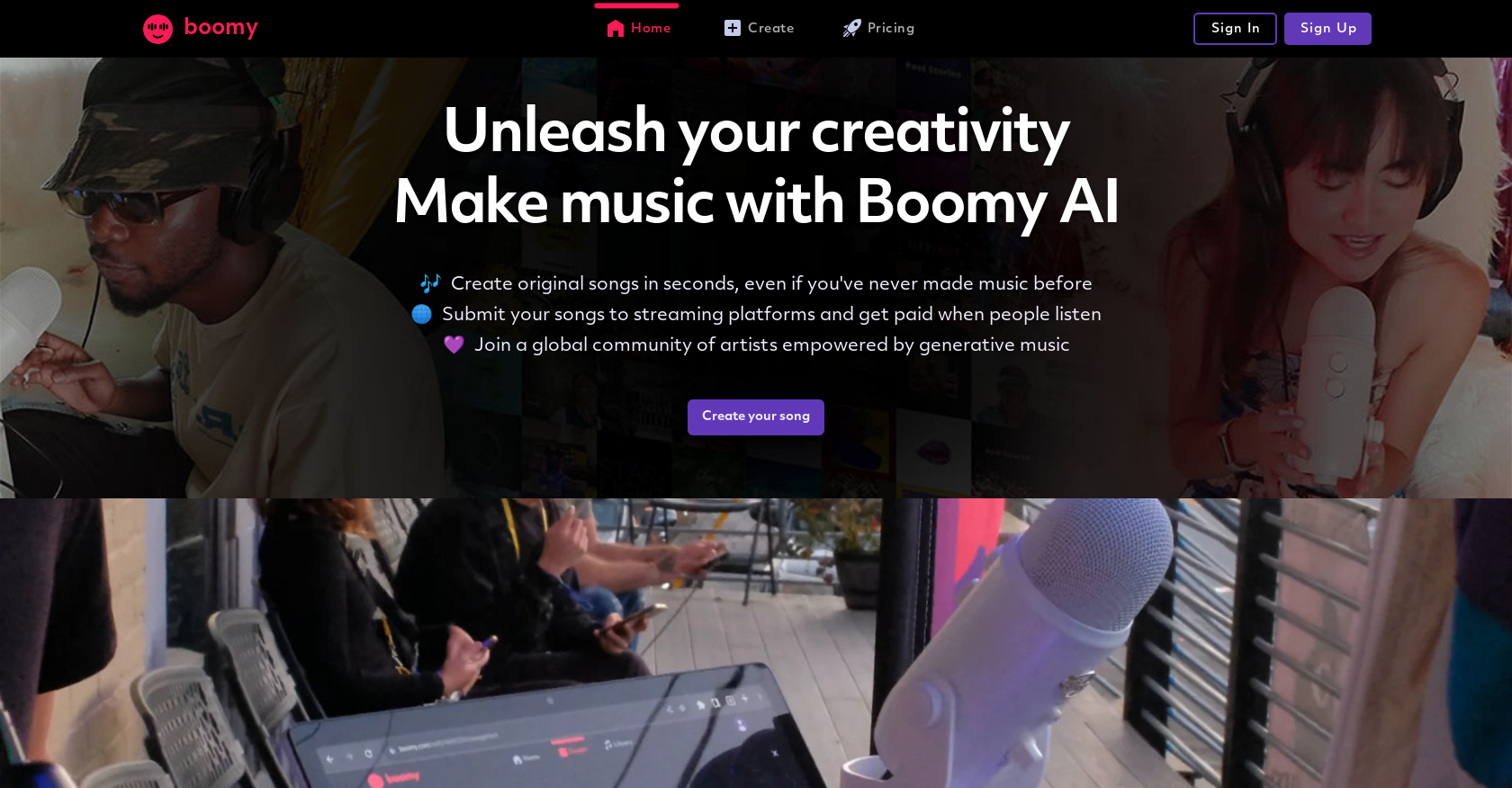 Generated by ChatGPT
Boomy is an AI-powered tool that enables users to create original music quickly and easily, even if they have no prior experience in music production. Users can generate song ideas in a matter of seconds and then customize and refine them to their liking.
Boomy also offers an auto-vocal feature that allows users to add their own vocals to the generated music. One unique aspect of Boomy is that it provides a platform for users to submit their songs to streaming platforms, and they can earn money when people listen to their creations.
This feature allows aspiring musicians and artists to potentially monetize their music, even without traditional music industry connections.Boomy has gained popularity among creatives around the world, with many users expressing their enthusiasm for the platform.
They appreciate the opportunity to explore new musical ideas and turn them into something they truly love. The tool has also been praised for its ability to aid in the creation of music to accompany AI-generated animations, allowing users to experiment with different sounds and styles.In summary, Boomy empowers users to unleash their creativity by making music with the help of AI.
Whether users are professional musicians or newcomers to music production, this tool provides a platform to explore innovative ideas and potentially earn income from their creations.
Featured
Boomy was manually vetted by our editorial team and was first featured on October 30th 2022.

Would you recommend Boomy?
Help other people by letting them know if this AI was useful.
70 alternatives to Boomy for Music creation
Advanced tech for music creation.

448

3.8

Personalized high-quality soundtracks creation solution.

179

1.0

Generates unique audio clips and music.

129

3.0

Music creation platform with voice cloning, lyric & melo

128

Generates music for inspiration and feedback.

120

5.0

Generated music for media.

97

4.4

Instant song mastering with a commercial standard.

93

Customizable music for creators & brands.

90

4.0

Unlimited royalty-free drum samples.

84

2.0

Create music from lyrics or prompts.

83

3.4

Create unique beats from everyday sounds.

83

4.0

Revolutionary vocal synthesizer for music production.

81

5.0

Custom beats from analyzed patterns and trends.

78

5.0

A music creation interface with pre-made sounds.

75

4.7

Music composed through software.

72

5.0

Music practice: mastering, separation, remixing.

67

Unlimited music creation for monetization purposes.

66

3.8

Realistic vocals for generating music.

63

Helps compose music and generate lyrics.

60

Real-time music gen. & distribution algo.

58

2.0

Generate and manipulate music audio.

58

1.0

Revolutionizes content with voice cloning/synthesis.

57

5.0

Produce unique rap lyrics with rap history and tech.

56

Music generation for custom projects.

56

4.5

Generated music compositions.

56

Music composition for content creators.

56

3.0

Customizable music composer with large pattern library.

55

5.0

55

3.8

Mobile music production w/ virtual festival & community.

53

1.5

Customizable music melody generation.

51

2.0

Music hook and melody generation.

50

1.5

Generate custom music for videos.

48

5.0

Generate music & sounds for commercial use

47

Audio track separation and remixing.

46

Discover and generate audio clips on a platform.

44

Music creation platform with simple editing.

40

Music composition using neural networks.

42

5.0

Generated music and singing in diverse genres.

38

Collaborative audio creation platform.

38

Songwriting help; user-friendly, free music library.

38

Music composition for diverse projects.

37

35

5.0

Personalized music for video production.

34

5.0

Personalized music generation, simplifying creation.

33

Identified music chords and beats library creation.

32

Generated music creation.

32

5.0

Created unique and free royalty music.

28

Assisted music produced and distributed.

28

1.0

RipX simplifies audio creation and editing for all.

27

5.0

Streamlined music creation workflow solution.

27

Livestreamed music generator with death metal themes.

26

Music composition for musicians and composers.

26

3.0

Music composition with selection and playback.

26

Compose music for content creation.

25

5.0

Sparked creative music exploration with generated ideas.

23

Innovative music creation support software.

22

Enhancing and creating music for musicians and artists.

20

DJ music creation and remixing platform.

19

Customizable music generator for creative projects

18

5.0

Create pro musical patterns/loops with plugin suite.

18

1.0

Generates melodies for music creators.

17

2.0

Generated music for immersive experiences.

16

Generated realistic music and speech.

13

4.0

Streamlined audio editing for pros and enthusiasts

13

Music generation for content creators and musicians.

12

11

Audio for music, video, and games

9

Musical composition & exploration

9

Text transformed into music.

6

Generative music creation platform for musicians.

5
If you liked Boomy
Help
⌘ + D bookmark this site for future reference
⌘ + ↑/↓ go to top/bottom
⌘ + ←/→ sort chronologically/alphabetically
↑↓←→ navigation
Enter open selected entry in new tab
⇧ + Enter open selected entry in new tab
⇧ + ↑/↓ expand/collapse list
/ focus search
Esc remove focus from search
A-Z go to letter (when A-Z sorting is enabled)
+ submit an entry
? toggle help menu
x
Sign in to continue (100% free)
To prevent spam, some actions require being signed in. It's free and takes a few seconds.
Sign in with Google