Edit AI
Webstudio accelerates website creation for designers.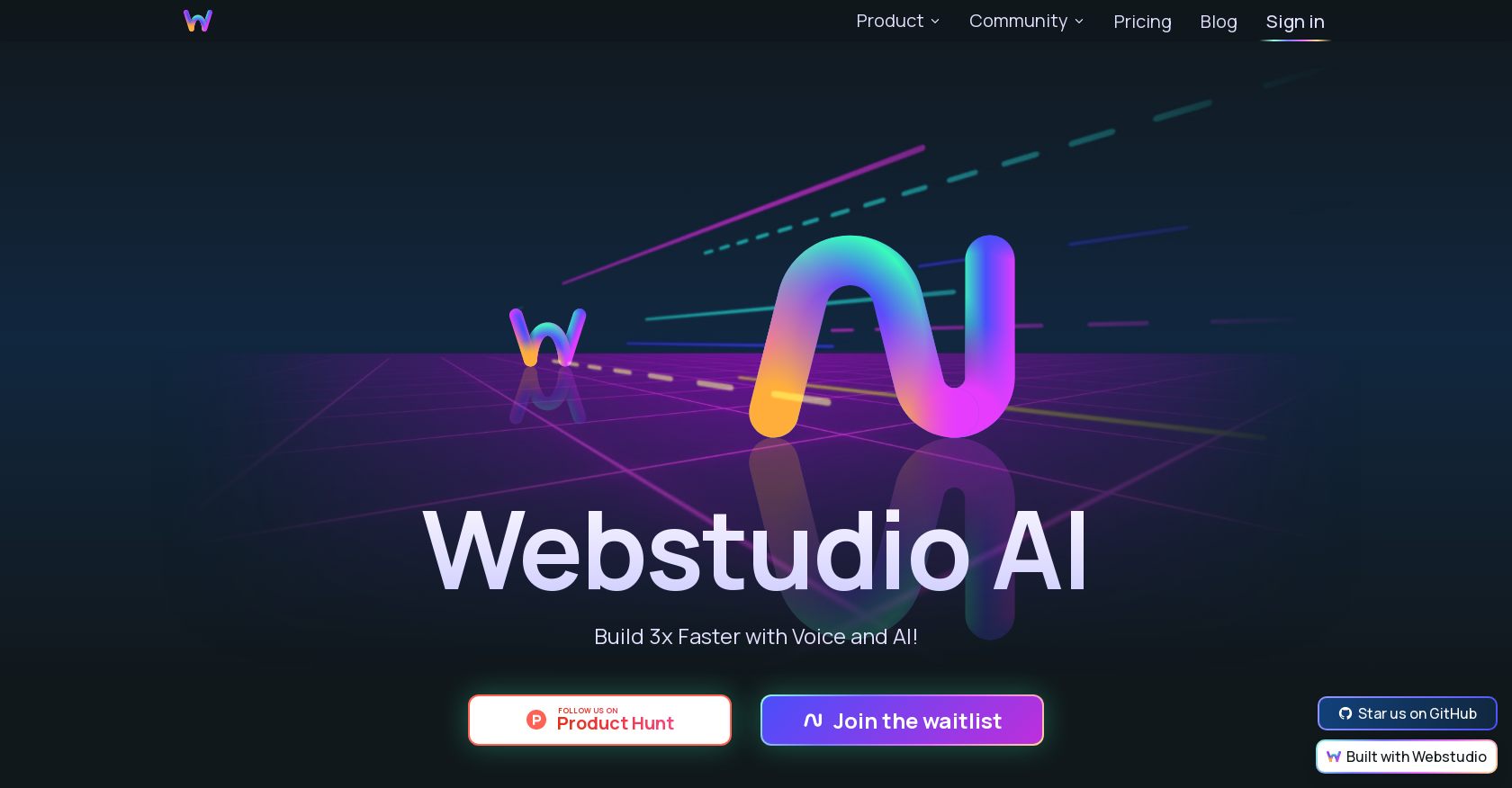 Generated by ChatGPT
Webstudio AI is a personal assistant tool designed to facilitate the building of websites at an accelerated pace, while maintaining control and input from the designer.
Its main features include:1. Copywriter: Webstudio AI assists in writing copy for the entire webpage or specific sections. It eliminates the need for placeholder text by quickly generating relevant and refined content.2.
Section Layouts: Users can generate section layouts that align with their objectives and content requirements. This feature offers a seamless integration with visual tools, allowing for manual adjustments or iteration through prompts.3.
Images: The tool automatically inserts images from Unsplash that match the website's content. It also provides a separate prompt to update or replace images as needed.4.
Edits: Webstudio AI can be instructed to make updates to text, CSS, HTML, or images. It proves useful both for existing projects and new ones, preventing users from getting stuck in the development process.5.
Voice Prompts: Users have the option to communicate with the AI through voice prompts. This feature serves as a convenient alternative to traditional typing, promoting a more efficient workflow.Overall, Webstudio AI aims to streamline the web development process by offering powerful assistance in generating content, designing layouts, managing images, and making quick edits.
By leveraging the capabilities of AI technology, it empowers designers to build websites approximately three times faster while ensuring they remain in control of the creative process.
Featured
Webstudio was manually vetted by our editorial team and was first featured on November 20th 2023.

Would you recommend Webstudio?
Help other people by letting them know if this AI was useful.
62 alternatives to Webstudio for Website building
Text-to-Website builder with AI, WordPress & Elementor.

979

1.3

Generated design options for no-code website creation.

646

4.3

AI Website Building for Businesses

375

4.0

Revolutionized web design aided by machine learning.

346

Assisted website creation for business owners.

265

3.5

Generate branded copywriting landing pages rapidly.

239

1.0

AI-powered website builder

166

5.0

Visually appealing websites made effortlessly.

134

Efficient creation and management of websites.

130

5.0

Landing page creation without coding for businesses.

116

1.0

Created web apps with machine learning.

110

2.0

Website design without coding & online marketing.

103

3.0

Website generator for small businesses.

85

5.0

Simplified website design solution.

78

5.0

Website copywriting improved by language processing.

72

5.0

Automated workflows and no-code apps.

72

1.0

Website creation with automated content and design.

68

Easy website creation solution.

56

5.0

Efficient website creation and resume generation.

53

1.0

Built websites intelligently.

53

Non-tech user website builder.

52

5.0

Automates design generation for website creation.

52

Customizable templates for modern landing pages.

52

4.0

Created professional website & store automatically.

52

5.0

Built mobile-friendly websites with codeless editor.

49

5.0

Improves website creation process with assistance.

48

Build websites easily without technical knowledge.

48

1.0

Smartly boosted websites w/ copy suggestions.

45

Design and optimize personalized websites.

44

Natural language website generation.

42

1.0

Website builder without coding.

40

Created and designed websites efficiently.

39

Low-code platform for building generative apps.

37

Website and UI builder for rapid prototyping.

37

Effortlessly creates websites with advanced analytics.

36

Website building for non-tech users

34

5.0

Created eCommerce shops visually with automated pages.

33

Natural language-based web page design.

32

Automated website generation and cloud stacking.

30

Website creation made easy with generated templates.

30

Created website copy using automation for designers.

29

Efficient web development with generative tech.

26

Created digital experiences for businesses.

26

Created small business websites powerfully.

24

4.0

Easy site creation for SMBs and creatives.

23

5.0

Website development solution

23

Easy website creation for individuals and startups

21

Website creation & management, optimized effortlessly.

20

1.0

Generated and collaborated website copy.

19

Startup landing page creation made easy.

18

User-friendly web page creation for non-tech users.

14

Easily design websites without coding experience.

13

Assisted creation of chat-based website templates.

13

Create personalized websites & landing pages with ease.

13

1.0

Entrepreneurs' website generator for marketing.

11

Website builder and lead manager, no coding required.

10

Generated web content via conversational dashboard.

7

Website Design-to-Dev Conversion Solution.

5

Website structure and SEO visual sitemap generation.

4

5.0

3

Landing pages for diverse industries.

1
If you liked Webstudio
People also searched
Help
⌘ + D bookmark this site for future reference
⌘ + ↑/↓ go to top/bottom
⌘ + ←/→ sort chronologically/alphabetically
↑↓←→ navigation
Enter open selected entry in new tab
⇧ + Enter open selected entry in new tab
⇧ + ↑/↓ expand/collapse list
/ focus search
Esc remove focus from search
A-Z go to letter (when A-Z sorting is enabled)
+ submit an entry
? toggle help menu
x
Sign in to continue (100% free)
To prevent spam, some actions require being signed in. It's free and takes a few seconds.
Sign in with Google