Edit AI
Website generator for small businesses.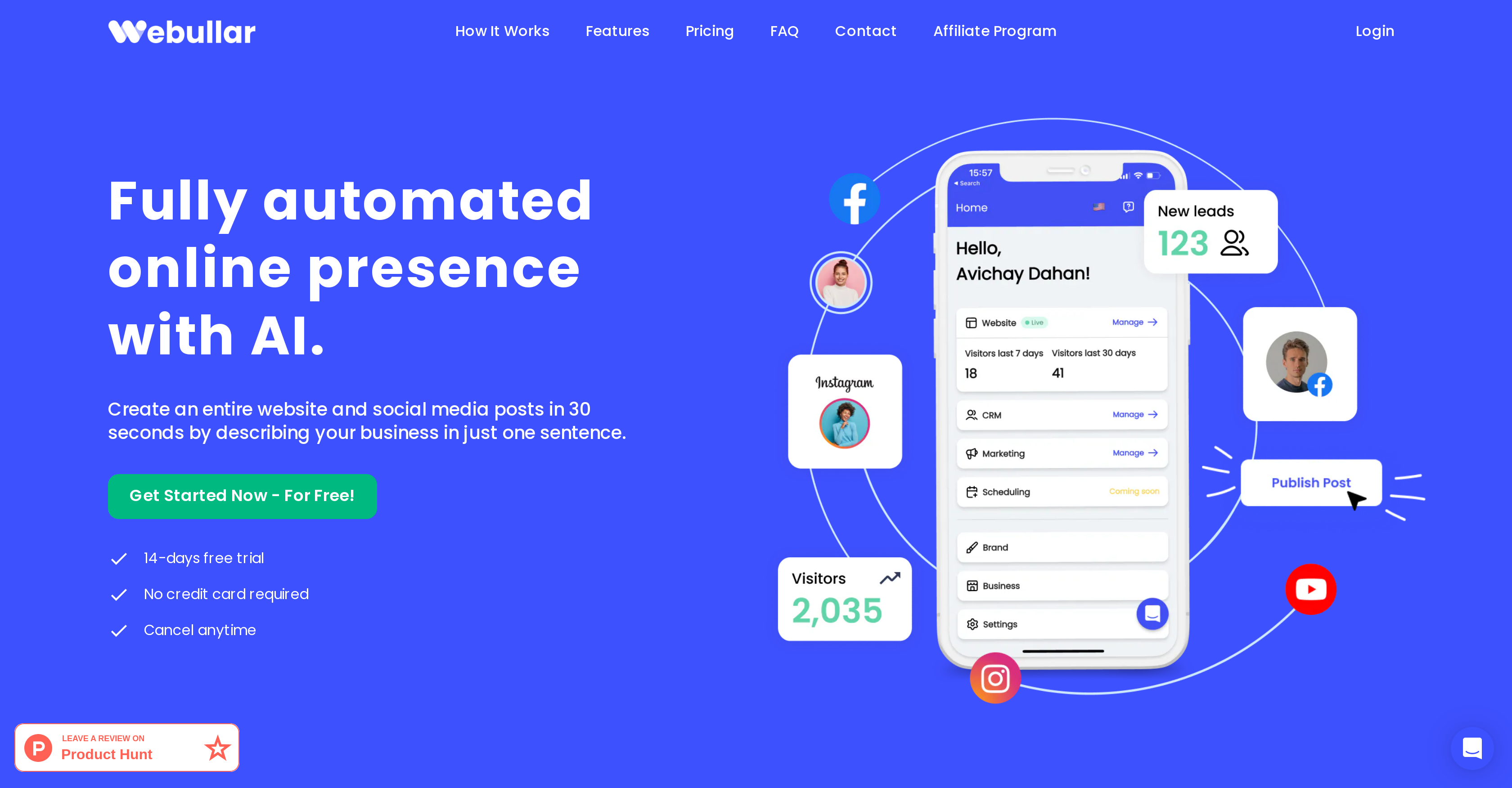 Generated by ChatGPT
Webullar is a website generator tool that uses AI to create full-featured websites in just 30 seconds. It offers a simple and straightforward process that gives users the ability to create a website with just one sentence describing their business.
Webullar takes care of the hard work such as writing content, optimizing for mobile, and setting up security features. The tool also offers a unique pricing plan that includes unlimited updates, domain connection, visitors, and SEO features.
The tool is easy to use from any device, making it a great choice for small businesses that don't want to spend thousands of dollars on a digital agency.
Webullar provides a one-stop-shop for all website needs, and it is affordable with no setup cost and a low monthly payment.
Featured
Webullar was manually vetted by our editorial team and was first featured on February 27th 2023.

Would you recommend Webullar?
Help other people by letting them know if this AI was useful.
Text-to-Website builder with AI, WordPress & Elementor.

979

1.3

Generated design options for no-code website creation.

646

4.3

AI Website Building for Businesses

374

4.0

Revolutionized web design aided by machine learning.

346

Assisted website creation for business owners.

265

3.5

Generate branded copywriting landing pages rapidly.

239

1.0

AI-powered website builder

165

5.0

Visually appealing websites made effortlessly.

134

Efficient creation and management of websites.

130

5.0

Landing page creation without coding for businesses.

116

1.0

Created web apps with machine learning.

110

2.0

Website design without coding & online marketing.

103

3.0

Simplified website design solution.

78

5.0

Website copywriting improved by language processing.

72

5.0

Automated workflows and no-code apps.

72

1.0

Website creation with automated content and design.

68

Easy website creation solution.

55

5.0

Efficient website creation and resume generation.

53

1.0

Built websites intelligently.

53

Non-tech user website builder.

52

5.0

Automates design generation for website creation.

52

Customizable templates for modern landing pages.

52

4.0

Created professional website & store automatically.

52

5.0

Built mobile-friendly websites with codeless editor.

49

5.0

Improves website creation process with assistance.

48

Build websites easily without technical knowledge.

48

1.0

Smartly boosted websites w/ copy suggestions.

45

Design and optimize personalized websites.

44

Natural language website generation.

42

1.0

Website builder without coding.

40

Created and designed websites efficiently.

39

Low-code platform for building generative apps.

37

Website and UI builder for rapid prototyping.

37

Effortlessly creates websites with advanced analytics.

36

Website building for non-tech users

34

5.0

Created eCommerce shops visually with automated pages.

33

Natural language-based web page design.

32

Automated website generation and cloud stacking.

30

Website creation made easy with generated templates.

30

Created website copy using automation for designers.

29

Efficient web development with generative tech.

26

Created digital experiences for businesses.

26

Created small business websites powerfully.

24

4.0

Easy site creation for SMBs and creatives.

23

5.0

Website development solution

23

Easy website creation for individuals and startups

21

Website creation & management, optimized effortlessly.

20

1.0

Generated and collaborated website copy.

19

Startup landing page creation made easy.

18

User-friendly web page creation for non-tech users.

14

Easily design websites without coding experience.

13

Assisted creation of chat-based website templates.

13

Create personalized websites & landing pages with ease.

13

1.0

Entrepreneurs' website generator for marketing.

11

Website builder and lead manager, no coding required.

10

Generated web content via conversational dashboard.

7

Website Design-to-Dev Conversion Solution.

5

Website structure and SEO visual sitemap generation.

4

5.0

3

Webstudio accelerates website creation for designers.

2

5.0

Landing pages for diverse industries.

1
Pros and Cons
Pros
Generates websites in 30 seconds
Website creation with one sentence
Automatic content writing
Mobile-optimized websites
Security features included
Unique pricing plan
Includes unlimited updates
Domain connection included
Unlimited visitor capacity
SEO features included
Usable on any device
Affordable, no setup cost
Low monthly payment
One-stop-shop for website needs
Manage website from app
Requires no technical skills
14-days free trial
No credit card required
Help center included
Generates full-featured websites
Assists in business growth
Attracts new leads
Cons
Limited design customization
Possibly generic content
Single-tiered pricing
Potentially less unique
No detailed pricing packages
No version control
Strict monthly payment only
Limited tech support
No advanced features
Q&A
What is Webullar?
Webullar is an AI-powered website generator specifically designed for small businesses. It enables users to create full-featured websites just by providing a one-sentence description of their business. The entire website creation process takes only 30 seconds.
How does Webullar create a website in 30 seconds?
Webullar uses AI to quickly create websites. You provide a simple sentence describing your business. Upon receiving this information, Webullar begins to work its magic and in just 30 seconds, it creates a full-featured website ready to be published.
What features does Webullar include in the website creation process?
Webullar offers a variety of features in the website creation process. These include writing content, making the website mobile-optimized, setting up security features (SSL), SEO optimization, and facilitating domain connection. Users also have the option to update their website content an unlimited number of times.
Does Webullar require prior technical knowledge to use?
No, Webullar doesn't require any prior technical knowledge to use. It's designed with user-friendly features to allow even the most non-tech savvy people to easily create and manage a website.
How does Webullar's pricing plan work?
Webullar's pricing plan is straightforward. They offer a Pro plan for $19.99 per month which includes unlimited updates, domain connection, visitor access, and SEO features. For this price, websites are also secured with SSL and are optimized for mobile. There is no setup cost or contractual commitment required.
Can I use Webullar on my mobile phone?
Yes, you can use Webullar on your mobile phone. Their platform is designed to be easy and convenient to use on any device.
Does Webullar offer a free trial?
Yes, Webullar does offer a free trial. You can try their service for a period of 14 days without the requirement of a credit card.
What security features does Webullar provide for the websites?
Webullar incorporates SSL security features into each website it generates. This helps ensure that your site maintains a secure connection and can safely transmit sensitive information.
How can Webullar help to optimize my website for mobile?
Webullar has mobile optimization features embedded in its processes. This ensures that any website produced using Webullar is equally accessible and responsive on mobile devices.
How does the SEO feature work in Webullar?
Webullar's SEO features improve the visibility of your website on search engines. This enhances the chances of your site being found by potential customers or clients when they are looking for products or services similar to what you offer.
Can I manage my website with Webullar's mobile app?
Yes, Webullar's mobile application allows users the ability to manage their website and leads directly from their phone. This offers convenience and versatility in managing website operations.
What type of content will Webullar write for my website?
Webullar writes content that is tailored to your business. This is based on the one-sentence description you provide during the site creation process.
How many visitors can view my Webullar-created site?
There is no cap on the number of visitors that can view a site created through Webullar. They allow unlimited visitor access.
How can I connect my current domain to Webullar?
Webullar allows you to connect your current domain during the website creation process. They provide this feature in their monthly Pro plan.
Can I update my website content unlimited times with Webullar?
Yes, you can update your website content an unlimited number of times with Webullar. This is included in the monthly Pro plan.
What does it mean that Webullar works like magic?
When they say that Webullar works like magic, they are referring to the fact that the AI does all the work for you. You just have to give a one-sentence description of your business and in 30 seconds you have a full-fledged, ready to use website.
Does Webullar require a commitment or contractual term?
No, Webullar does not require a commitment or contractual term. You are free to use their services on a month-to-month basis without any long-term obligations.
How can Webullar help my small business grow?
Webullar can help your small business grow by generating a professional website quickly. It provides a digitized platform for your business to reach more customers, and features like SEO optimization enhance the visibility of your site, potentially attracting more prospective customers.
How can I get support if I have issues with Webullar?
You can get support from the Webullar Help Center if you have any issues. It is included in the Pro plan that is priced at $19.99 per month.
Where can I register and start using Webullar?
To start using Webullar, visit their website and create an account. They offer a 14-day free trial with no credit card required.
If you liked Webullar
Help
⌘ + D bookmark this site for future reference
⌘ + ↑/↓ go to top/bottom
⌘ + ←/→ sort chronologically/alphabetically
↑↓←→ navigation
Enter open selected entry in new tab
⇧ + Enter open selected entry in new tab
⇧ + ↑/↓ expand/collapse list
/ focus search
Esc remove focus from search
A-Z go to letter (when A-Z sorting is enabled)
+ submit an entry
? toggle help menu
x
Sign in to continue (100% free)
To prevent spam, some actions require being signed in. It's free and takes a few seconds.
Sign in with Google