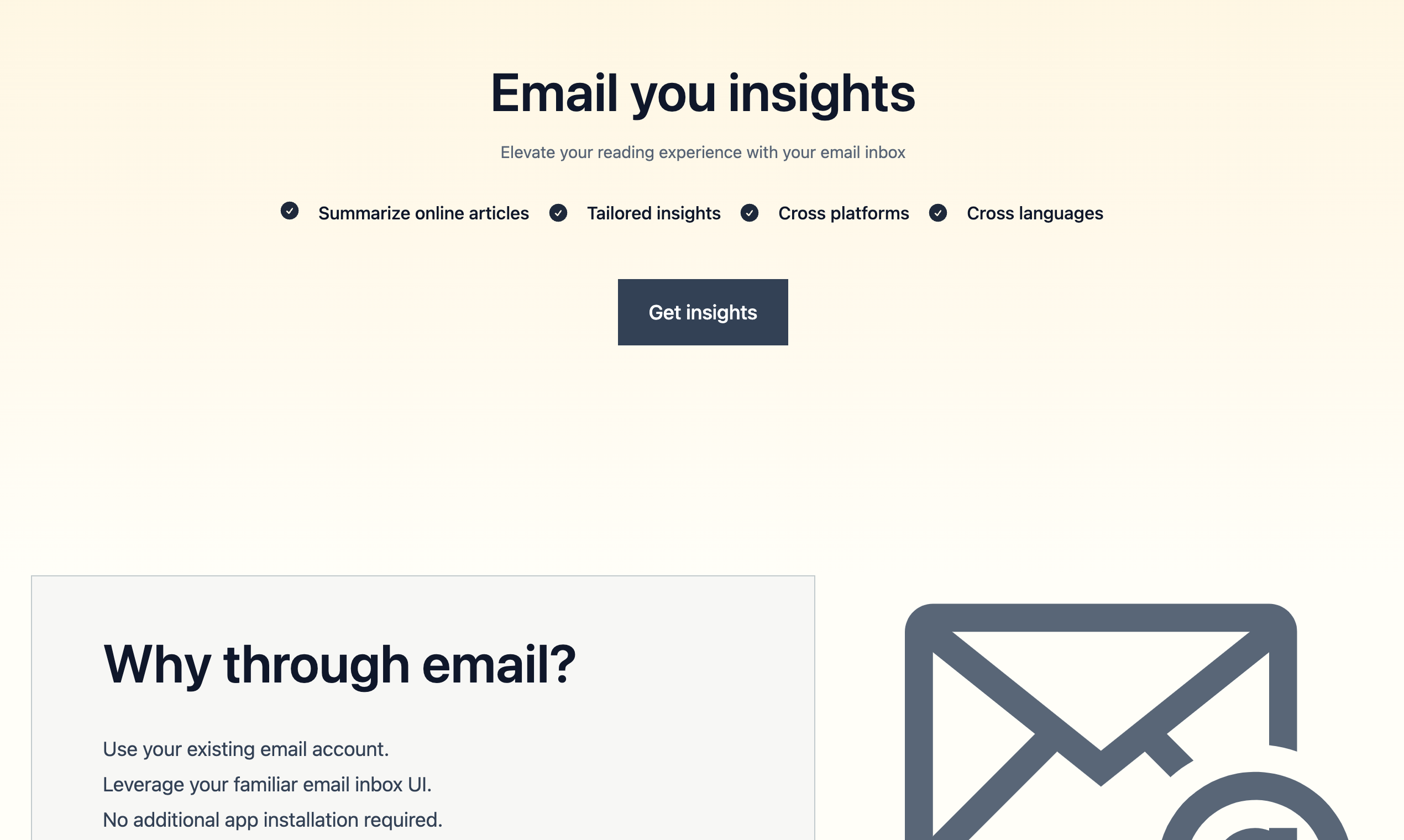 Generated by ChatGPT
Hi, I am Kata, the creator of wuko.ai
I was driven to create wuko.ai to address the following problems:
🤔 Do you often forget why you bookmarked online articles for reading later?
💭 Ever struggle to understand certain concepts in an article?
📬 Want to share article insights but struggle to present them in an accessible manner?
🌍 Interested in comprehending foreign-language articles?
📱 Do you find it cumbersome to rely on different apps or browser extensions to solve these problems?
My solution to these problems revolves around a single email address:
[email protected]
.
No additional app installation required. Leverage your familiar email inbox functions, such as labelling or grouping in folders. It natively supports multiple devices and platforms, as long as you can access your email inbox.
By simply sending a web link to this address, you'll receive a summary of the webpage. This automated analysis of the content not only serves as a reminder but also provides a concise context, helping you recall why you saved the article initially.
After receiving the summary, you can pose questions about the webpage by replying to the email. wuko.ai then responses tailored answers, acting as an interactive guide that deepens your grasp of the content. This feature assist you gain clarity on new concepts.
Moreover, it generates a unique email address for each webpage, allowing you to share not just static content but a responsive bot equipped to answer queries about it. Regardless of the original content's language, users can unearth fresh insights by sending emails in their native languages to this dedicated wuko address – no additional apps required.
All these functionalities come through just one email address. It supports across devices and languages.
wuko.ai is currently in its beta phase and is available for free.
I welcome any feedback. In gratitude, those providing feedback will receive a premium account for a year once we roll out our official premium plans.
Featured
wuko.ai was manually vetted by our editorial team and was first featured on July 16th 2023.

Would you recommend wuko.ai?
Help other people by letting them know if this AI was useful.
Distillr summarizes articles for quick overviews.

345

2.0

Summarizes articles rapidly with advanced technology.

77

Summarizes articles & generates quizzes efficiently.

42

Summarizing and bypassing paywalls for lengthy texts.

35

5.0

Summarize articles while preserving key content.

29

Comprehend complex topics with layered reading.

24

Summarizes multilingual articles, saves time.

18

1.0

Efficient article summarization achieved

17

Generates article summaries.

16

Converts written content into concise audio podcasts.

13

5.0

Summarizes articles and provides quick insights.

10

Efficiently summarizes articles for quick understanding.

10

5.0

Extracting info via article summarization.

7

Web article summarization — summarized articles. (41)

3
Pros and Cons
Pros
No additional app installation
Natively supports multiple devices
Automated article summary
Interactive guide support
Multilingual content comprehension
Unique email per webpage
Insight sharing capability
Free in beta phase
No separate extensions needed
Utilizes familiar email functions
Accessible across platforms
Email-based Q&A support
Context recall for bookmarks
Single email address functionality
Premium account for feedback
No localization apps required
Cons
In beta phase
Dependent on email functionality
Relies on single email address
Lacks companion app
No API support
Limited interactivity - email only
Requires online connectivity
Unknown premium plan costs
Unoptimized for fast real-time responses
If you liked wuko.ai
Help
⌘ + D bookmark this site for future reference
⌘ + ↑/↓ go to top/bottom
⌘ + ←/→ sort chronologically/alphabetically
↑↓←→ navigation
Enter open selected entry in new tab
⇧ + Enter open selected entry in new tab
⇧ + ↑/↓ expand/collapse list
/ focus search
Esc remove focus from search
A-Z go to letter (when A-Z sorting is enabled)
+ submit an entry
? toggle help menu
x
Sign in to continue (100% free)
To prevent spam, some actions require being signed in. It's free and takes a few seconds.
Sign in with Google