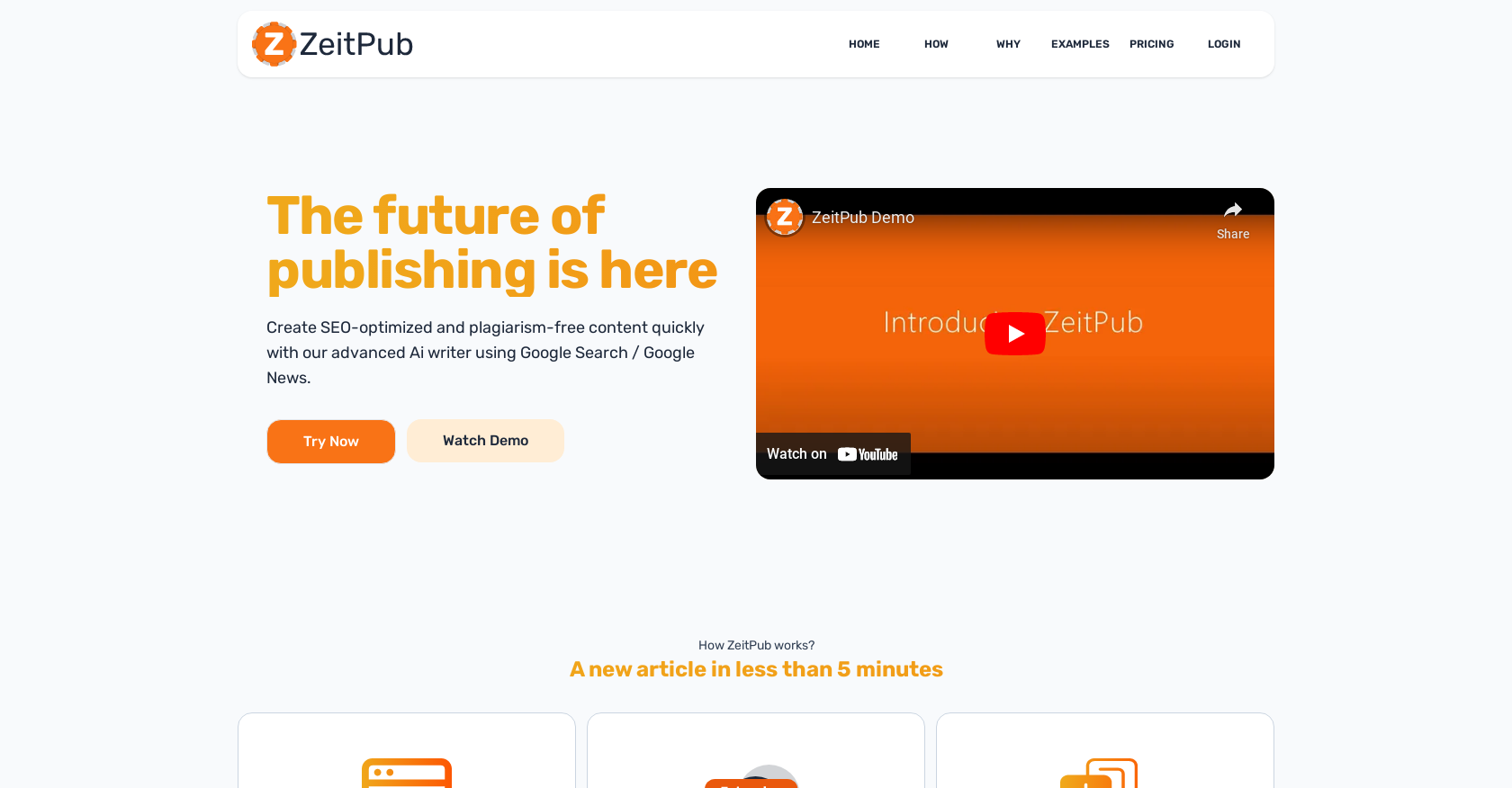 Generated by GPT-3
Zeitpub is an advanced AI writing platform that enables users to quickly create SEO-optimized, plagiarism-free content without suffering from writer's block.
Zeitpub can take input in multiple languages and generate output articles in 10 different languages, making it easier to reach a global audience. It is also able to automatically add references to the generated articles, or users can disable this feature.
Using Zeitpub, users can generate unique articles 10 times faster and 75% cheaper than traditional methods. It works by allowing users to open a Google search page or a news coverage in Google News and then click on the Zeitpub boorkmarklet/extension to activate the AI to do the job.
After selecting the desired output language, users can generate a new article in less than 5 minutes. Zeitpub was founded by a technologist passionate about writing, and it provides writers with a platform to accelerate story creation and improve the quality and efficiency of editorial processes.
It offers a starter plan for $25/10 articles and a polyglot plan for $50/10 articles, as well as an enterprise plan for special needs. Overall, Zeitpub is an AI-powered platform that makes it easier to create SEO-optimized, plagiarism-free content quickly and efficiently.
It is designed to help writers be more creative and reach a larger global audience with their content.
Featured
?
44 alternatives to ZeitPub for SEO content
17 Mar 2023

02 Feb 2023

03 Feb 2023

13 Feb 2023

27 Feb 2023

28 Feb 2023

02 Jan 2023

10 Jan 2023

12 Jan 2023

12 Jan 2023

18 Jan 2023

23 Jan 2023

24 Jan 2023

25 Jan 2023

04 Dec 2022

07 Dec 2022

14 Dec 2022

15 Dec 2022

20 Dec 2022

27 Dec 2022

02 Oct 2022

26 Oct 2022

17 Sep 2022

16 Jun 2022

23 Jun 2022

26 Jun 2022

04 Jan 2022

13 Jan 2022

29 Jan 2022

31 Mar 2022

24 Feb 2021

12 Apr 2021

13 Apr 2021

21 Apr 2021

15 Jun 2021

23 Jun 2021

27 Jun 2021

12 Aug 2021

03 Sep 2021

11 Oct 2021

24 Mar 2020

11 Aug 2020

27 Sep 2020

13 Oct 2018